My roommates in the dorm at Komic were Sunil from Ahmedabad and Pamposh from Punjab. The former was on a spiritual journey—literally and metaphorically. He was on his first backpacking trip. The latter was a seasoned mountaineer. They were headed back to Kaza on a rented Enfield.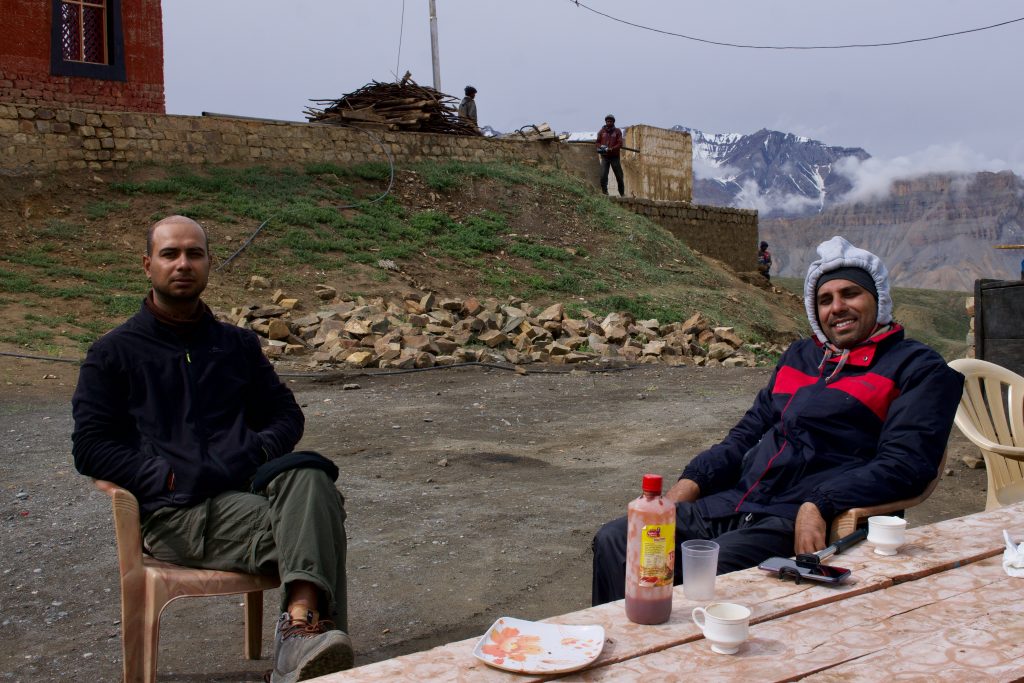 I hiked back to Hikkim and took the Hikkim–Kaza road. A steep descent through gravel trails led me straight to Kaza. As I kept descending for about an hour, I realised how important it was for me to get a tighter pair of shoes.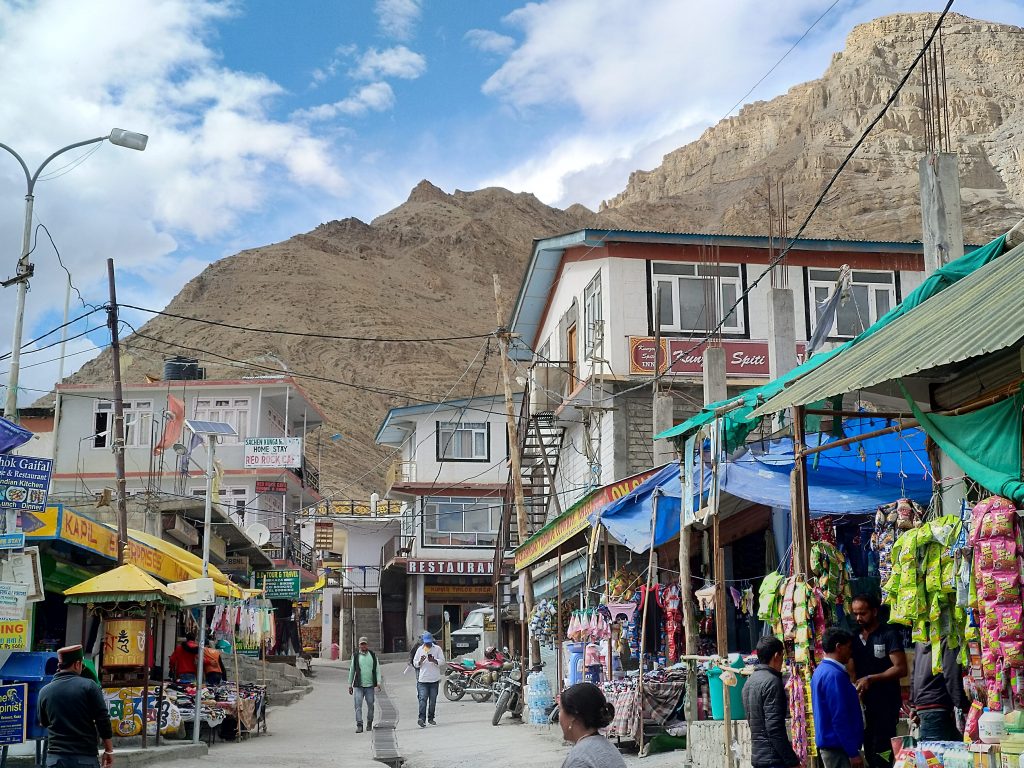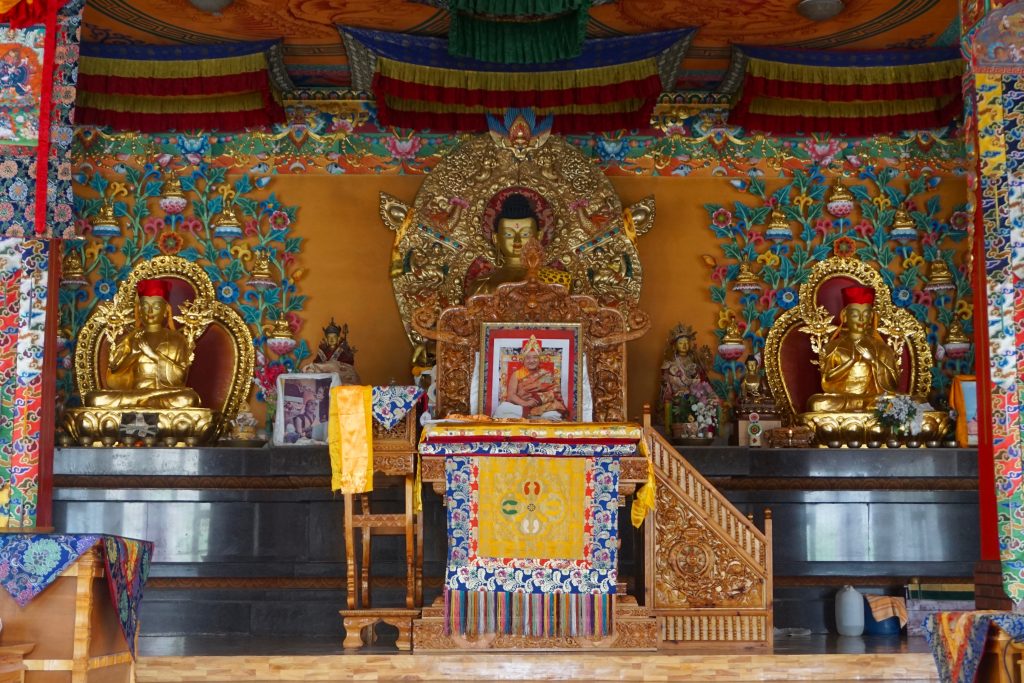 I met Gaurav and his brother hunting for a place to have lunch while I was headed back to Lhasa homestay. We entered Amma Zhakhang once more. I gulped down two plates of momos while Gaurav and his brother had modest thalis. Jonas was there, too. He had descended from Langza to Kaza via the same route.
It was necessary to reserve a seat in the next morning's bus to Manali. They issue tickets only when the bus reaches Kaza bus stand. The bus was supposed to arrive at 4:00 pm. The bus eventually arrived at 11:00 pm. It had a puncture. Quite a few people waited there for over five hours to reserve their seat including me, Gaurav, a Keralite and a Delhi girl who was booking for nine people—including four Israelis. I was back in the dorm at 12:00 am. I packed my bags, had a short nap, and left at 3:30 am in the dark. I couldn't meet Sonam—the owner of Lhasa homestay. Instead, I left the dorm rent on the bed along with a note to Jonas. The bus conductor and driver—in spite of such short sleep—left the stand at 4:30 am sharp.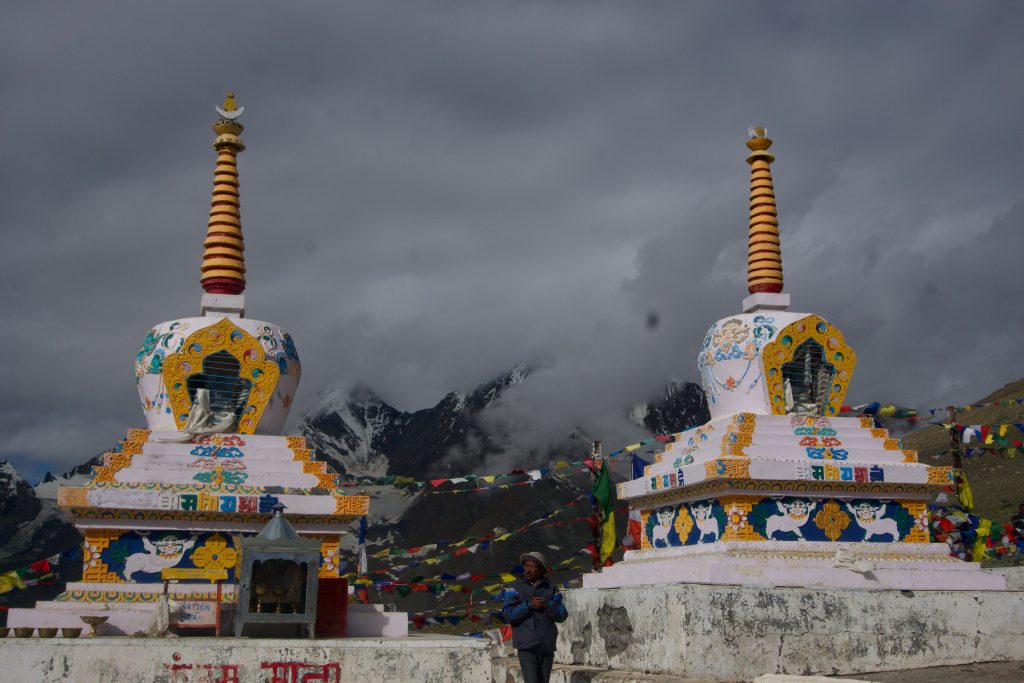 For breakfast, the bus stopped Batal. The paratha and chutney at Chacha Chachi ka Dhaba was one of the best I had. Chacha and Chachi did not agree to be photographed—even after the insistence of Gaurav and his brother.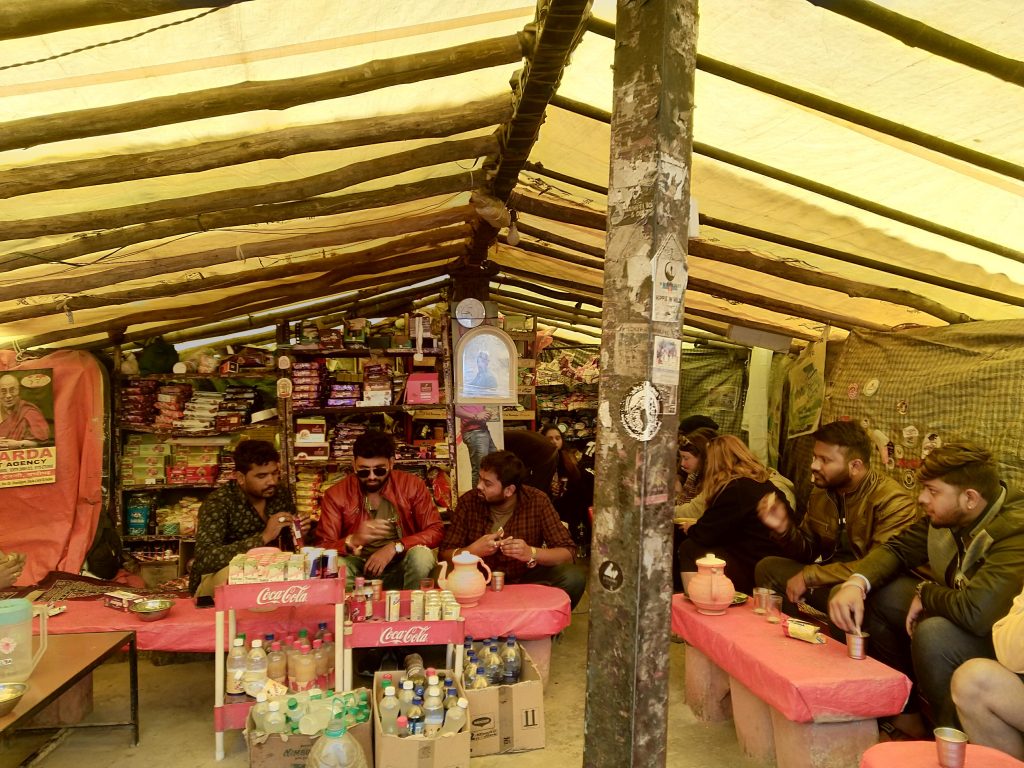 The bus had a second puncture. The punctured tyre from the last day was still not repaired. The bus driver or conductor did not have any time to get it repaired. Even after all this, they managed to drive and steer safely through one of the most adventurous routes I have seen in my life. This includes a treacherous stretch of submerged road called Chhota Dhara. Two Altos from Uttarakhand had brought traffic to a standstill. It took quite a few men to get them out. Some placed large rocks in front of the tyres while some men pushed the cars from behind. The underside of the chassis still got hit and some plastic parts fell off the car. This caused quite a bit of delay.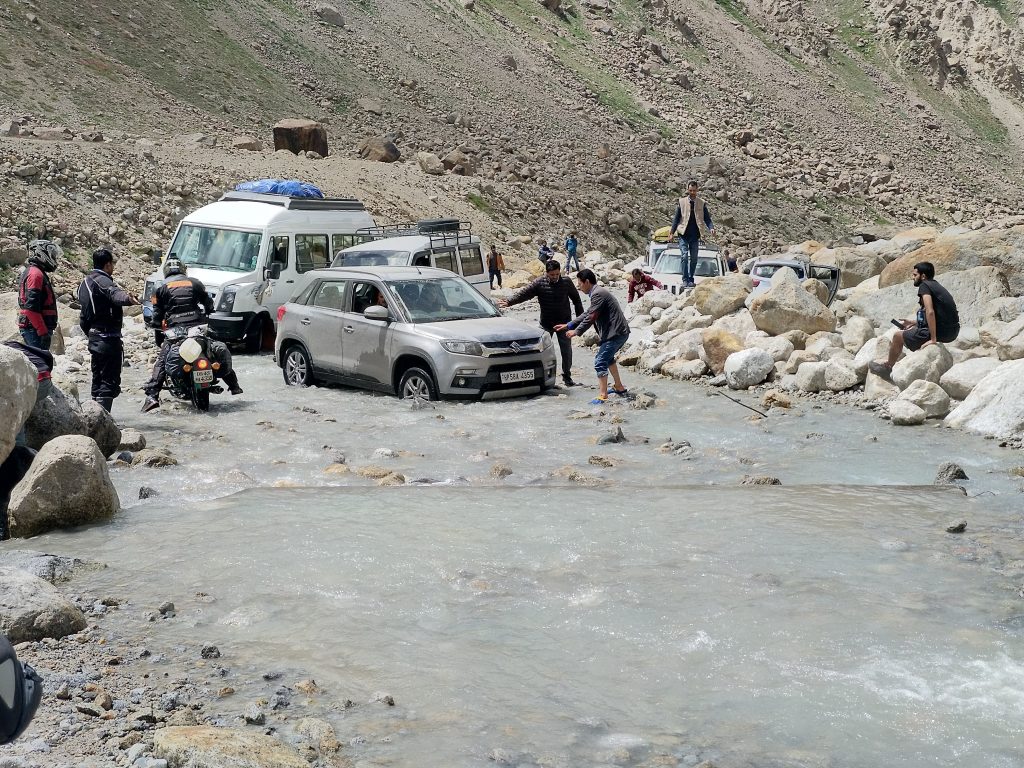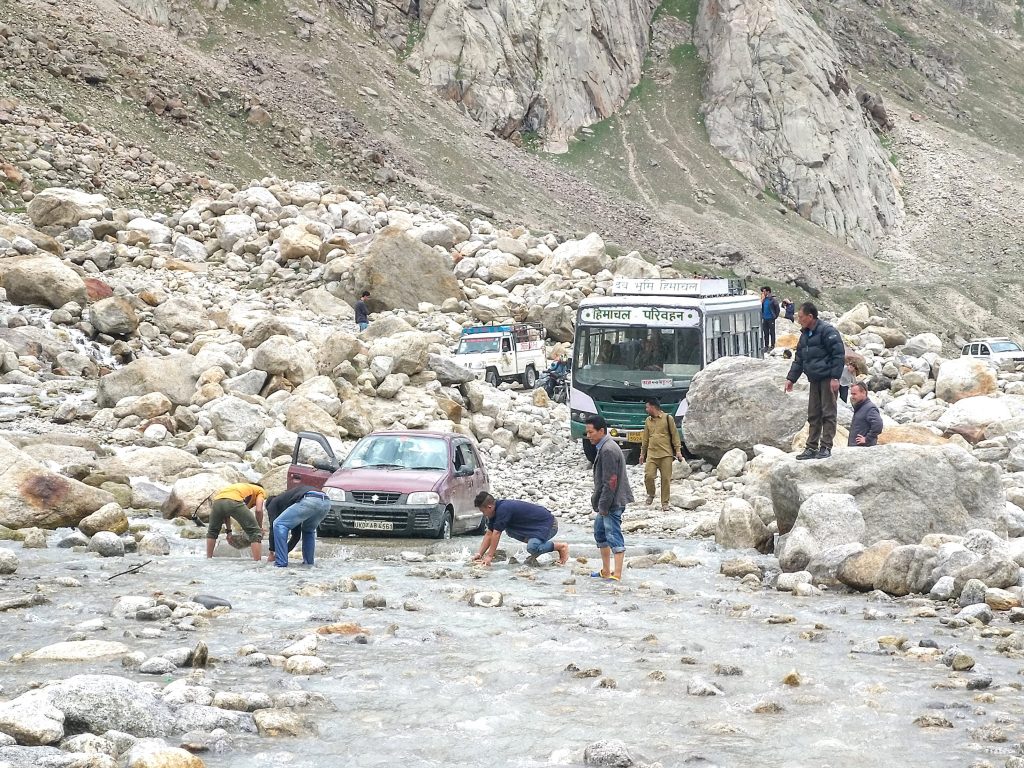 Somewhere near Gramphu, the bus waited for a Keylong–Shimla bus to give them a spare tyre. The conductor, while waiting for the bus, explained—or complained—about the poor state of HRTC. He was on contract and was desperately waiting to become a permanent employee in two years. These routes cause a lot of delays. Although he was entitled to overtime, HRTC hadn't paid him overtime in the last one year.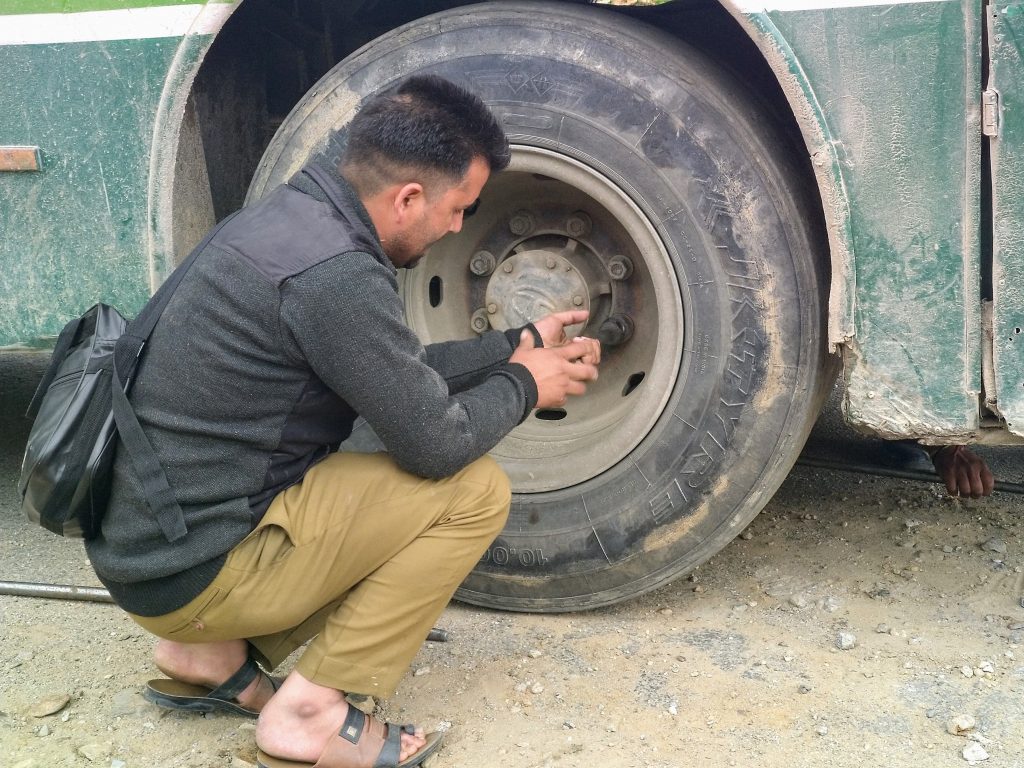 Once the tyre was replaced, the bus climbed Rohtang Pass. The pass was all foggy. It was evident that Manali had been receiving quite a lot of rainfall in the last few days (or weeks). The views were a stark contrast to the arid lands of Spiti.
The bus was delayed once more. This time, there was a huge jam at Palcham—a place between Rohtang and Manali. We reached Palcham at 5:00 pm. It took us about three hours to cover two kilometres. The road wasn't wide enough with many places exposed to steep valley. Vehicles were parked in some places which made bi-directional traffic near impossible. I was getting slightly impatient, I had a bus to catch at 9:00 pm.
I got down at Manali at 8:30 pm, bid Gaurav and his brother goodbye and caught an auto to private Volvo bus stand. I barely had enough time to grab a bread omlette and get on board. I don't remember the bus journey. I was fast asleep. I woke up today morning when the conductor announced that the bus had reached its destination at Majnu ka Tila.
My flight was in the evening. I strolled around the Tibetan settlement and found a cheap room where I could rest. I had been in a bus for the last twenty-nine hours. I had a haircut and shave, had a thorough bath and rested. I even had a hearty meal of momos, shaptra and tingmo from a nearby restaurant.
Sometime around 5:00 pm, I took a metro from Vidhan Sabha and headed towards the airport. My trip was over.