Goecha-La was my first trek. Back in 2008, me and my friends made an attempt to reach there. Poor planning, poor fitness and general lack of awareness of what a trek entails resulted in a hilarious and failed trip. I haven't shied away from documenting that embarrassing piece of history. If you are interested, please have a read.
Some of my friends (Rajdeep, Akash, Mayank—all ex-colleagues from Airbus) wanted to do this trip. Having known that I had some experience of the route and aware of my wish to successfully complete the trek, they approached me sometime in October. There are independent trek operators and local guides who still operate on this route just like they used to do it in 2008. However, things have changed in the last fifteen years. Nowadays, we have a couple of big organised trek operators (Trek the Himalayas or TTH, Indiahikes, Bikat Adventures) who are much more operationally reliable and much more safety focused. They charge a small premium for that but the experience is generally better.
I had done Kedarkantha with Indiahikes before and liked the experience. Some of my friends spoken well of TTH, too. It all boiled down to what slots would be available to us in April. Being one of the first seasons after the COVID restrictions were fully revoked, these organisations had opened up only a few slots for the September-October window (Autumn 2022, when we were weighing our options) and another few in April-May (Spring 2023, when we intended to do the trek). After some deliberations, we chose Indiahikes and booked their second batch that on 8th. There were only 9 batches that Indiahikes had planned for the Spring 2023 season; and if I remember correctly, TTH had planned 8 batches.
This was the itinerary—
April 8th: Drive from Siliguri to Yuksom, stay at the basecamp lodge.
April 9th: Trek from Yuksom to Tsachen.
April 10th: Trek from Sachen to Tshoka via Bakhim.
April 11th: Trek from Tshoka to Dzongri via Phedang.
April 12th: Trek from Dzongri to Dzongri La and back, acclaimatize at Dzongri.
April 13th: Trek from Dzongri to Thansing via Kokchurang.
April 14th: Midnight trek from Thansing to Viewpoint 1 via Lamuney and back; stay at Thansing.
April 15th: Trek from Thansing to Tshoka via Kokchurang and Phedang.
April 16th: Trek from Tshoka to Yuksom via Tsachen.
April 17th: Drive from Yuksom to Siliguri.
Now contrast this to the six-day itinerary we had made in 2008 to cover the same distance!
Chapter 6: A real preparation before reaching Yuksom
Most of these big organised tour operators require some proof of fitness for being a part of the group. I didn't have them to tell me. I knew it first hand from my earlier experience. I started hitting the gym to do some strength training and tackling long-distance cycling trips to build my endurance. Multi-day cycling trips like the Udupi-Bangalore one I did with Mittal in December also kept me fit and motivated.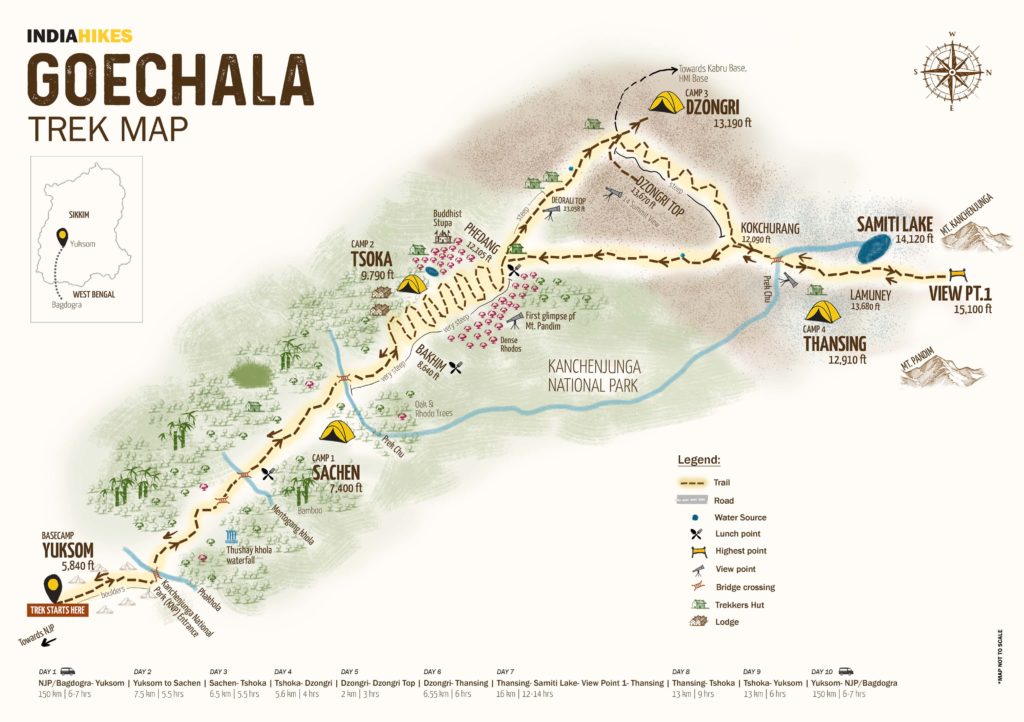 I had learned another lesson during my Nepal trip in 2019. I suffer from a weak lower back. I had sprained it because I was carrying a heavy backpack. As a result, I had to cut my trip short that year. For this trip, I deliberately wanted to keep my backpack small and lightweight. If you have done any kind of travel, you would know that most of us have a tendency to fill up any available space with items that would only be needed for "what-if" situations whose probability of occurrence is really low. I wanted to minimise carrying such items. There was an option of offloading my backpack to a mule or a yak but I reckoned that it would be more fun to be as self-sufficient as possible.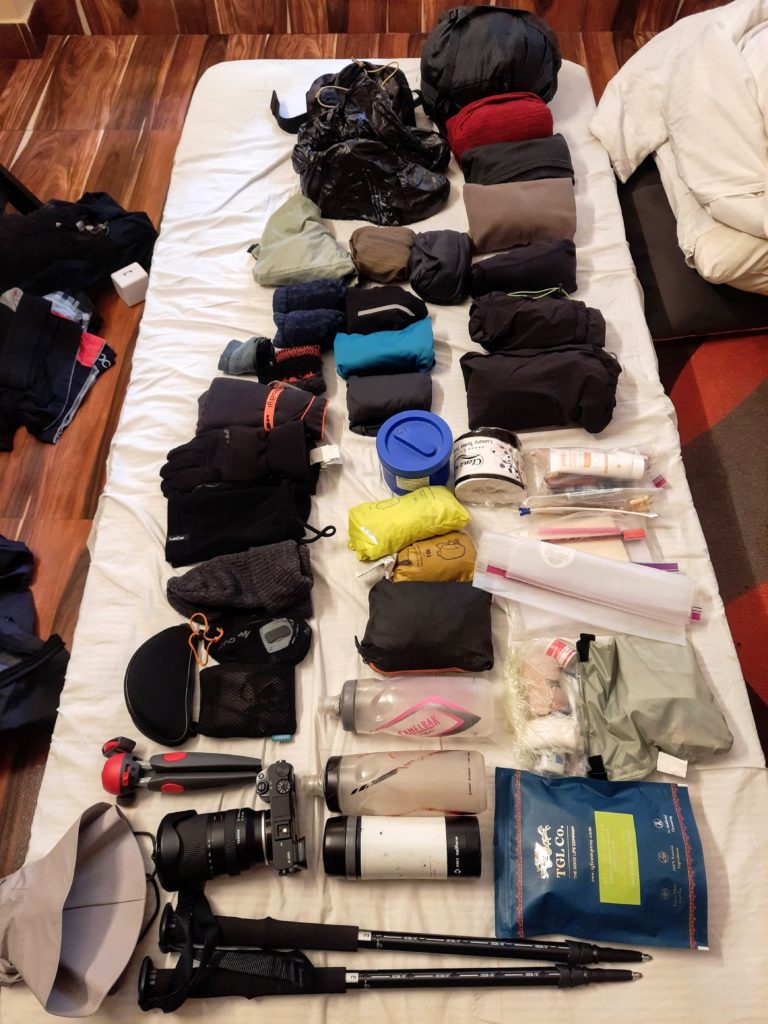 Sometime during March, Akash had to drop his plans due to work-related reasons. Mayank and I booked an early flight for 7th April to Bagdogra while Rajdeep booked an afternoon one.
We stayed at a hotel near the 2nd mile checkpost in Siliguri and had the entire day to go around. It was also a long time since I had set my foot in North Bengal. Having grown up in that area (in Cooch Behar, pretty close to Siliguri), I had fond memories of that place. I had visited Siliguri a number of times when my father was posted there as well as to give a number of entrance examinations during and after my Class 12th. Things had changed a lot in the last 20 years. Among other things, the perimeter of the city had increased. That evening we went around Bidhan Market and sampled some baro-bhaja (literally twelve fries; it's an assorted mixture of roasted and fried crisps processed with some onion, chilies and spices), chop (deep fried patty), momos, followed by biryani at Arsalan.
The four SUVs to Yuksom came at around 10 next day. This is where we met some of our co-trekkers. We would be spending the next ten days with them. Apart from us three, we had a couple from Bangalore in our vehicle—Ashwin and Sweatha. They were both into birding.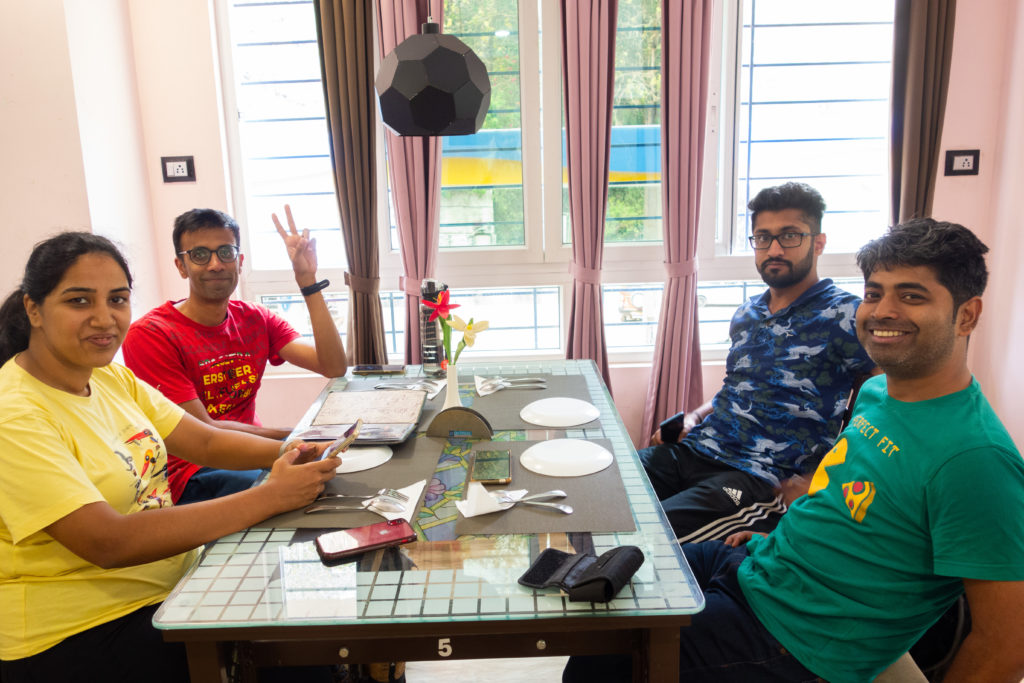 By the time we reached Yuksom, it was 5.30 pm. It gets dark pretty quickly in the hills.
That evening, we had a long briefing after our dinner. The team comprised of the trek lead—Gagan, assistant trek leads—Pasu, Yu Hang, and Sancha, two kitchen staffs—Mohan and Harsh Mohan, twenty-two trekkers and two mule herders. Apart from getting introduced to each other (barring the kitchen staff and mule herders, whom we would meet later during the trek), we were given a small briefing about the route, what to expect, Indiahikes' philosophy, and safety protocols in general. Most of us had done a number of treks before; and barring a couple of trekkers, almost everyone had experience with Indiahikes.
Chapter 7: The cover of foliage
I remembered the unassuming entrance to the route. It had not changed at all. The accommodation that Indiahikes had leased for that season, was right next to it. We had our breakfast—eggs, idly, and an apple; packed some pulao for lunch and gathered outside. Everyone was brimming with excitement. There was no cell-tower coverage beyond Yuksom. I called up my wife, mom and sister and asked them not to worry. We wouldn't have any contact for the next eight days. I also shared the contact of the ground coordinator of Indiahikes. The trek leads and slope managers usually keep the ground coordinators up to date about the team's movements.
We left at 8.30 am and walked through the backyards of many houses, past a shade dedicated to the memory of a young girl, and made our way through the stony route that had seen a number of landslides in the past couple of years. When a route gets destroyed by landslide, the locals usually carve out another route above or below the older route and fix some support to prevent further landslides. The trail until the Kanchendzonga National Park entrance is exposed on one side to the Rathong Chu river through which we had a clear view of the green hills across the valley.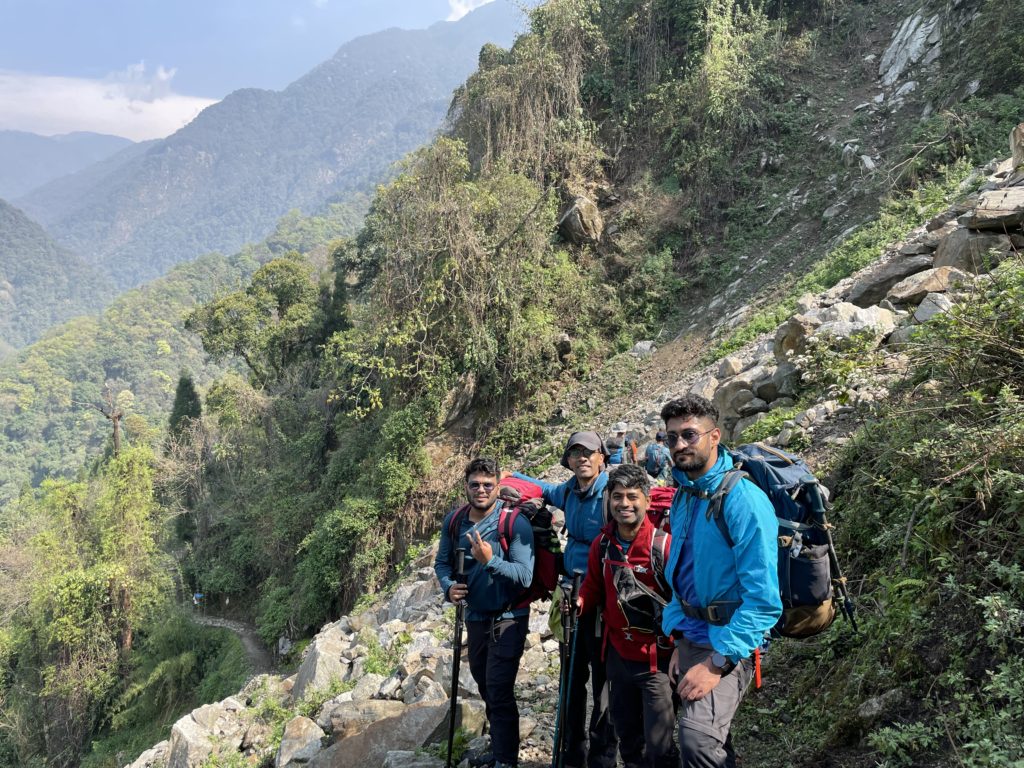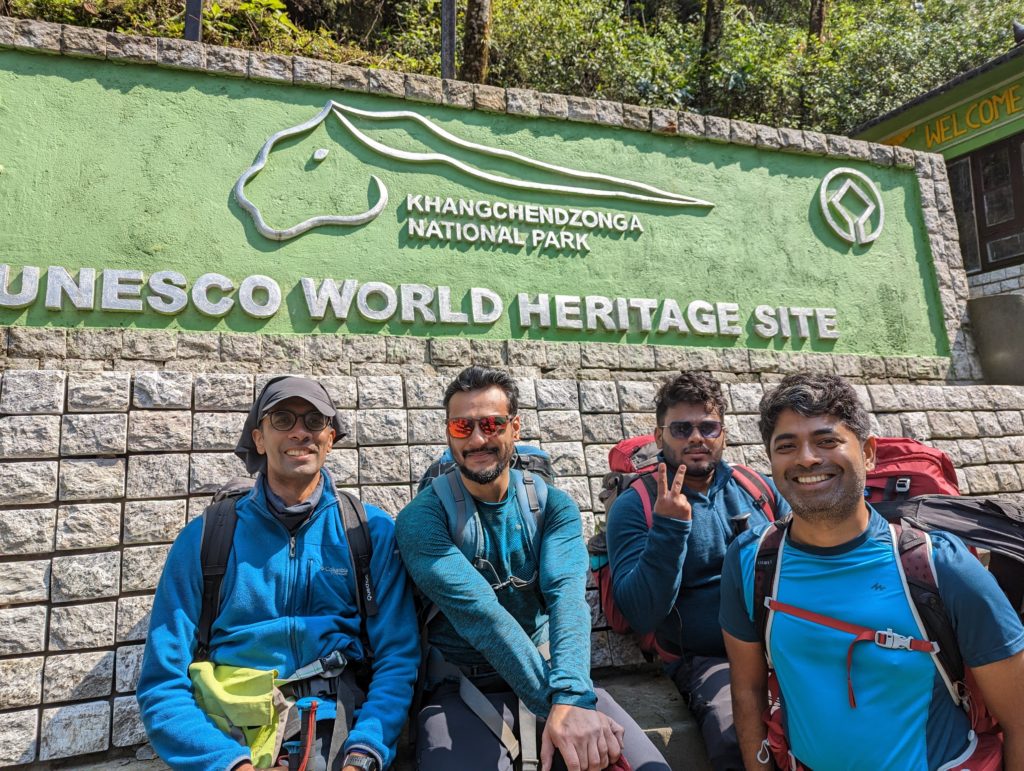 We reached the entrance at around 9.15 am. As soon as we entered the national park, we were greeted by the cover of a wet temperate forest. This would last until Bakhim—a place we would reach the next day. The weather got more humid as the day progressed and as we entered deep into the forest. We crossed three waterfalls. Mayank and I stopped at one of them to refill our water bottles. We even met the guys from the first batch who were making their way back to Yuksom. They had great luck with the weather. I hoped we also had lady luck's blessings.
Me, Mayank, and Sourav—an IT professional and a photography enthusiast from Kolkata—reached Tsachen at 12.50 pm. There were four trekking groups at Tsachen, including us. The mules hadn't reached yet, so we did not have our tents. The other three teams had already called dibs on their camping spots. The trekker's hut where I had stayed in 2008 was being used as a kitchen by all four groups. They had built a new shade where the groups could take turns to have their meals. That evening, we had some pasta for our snacks and dal, rice, and cauliflower sabji for dinner.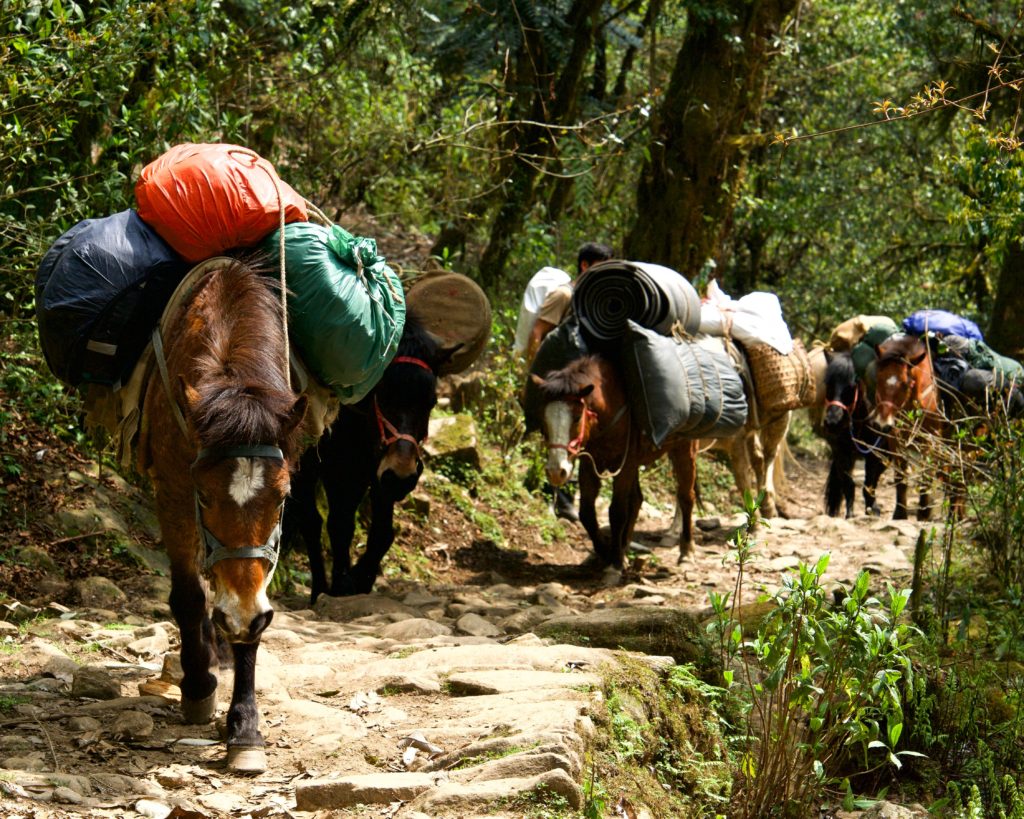 Rajdeep, Mayank and I shared a tent for the entirety of the trek. Before going to bed, I made a note of a couple of things. Firstly, I was carrying my camera in a waist-bag that was hung like a sling. I could as well keep the camera at the top of my bag and take it out if I saw something interesting. That way, I would be able to walk much comfortably without a dangling weight. Secondly, I had to stay ahead of the pack. This would give me ample opportunities to stop, unload my backpack, and take out my camera if I encountered something interesting. Thirdly, I had to make sure that I did not have anything that could even be mildly upsetting to my stomach—like milk or cheese. My digestive system wouldn't be able to handle any stress arising from my intolerance to lactose or overeating at higher altitudes.
The next day we had our breakfast—roti and cabbage—and packed our lunch—paratha and potato—before leaving for Tsoka at around 8.00 am. This stretch had the steep, two-kilometre long descend followed by an equally-steep and equally-long ascend across Prek Chu river. It was just like I had remembered from fifteen years ago. This wouldn't be the last time I would cross Prek Chu. This entire stretch was jammed by trekkers, staff and mules from all the four groups as well as those who were descending back. As I approached Bakhim, the foliage cover slowly disappeared.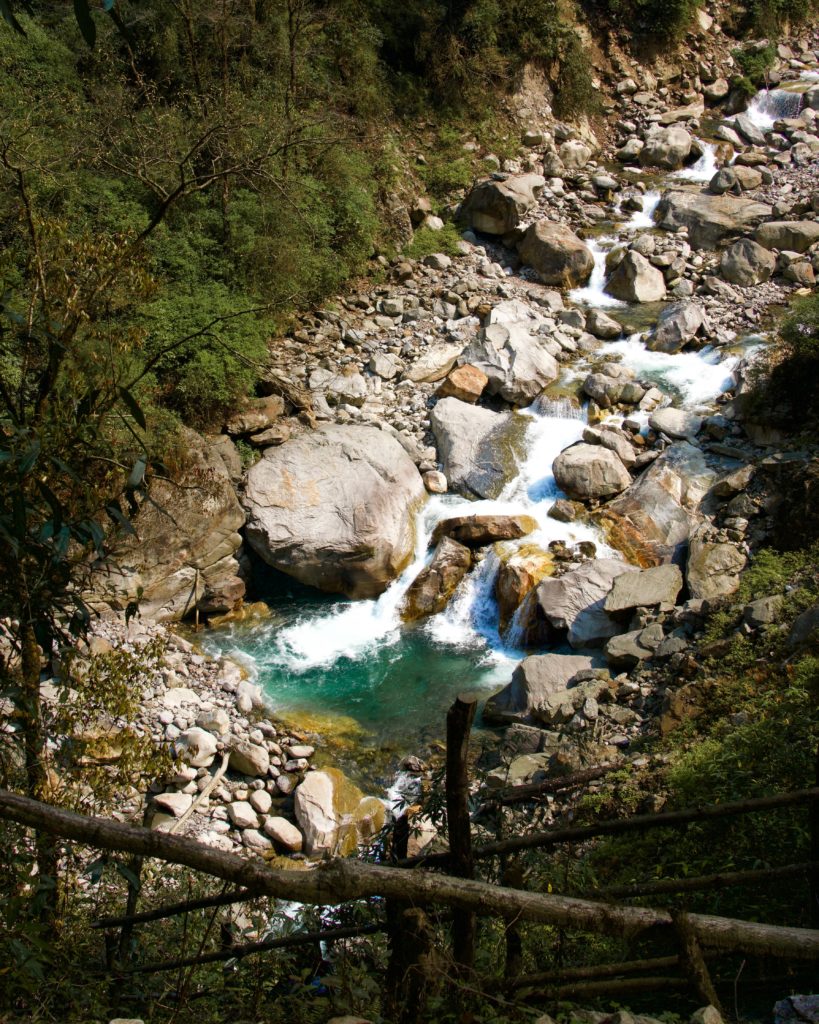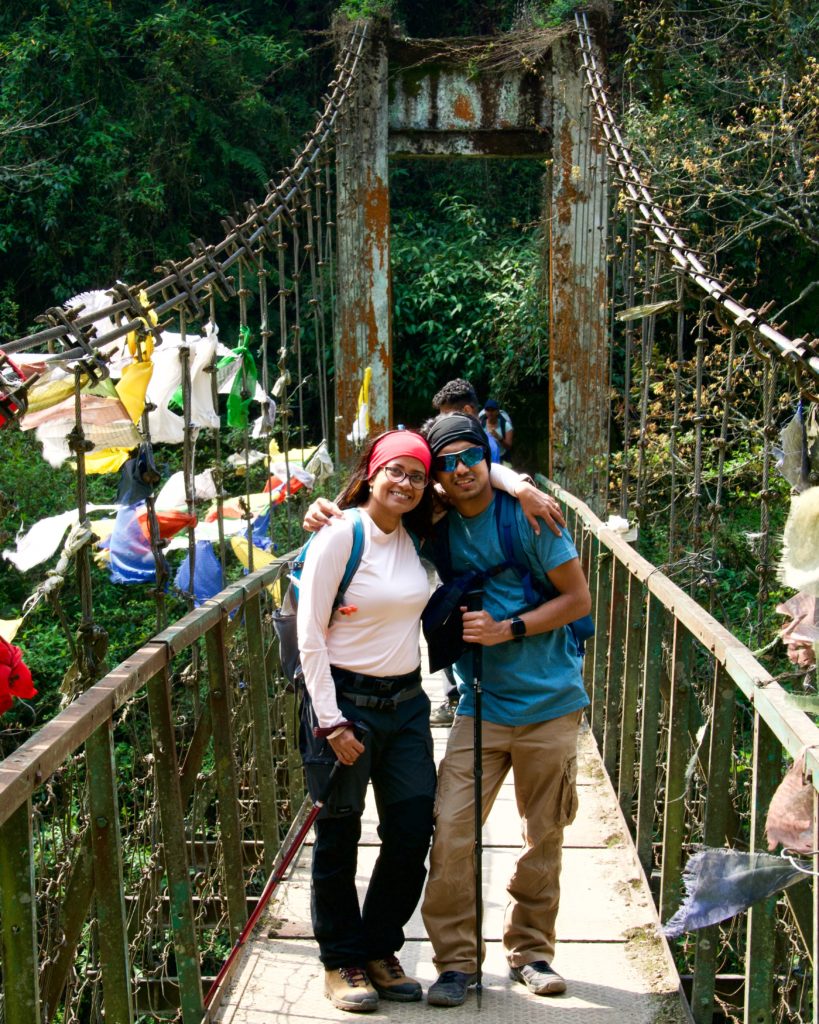 There was a new canteen at Bakhim. Some of us—Shankar (a marathoner), Trilochan (a retired employee of the Income Tax department), Bibhas (a geologist currently residing in the Netherlands), and Mayank sat inside and had some dry Wai Wai and omlettes along with our packed lunches. I got some batteries for Rajdeep's headlamp as well. After we were done with our lunch, Mayank and I went around. The trekker's hut where I had stayed back then was in tatters and the Forest Rest House got destroyed a couple of years ago.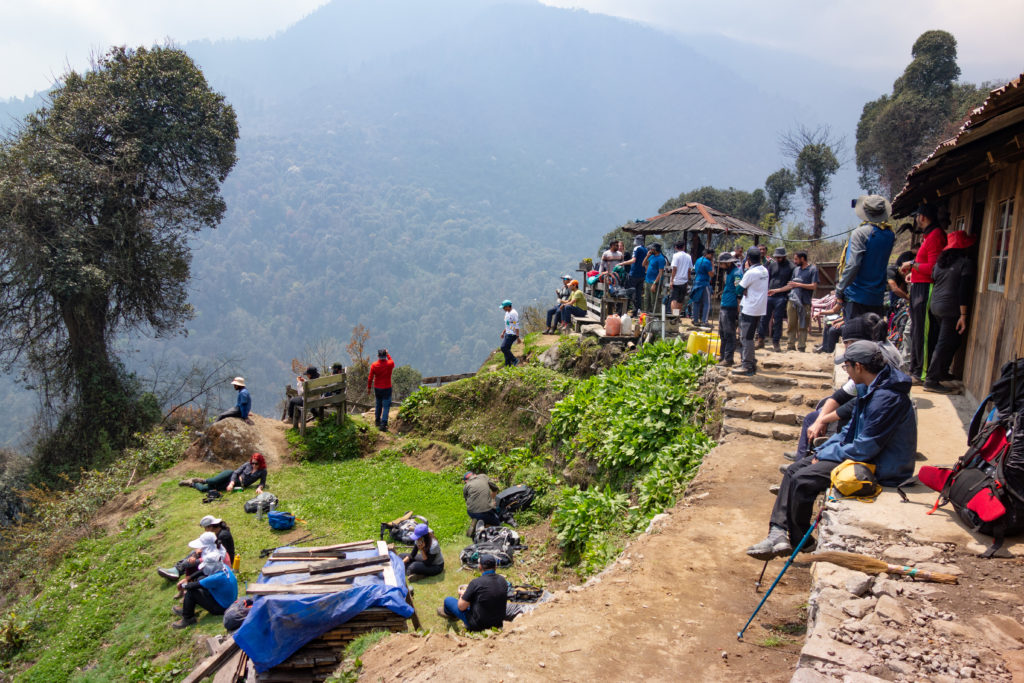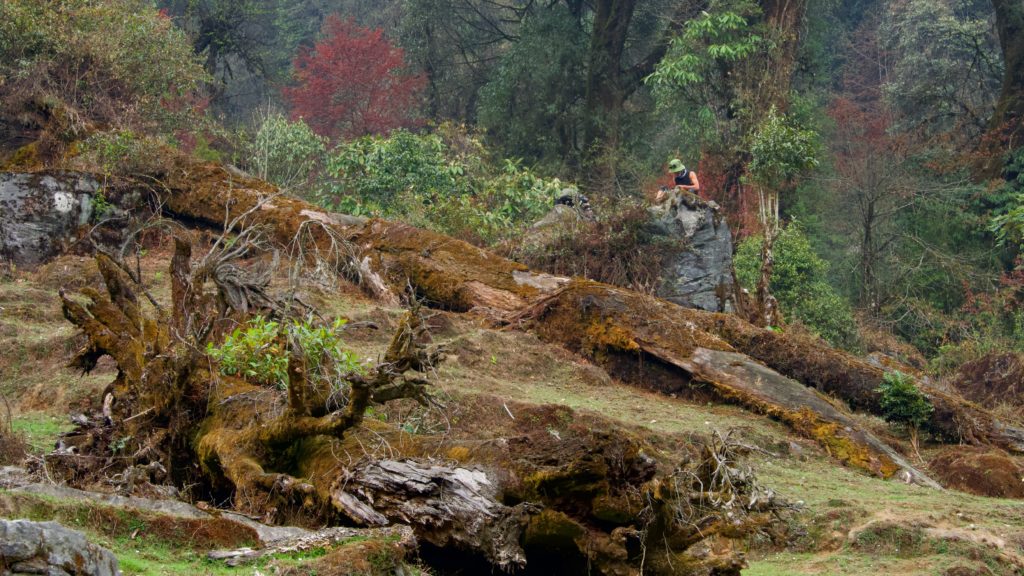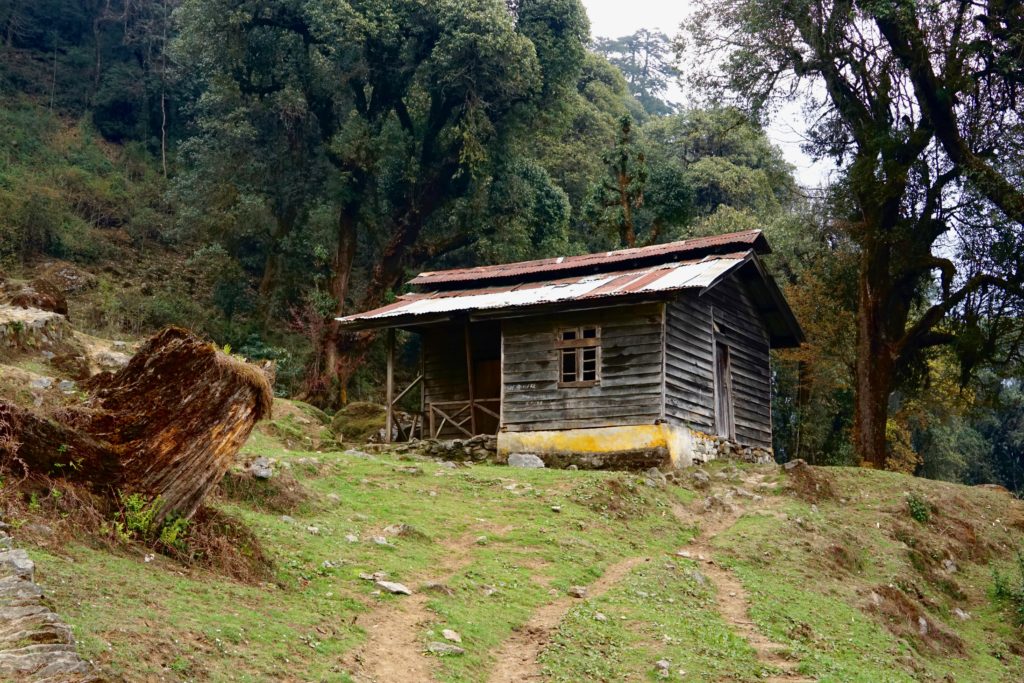 Chapter 8: Magnolias, Rhododendrons all the way to Dzongri
The day wasn't over yet, we still had a couple of hours to go before we could reach our second camp at Tsoka. There is a beautiful meadow about a kilometre from Tsoka that is flaked by magnolia trees and interspersed by some occasional rhododendron ones. The entire group stopped here for an extended period of time to take photographs.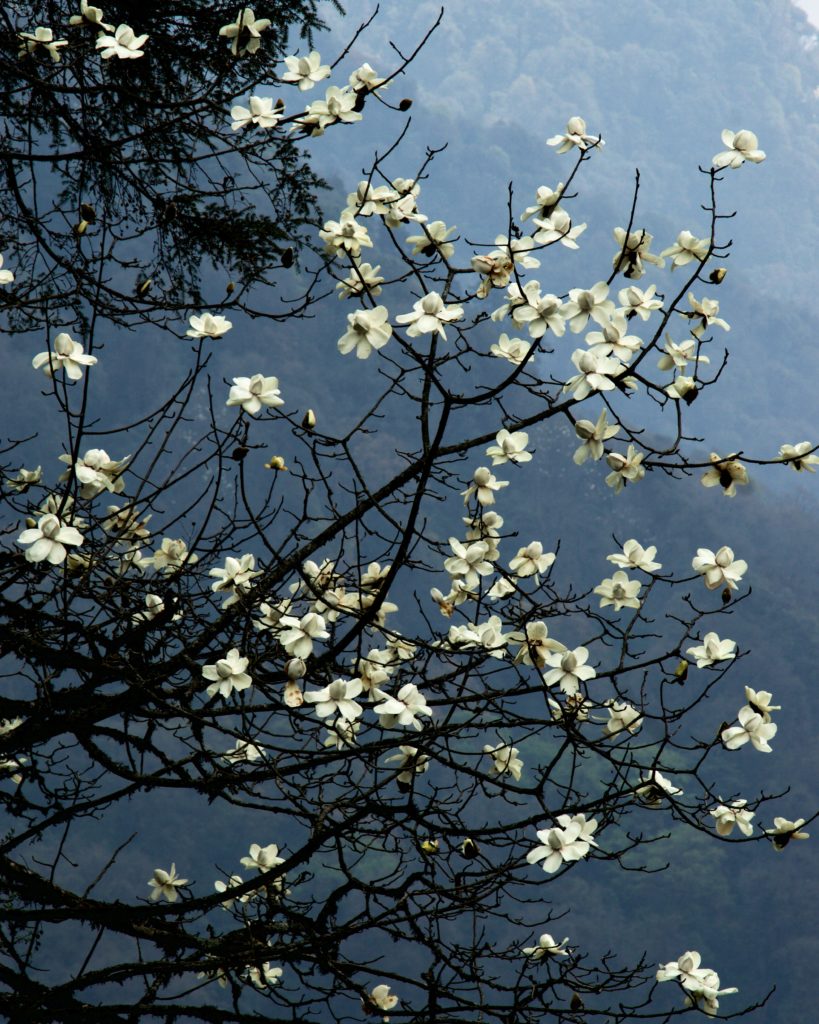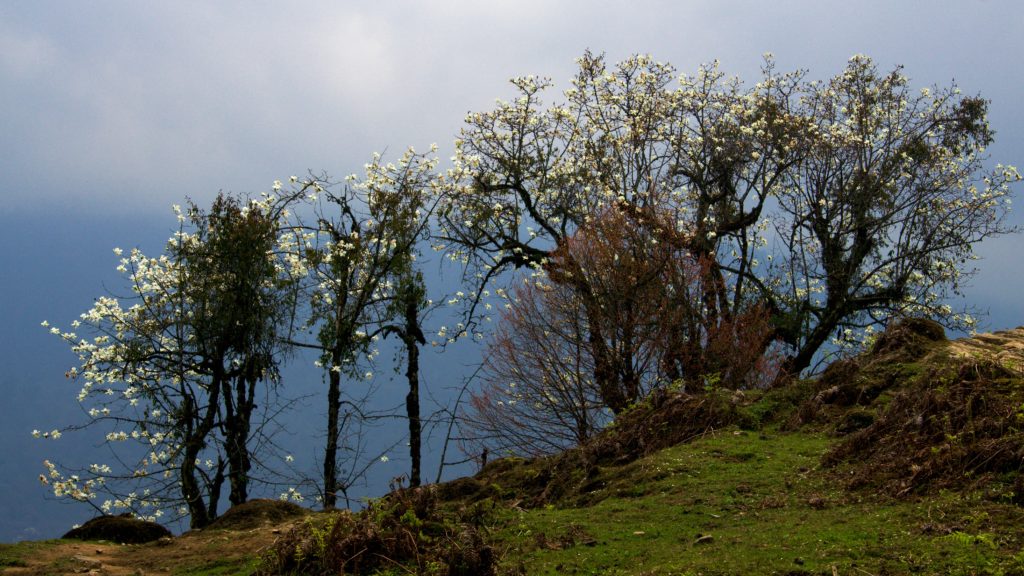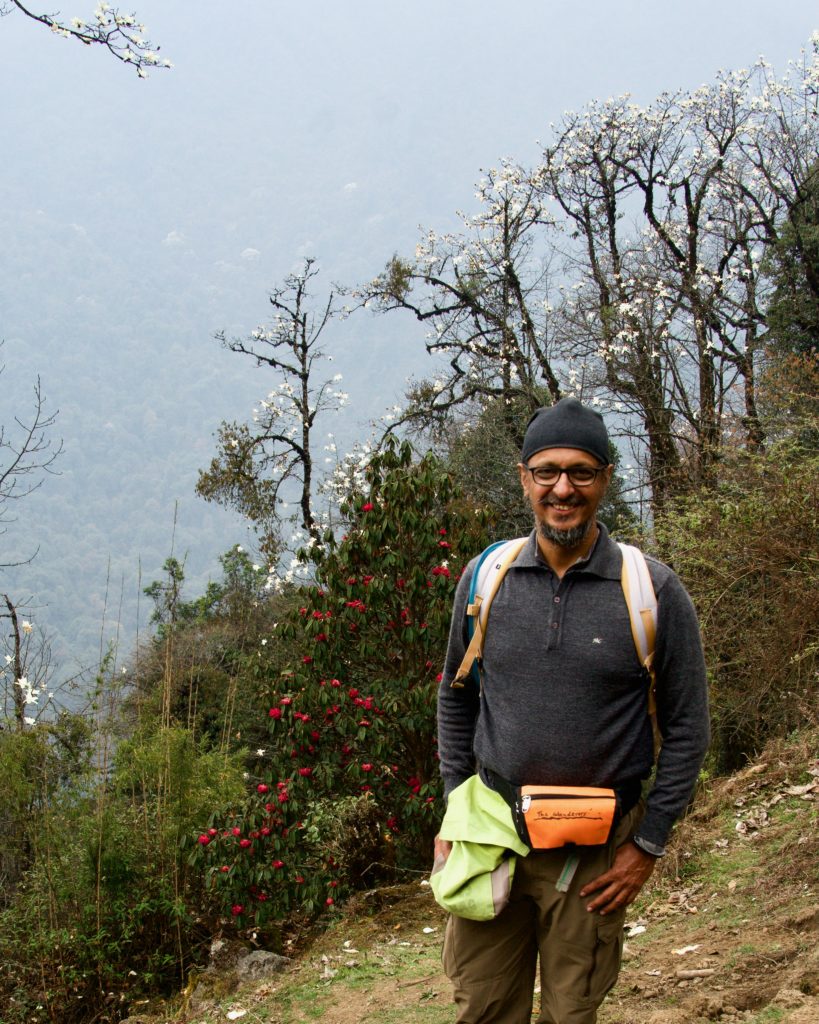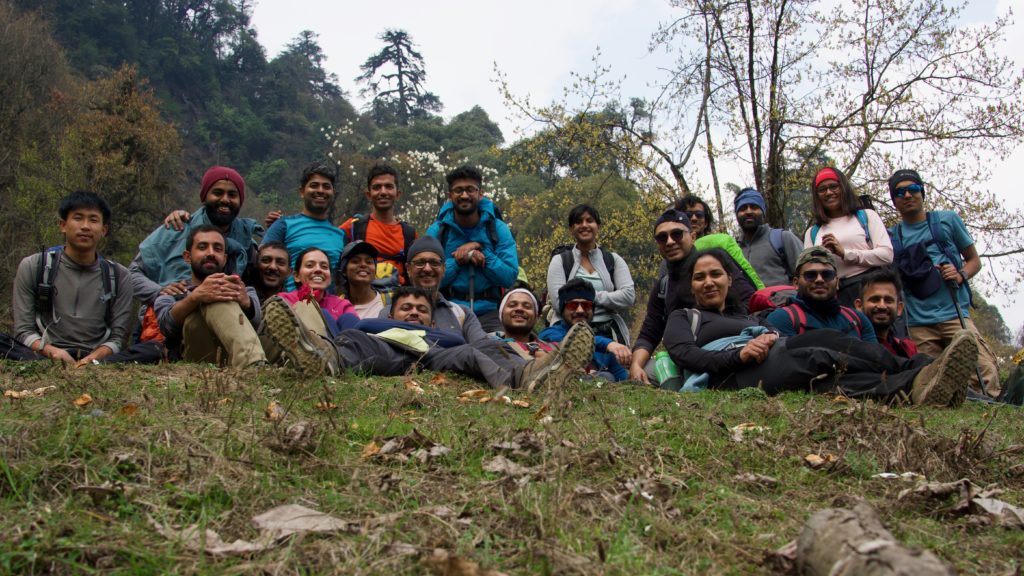 I reached Tshoka at around 2.30 pm. That evening we all sat down in our dinner tent and shared stories. I also broke my vow regarding not eating anything that wasn't easy on my stomach by gulping down some onion fritters.
The next morning, I woke up to clear skies and beautiful vista of hills covered in temperate forests. We were served poori-chana for breakfast and some vegetarian biryani for our packed lunch. Of the four groups, we were the last to leave. I crossed a number of TTH folks while climbing the steep trails covered with large deodar trees. A couple of kilometers into the trail, there is a small flat opening that had a large number of rhododendron trees. Most of them were in full bloom and bore red flowers. Most of us stopped to take a break and enjoy the colourful surroundings.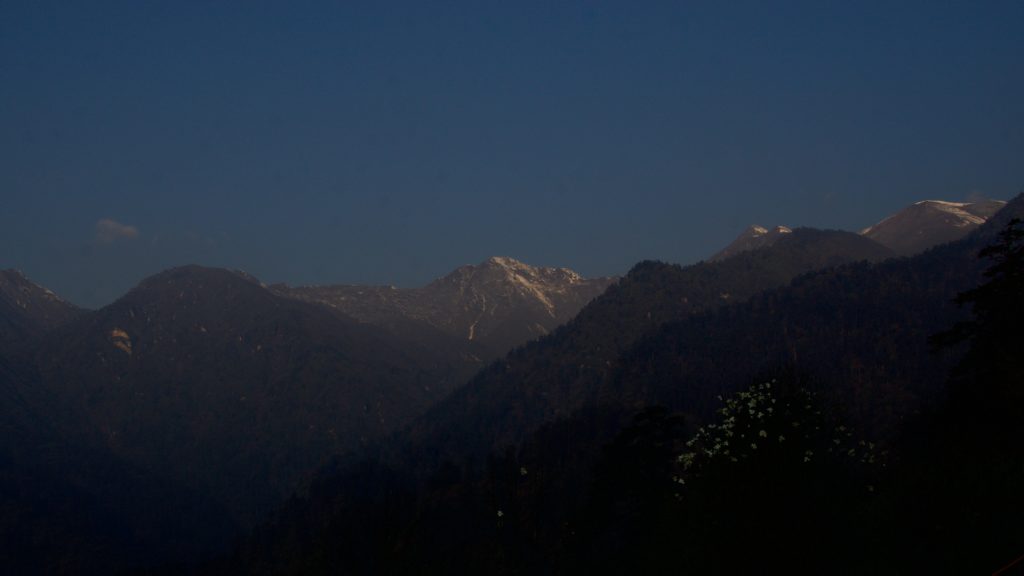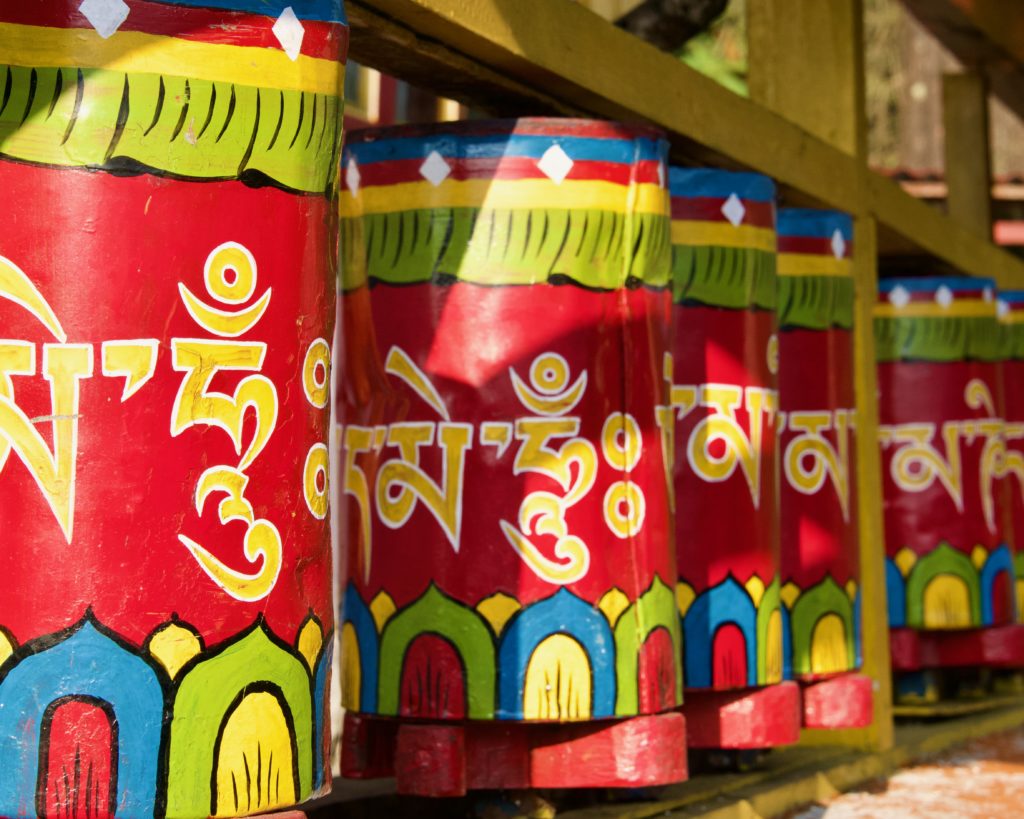 Rajdeep was not feeling well. I stayed back and accompanied him as Bibhas, Rajdeep and I slowly ascended to Phedang. Bibhas was one of the most experienced trekkers. His field of work in Earth Sciences took him around most of the places in Himalayas. I guess chatting alleviated Rajdeep's exhaustion quite a bit.
Gagan wanted all of us to leave together from Phedang. I finished the biryani that I had packed while waiting for the others. There was a shop that sold Maggi, momos, tea and omlette. I filled my flask with some black tea so that i could sip later.
The route from Phedang forked into two trails—one led towards Dzongri via Deorali, and the other led to Kockchurang. The latter would be the route we would take a couple of days later on our way back. Despite Gagan's instructions, I left early with Mayank, Bibhas, and Ajay. The trail from there was very gentle and was covered with rhododendron trees. A large section of this was paved with wooden planks. Spring had arrived a lot later that year. As a result, those rhododendrons trees did not yet bloom.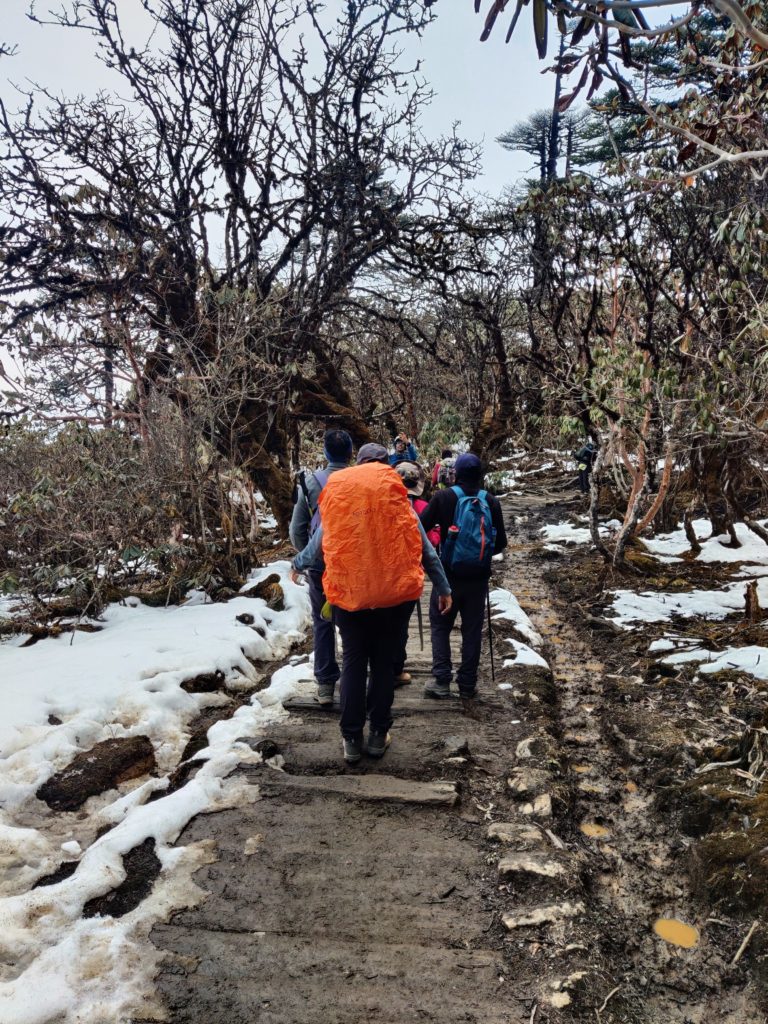 Once we were out of the rhododendron forest, we were greeted by the trail to Deorali. It was covered in loose gravel. It was also very steep. I had completely forgotten about this section from my 2008 trip. But as soon as I started crossing sections, I recalled the bends, the sunken route, the juniper bushes, and the occasional stepped ascends. Nothing had changed in the last fifteen years.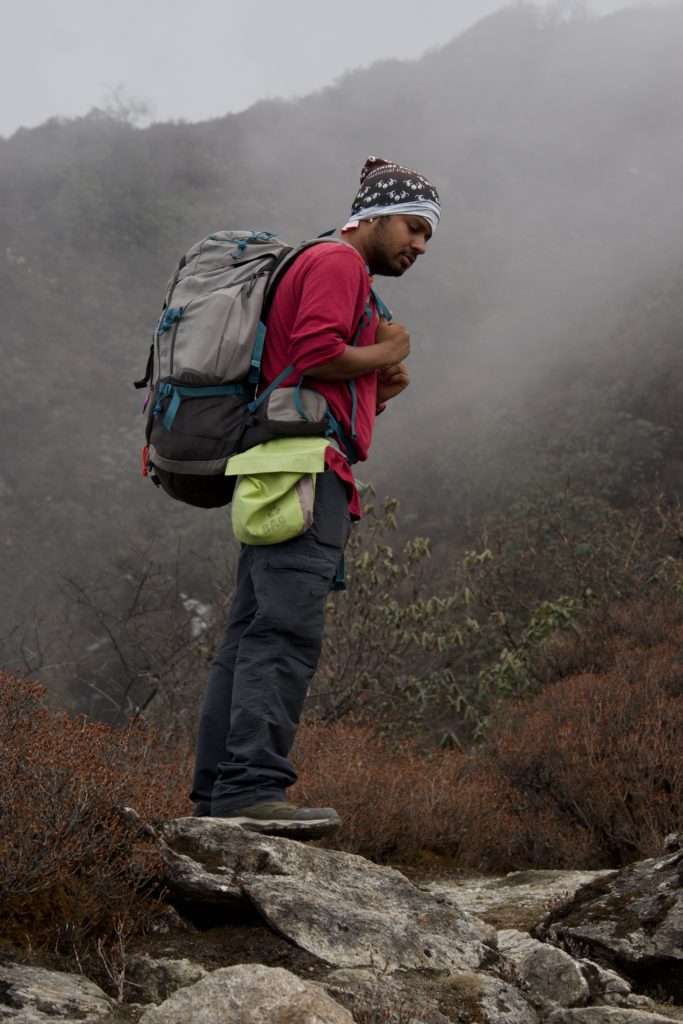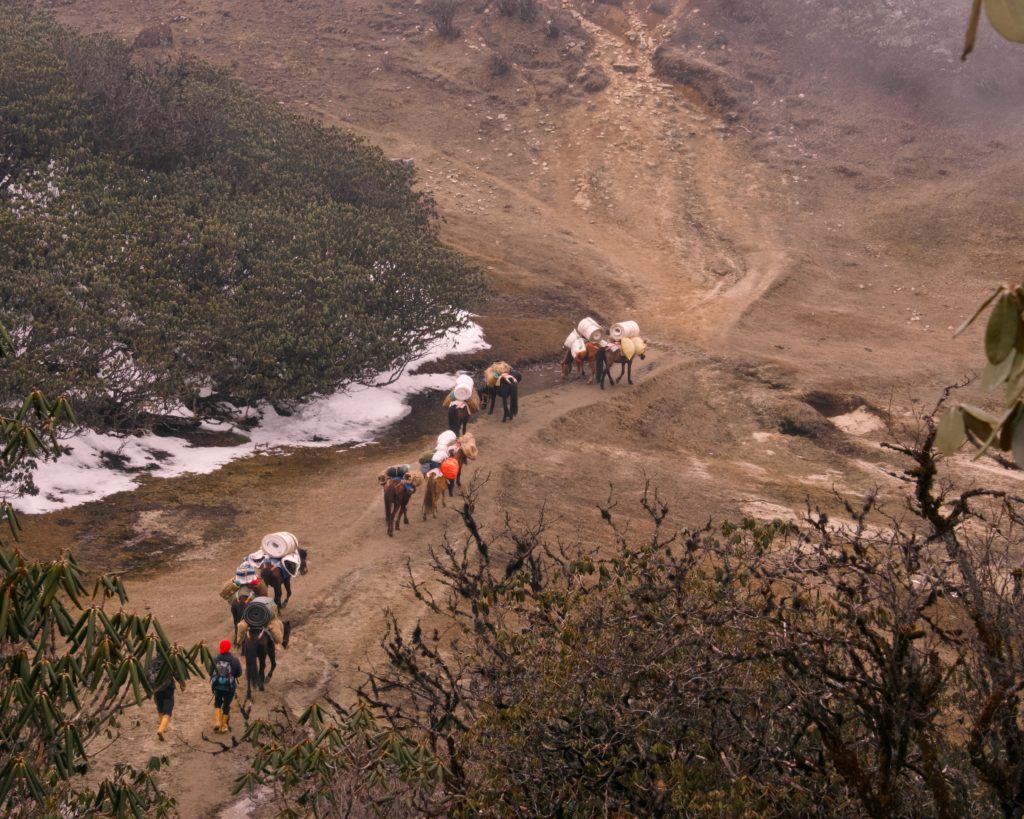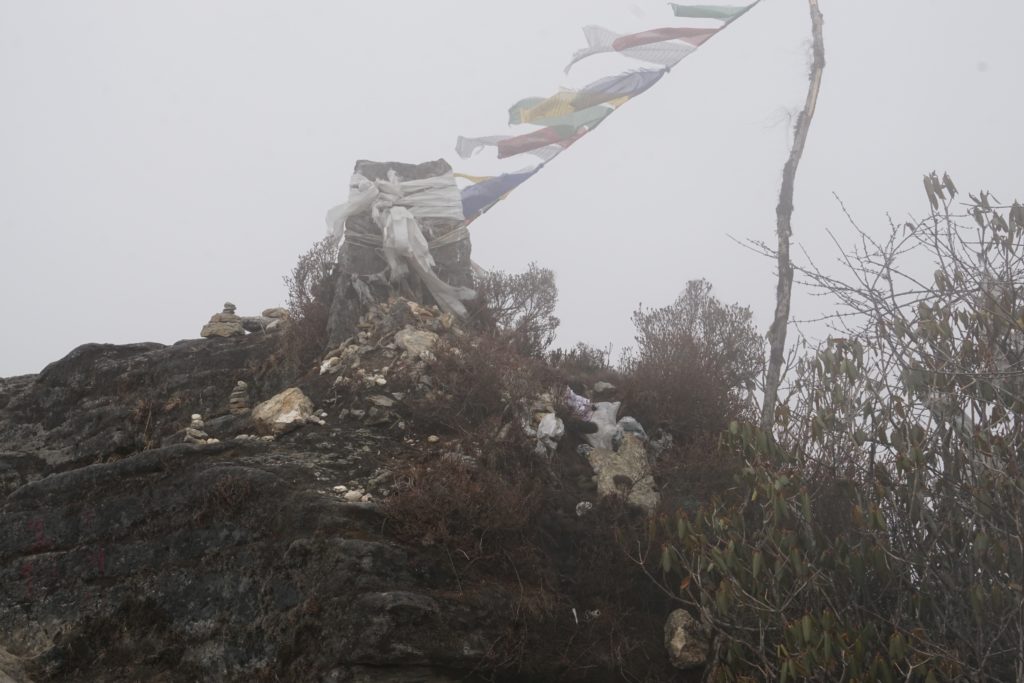 Deorali had a small shade and a chorten. We were greeted by a dog that was happy to have some biscuits while we sipped tea and petted him. We crossed quite a few trekkers from other groups and reached Dzongri at 2.00 pm. The dog followed us as well. Dzongri was busier than it was in 2008. The trekker's hut at Dzongri looked like it had been taken care of. There were two shops as well. We ordered some noodles and tea from one of them while waiting for the others. Mayank also bought a pair of gloves.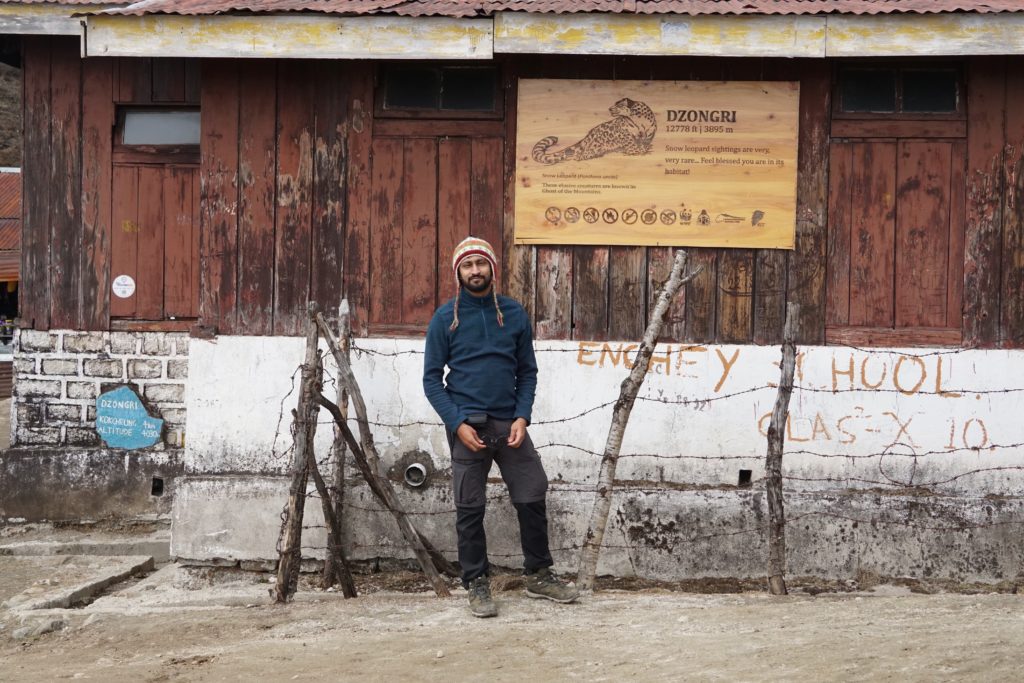 The team eventually arrived an hour later. Gagan gave us a mildly disappointing news. The staff did not get a spot at Dzongri to pitch our tents. We had to trek another kilometre up north to a place called Doring. In contrast to Dzongri, Doring did not have any shops. It was also an open meadow unlike Dzongri's camping spot in a valley that is naturally shielded from the winds. One the positive side, the view was truly stellar. In my opinion, it was a blessing in disguise.
It was already getting late. We pitched our own tents so that the staff could set up the kitchen and prepare our evening snacks. By the time we were done, it was already 3.30 pm.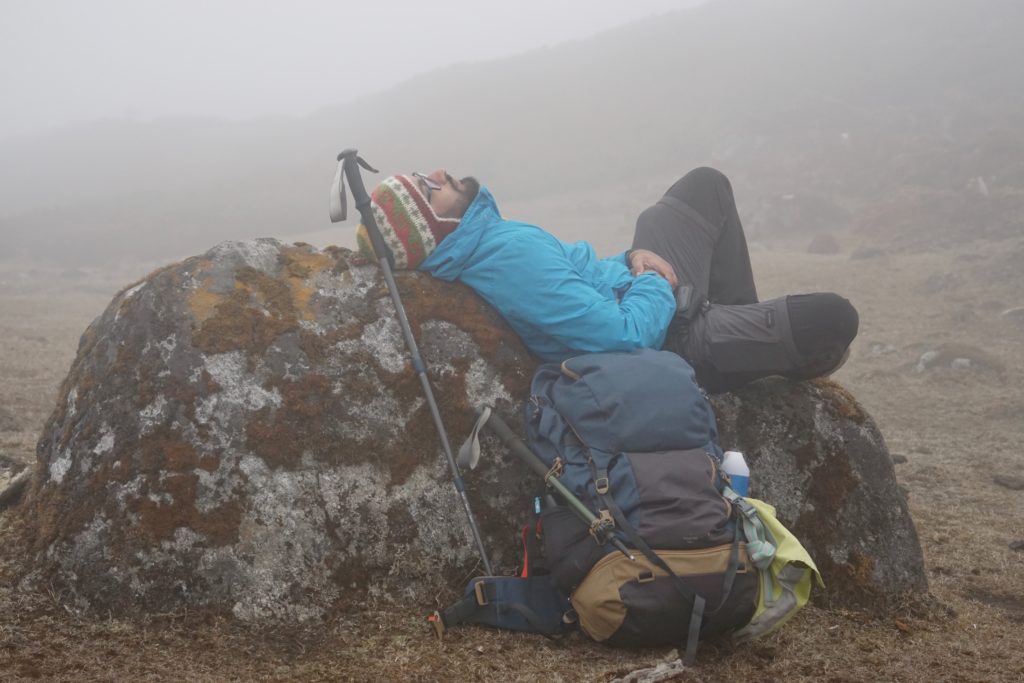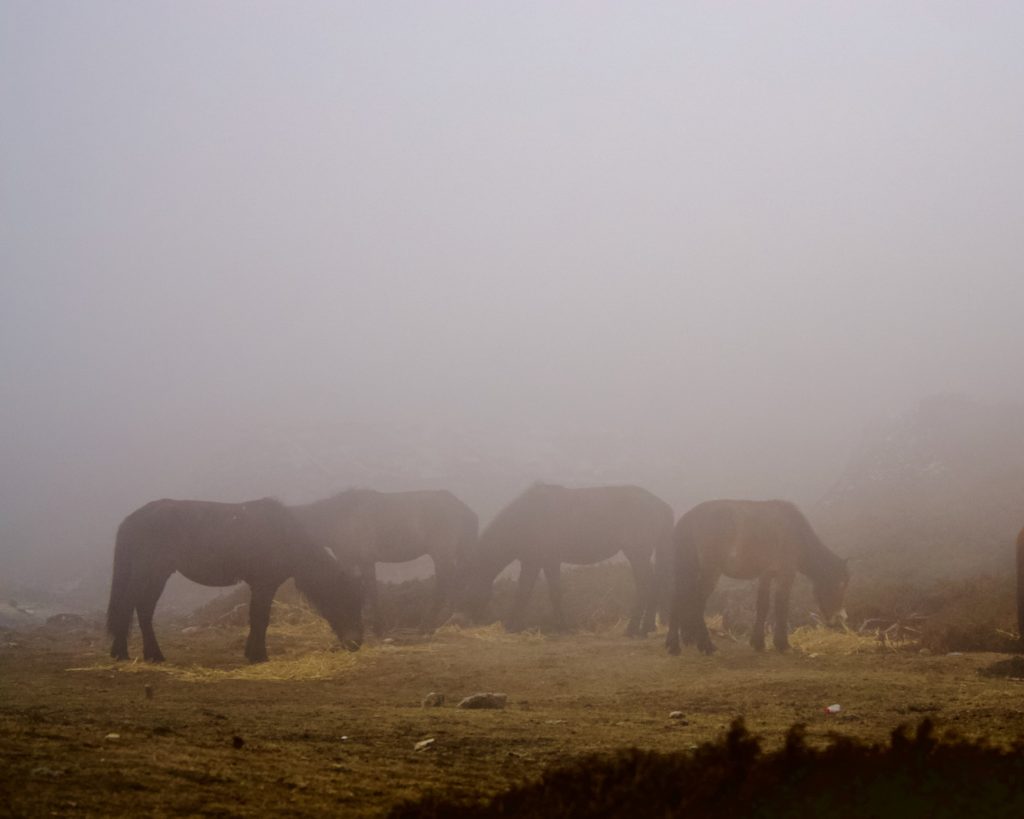 That evening, I had some noodles that the staff had prepared. My stomach wasn't digesting the food well. It often happens when our bodies are suddenly exposed to an atmosphere with lower oxygen. I took some medicine and skipped my dinner. Usually, such problems subside in a day.
Our day started before the break of dawn. We made a file and walked towards Dzongri La. Mayank and I stopped at the adjacent hill top and set up our cameras. This hill was not crowded as all other trekkers—including those from other groups—proceeded to Dzongri La. It also served as a practice for our summit day. I had beautiful views of Mt. Pandim towards my right, Mt. Kabru and Black Kabru right at the middle and Kanchendzonga peeking between them. The sun hit the peak at about 5.15 am. That gave me an idea of the time at which I had to be there at Viewpoint 1 two days later to catch the best view.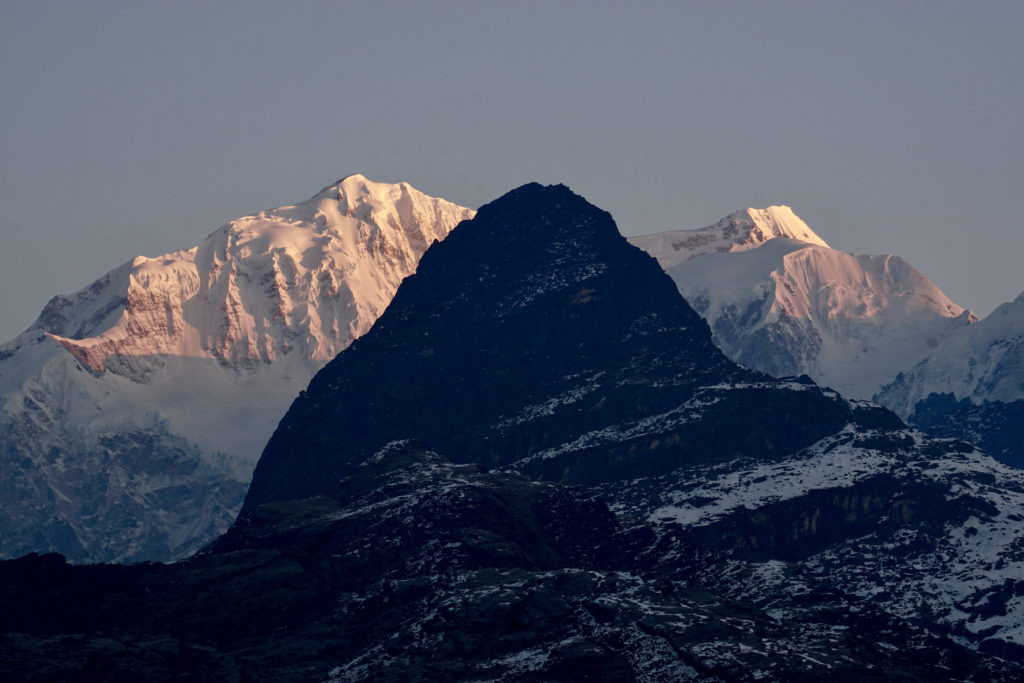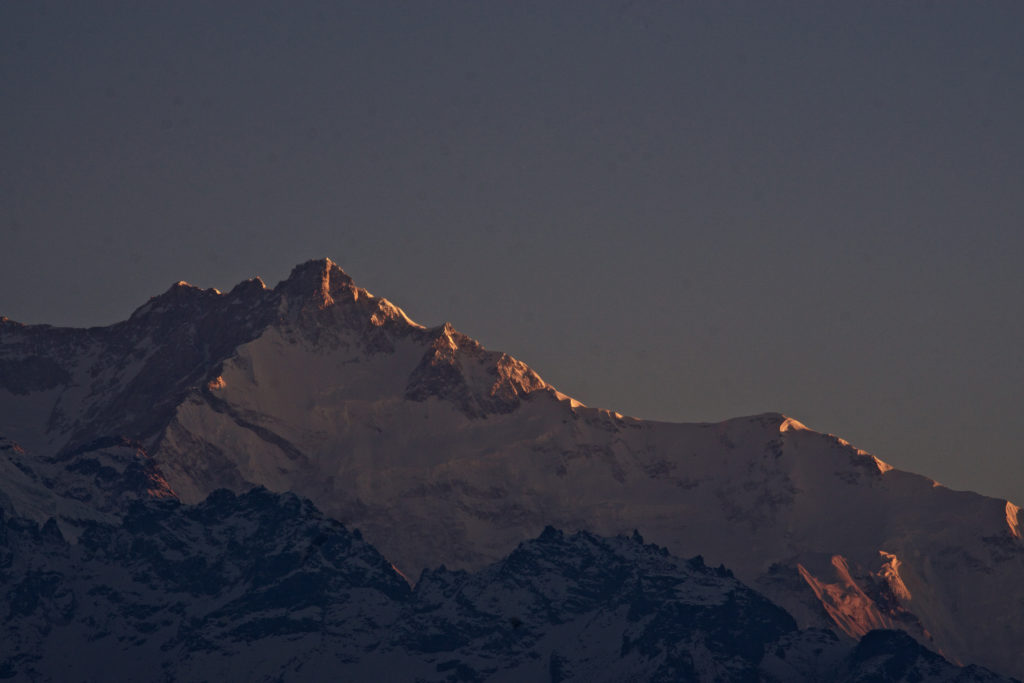 Unlike, my last trip, the weather gods were smiling on us. I hoped they kept smiling for the coming days as well.
That whole day was spent lazying round. It was our acclaimatisation day after all. A couple of trekkers decided to rest instead of climbing to Dzongri La. They headed out and took some photographs of the meadows and the vista that surrounded us. I kept sleeping throughout the day and only woke up to have food. The staff had made paratha for breakfast, rajma-rice for lunch, samosa for snacks, and dal and halwa for dinner.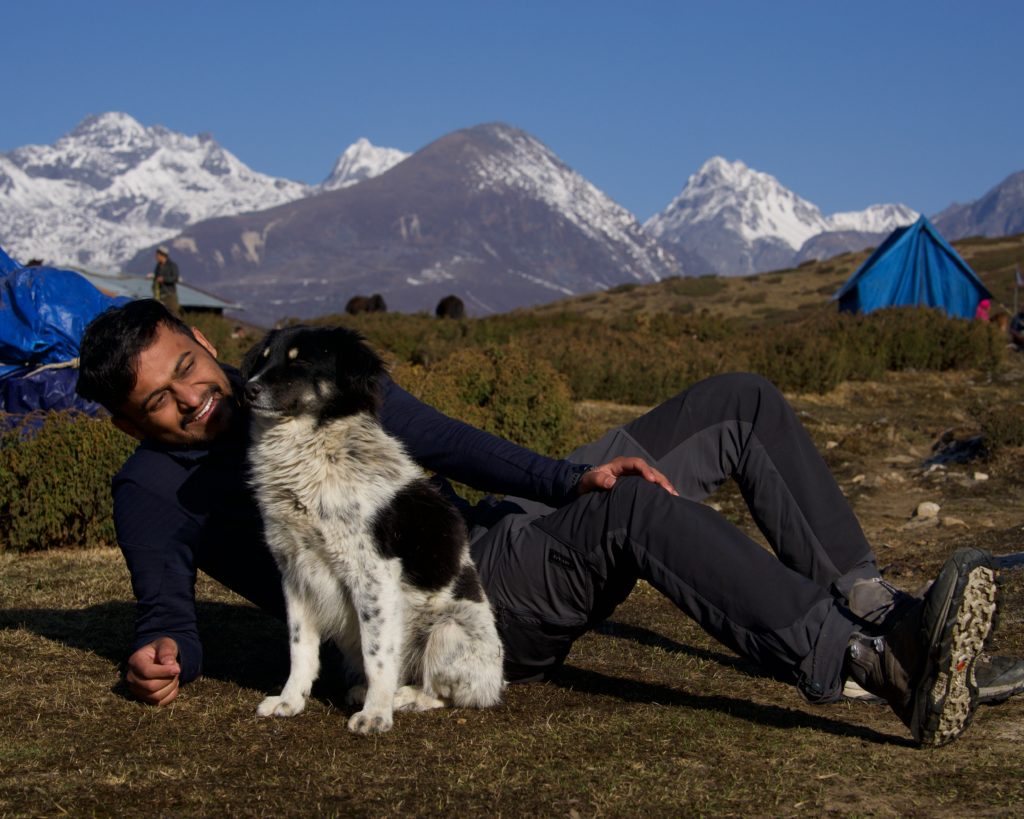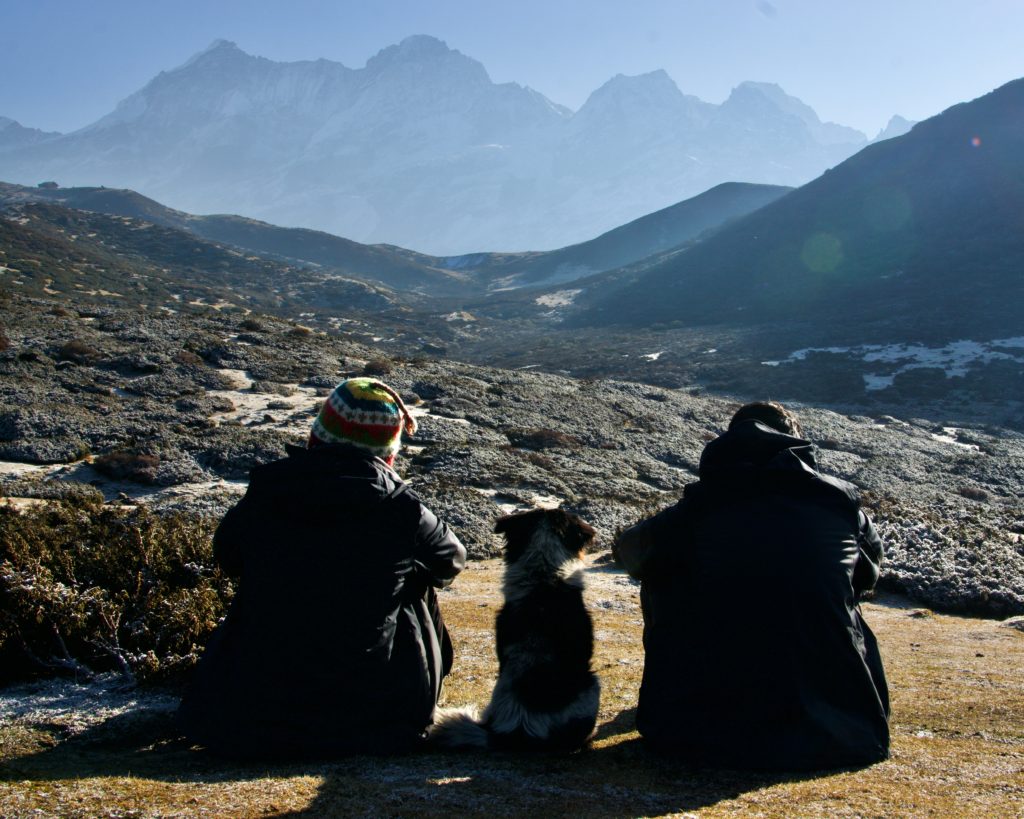 Rajdeep had recovered well. He was in high spirits after viewing the sunrise. On the other hand Gagan and Sneha had developed a bit of cold, while Aditya felt a bit of muscle fatigue. I gave Aditya and Rajdeep a tablet of diclofenac each.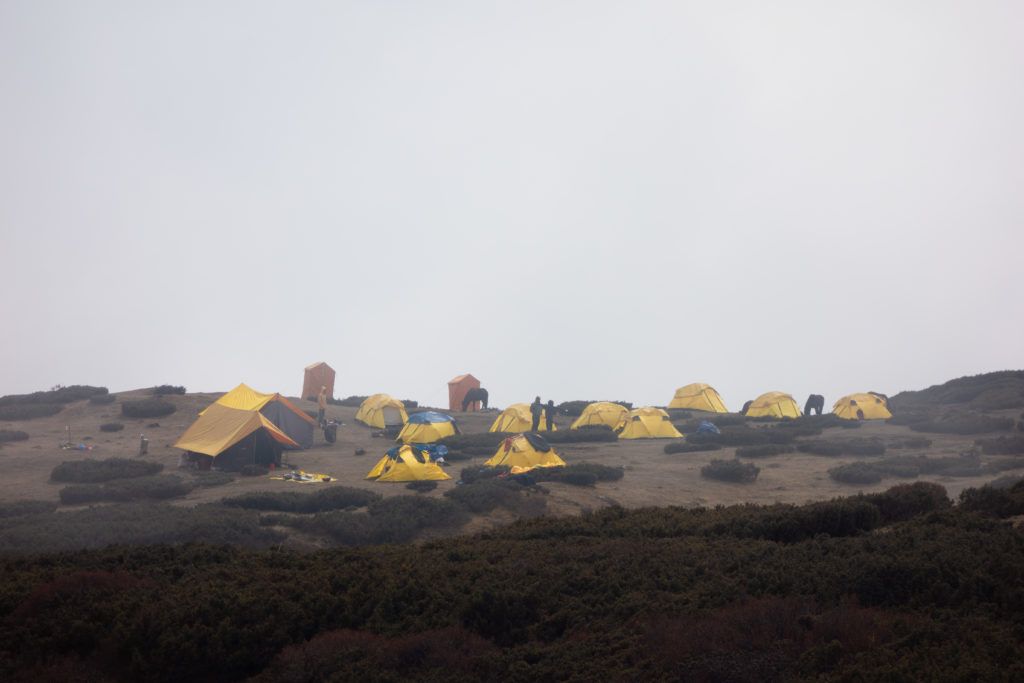 Chapter 9: The road I had not taken fifteen years ago
We left Doring at 8.30 am and headed for our next campsite—Thansing. I had some poha for breakfast and packed some more of it for lunch. From here on out, I would be trekking on a route I hadn't seen before. We walked over meadows that was occasionally covered with very short juniper bushes. At times, we came across patches of snow, too. We even stopped at a snow-covered pass to see Kanchendzongha peek through the ranges.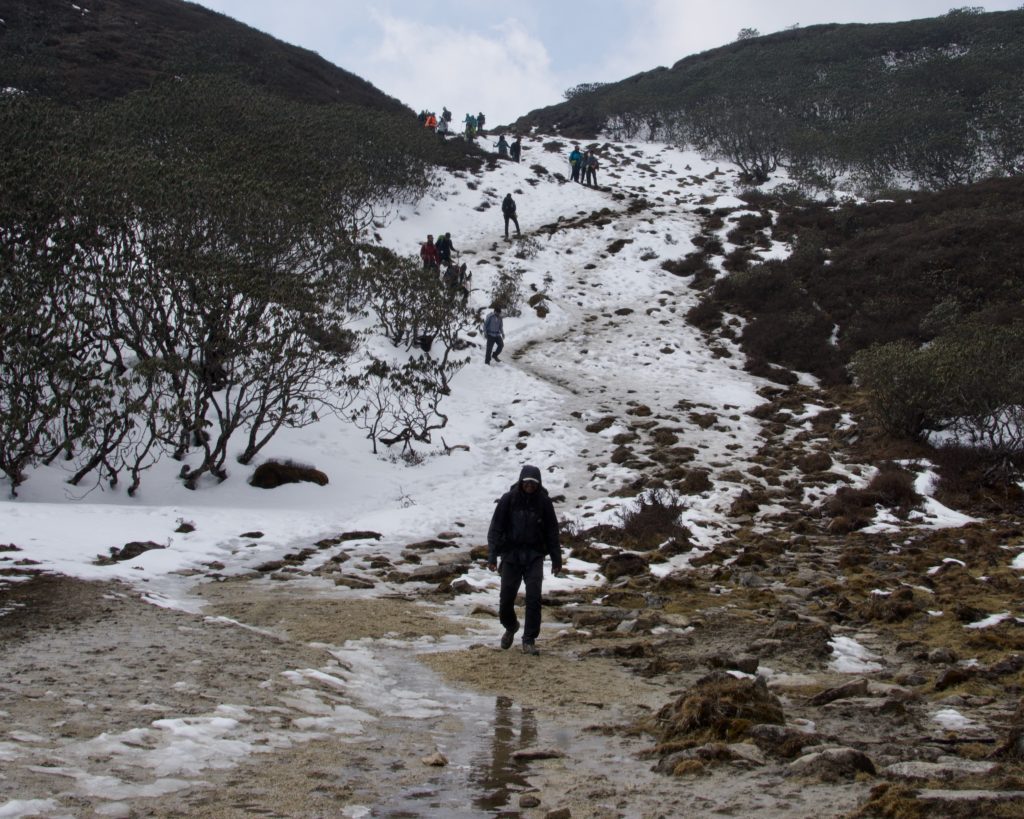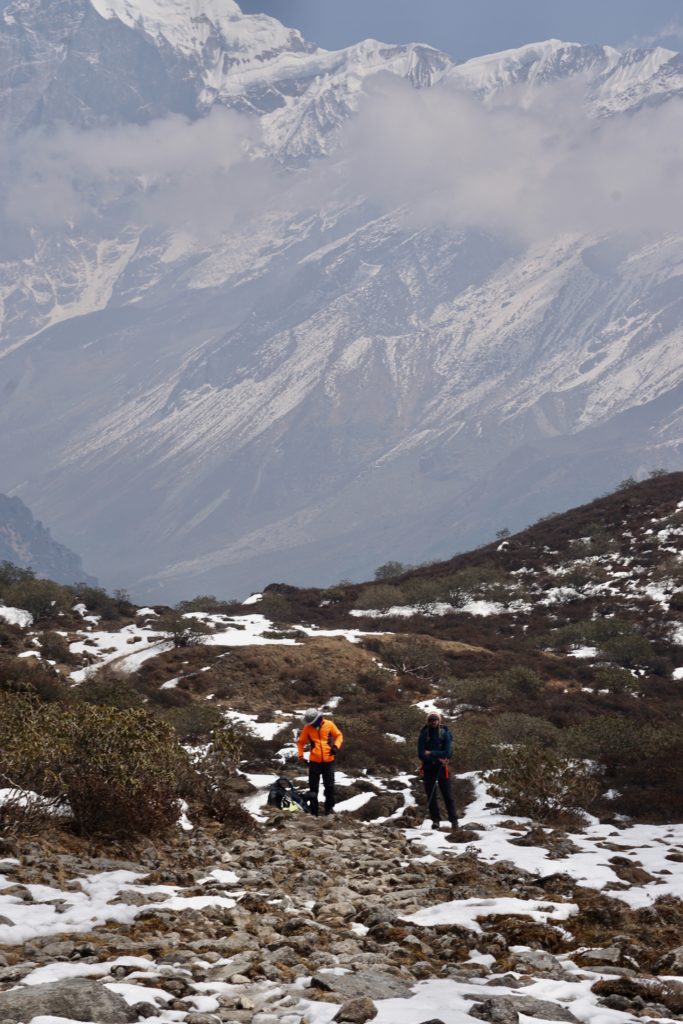 Snow had melted in places that were exposed to the Sun. In places, it had compacted into slippery ice. Descending on ice is usually very treacherous. I was using my trekking poles to anchor myself as much as possible through these sections. Later, I would get to know that a lot of our fellow trekkers had slipped and fell on their bum. For some of them, it happened multiple times. We were descending fast. The last stretch to Kockchurang was steep. I couldn't run my way down as the trail was rocky and covered in loose soil. (In case you didn't know, the best way to descend is to run down. It reduces a lot of impact on one's knees and minimises the number of one-legged squats that might lead to fatigue.)
Dipankar—an Ironman-certified triathlon coach and a triathlete himself—was ahead of Mayank and me. We reached Kokchurang at about 11:15 am. Our kitchen staff—Mohan and Harsh Mohan—reached soon after and asked us to wait until we all had regrouped. Dipankar had already gone ahead.
Mayank and I spent quite some time walking around Kokchurang. The trekker's hut felt like it was abandoned. It was not dilapidated like the one I had seen in Bakhim. Most itineraries followed by trek organisers do not have an overnight stop at Kockchurang. I guess, the mule and yak herders and trekkers who do the Goecha La trail during the winters stopped there. Sometime later, our fellow trekker's started to arrive in small batches. We sat inside the main room of the hut and had our lunch. By the time we were ready to leave, it was 12.45 pm already.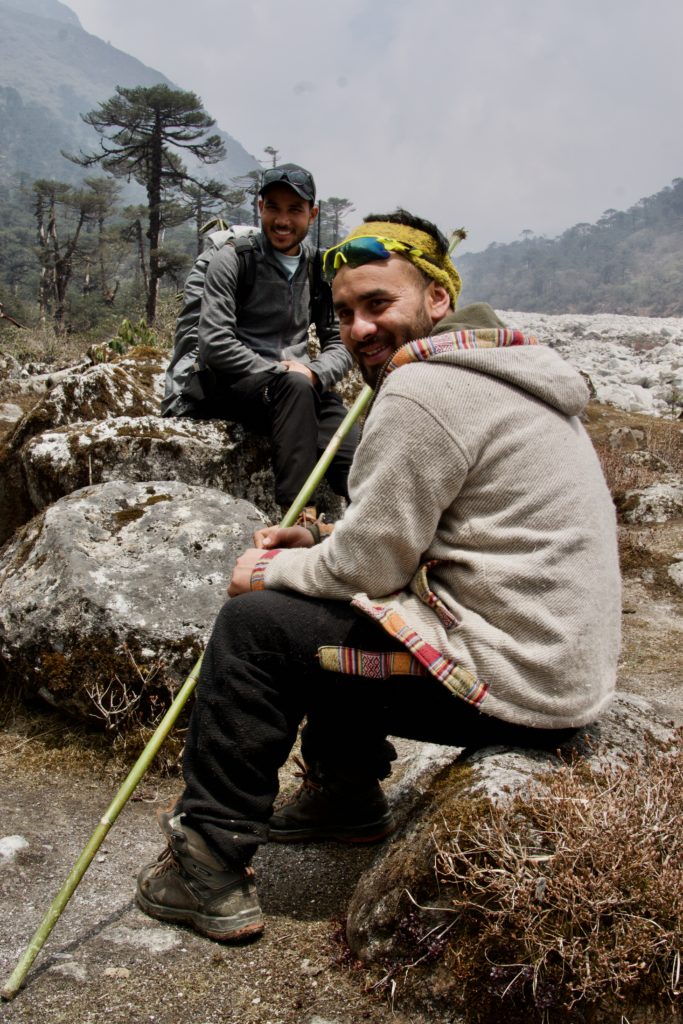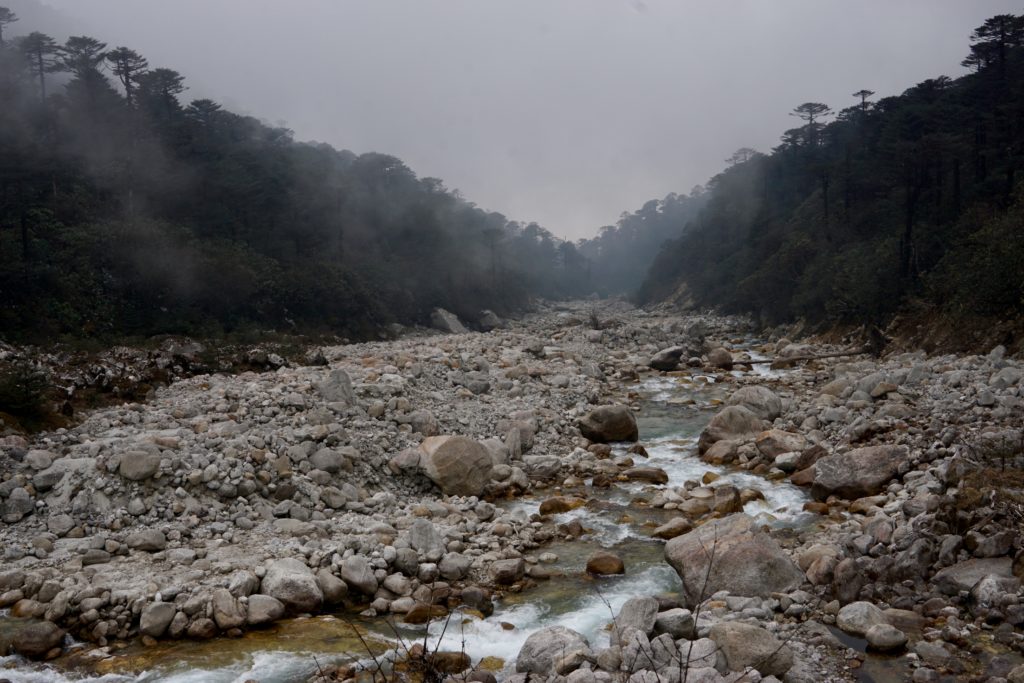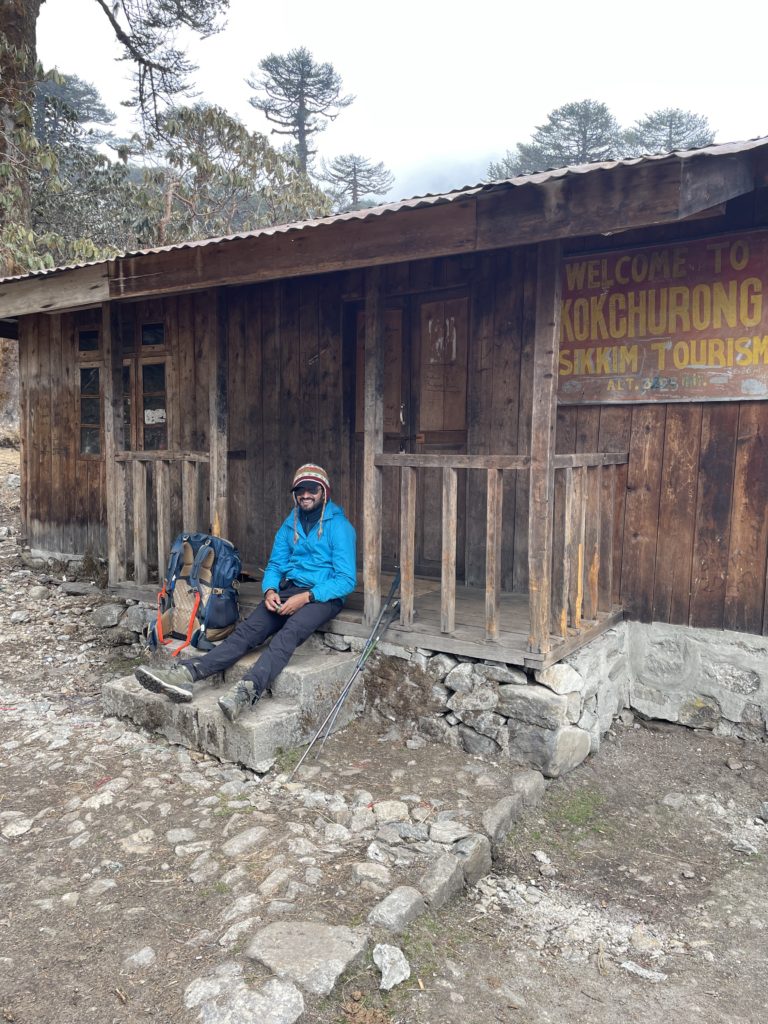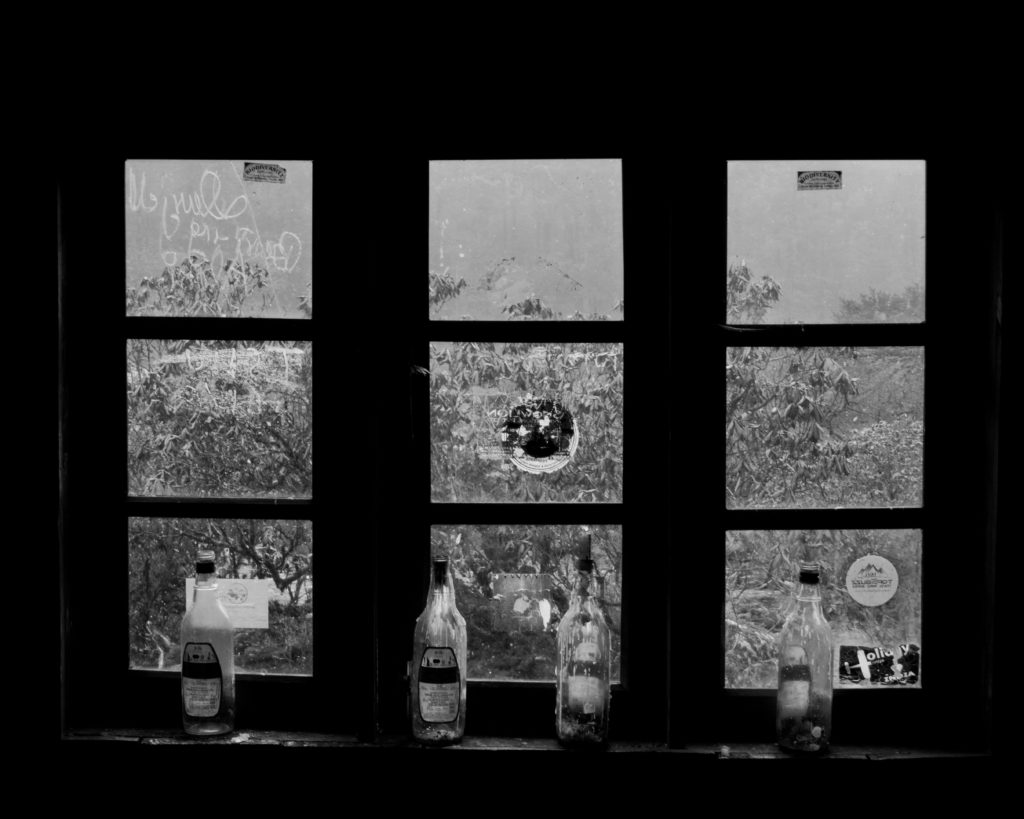 From Kockchurang to Thansing, the vegetation changes again. The descent introduced us to deodar trees once more. From there on out, we had to climb alongside Prek Chu river—who had made an appearance once more—and cross it twice.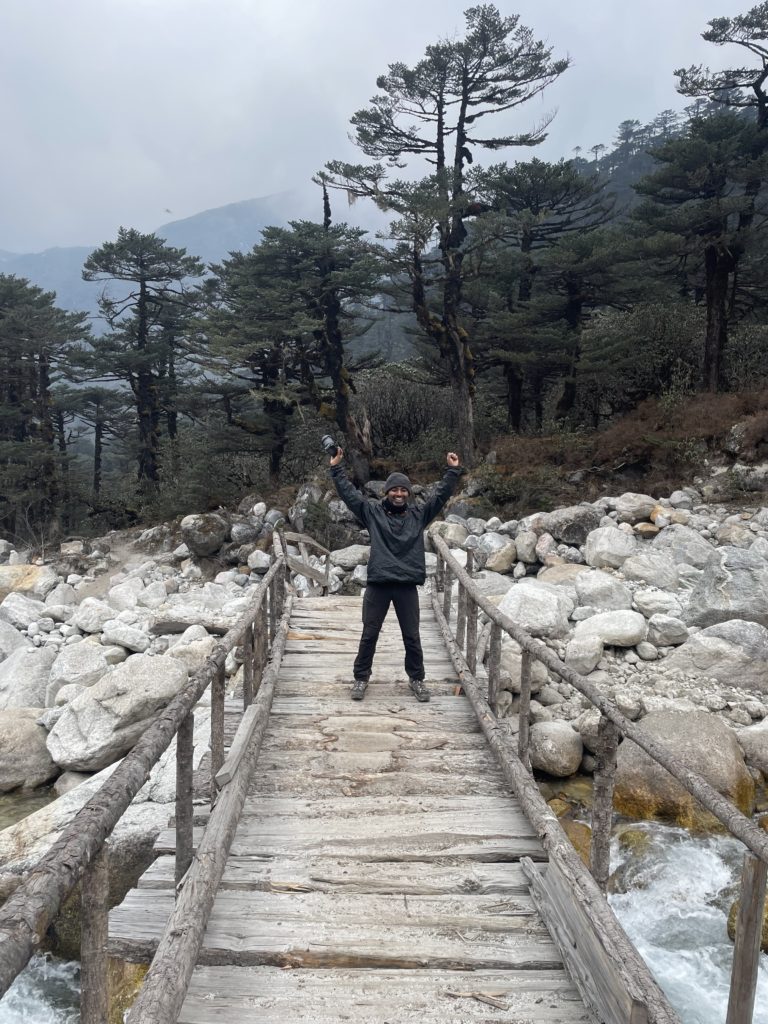 The stretch just prior to Thansing appeared less like a trail and more like a construction site. A couple of years ago, a glacier burst had washed away all trails and vegetation and had left behind moraine.
There was a small canteen at Thansing. It was run by a man called Gopal Limbu. He stocked Maggi, Wai Wai, packaged chips, and biscuits. He also hung dried meat in the kitchen. He said that it was meant for his personal consumption but he wouldn't mind cooking some meat if someone told him in advance. I had some Wai Wai, omlette and tea while our staff was busy setting up our tents. I ended up going back to this canteen multiple times that day and the next day. There is a certain satisfaction in having soupy Wai Wai with omlette in cold mountains.
That evening Gagan gave us a briefing about timings. Back in our tent, Mayank and I had made an estimate and deduced that based on the speed of the group, we had to leave latest by 12.00 am in order to trek the last eight kilometres to Goecha La Viewpoint 1 and get a glimpse of first rays on Kanchendzonga. It was hard to convince others who were expecting that we would be leaving after 2.00 am.
Finally, the group left at 12.45 am. We made a single file, switched on our head lamps and headed out. Koushik decided to stay back and sometime after a kilometre or so, Aditya succumbed to exhaustion and decided to head back to Thansing. En route, Sneha also felt severe exhaustion and sat down. She had developed symptoms of AMS. Gagan had Dexamethone (dex) injection in his med-kit. Sneha was a doctor and was able to administer it herself. Rajdeep also showed signs of exhaustion. He had developed a congestion but still pressed on. We kept walking in a file, occasionally climbing small rocky mounds and crossing streams of water. The slower folks were leading the pack to ensure that we were all moving together. As I walked on, I realised that a layer of frost had accumulated on my down jacket. The sky was clear and the temperature had fallen quite a bit. I hoped it remained so.
We reached the trekker's hut at Lamuney at around 2.00 am. I was worried with the pace of the group and wondered if we would reach our destination before sunrise. I had no clue of the the terrain surrounding me. It was pitch black. After another two hours of walk, we reached Samiti Lake. Dipankar made a suggestion that it would be wise to split into groups else even those who could have made it to viewpoint before sunrise wouldn't be able to. Yu Hang lead a faster group right into a two-kilometre-long steep climb. Mayank was the fastest in the group. I just kept following him. Occasionally, I looked back only to slowly see the headlamps spread out. In no time, we were walking through ankle-high deposit of fresh snow along the ridges.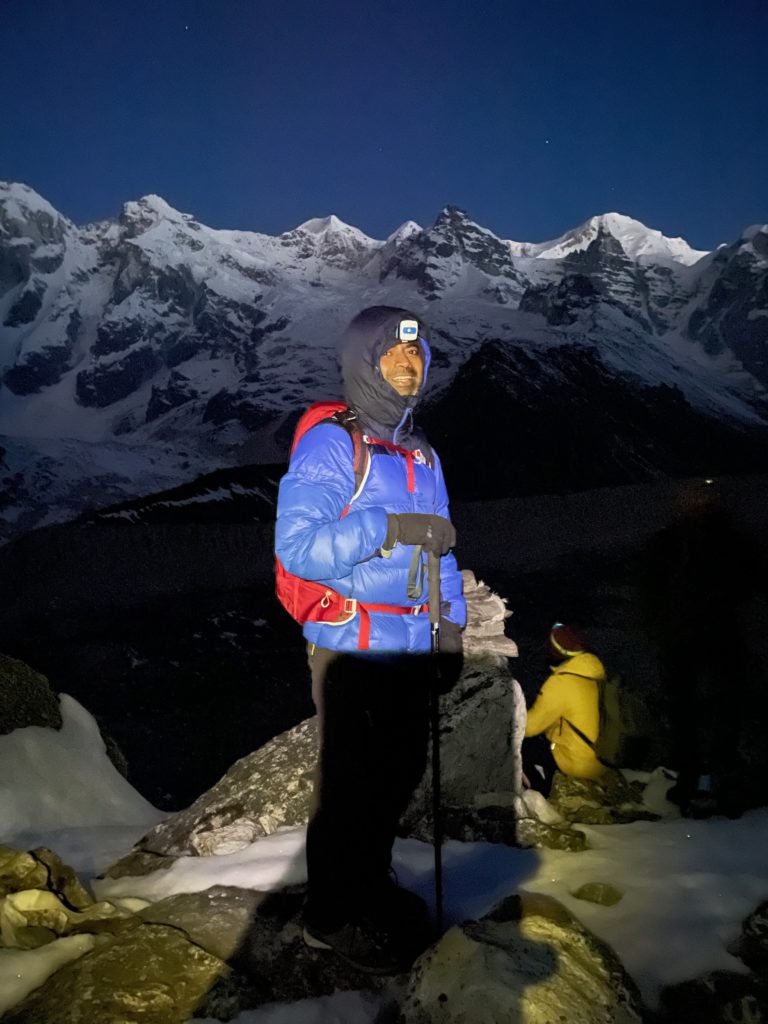 I reached Viewpoint 1 at around 4.45 am. The few of us who had broken away from the group with Yu Hang were the only ones on the flat snow-covered land right in front of the steep wall-like face of Mt. Pandim. This gave all of us ample opportunity to set up our cameras. The consistent exposure to cold air to operate my camera made my fingers numb. A couple of trekkers from a different group joined us and struggled to find a spot for placing their photography equipment. Well, the early bird gets the worm. Right at 5.15 am, the sun hit the Kabru peaks followed by Kanchendzonga. The weather gods had truly blessed us.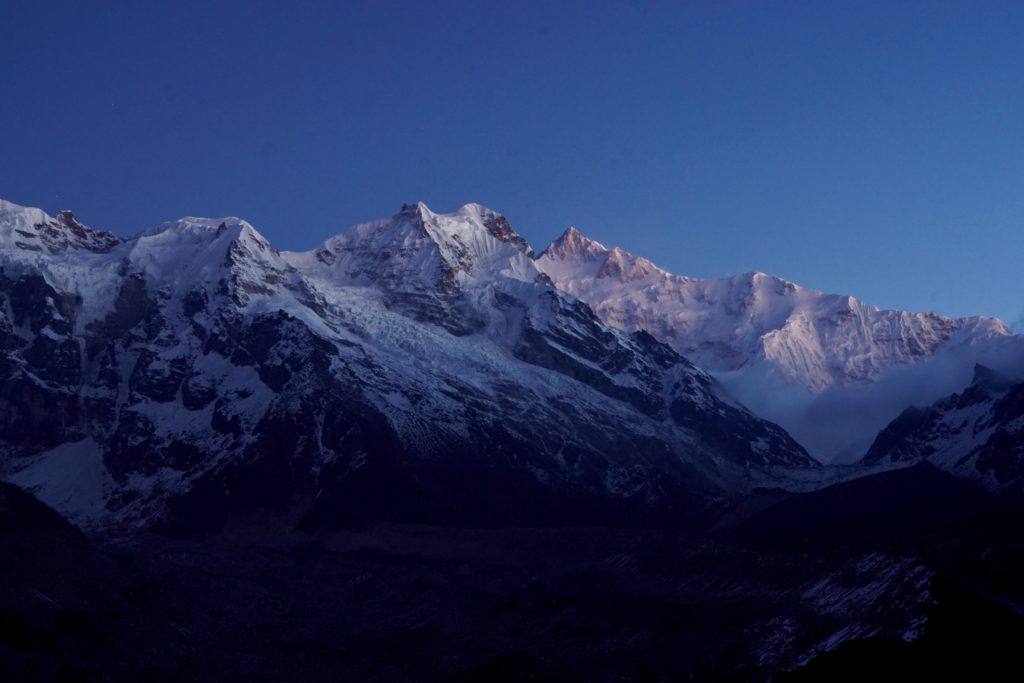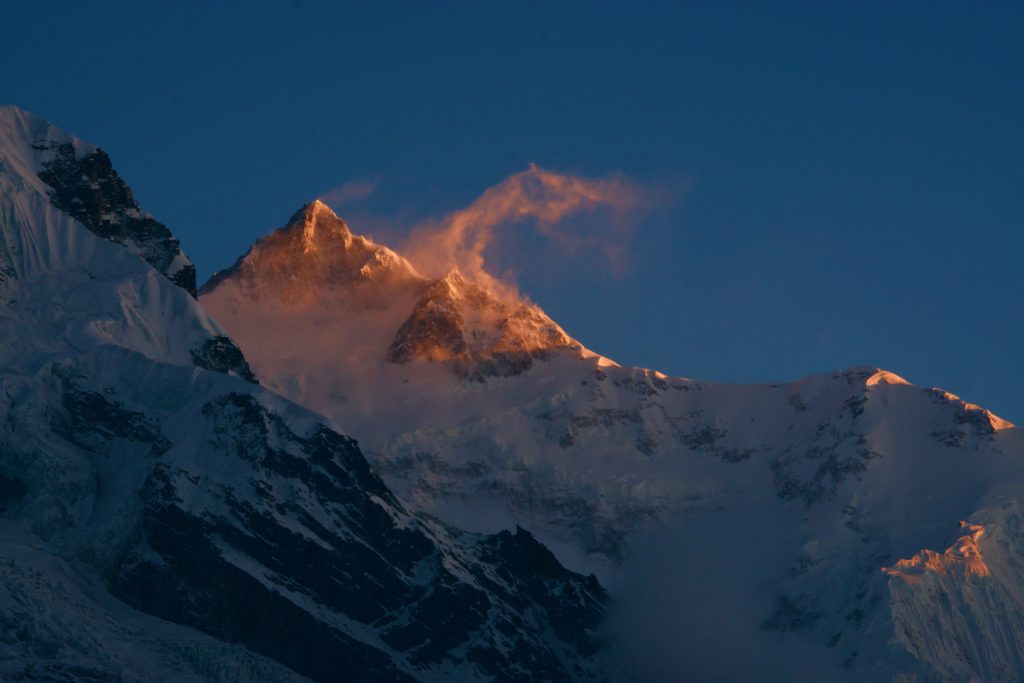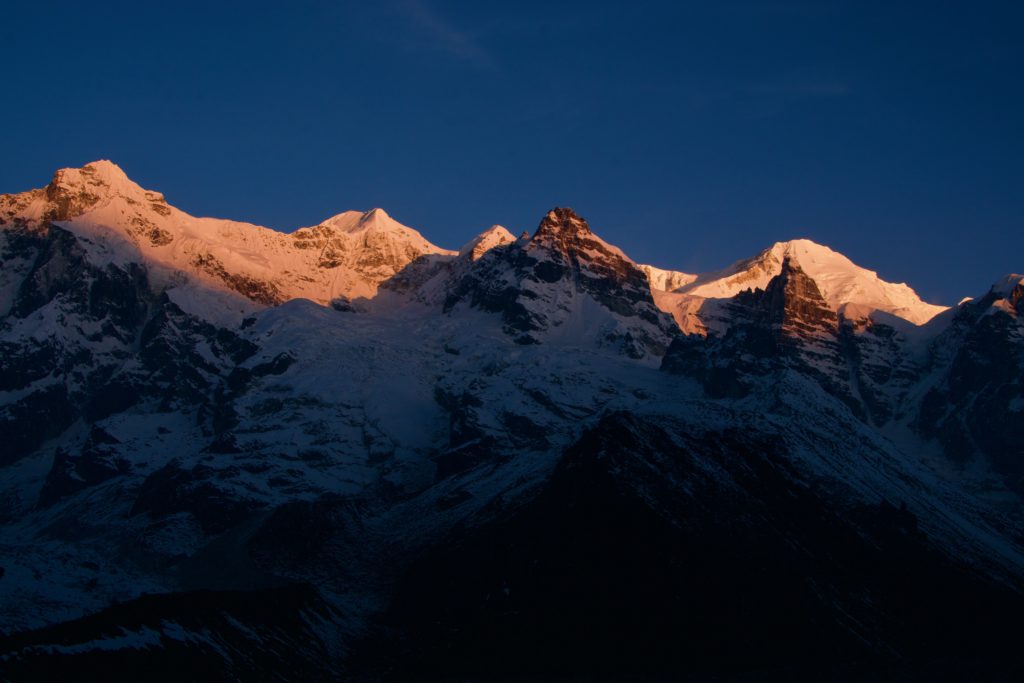 Viewpoint 1 slowly got crowded as time went by. Many had missed the sunrise. But even then, the sights were truly spectacular. Rajdeep reached about an hour later. He was the last one in our group to reach. He was fully exhausted and could barely speak. Meanwhile, Sneha had recovered quite a bit. She was back to her jovial self—participating in the photo sessions. The dex shot had done its job.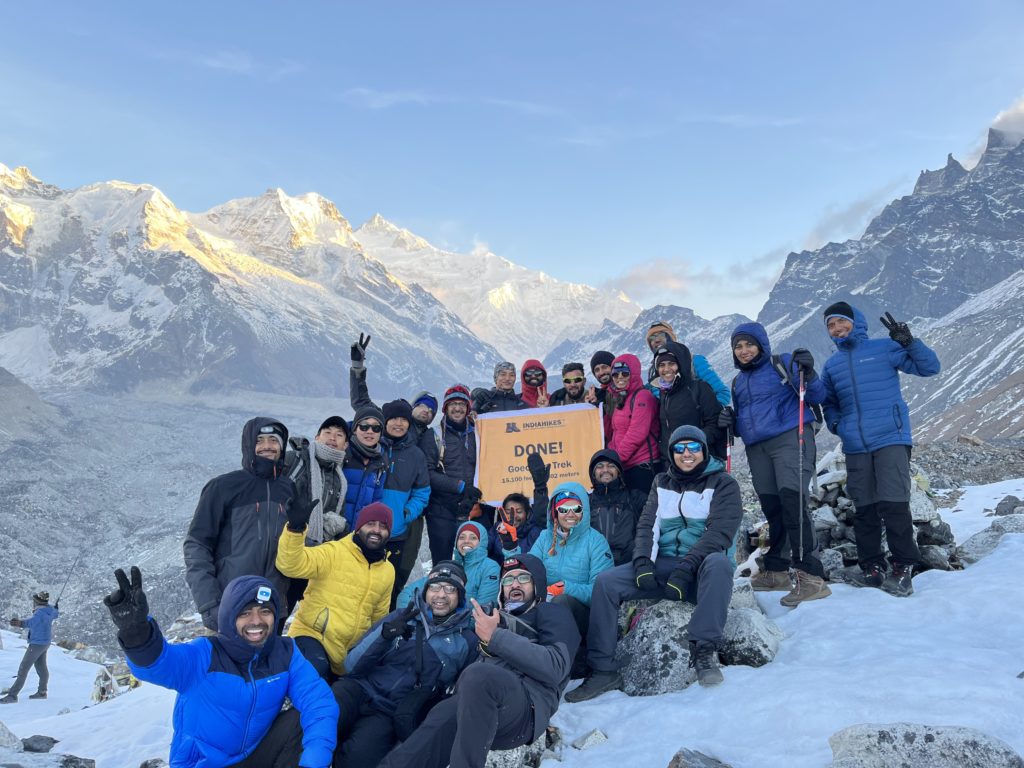 Mayank and I headed back towards Samiti Lake. I had this juvenile idea of taking a photograph of us brushing near the lake. Needless to say, we had been carrying our toothbrush and toothpaste all throughout the night.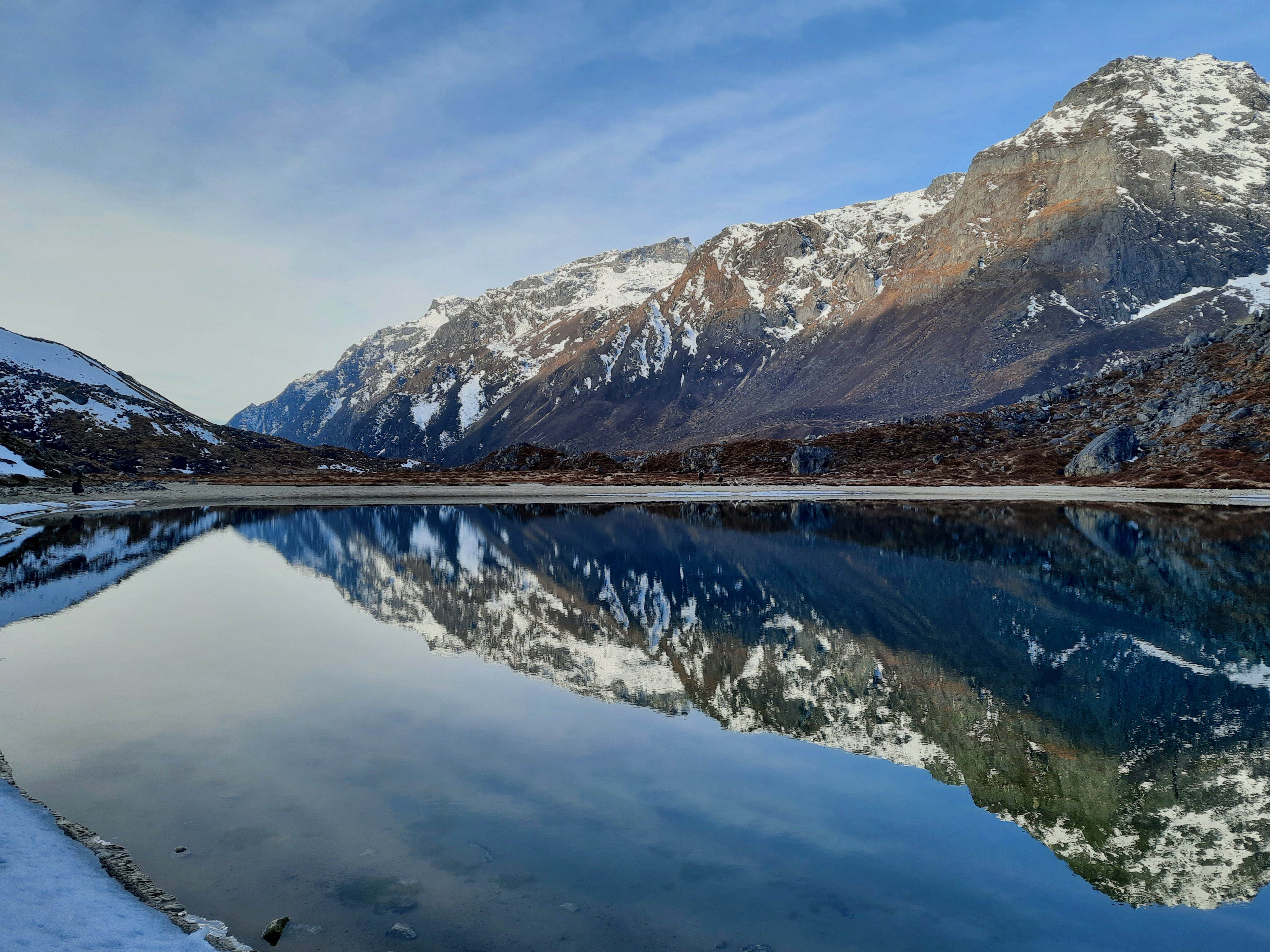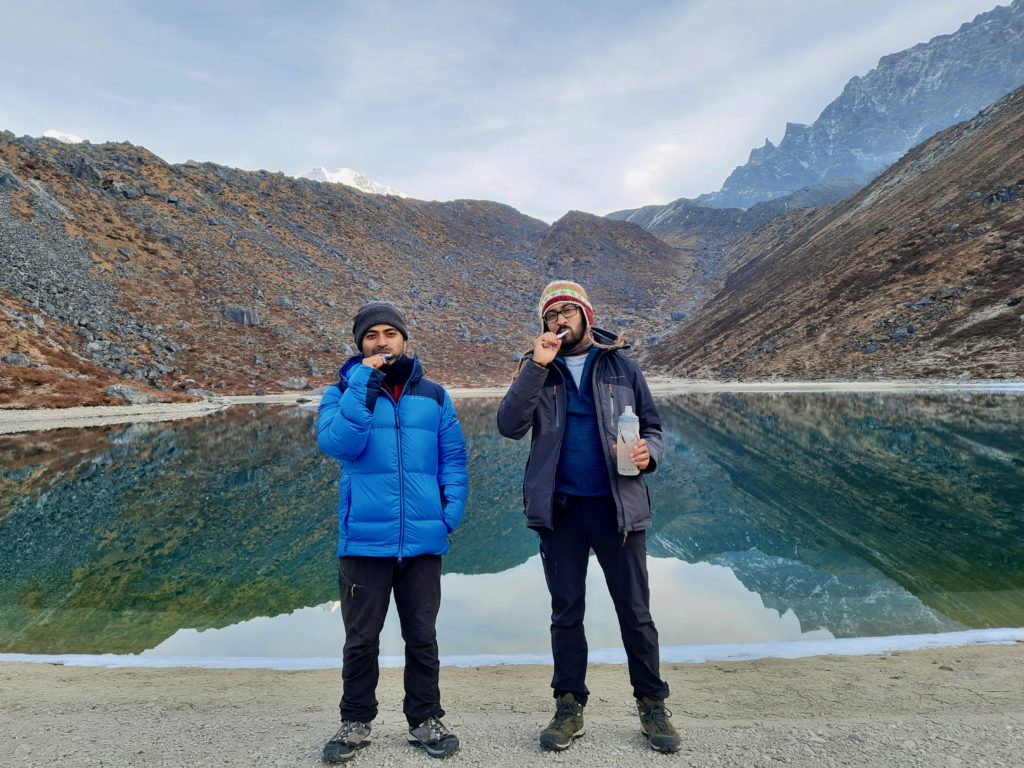 I really got to see the hiking trail on my way back. The route seemed longer while returning—maybe because I was absorbing all the views around me. I realised that Lamunay is a better place to camp instead of Thansing purely based on the view it provides. (In case you didn't know, TTH's itinerary includes a camp at Lamuney.) The mountains on the either side of the valley framed Kachendzonga right in the middle. On a clear full moon night, it would be a sight to behold.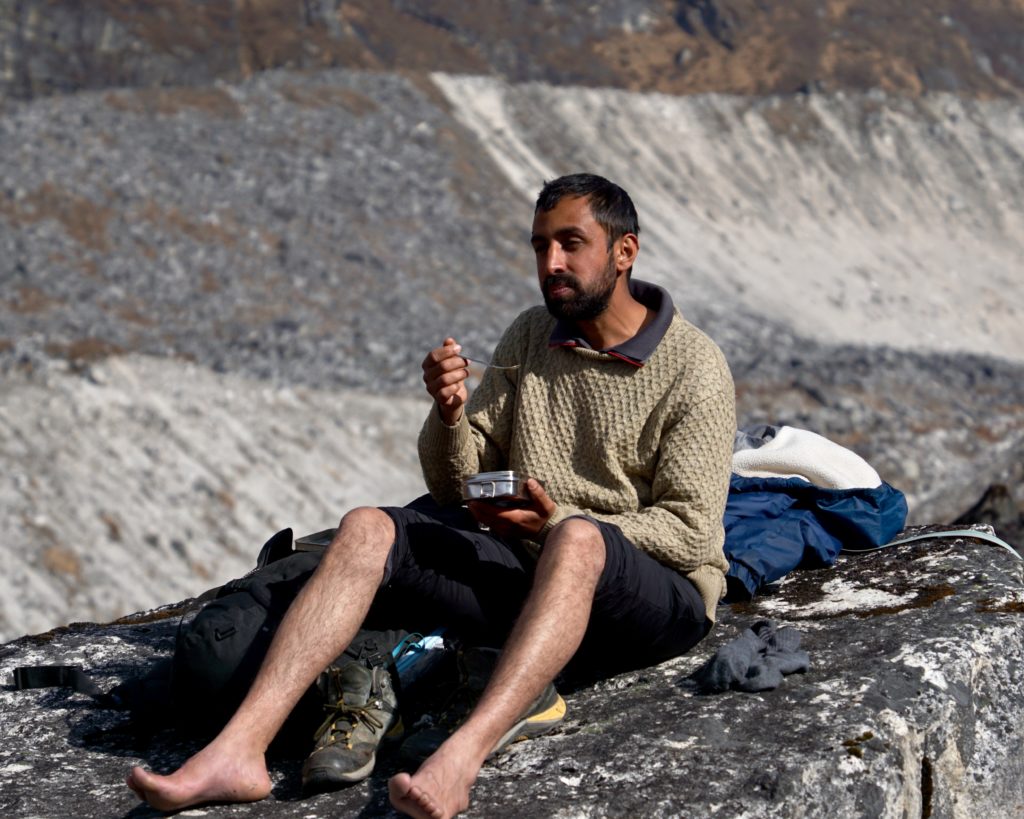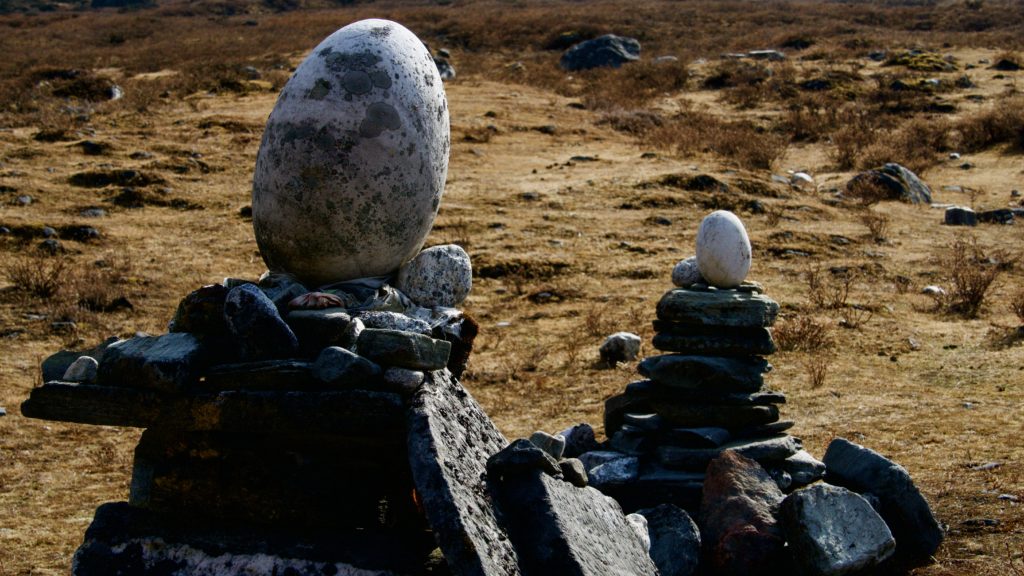 Mayank and I got back to our tent at 9.30 am. Rajdeep reached around 12.30 pm. He was completely exhausted. I took him to Gopal Limbu's shop. A couple of cups of tea and a hearty bowl of Wai Wai later, he felt much better.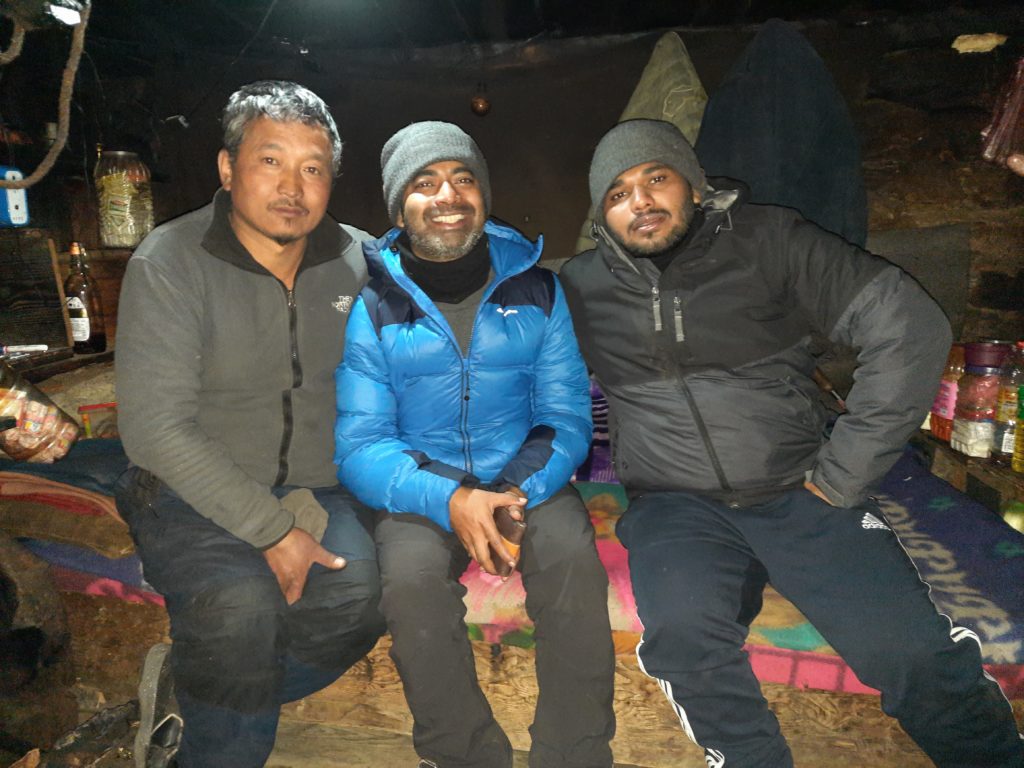 Chapter 10: Heading back to civilisation
It was already the eighth day of our itinerary. I had some roti and potato fries for breakfast and packed some vegetable rolls for lunch. We left at 8.30 am and traced our way back to Kokchurang. From Kokchurang, we took a six-and-a-half kilometre trail that led us to Phedang. It was a rolling trail, covered in rhododendron trees. The trekkers who would start sometime in Early May might see them bloom. Occasionally, we trekked on stretches that were covered in snow—some of which had compacted to form ice. This trail was not wide enough for mules and yaks. As a result, transportation of our supplies had to be done via Dzongri.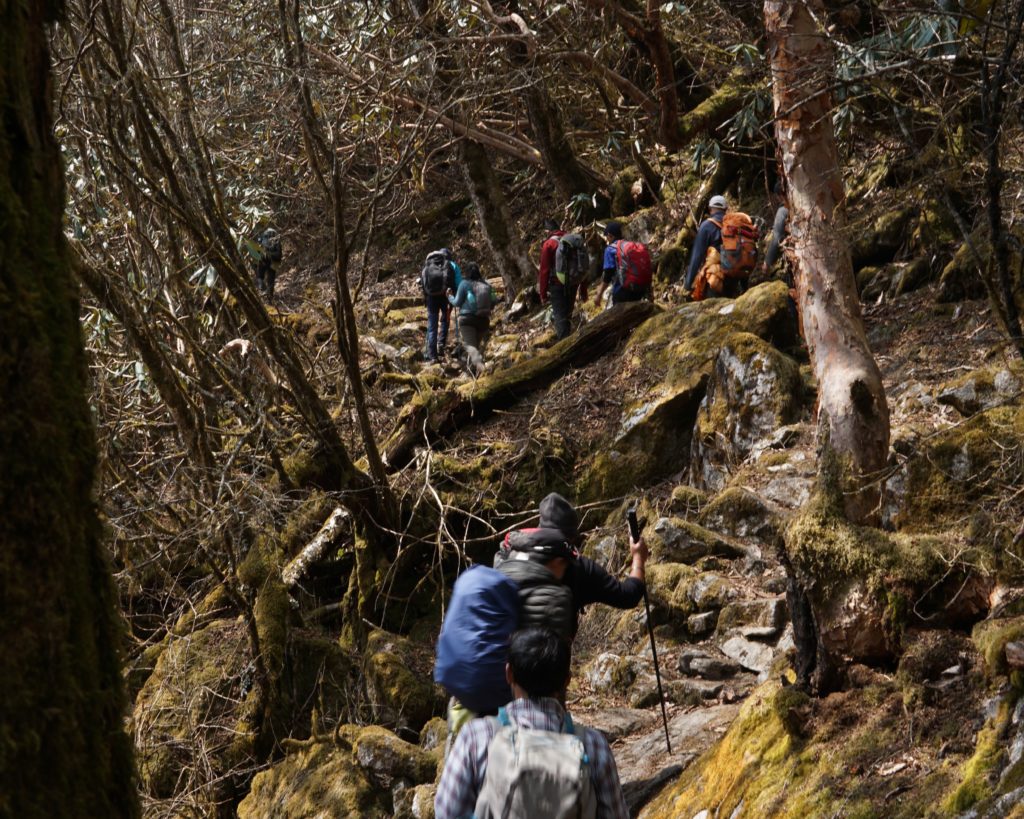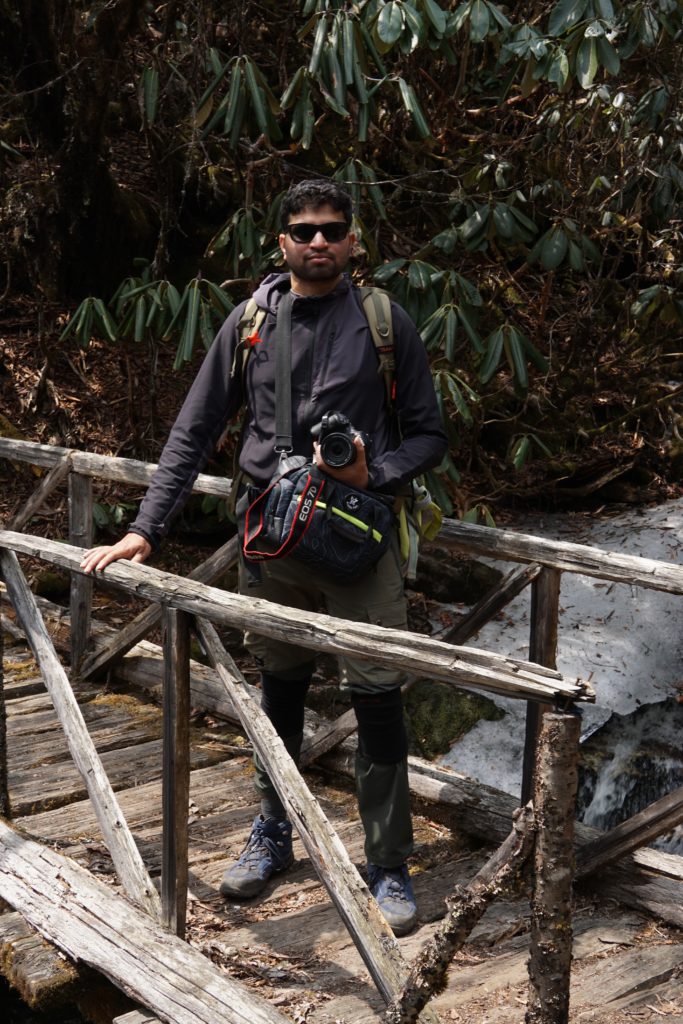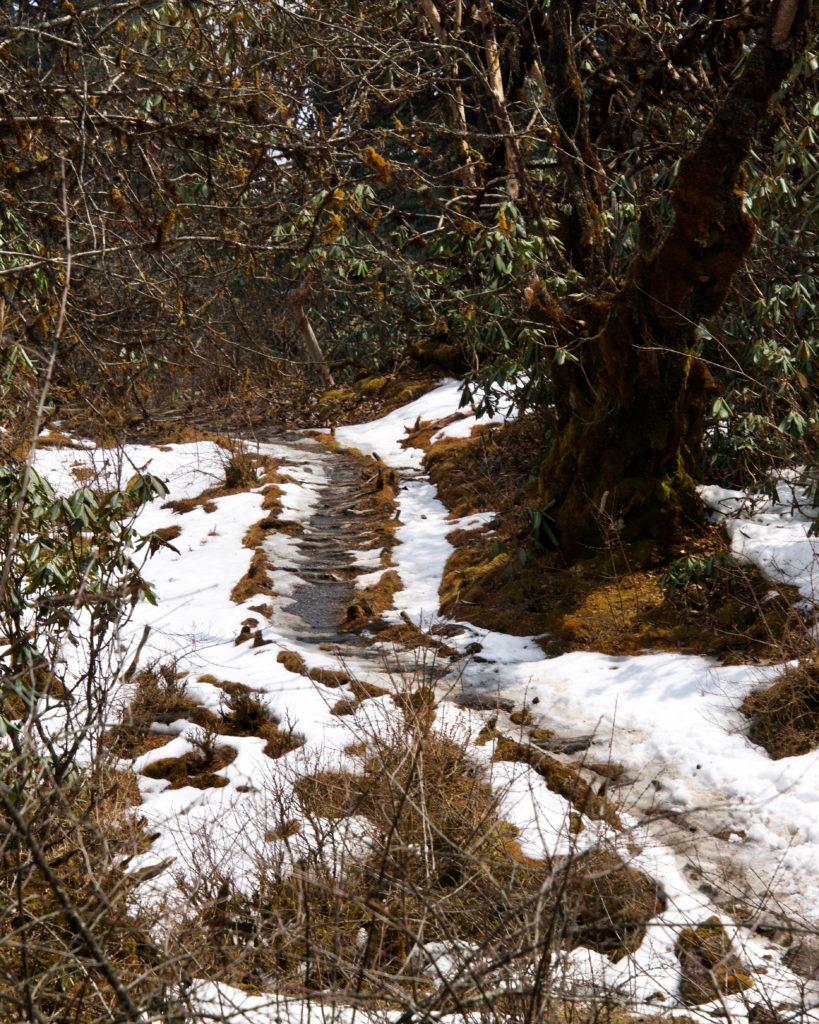 We reached Phedang at 1.15 pm. As soon as we had settled in, it started to drizzle. A couple of Himalayan magpies flew around and I kept trying to capture a photograph. We all had a number of rounds of coffee and tea and waited for the rain to subside. I did not wat that long, though. I put on my rain cover and left Phedang by 2.30 pm. I reached Tsoka at 4.00 pm. There was this one patch of land overlooking the Tsoka monastery where I was able to get cell tower. I took the opportunity to speak with my wife, mom and sister before heading towards our camp.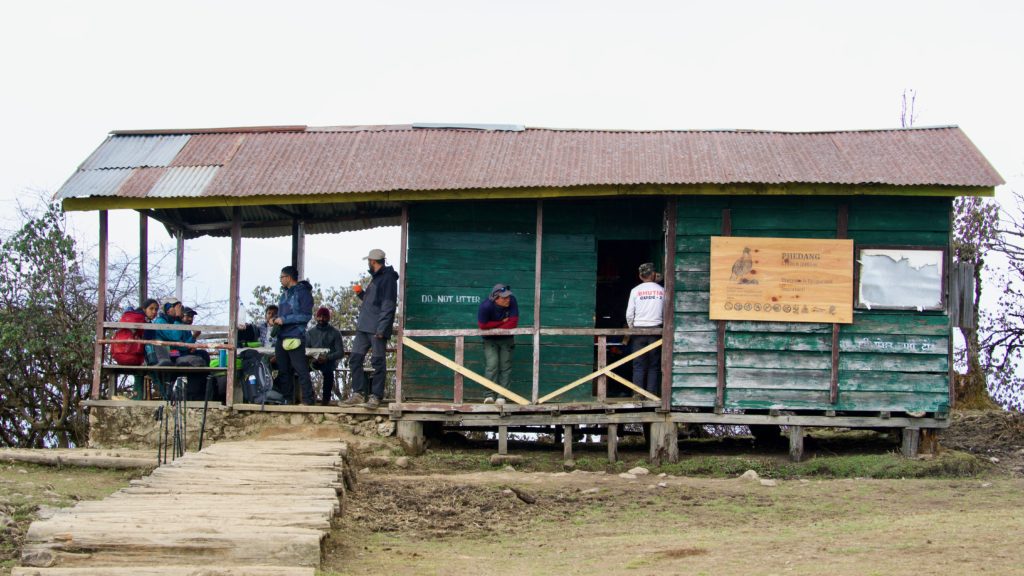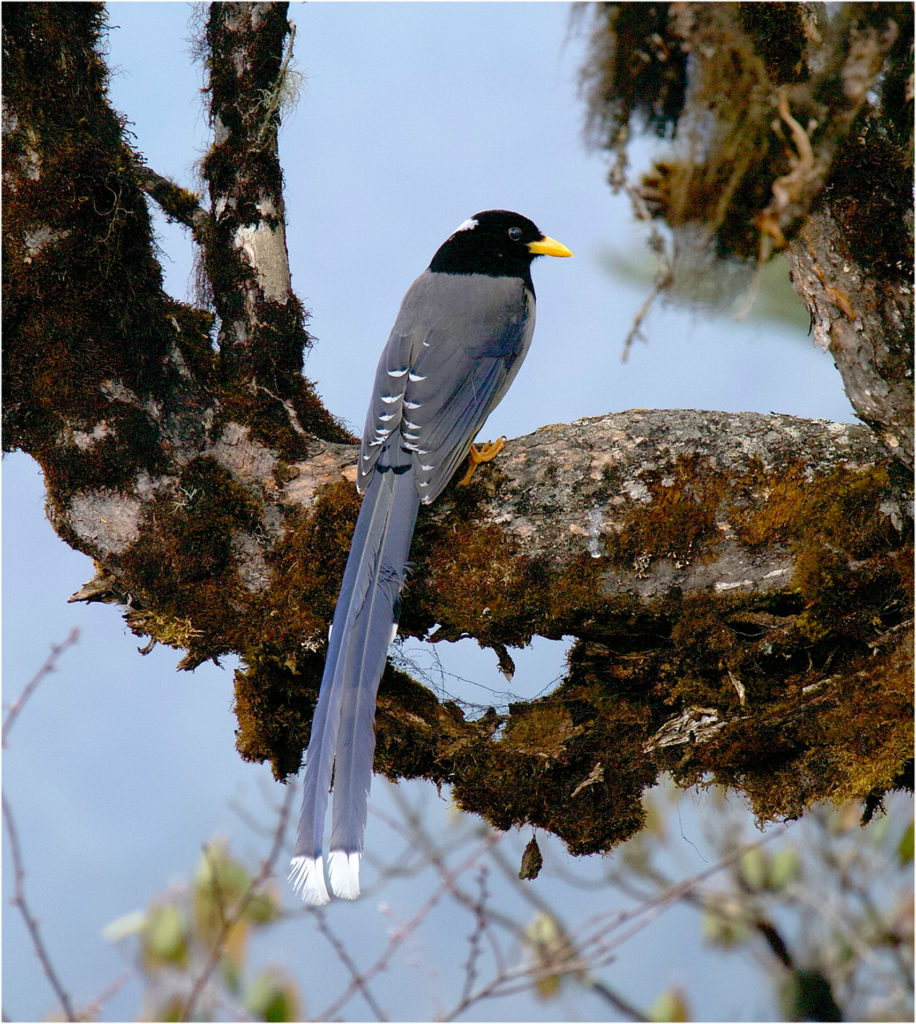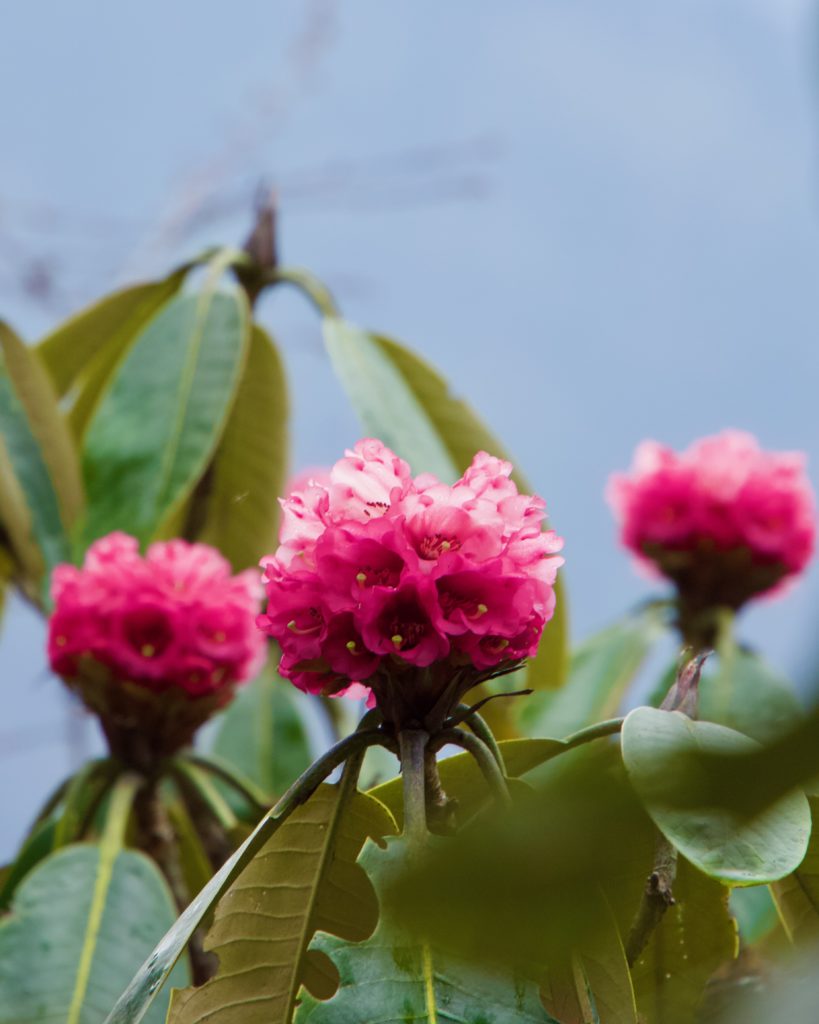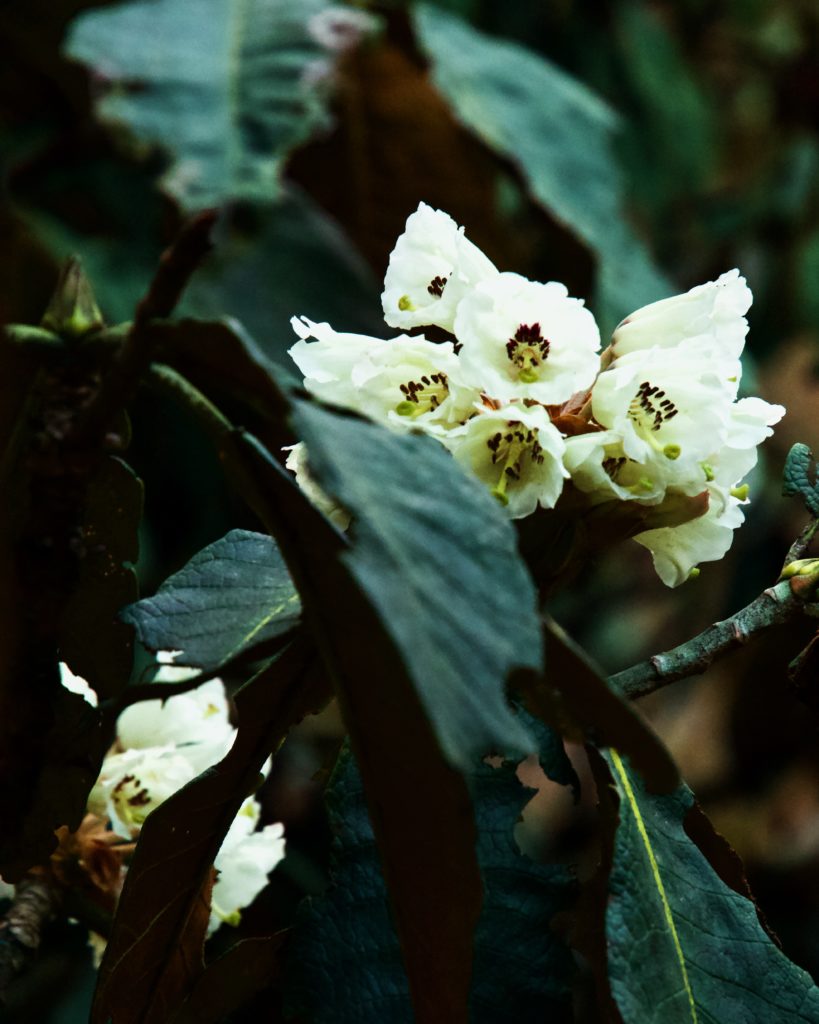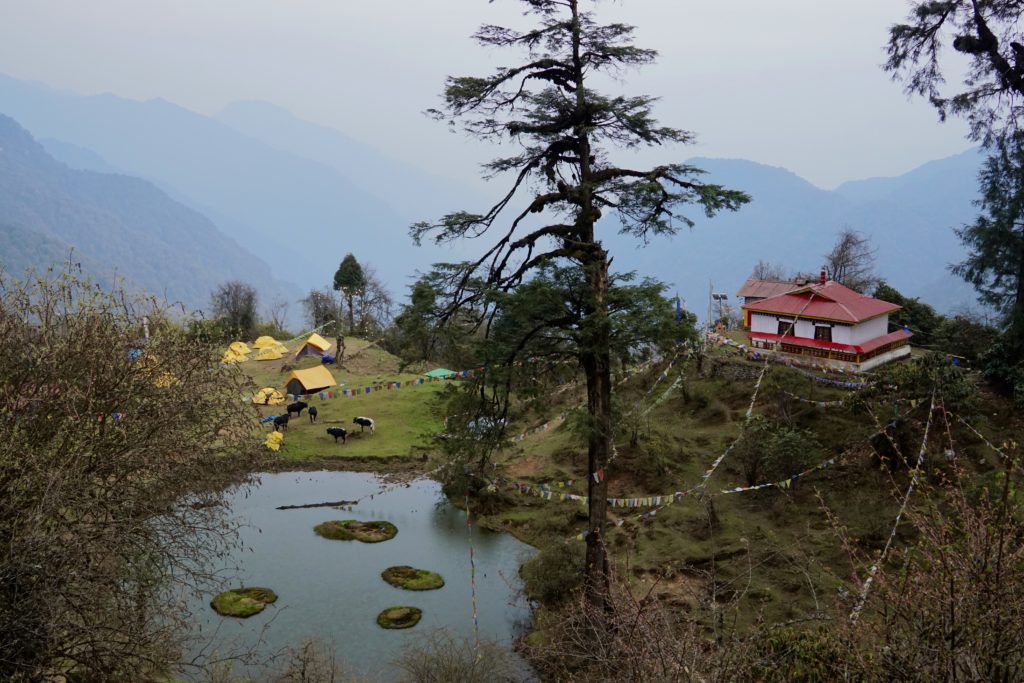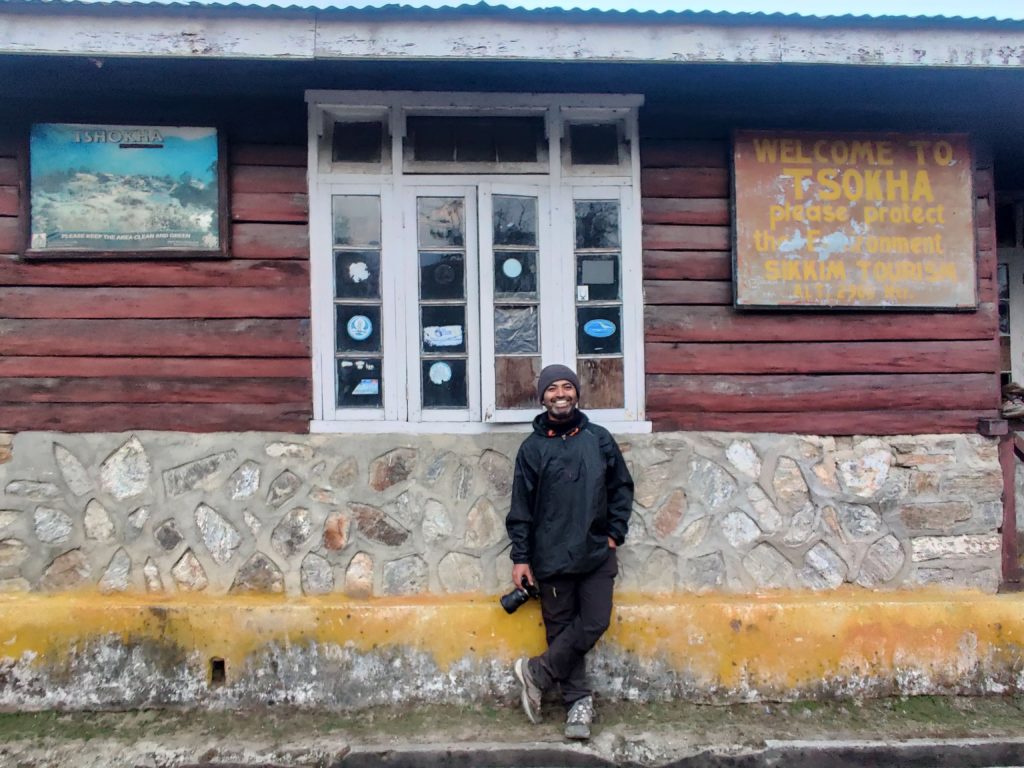 After our dinner, the kitchen staff served us a cake celebrating our successful completion. This was our final night at a campsite. Everyone was elated and shared their trek experience. That night Mayank showed me how he usually took star trails. Unfortunately, my camera was too slow to process long exposures.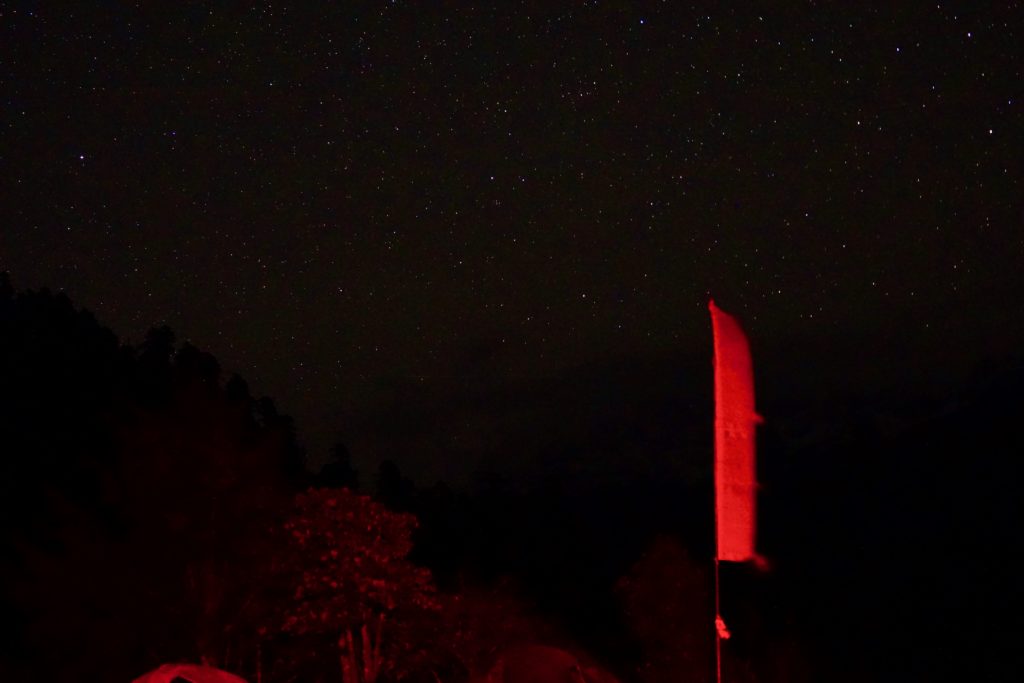 The next morning we made a final push towards Yuksom. Mayank and I followed Dipankar and took a nice shortcut to Bakhim. As soon as we crossed Bakhim, the wet temperate forest welcomed us. The descend to the suspension bridge over Prek Chu and then the subsequent ascent was no easier this time either. As I got closer to Yuksom, the weather became more and more humid. Somewhere around Tsachen, I crossed the next batch of trekkers led by the Indiahikes team. I wished them luck. In the end, no matter what the level of preparation is, there is an element of luck that is involved. The mountain gods would have to be pleased, the weather gods must bless the day, and our own body needs to behave within manageable limits in an environment that we are not accustomed to.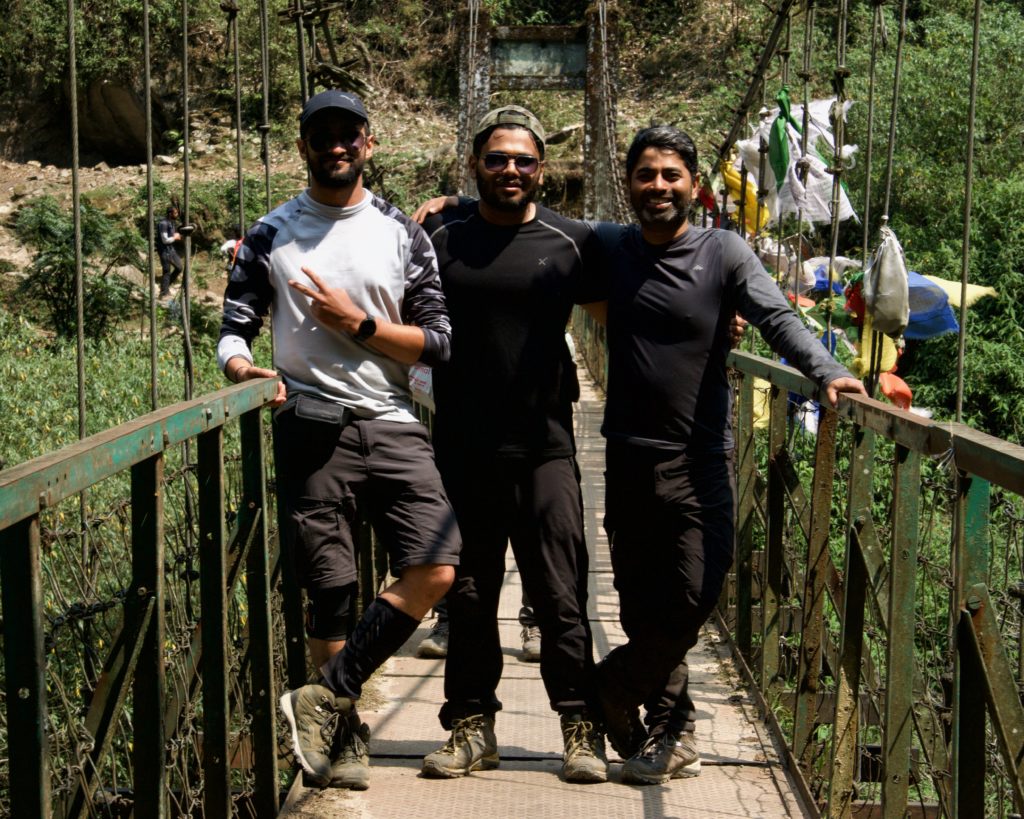 I reached the Indiahikes base camp at 2.15 pm and headed straight for a shower. It had been eight days since I had washed myself. It felt so good to put on a set of clean clothes. I was quite hungry and went to a shop right across the street to have some thukpa and chili chicken. As the other trekkers emerged out of the backyard that marks the entrance to the trail, we clapped for each of them. Finally, I saw Rajdeep emerge out of that backyard. He was quite overwhelmed by what he had achieved. "Who knew that this unassuming backyard would lead to one of the grandest trails in India?", Ashwin remarked.
Epilogue (the real one)
We all parted the next day. Most of us headed back to Siliguri. Some headed towards Gangtok. I had to meet my wife and embark on a road trip the next day.
There are a couple of leanings that I would want to share. This trek is strenuous and long. I would not suggest this as anyone's first trek—even if you are very fit. It is preferable to have the experience of at least another multi-day trek before attempting this one. That way you would know what gears, packing system, food and hydration strategy works for you. In case one wants to abandon the trek and return, there is no other way but trace back the same strenuous route. In fact, while descending somewhere near Bakhim, I crossed a trekker who had suffered from exhaustion and was being evacuated by two of his staffs. The other part is about fitness. There are many aspect of fitness and the singular one that is important for such a trail is cardiovascular endurance. We had two members who were power lifters—one of them being Rajdeep himself. They were absolutely fit but had a hard time from the fourth day onward.
I was personally happy with my performance. I wrote in in my earlier blog, "Someday I might revisit the trail. For sure, I wouldn't be doing it in six days." Well, I have revisited the trail and I have finally done it—this time in ten days! It felt good.