Dawa slept till 10:00 am. I should have asked him about his bed timings last night itself. When I called him early in the morning, he didn't pick his phone up. Since I was already outside, I had my morning tea and paratha for breakfast at the market. Once I was done, I walked from chaarnala up towards Dirang Monastery. It was one of those bright buildings visible from the market itself.
Dirang Monastery
Dirang Monastery—or Thubsung Dhargyeling Monastery—was one of the newer monasteries I had visited so far. It was also one of the bigger monasteries I had seen. Yet, in spite of its size, it was also one of the emptiest monasteries I have been to—only crossing paths with a lama watering the garden and two locals running some errands.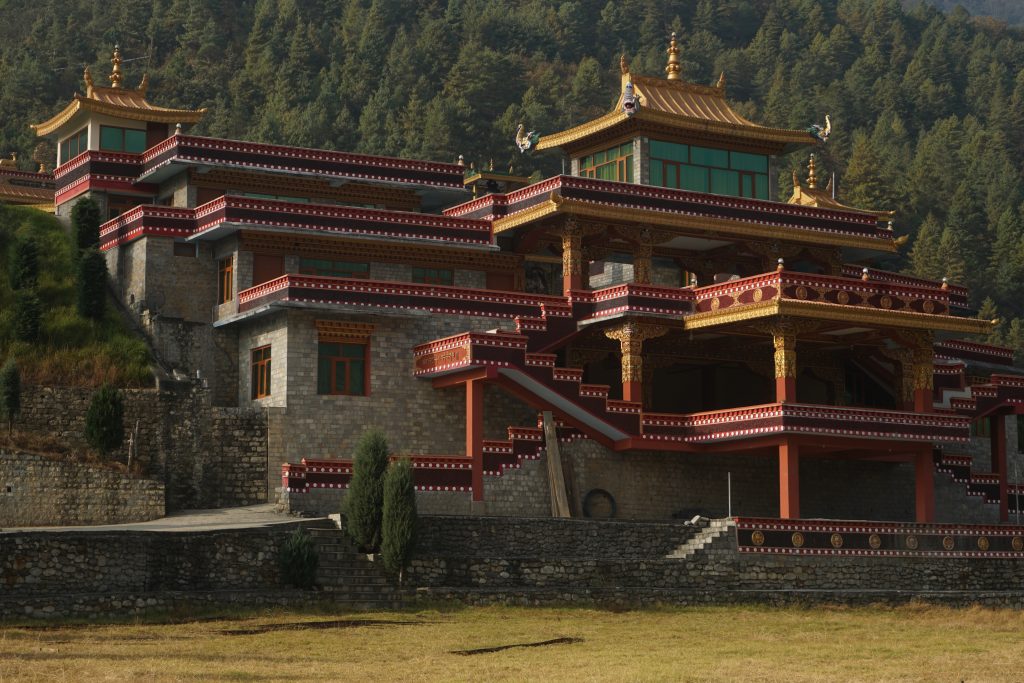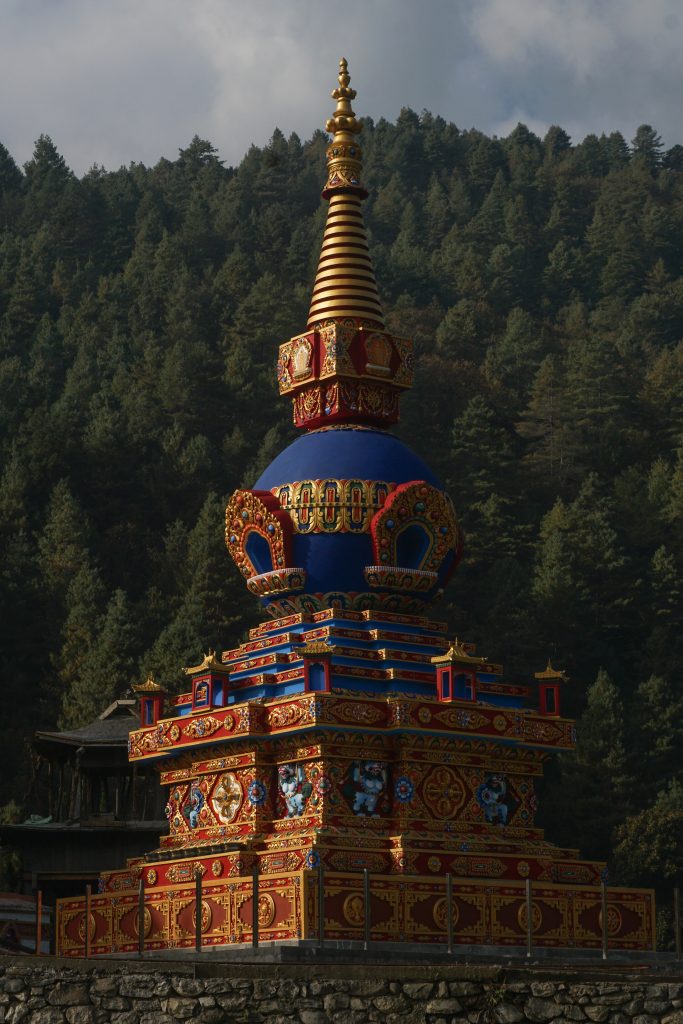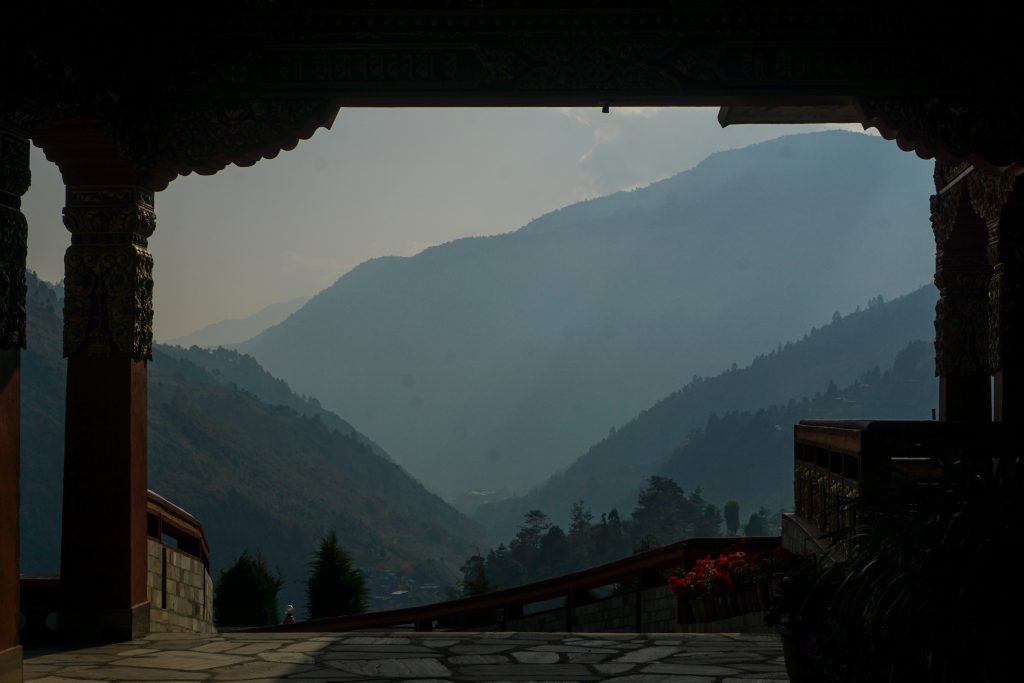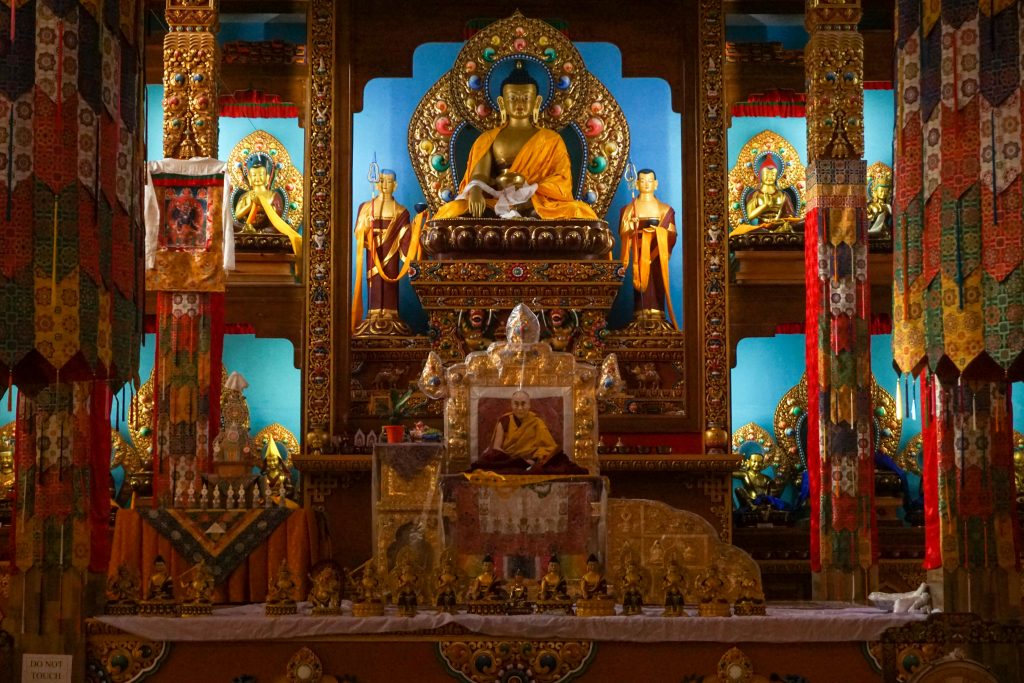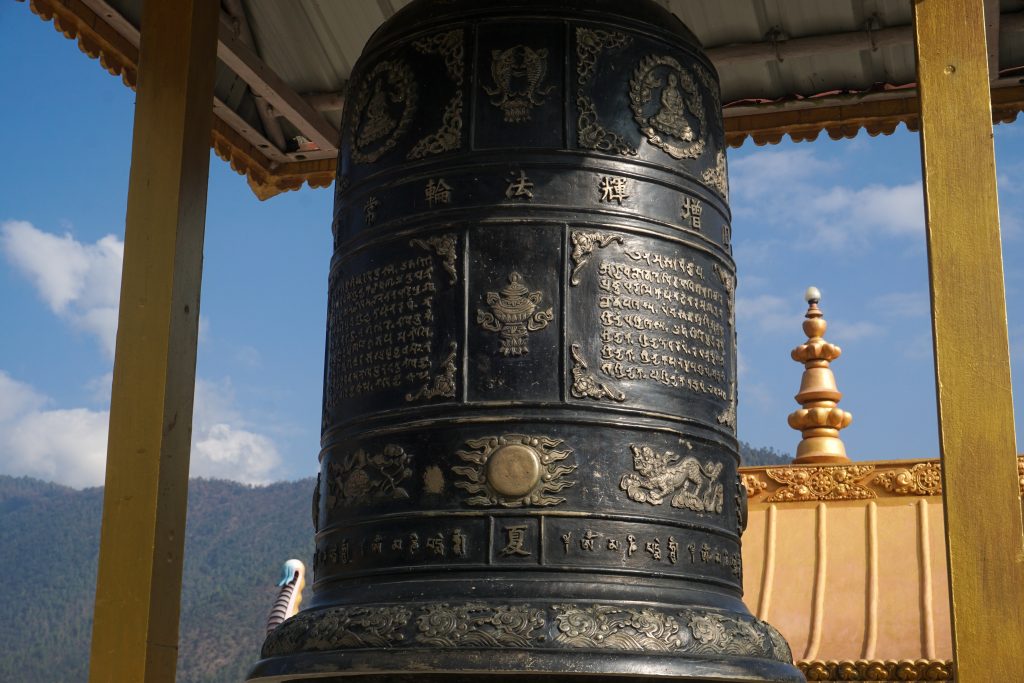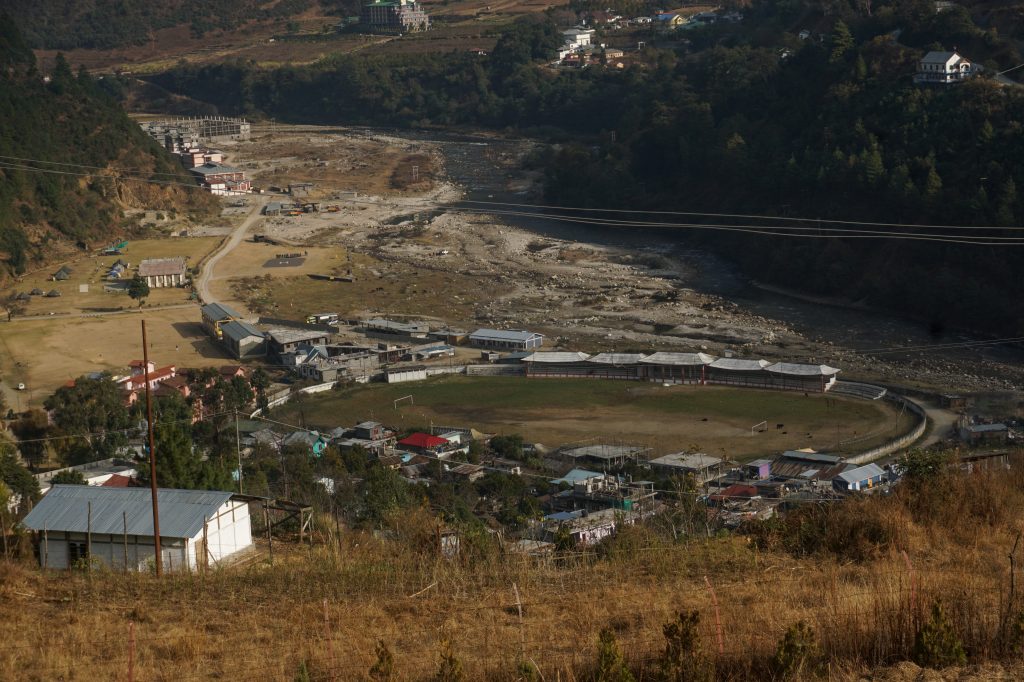 One of the prominent features is a sculpted mural of Bhavchakra as a heptaptych on the rear boundary wall of the Monastery—six panels depicting six realms of samsara and a central panel with some of the other elements like the three poisons of ignorance, attachment, and aversion represented by a pig, a bird, and a snake, Yama representing impermanence, the twelve nidanas or dependent origins of suffering, and karma depicted by humans.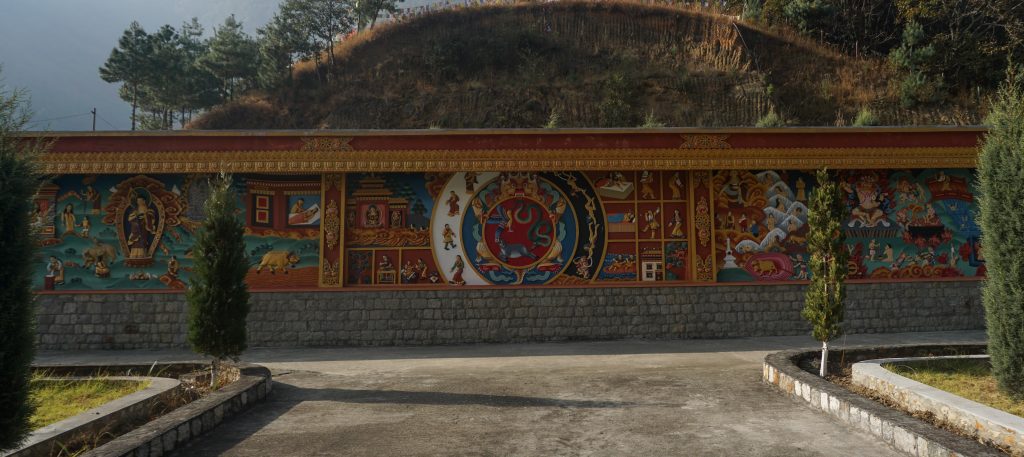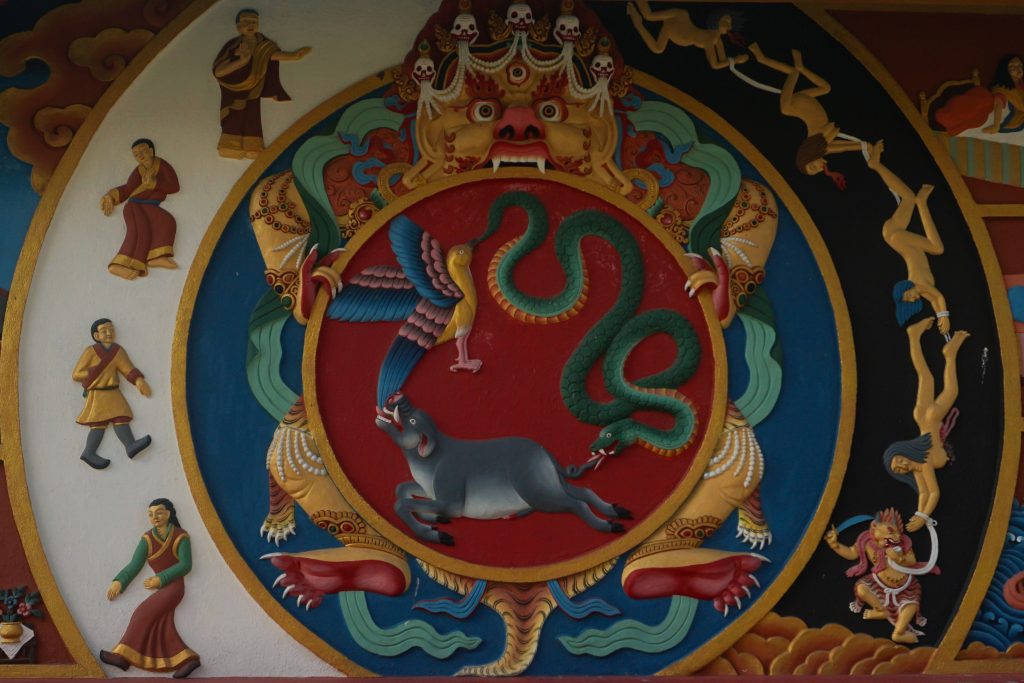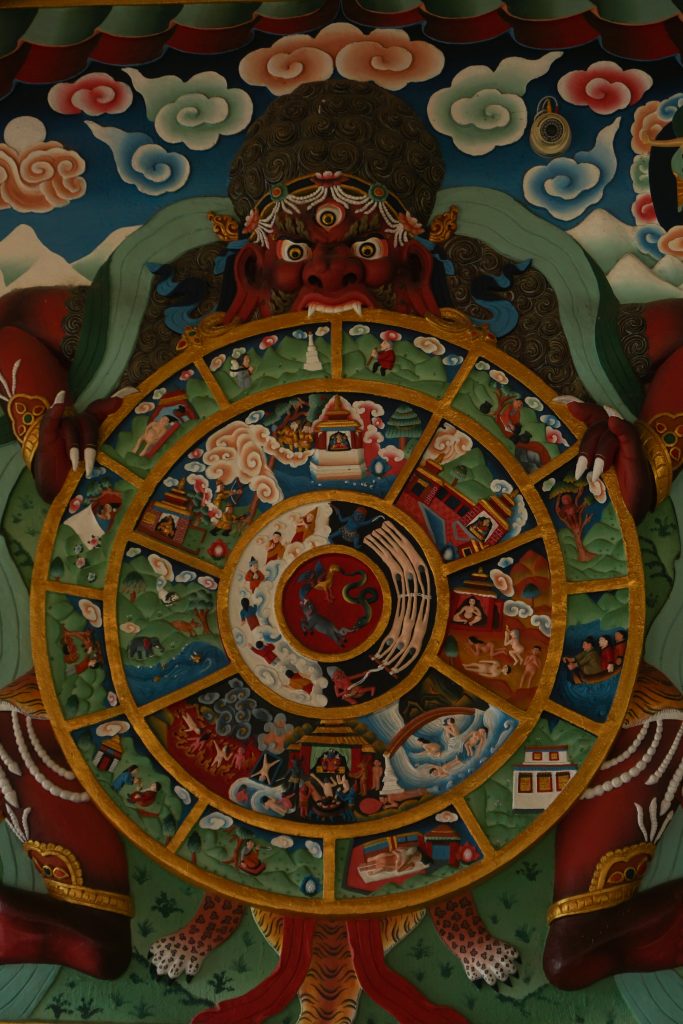 Mandala Top
Dawa met me at 11:30 am in my hotel. He wanted to take me to Mandala Top. Mandala is midway between Dirang and Bhutan border. In order to reach there, we had to ride to Dirang village—about 5 km from Dirang market—then take a right and ride for another 25 km while climbing along the snaking roads.
As we ascended, the chill in the air dried my face and froze Dawa's fingers. He had forgotten his gloves at home. As we climbed higher, the vegetation changed significantly.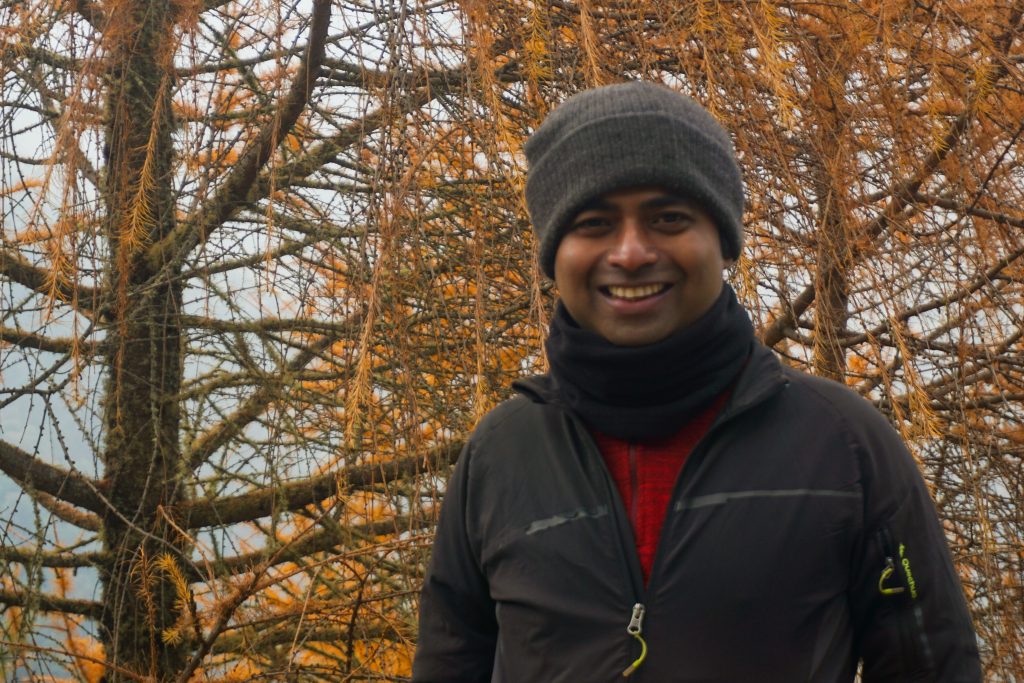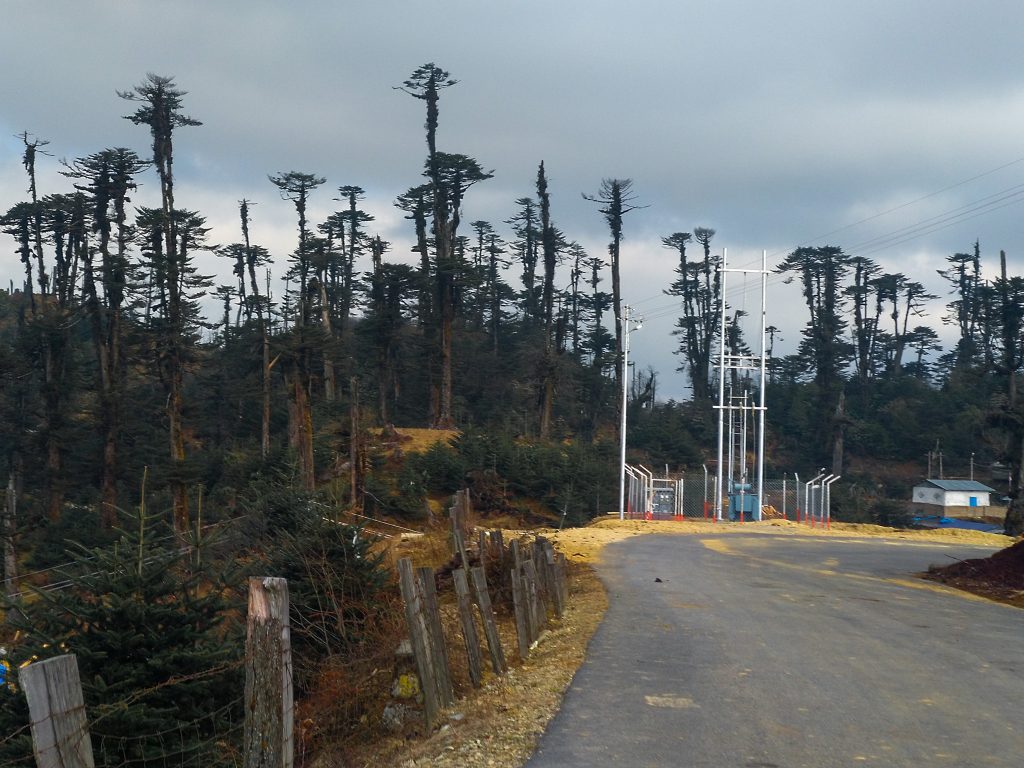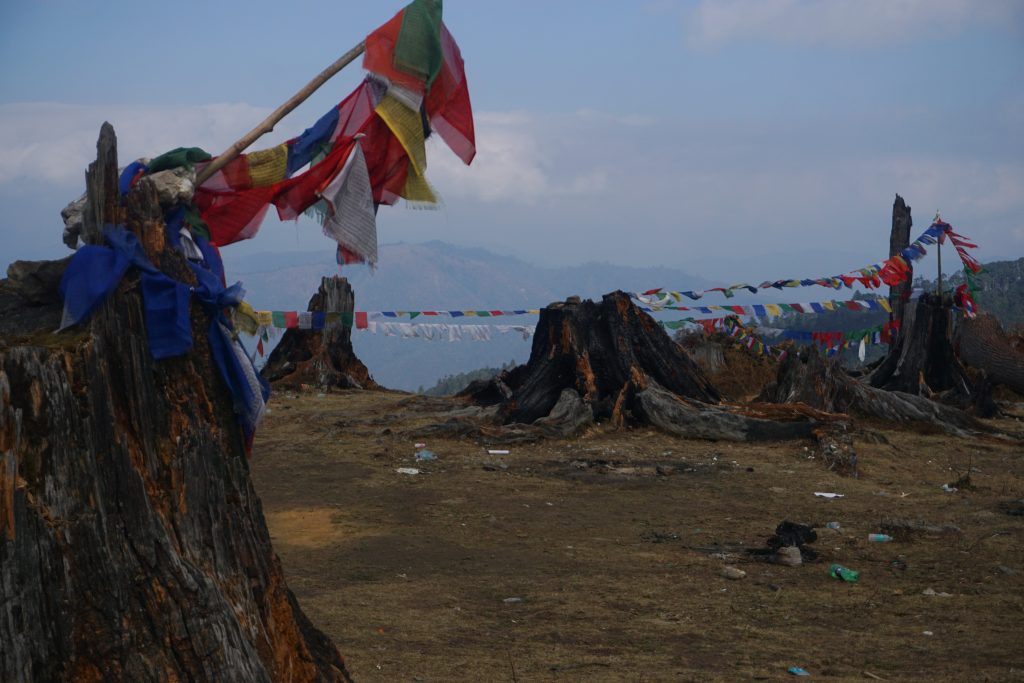 By the time we were at the site, Dawa's fingers had gotten numb. A couple of guys had set up a fire inside one of the shelters. These shelters function as restaurants during the peak season but they were all uninhabited.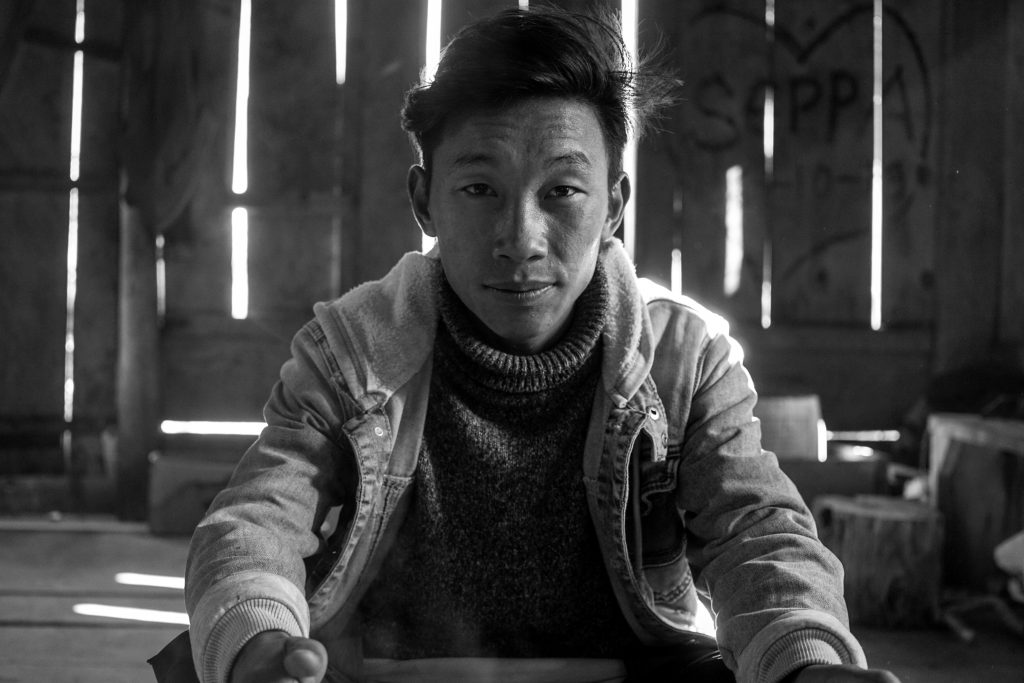 Mandala Top has 108 Manis (Om Mani Padme Hum inscription). Each one was made from a contribution and the names of the contributors are also inscribed in separate plaques installed around the perimeter of the site. The central stupa was still not completed.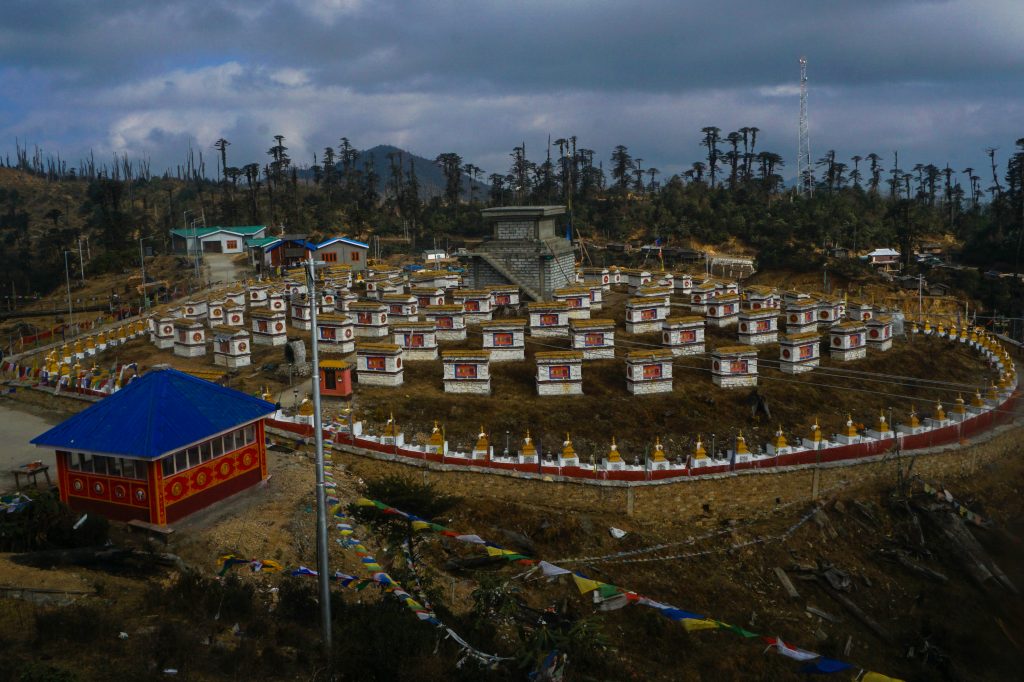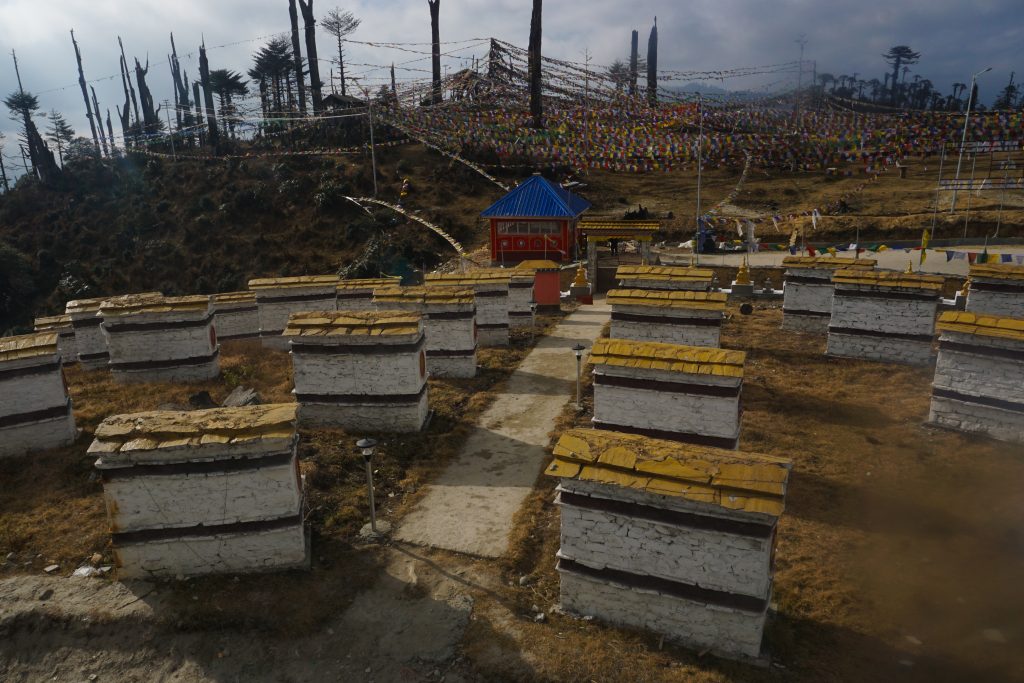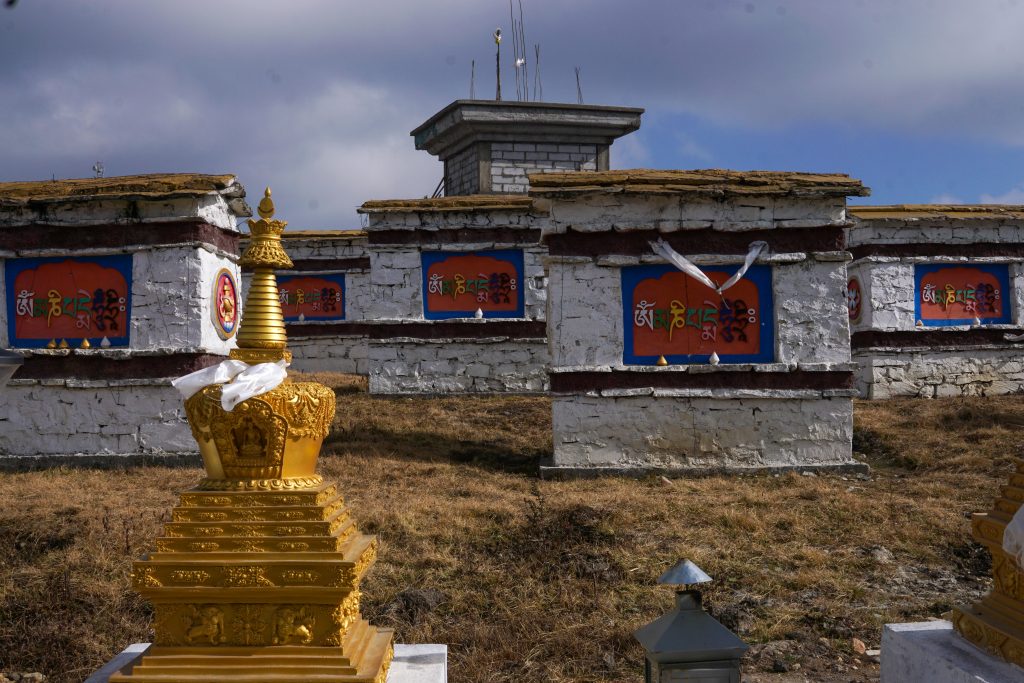 We were really hungry and spent some time looking for a restaurant nearby. Names and menus like momo, rice, wine, and cigarettes on the wooden walls of those empty shelters gave a good clue as to what they functioned as during peak tourist season, but in the absence of people, the area looked like a ghost town. We found a shop that sold tea. Dawa and I warmed ourselves in front of a bukhari while sipping tea.
Once we were back at Dirang village (colloquially known as Dirang basti), Dawa took me to a small artificial waterfall that filled a reservoir which in turn fed the hydel power station at Dirang.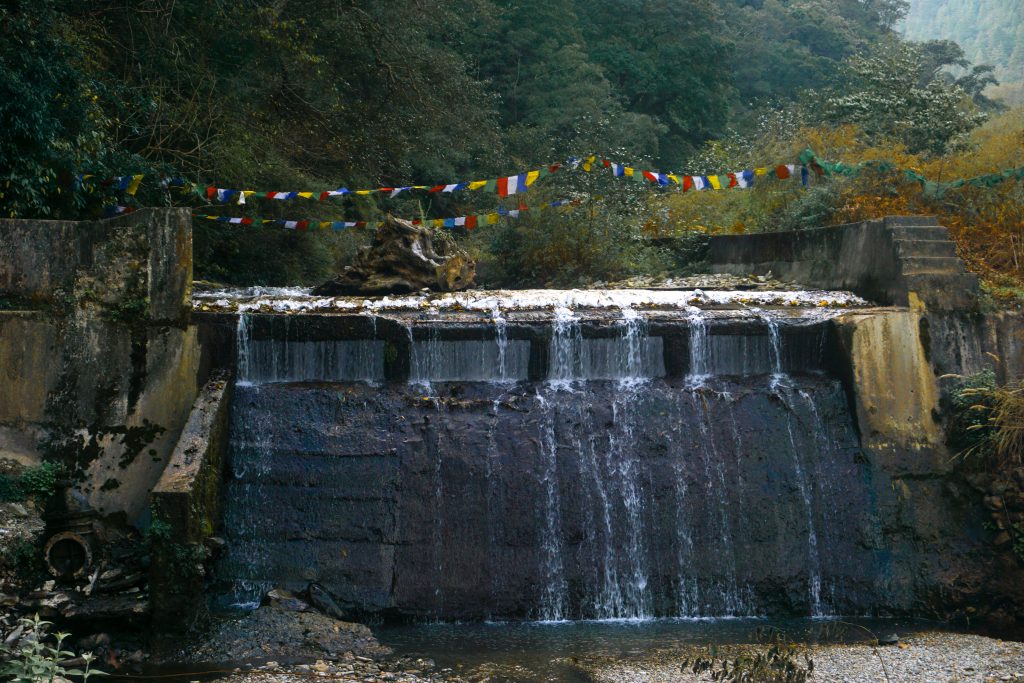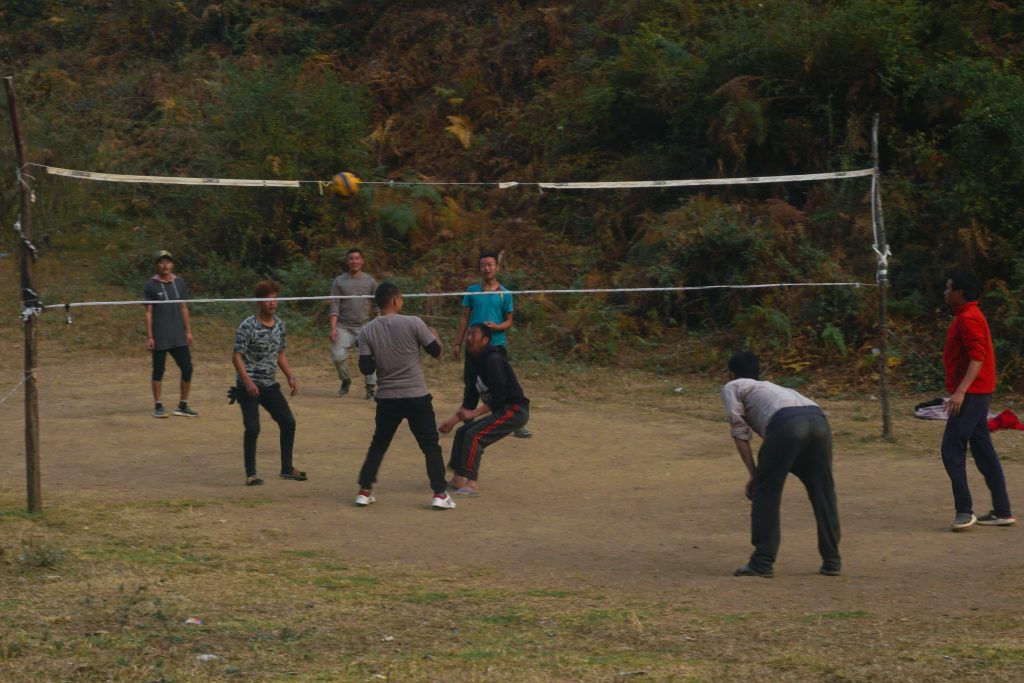 We finally had our lunch—momos and fried rice—at Droima restaurant in Dirang market. The restaurant was not visible from the main road and did not have a signboard outside. (It's inside the last building complex on the river side of Dirang Market main road: 27°21'38.3″N 92°14'25.2″E) Dawa claimed that they made the best fried rice in the entire market. I liked their food and came back two days later for my dinner.