Day 0: Preparing for Udupi
24th December, 2022
I rode all the way from my house to Mittal's, where we both dismantled and packed our bicycles with bubble wrap, duct tape, some cardboard, and Styrofoam. It took us over two hours to do so—mostly because we didn't have everything in place.
I had packed the following for my trip—2 jerseys, 2 bibless shorts, 1 bermuda short, 1 t-shirt, 2 bottles, 2 extra tubes, 1 multi-tool, 1 patch-kit, 1 set of tyre levers, 1 head light, 1 tail light, 1 five-litre bag strapped to handlebar, 1 saddle bag, and 1 top-tube feeder bag. Mittal had a similar setup, only that he had another hanging top-tube frame bag to accommodate some additional clothes.
Mittal had gotten the contact of a driver who drove an eight-year old, beat-up Chevrolet Enjoy. (In case you have to contact him, here's his number—73488 15224.) His vehicle was perfect for accommodating two bicycles. He dropped us at Majestic Terminal 2A at around 7:30 PM. The bus, Airavat—the seated luxury class buses of Karnataka State Transport (KSRTC), eventually arrived at 9:30 PM. The luggage space of these buses are quite large and can easily hold dismantled bicycles. The only thing that we had to make sure was that the frames and wheels were well secured with the bus. The bus conductor took an extra 500 rupees. He just wanted to make some money. Honestly, it's far better to have the bus conductor on good books than follow the rules, especially if you have expensive equipment to transport.
Sakleshpur—Mangalore stretch on National Highway 75 (NH75) is presently not in a very good shape. In fact, while planning our ride, we were specifically advised to use a different route for the ghat climb. The barrage of night buses, coupled with the poor tarmac, caused the bus to lose about an hour en route. By the time the bus stopped at Udupi, it was late by an hour and fifteen minutes.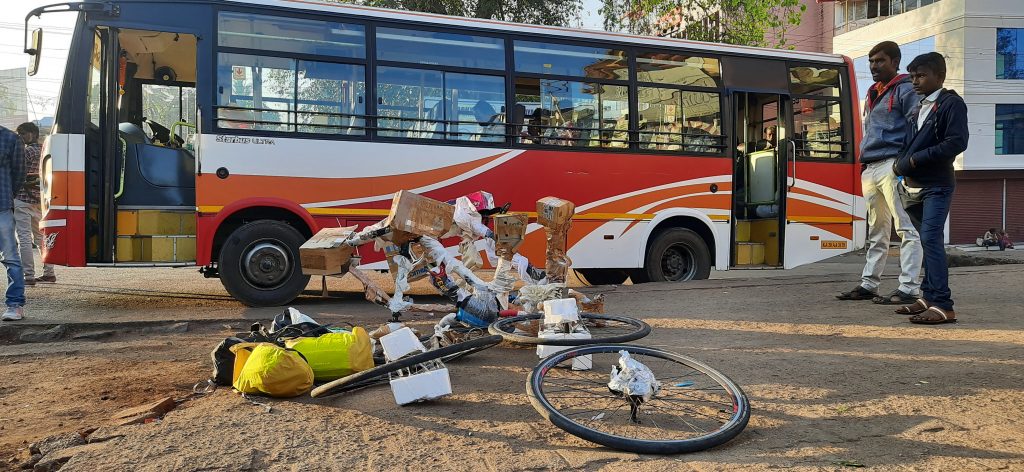 Day 1: Udupi to Ujire
25th December, 2022
We rode to the Krishna Temple Complex from the bus stand. It was a good landmark to start our ride. The complex also houses a darshini-syle eatery called Mitra Samaj. It is said that this place is the originator of the Udupi-style breakfast joints that we see all around Karnataka. Some even claim that the place is the originator of Masala Dosa. I had a plain dosa and Mittal had a bowl of mini idlis before heading out. A number of kids and adults surrounded us, asking questions about our trip (that was yet to start!), and our cycles and gears—quenching their general thirst for knowledge about two middle-aged men in Lycra.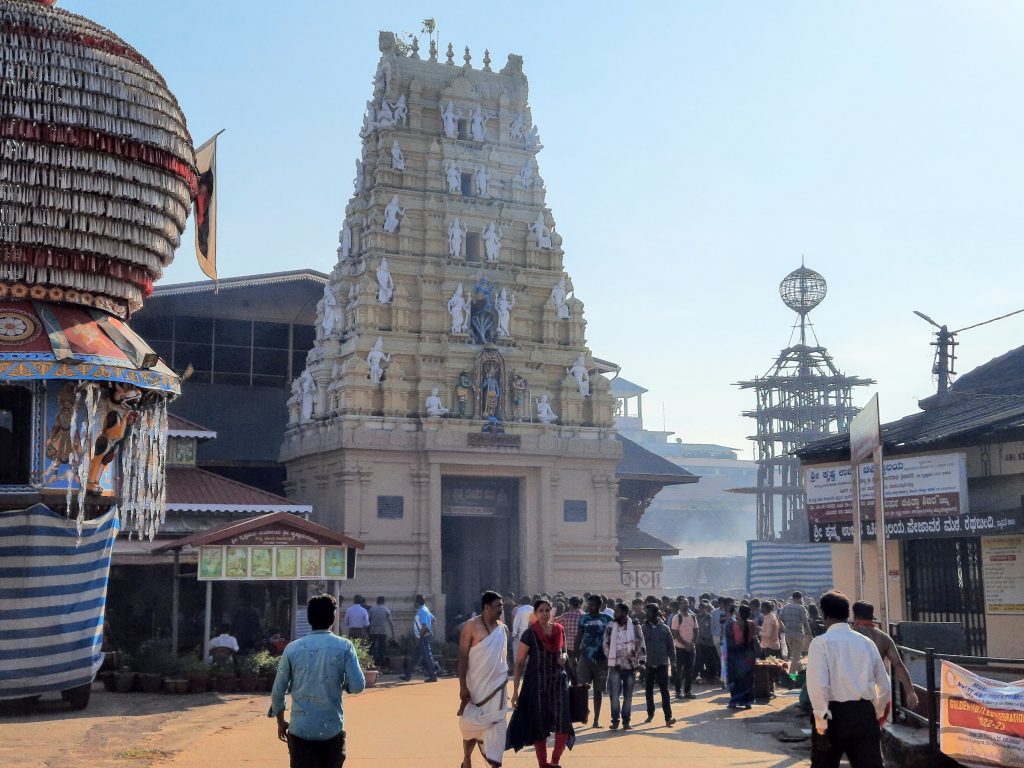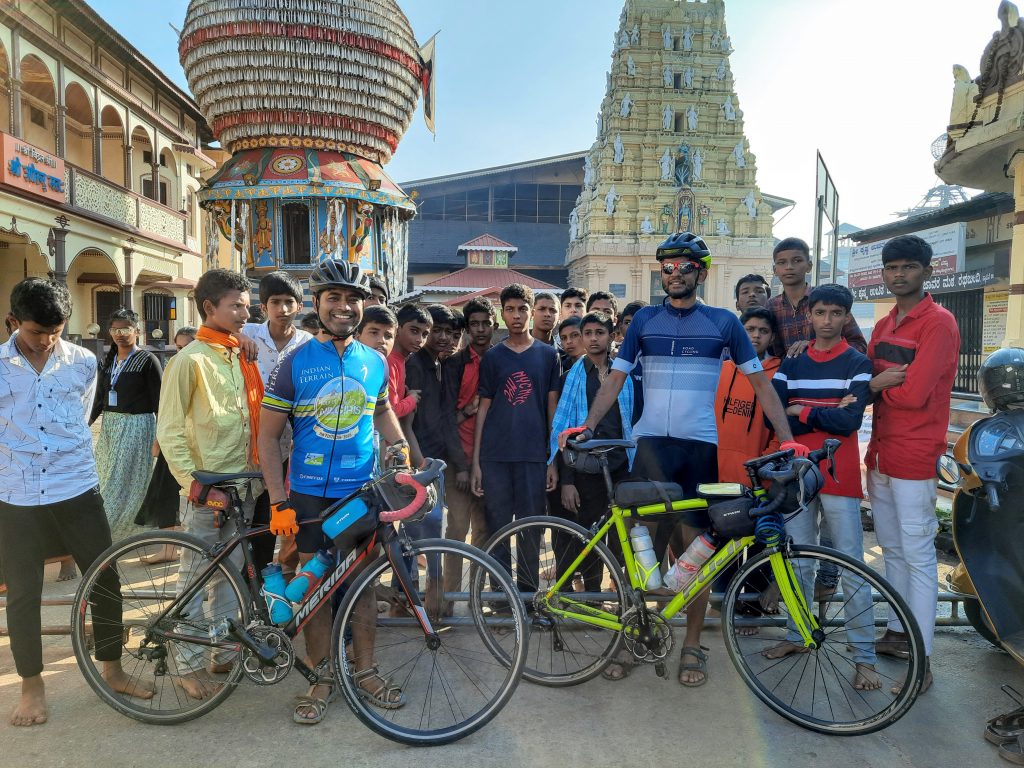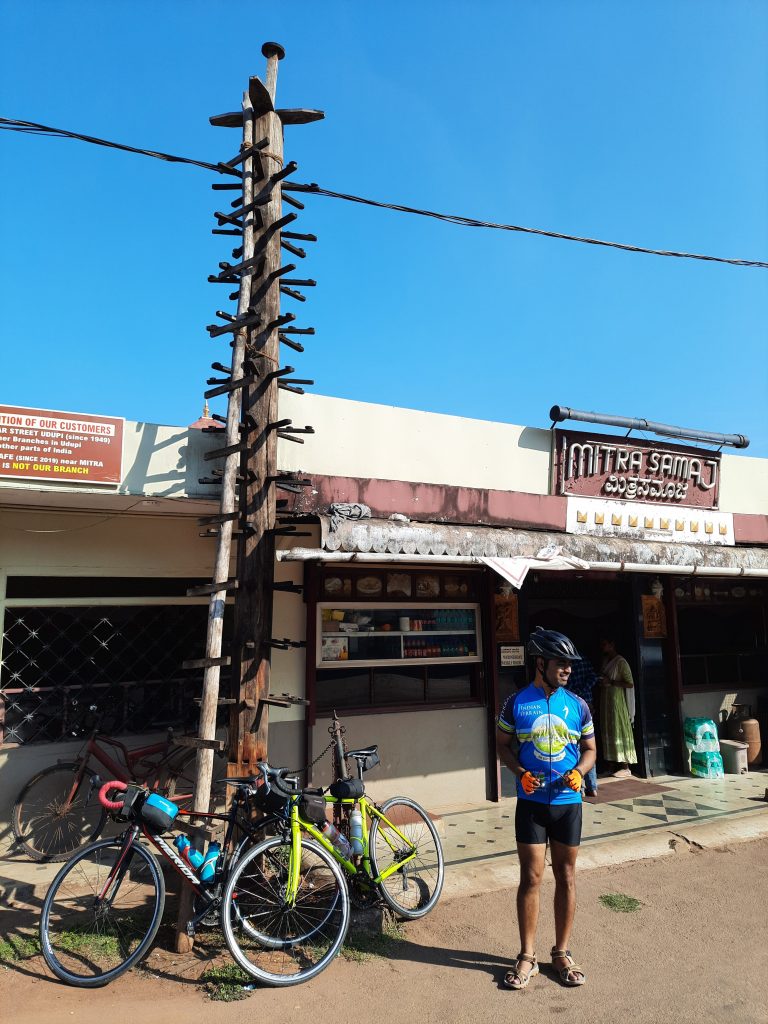 We headed off to Malpe Island. En route, we stopped at Stella Mary's Church. Being Christmas Day, the place was decorated and had a nice sculptures and arrangements depicting Nativity. We stopped at Malpe beach and readjusted some of our belongings before heading towards the Malpe-Mattu road.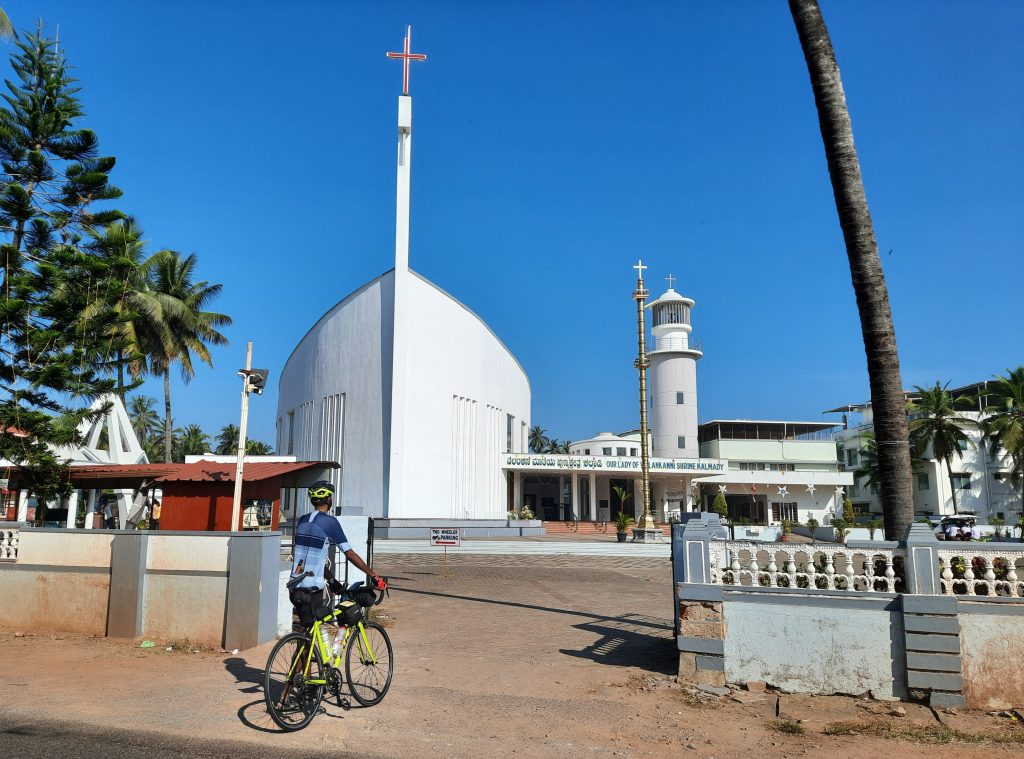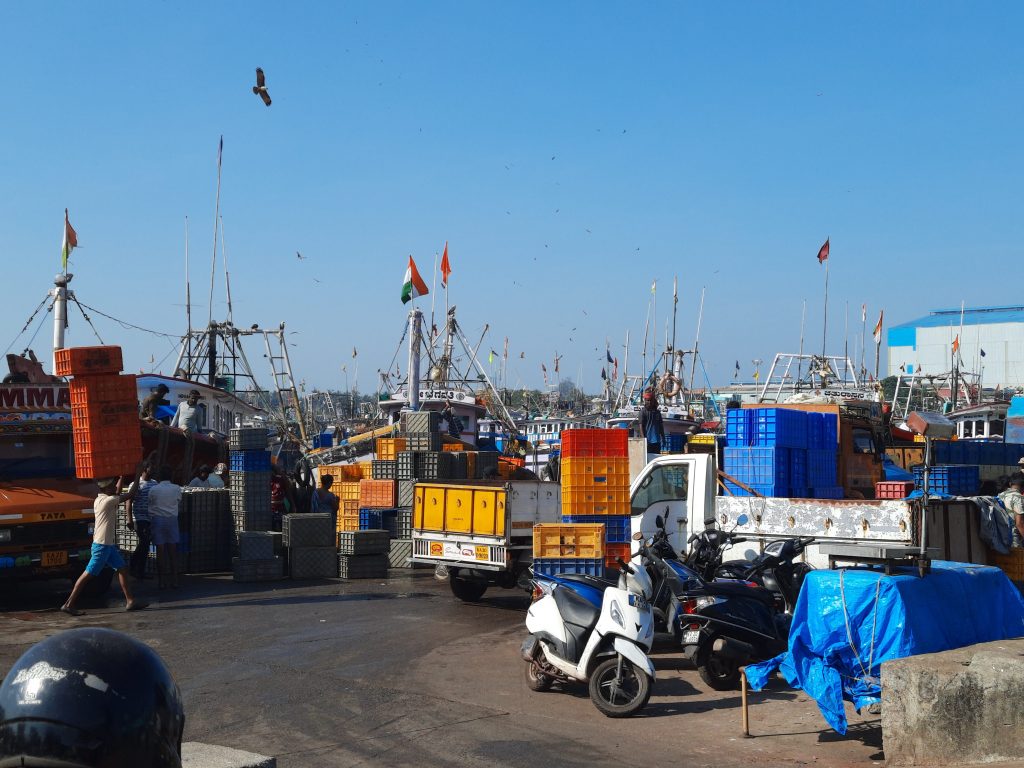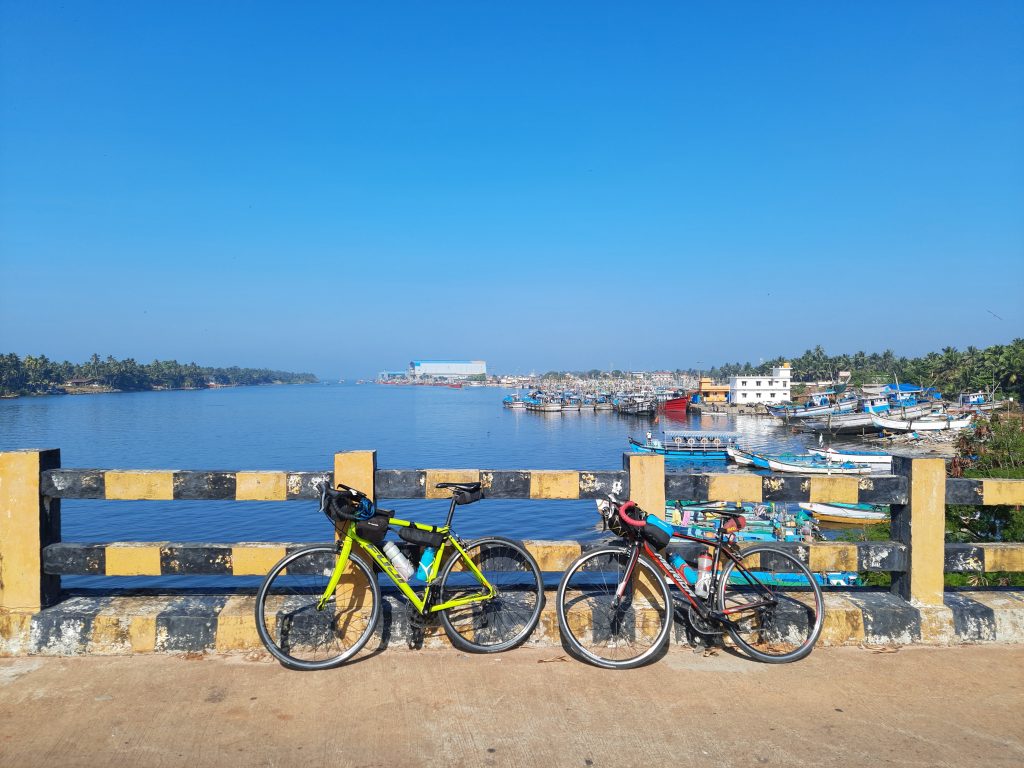 The Malpe-Mattu road is something that must be enjoyed on a cycle or bike. This 7.5 km of tarmac is accompanied by the sea on one side and backwater on the other side. The best view is undoubtedly an aerial one—something that can be only achieved using drone shots.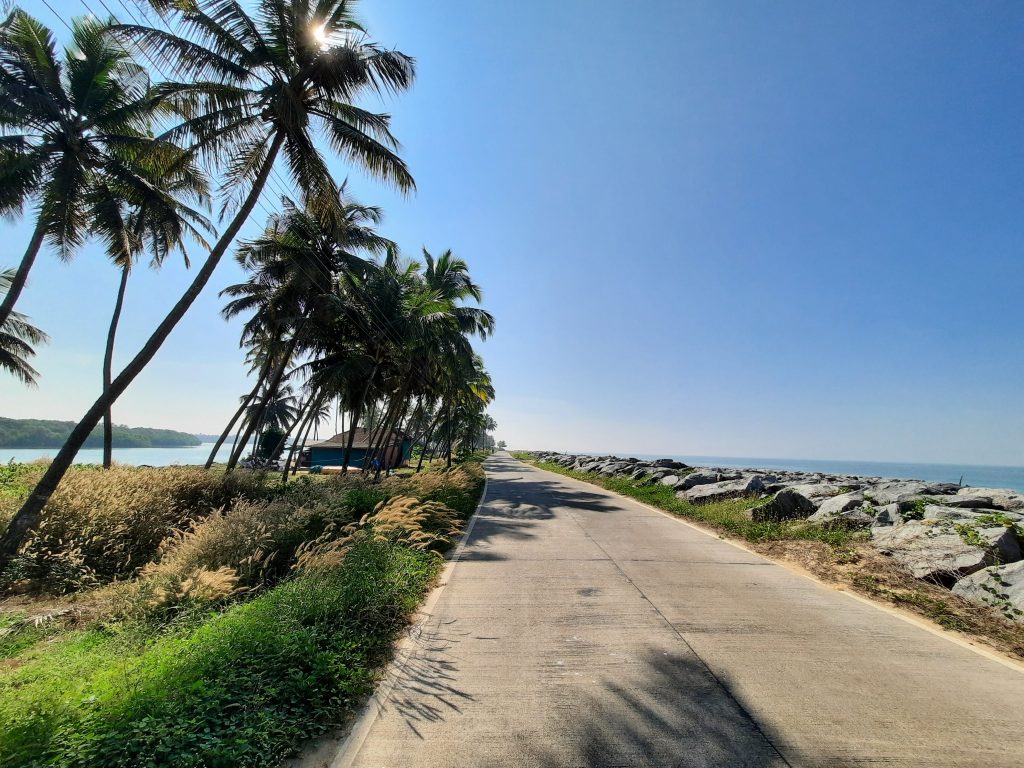 The stretch from Mattu to Muluru is what we can consider a typical coastal village. Kaup lighthouse, situated on this stretch, was closed. Mittal stopped and finished the carrot and cucumber he had been carrying in his jersey pocket. (A strange choice of portable fuel for a cycling trip.)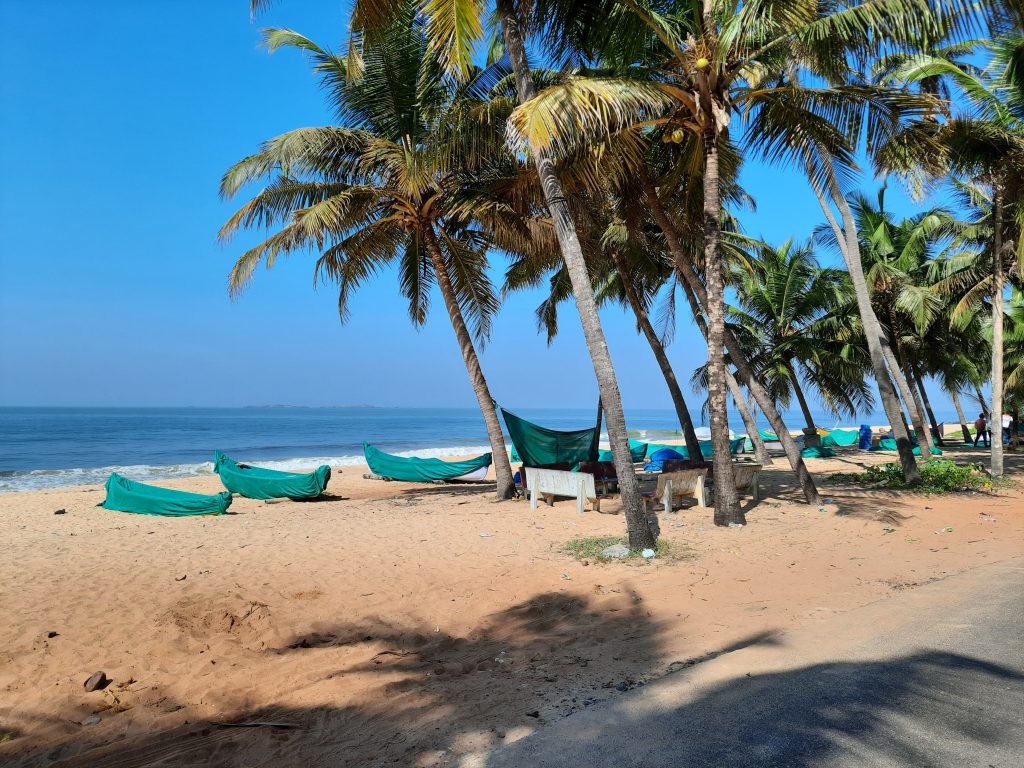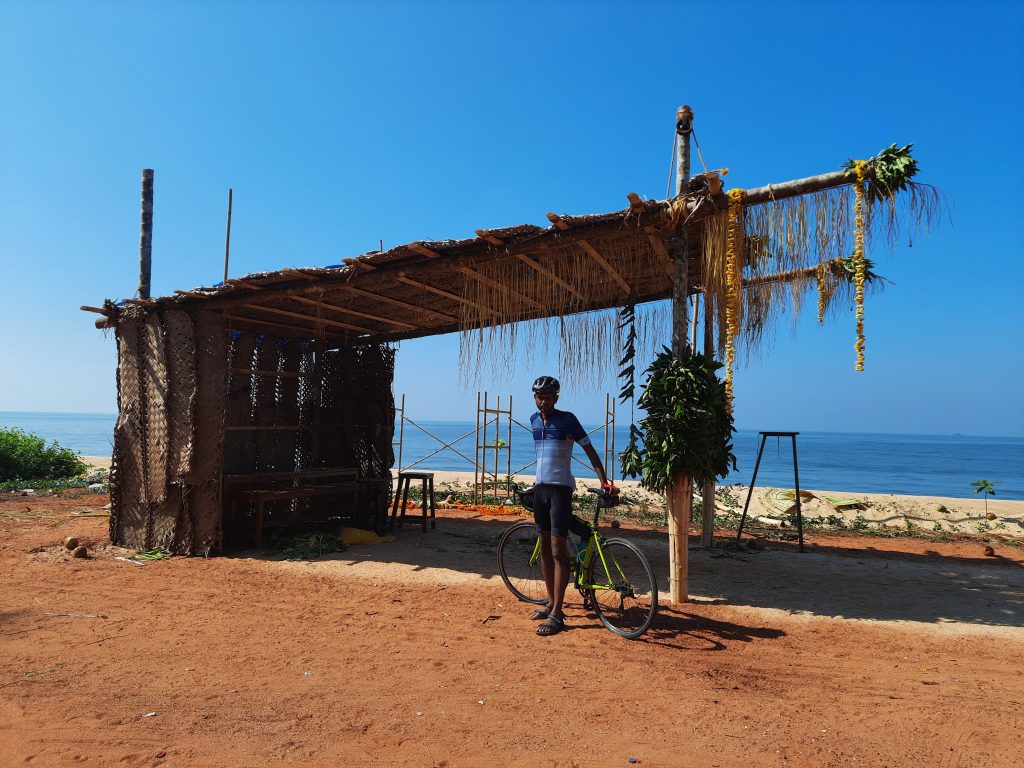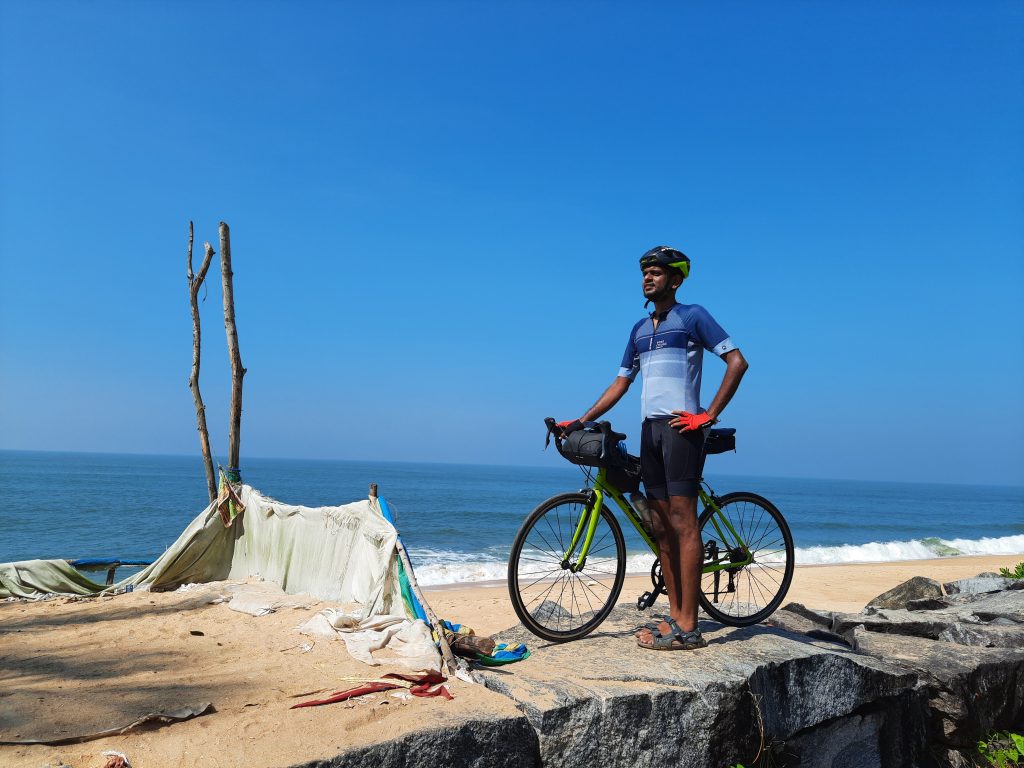 Mulki is situated halfway between Udupi and Mangalore. We rushed through the wide, shade-less NH66 for about 15 km before turning east to catch State Highway 70 (SH70). It was already afternoon and was time for lunch. There aren't that many places in SH70 for lunch. We stopped at a small shop called Kamath that was essentially four shops rolled into one. It ran an eatery, sold daily grocery items, repaired electronic goods, and dabbled in real estate. In hindsight, we should have had our lunch while we were still on NH66. We would have had more options. At Kamath, we both had some pulao. I had a cup of tea while Mittal had a glass of ragi juice, as he charged his phone that had ran out of juice. I checked the map. We still had 70 km to cover. There was no way we could reach there by sunset.
Fortunately, we had fresh legs and the rolling terrain helped us relax our legs during the mini descents. Somewhere along the way, we crossed a Jain procession. When I asked an old man, he explained that a new temple was being inaugurated. He also gave a some other information but I found it difficult to understand his mix of Hindi and heavily accented Kannada.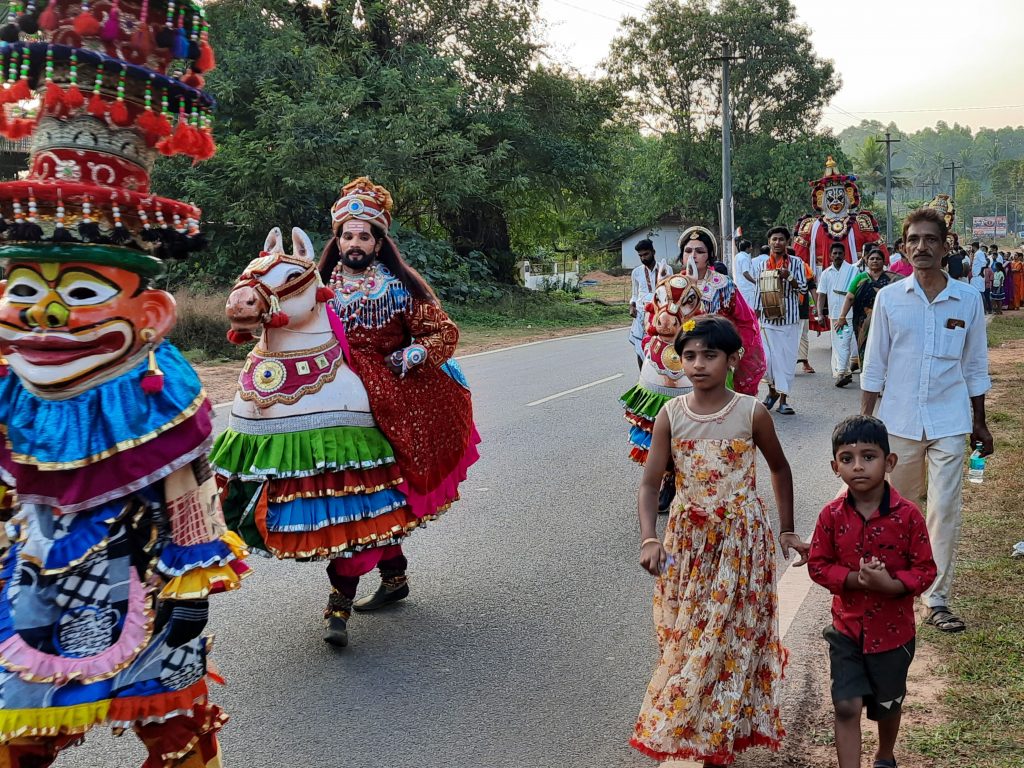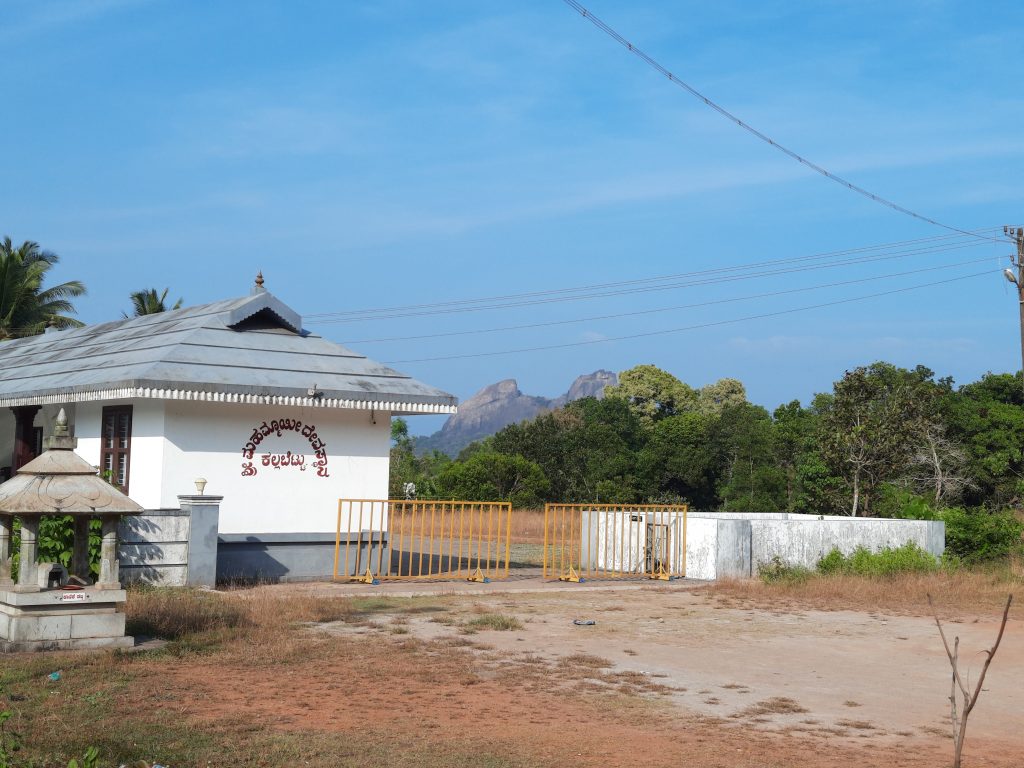 By the time we had reached Guruvayankere, it was already 5:30 PM. We stopped for some tea and to fix lights on our bicycles. Fortunately, we only had 10 km to go before Ujire. I wanted to ride as far as possible into the base of the ghat but the locals couldn't really assure us of any lodging places beyond Ujire. It turned dark pretty fast after sunset. That stretch of ride was quite challenging as the roads were narrow and there was a constant barrage of buses and cars passing by.
Ujire has only four lodging options near the junction. Most people go to Dharmasthala. It's about 8 km from Ujire. But for us, that would have been a detour. After checking all four lodging options, and getting disappointed by the condition of the rooms (one did not have proper roof!), we got a room at Rajleela residency. At 1100 rupees, it was quite expensive for the amenities it provided (or lack thereof). The hot water tap broke while Mittal was using it. The disgruntled caretaker plugged it with some rag and a branch.
That night we had dinner at Sheethal Garden Restaurant. The bar area was quite untidy but the food and the service was great.
Day 2: Ujire to Belur
26th December, 2022
We left our lodge at 7 AM. I wanted to hit the ghats as early as possible. Ujire to the base of the ghat at Charmadi is about 15 km. The terrain rolled with some short punchy climbs thrown in, reminding us that we were approaching the Western Ghats. The vegetation changed, too. Kakkinje, a settlement about 4 KM from Charmadi marks the beginning of the reserved forest area. We stopped at Charmadi to have our breakfast—dosa for me and idly-vada for Mittal—before hitting the slope.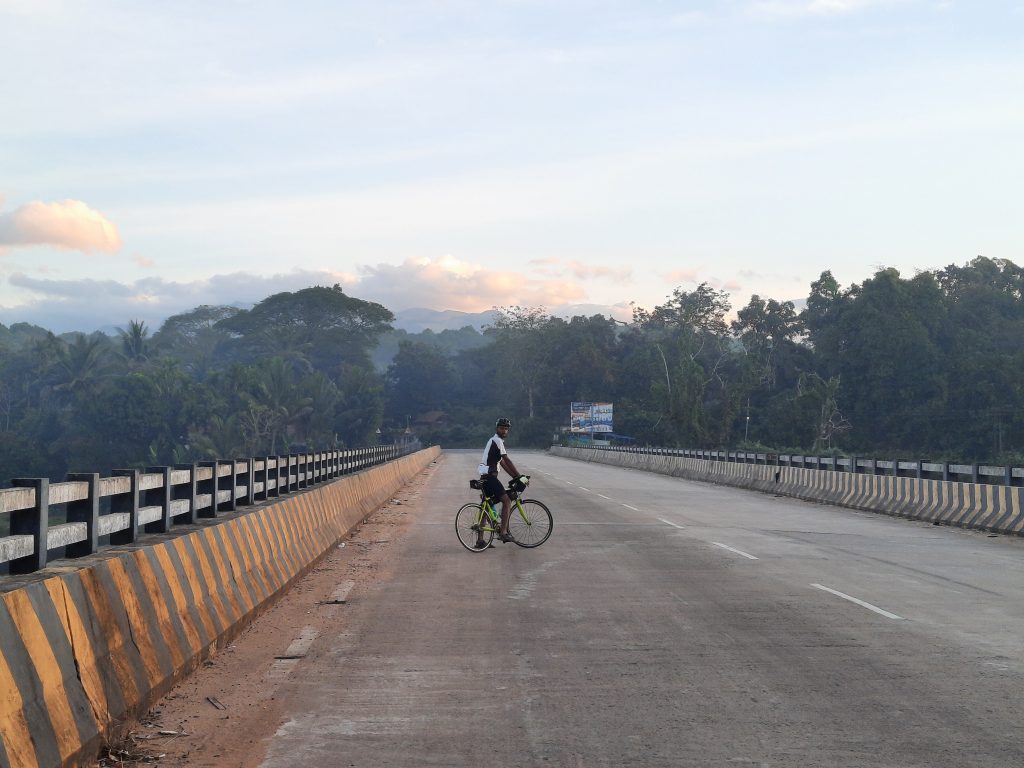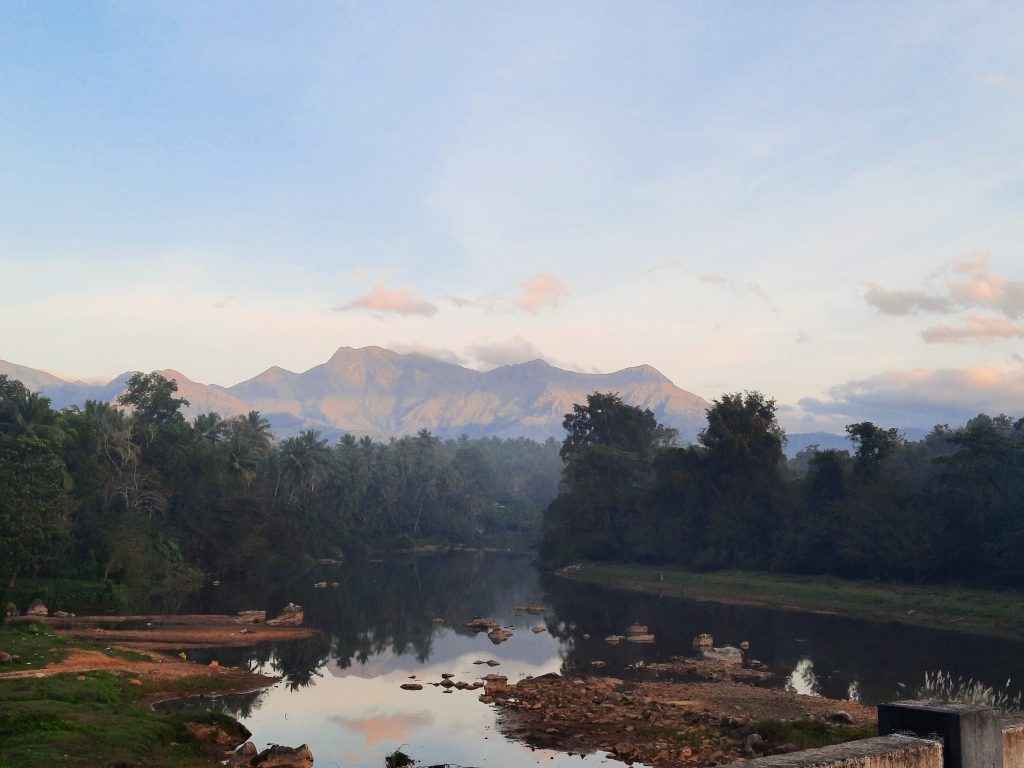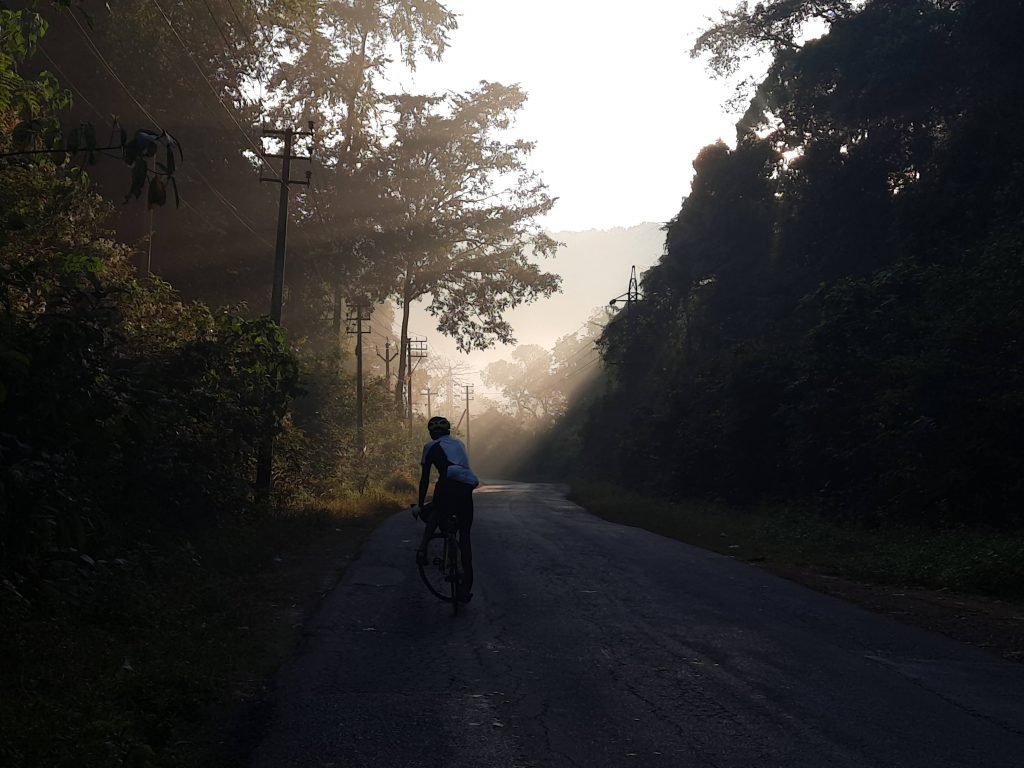 The 25 KM long climb averages at around 4%, but that's a deceptive stat. The first three-quarter of the climb that circumnavigates a hill is steeper. It was tiring and we took short breaks en route. Somewhere along the way we took a long break and had some roasted peanuts that Mittal was carrying. There aren't any shops along the climb where one can buy food and water. The only sources of water I encountered were some natural streams. I stopped at one such large stream to refill my bottles. I also saw two trailers that sold pineapple and ice-cream to people who stopped at the view point on top the first hill. From there, it was a long and much-needed descent to the start of the next hill at Attigere. There is a temple here. Many travelers, including bus drivers and conductors stop here to offer some flower and incense. It's not a good place to stop, though. The traffic piles up as the road is narrow and there is no way to circumvent the stopped vehicles.
As I rode through the beautiful scenery, I crossed a number of waterfalls that had dried up completely in the winter. The only signs were the erosion marks on the rocks and signboards that warned visitors not to get too close to take photographs.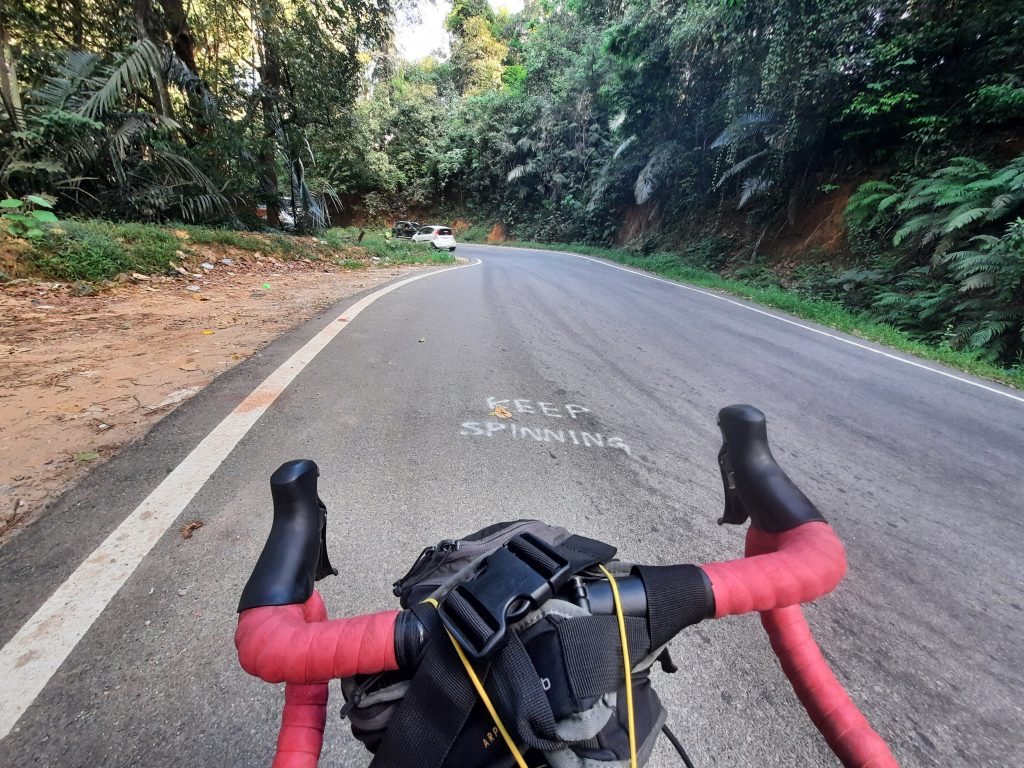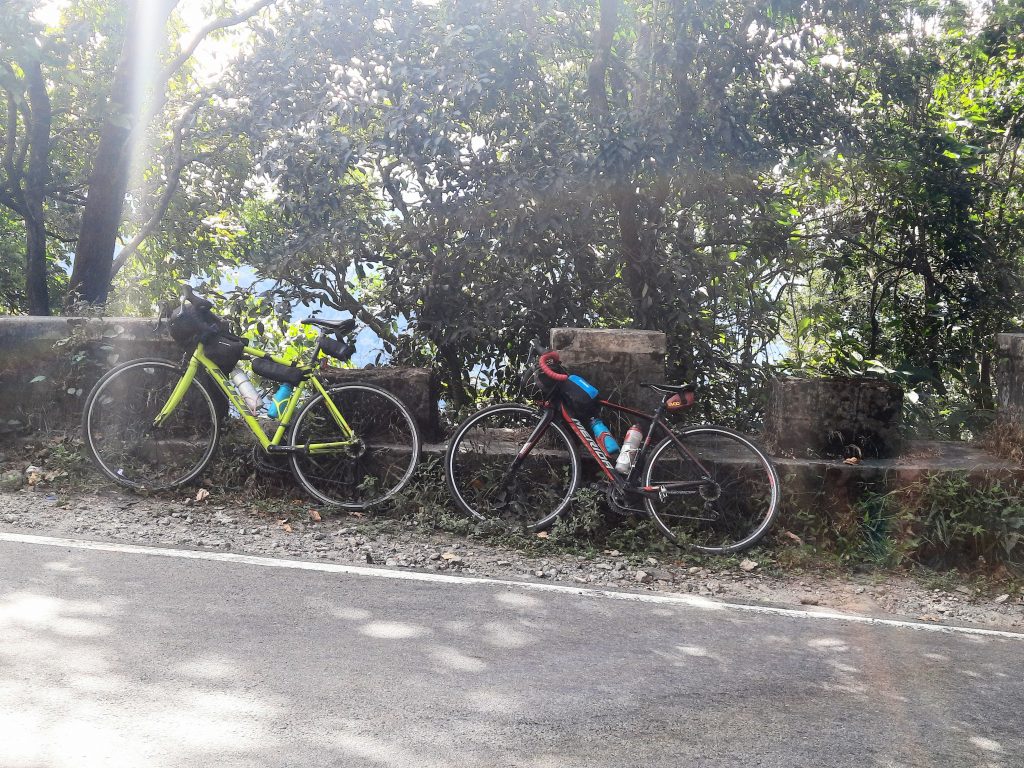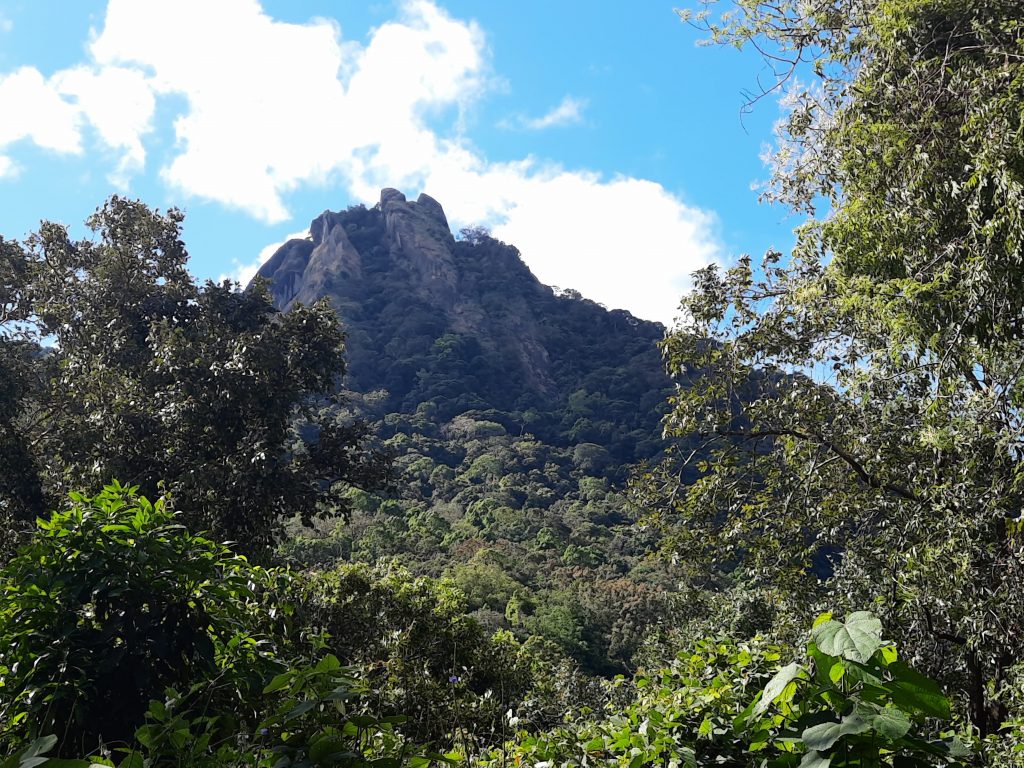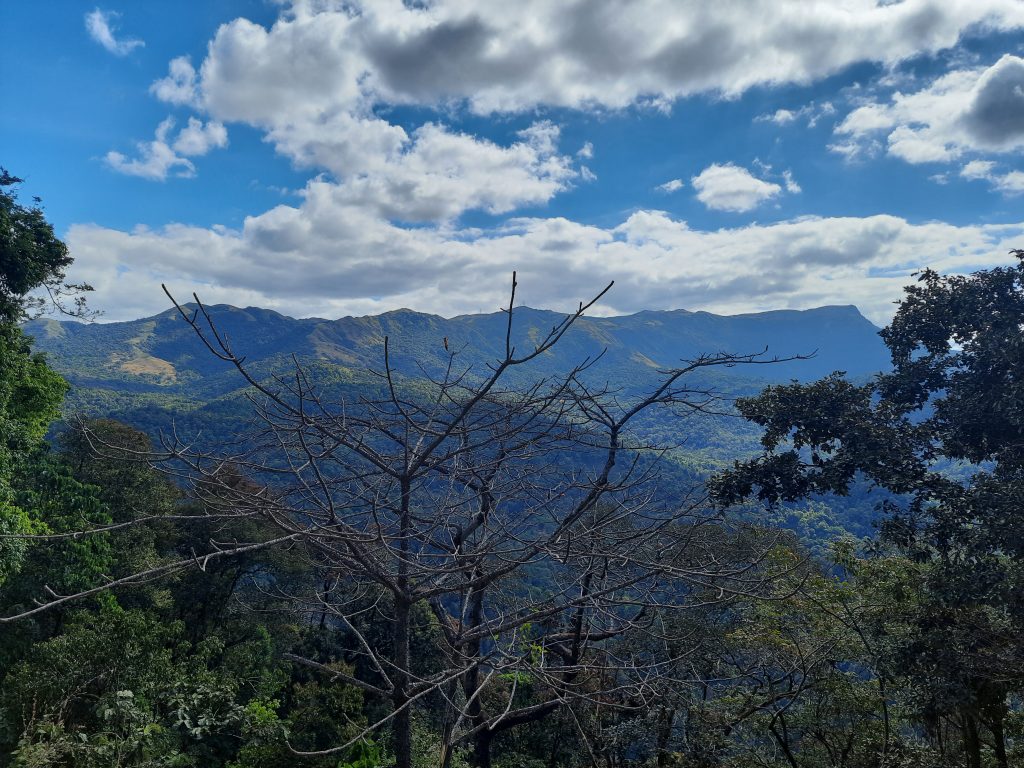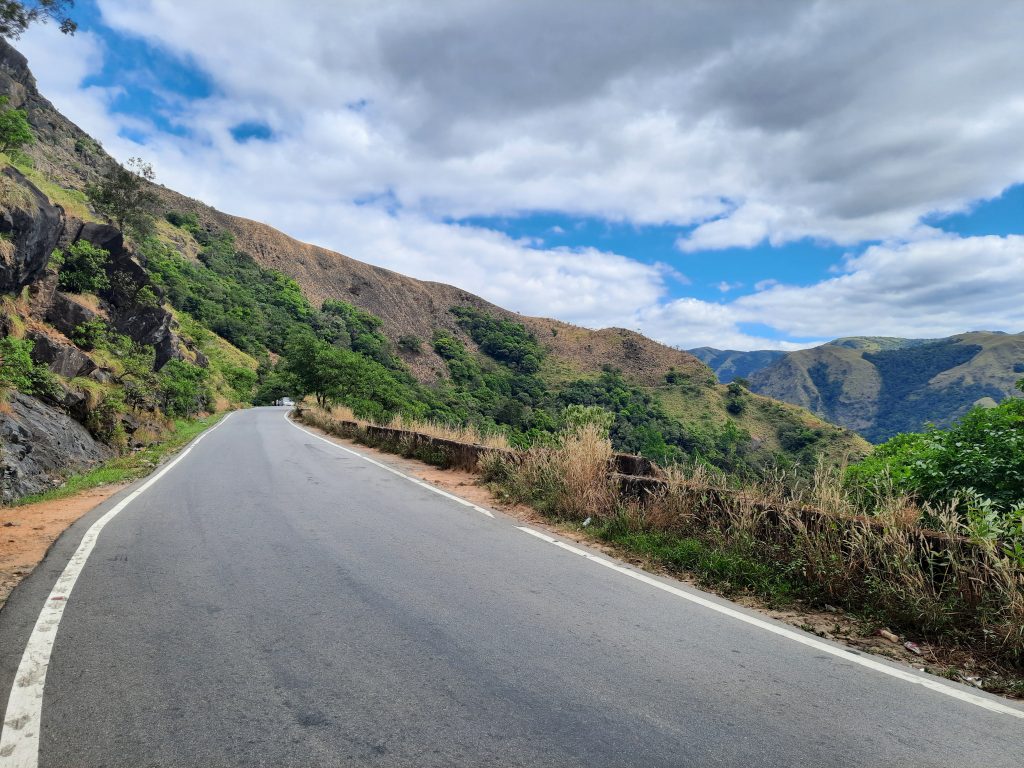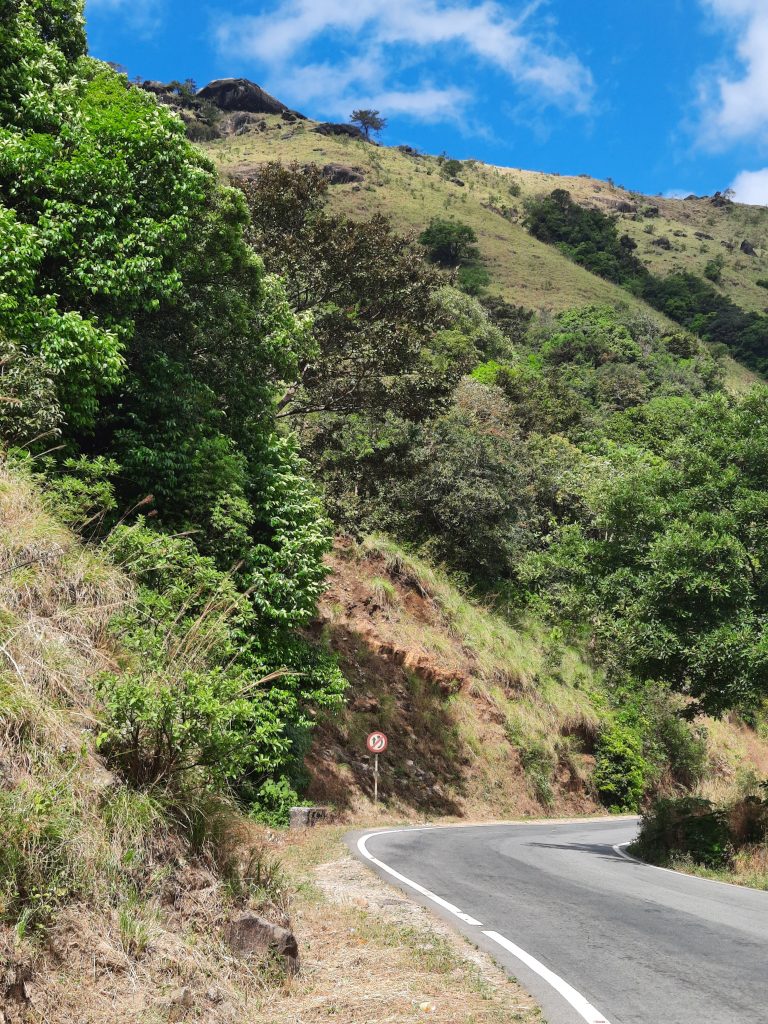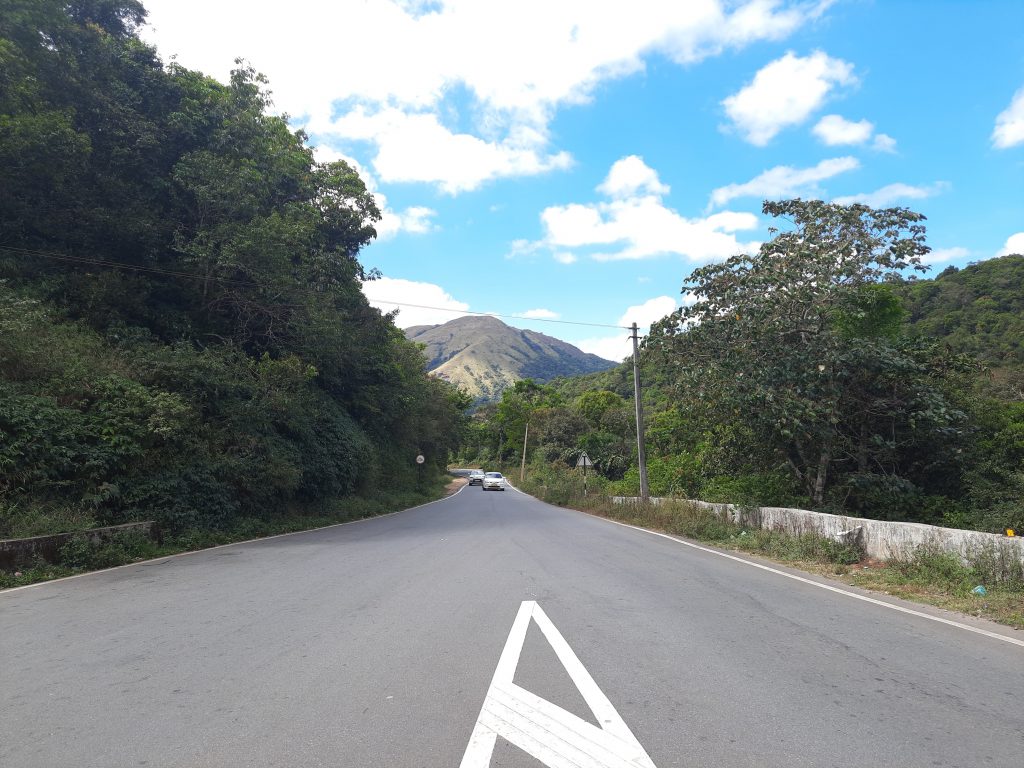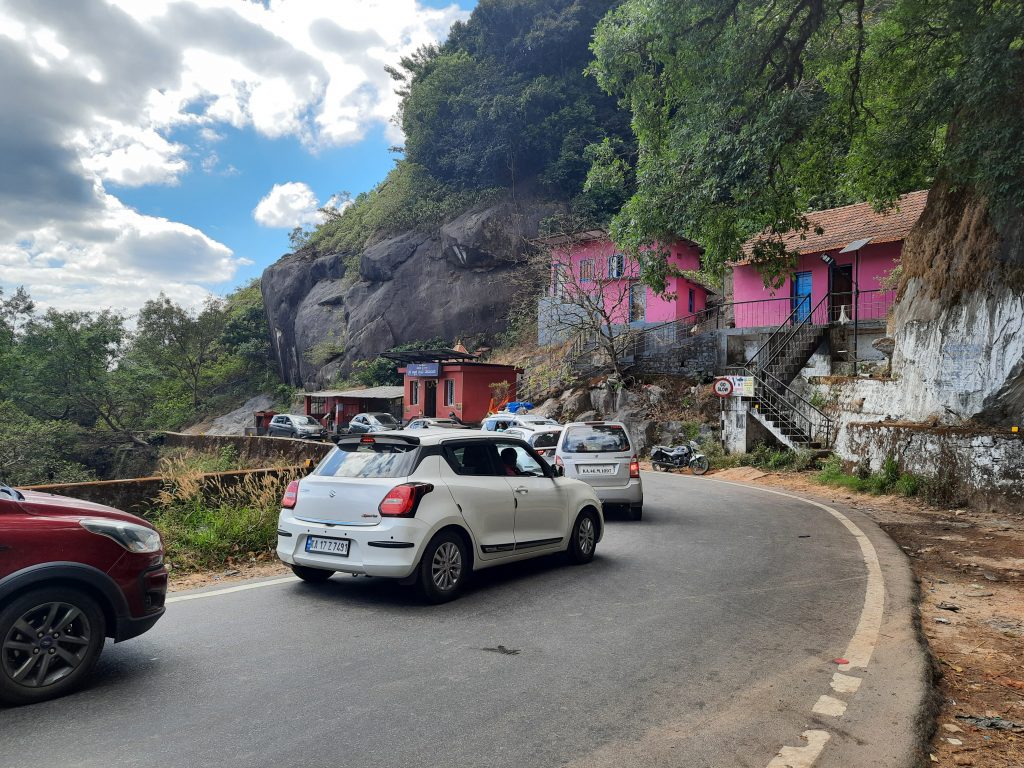 I reached Nisarga Grand—the first eatery on top of the hill—about thirty minutes earlier than Mittal, who even took a short nap along the way. Here we had the strange combination of veg noodles, veg fried rice, and curd for our lunch.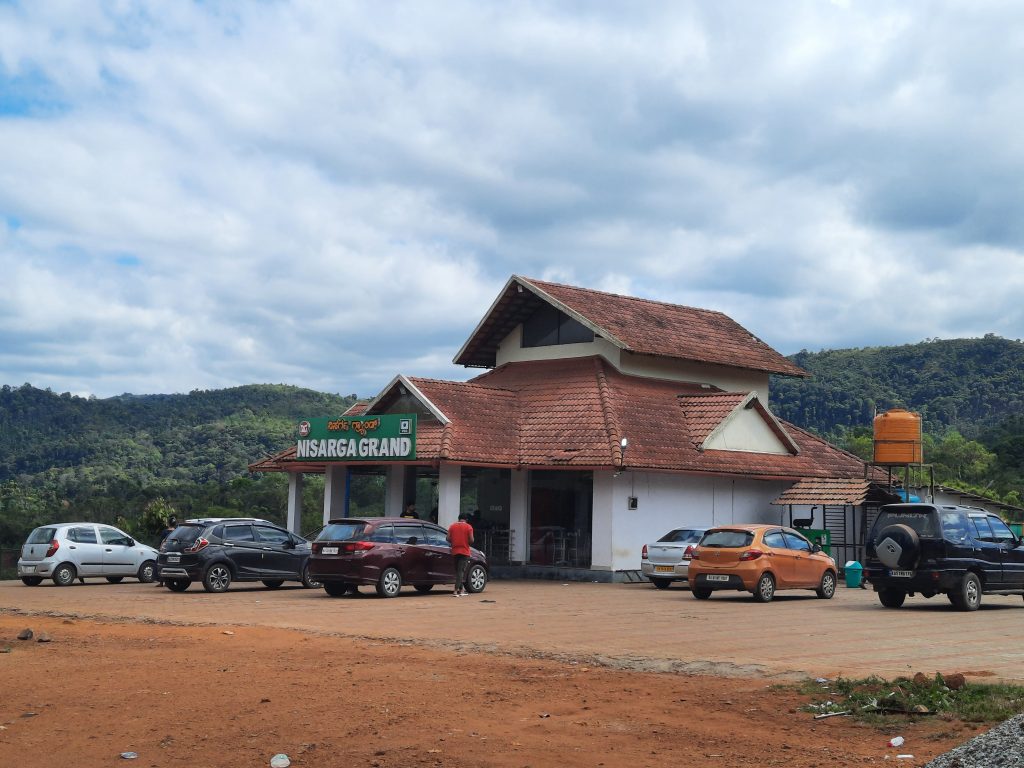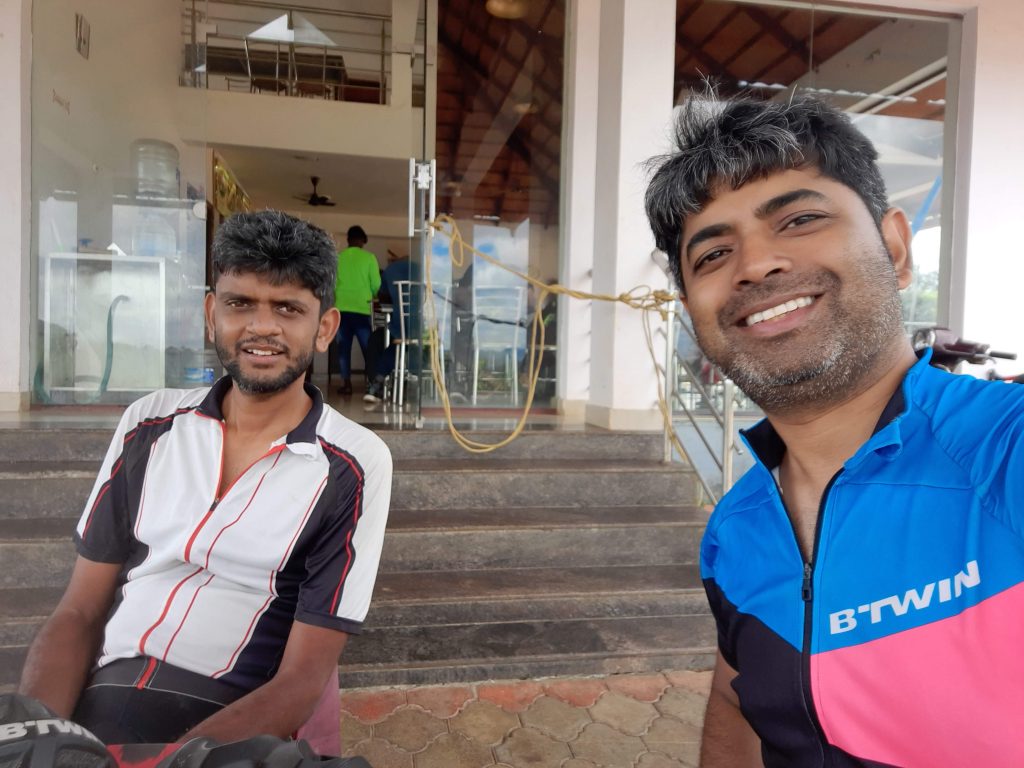 We had a lot of time to cover the rest of the 50 km to Belur. Once we had crossed the hill top settlement at Kottigehara, the vista changed, and so did the vegetation. We rode through beautiful roads sided with terraced rice fields, banana and coconut plantations. At times, these were punctuated by coffee estates.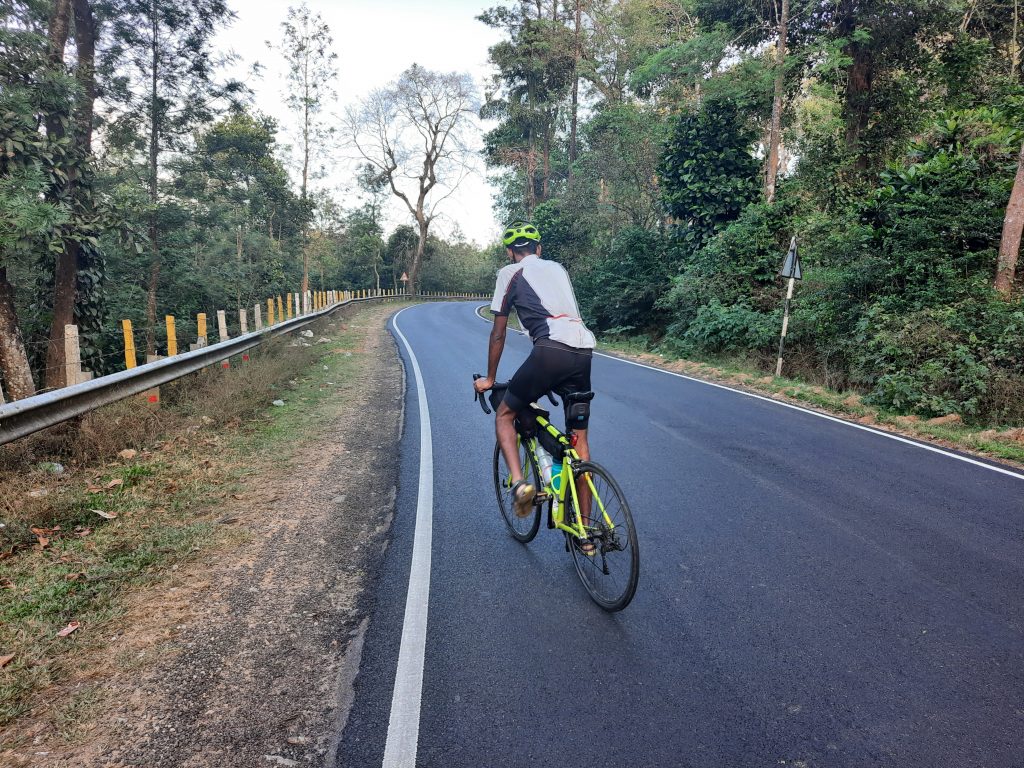 Barring a a bit of jam at Mudigere, the ride was quite pleasant and enjoyable. We reached Belur and even managed to get ourselves a lodge before sunset. For 700 rupees, Mallikarjuna Lodge gave us an excellent place to stay. That night we went to Guru Comforts for our food. The first two starters were great but then the rest was not.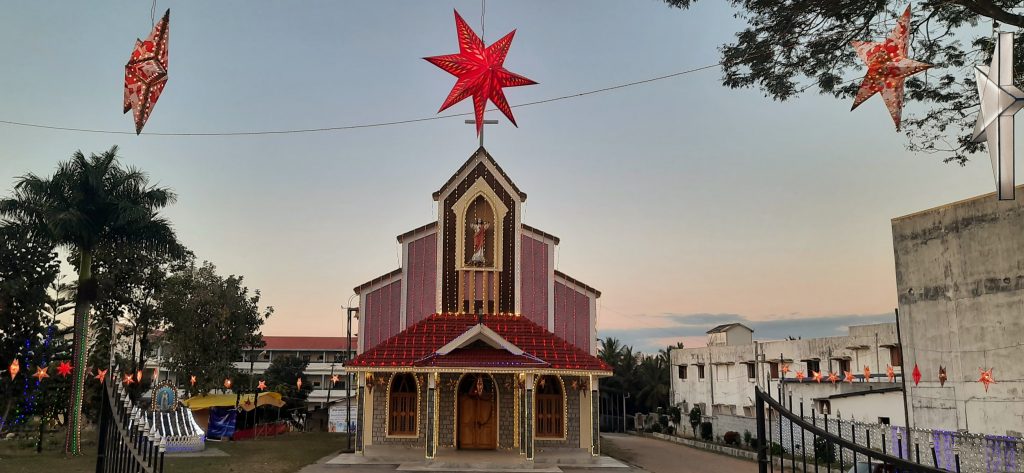 Day 3: Belur to Shravnabelegola
27th December, 2022
We saw a number of school students at Belur Channakeshava Temple. They had come on excursions from different schools and were identifiable by their uniform and specific colour and style of caps unique to their school. Mittal and I took turns to visit the temple while the other guarded the cycles.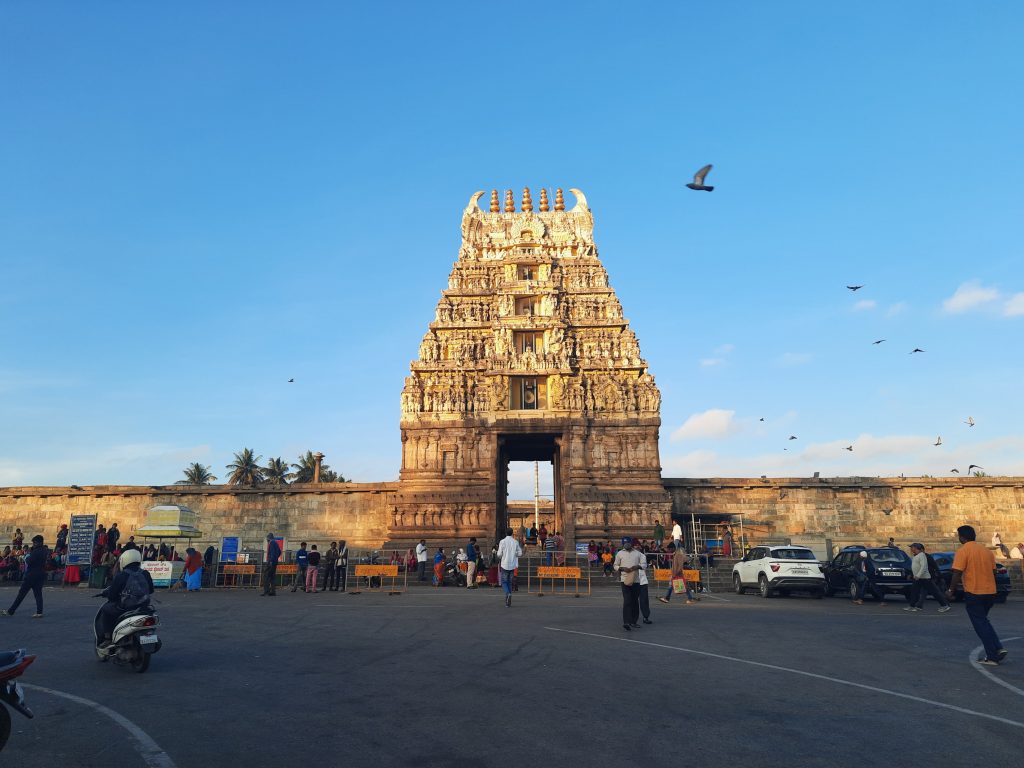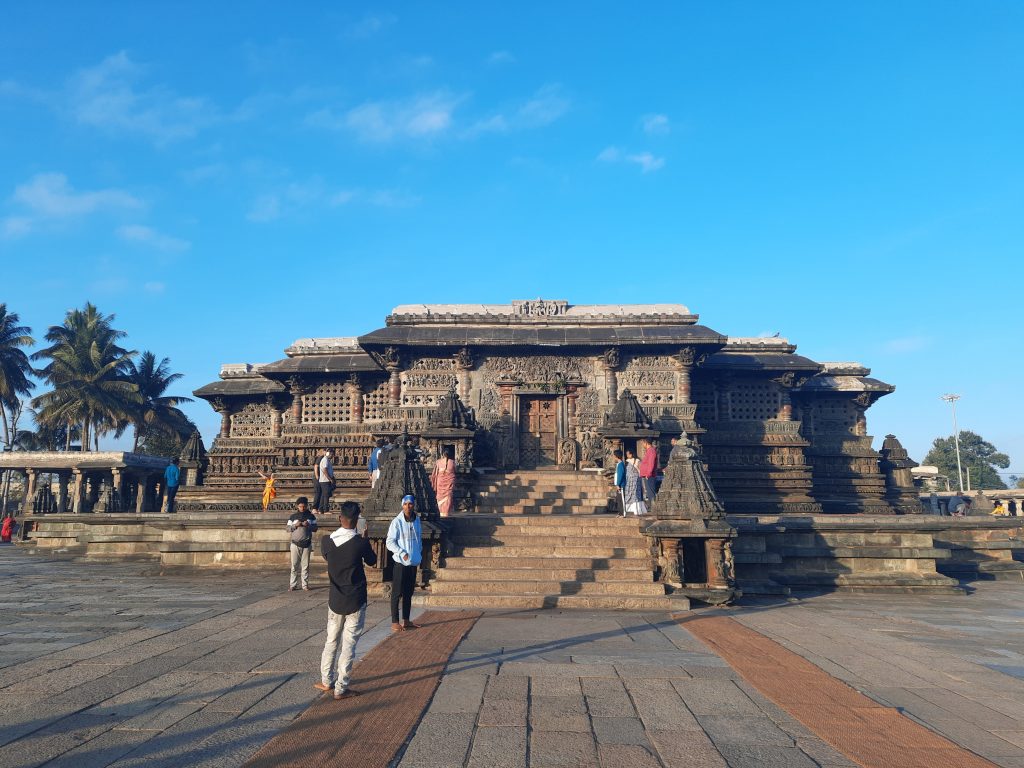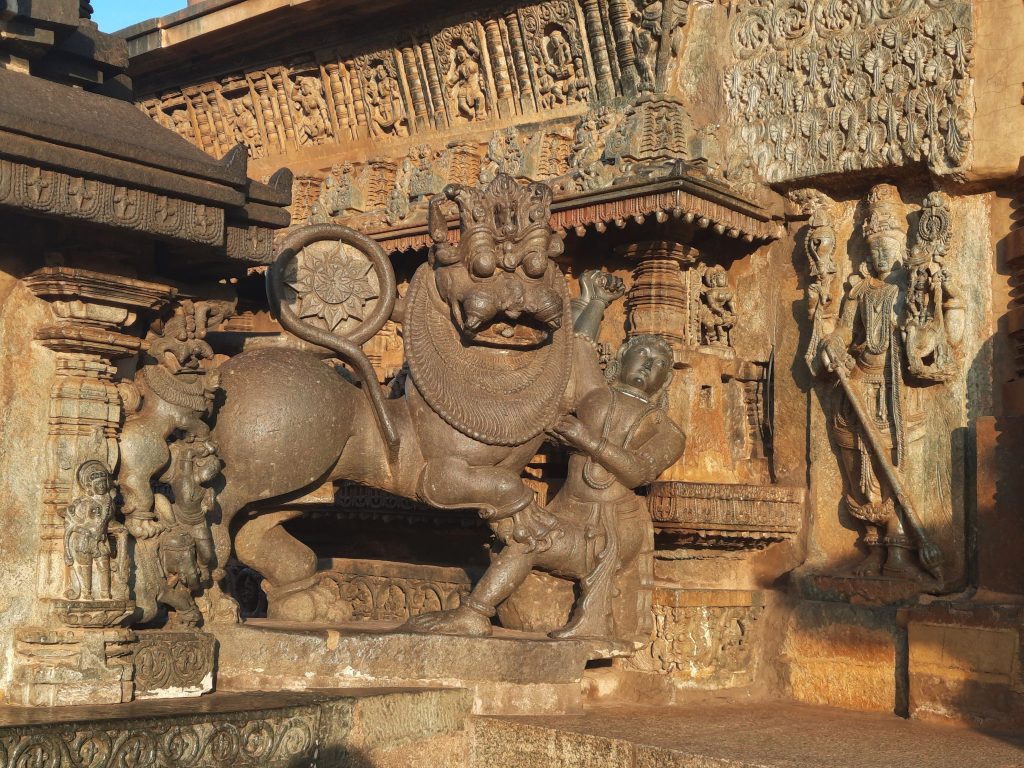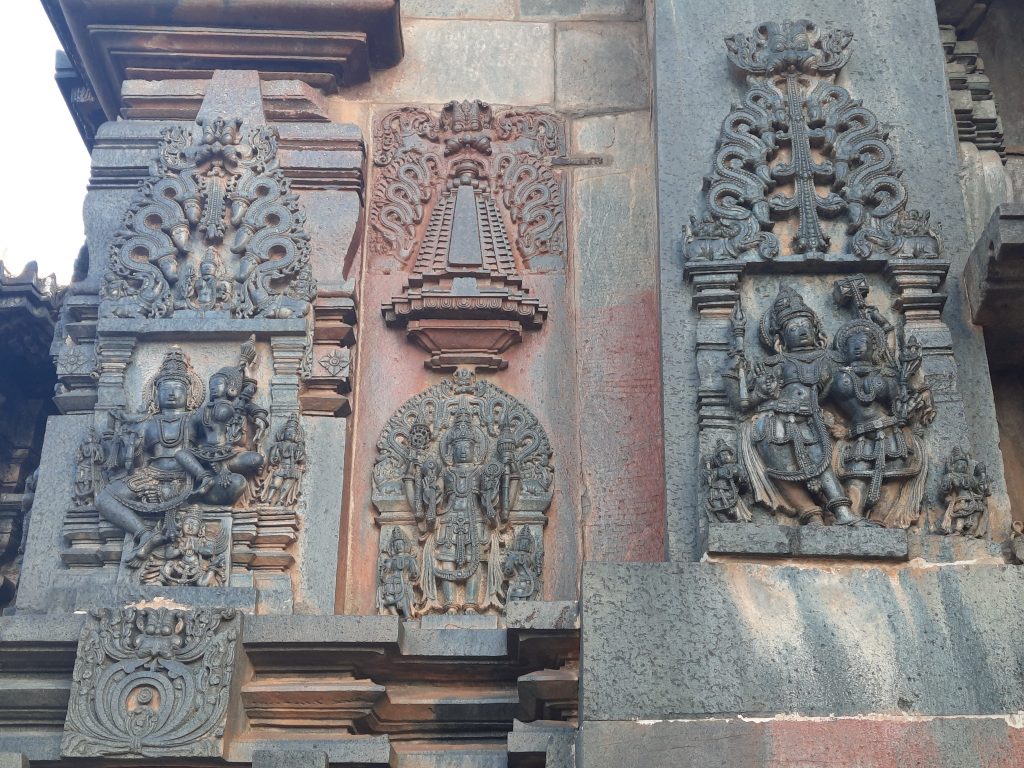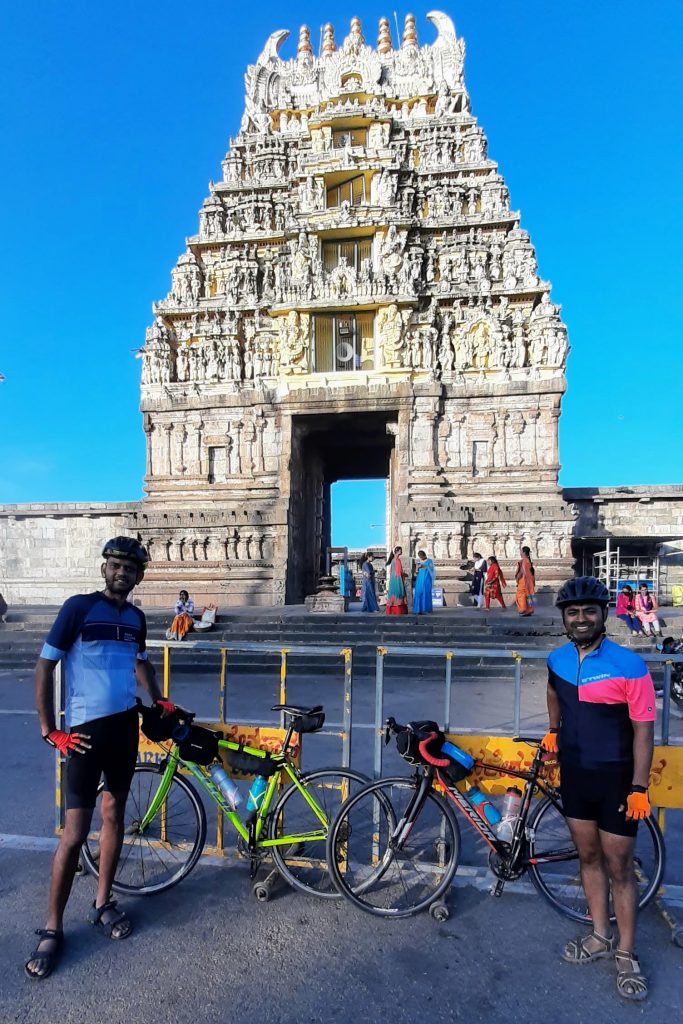 We headed towards Yagachi reservoir. Unfortunately, the dam is inaccessible to the general public. Disappointed, we took some photographs from outside and headed towards NH373 for Hassan.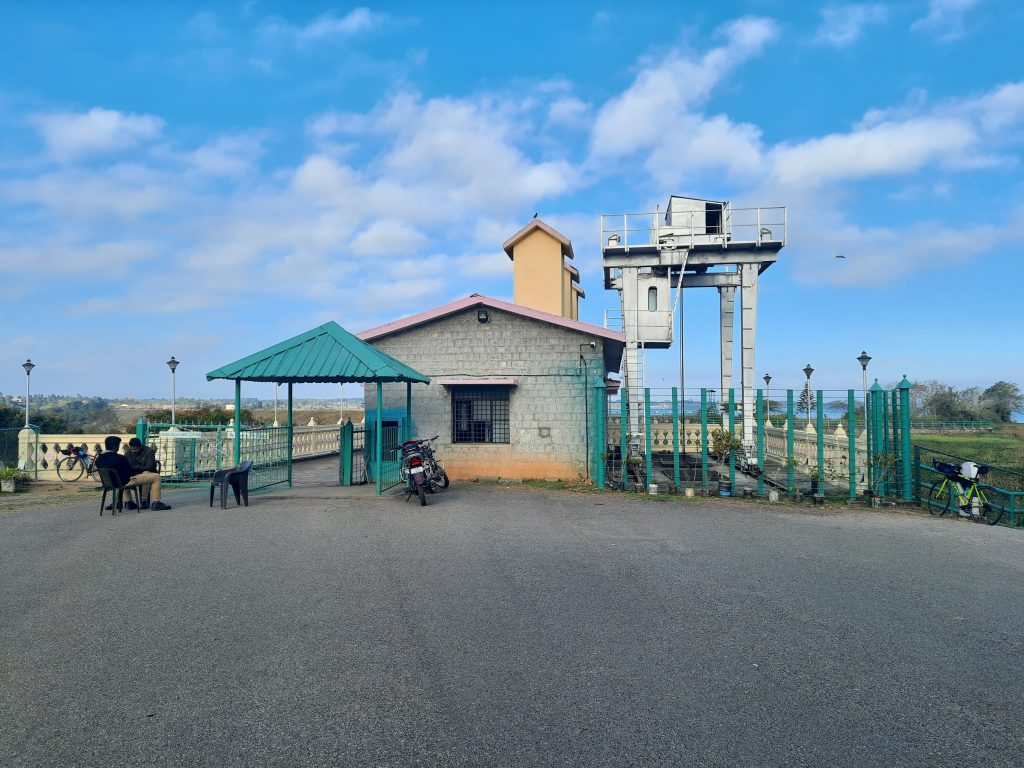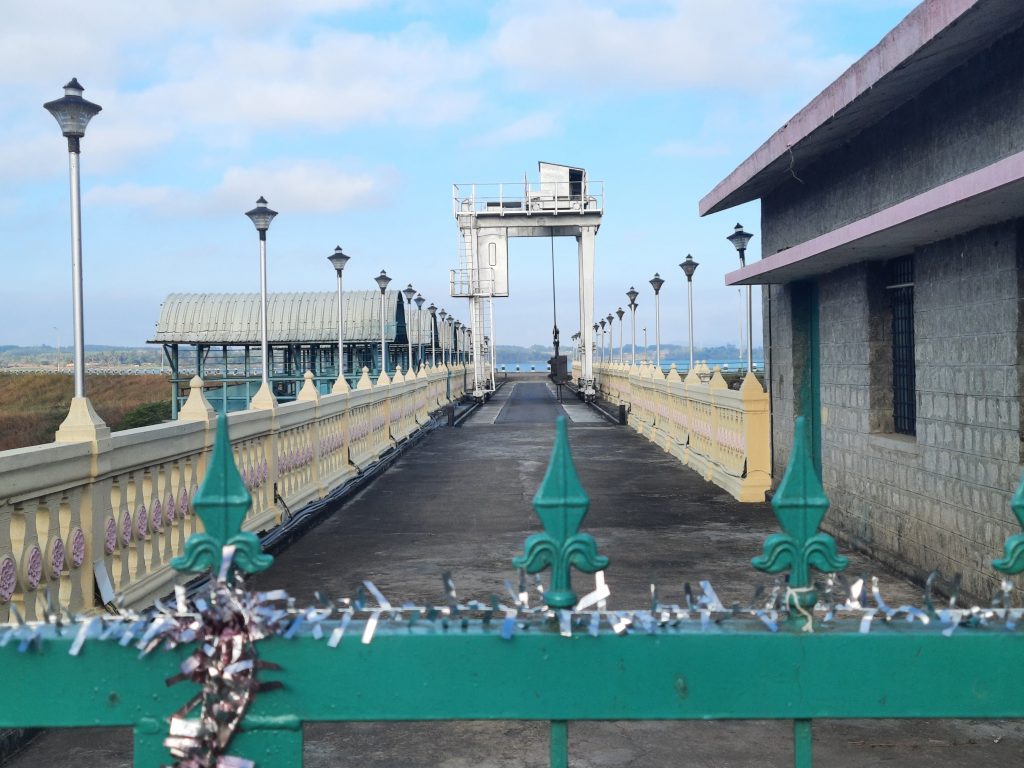 Till Hassan, the terrain was beautiful with nice greenery all around. We passed through some stretches surrounded by dense foliage over nice rolling terrain. Everything changed the moment we hit Hassan ring road.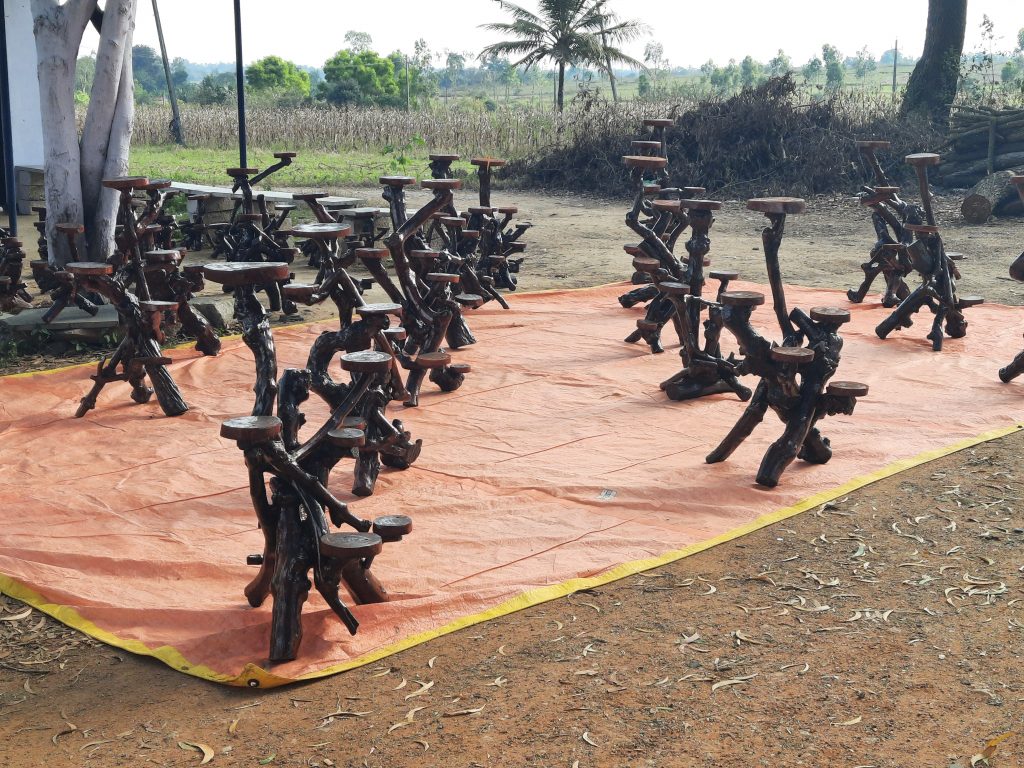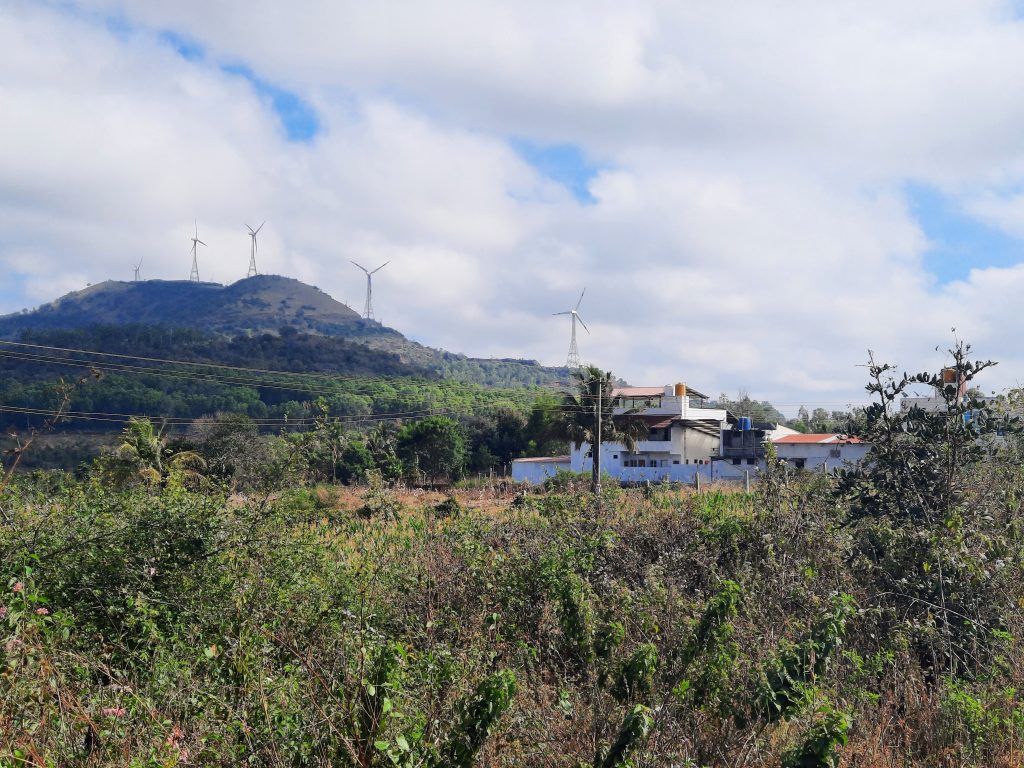 There wasn't any greenery. The road was dusty. On top of that, there were ongoing repair works and construction that made our ride quite less enjoyable. Once we were back on NH75, we stopped for some lunch at Pathanjali Restaurant. The food was not at all good. I had to scrape off the potato mix of the masala dosa. The paneer dish that Mittal took was too oily and had too much of cornflour coating.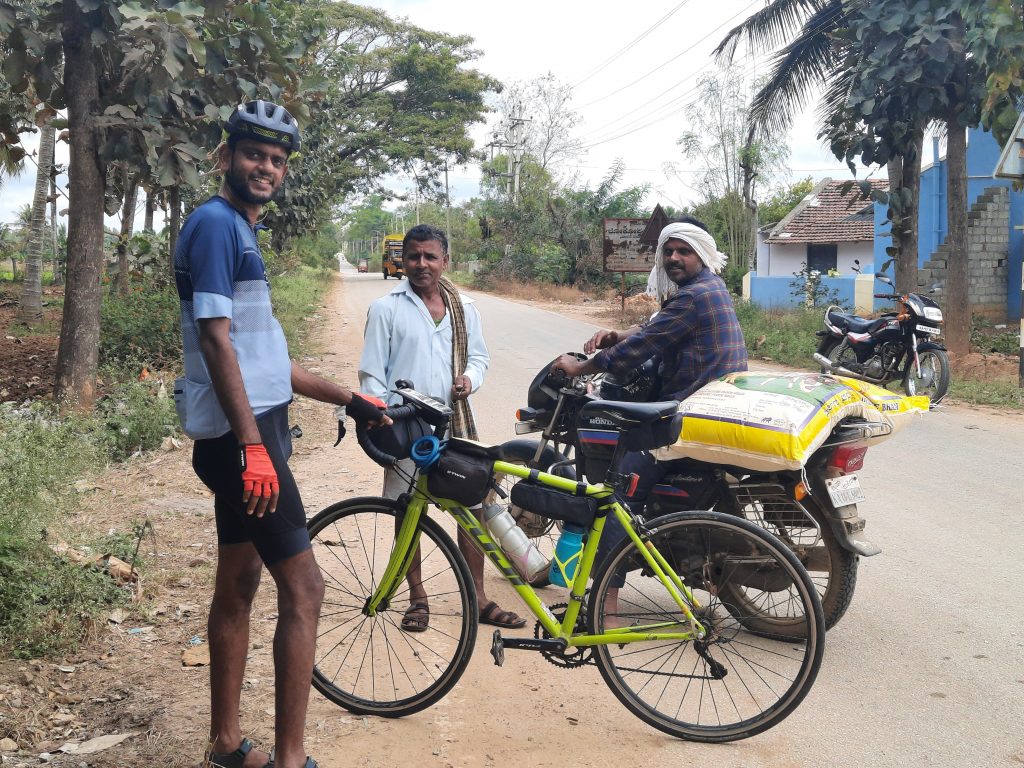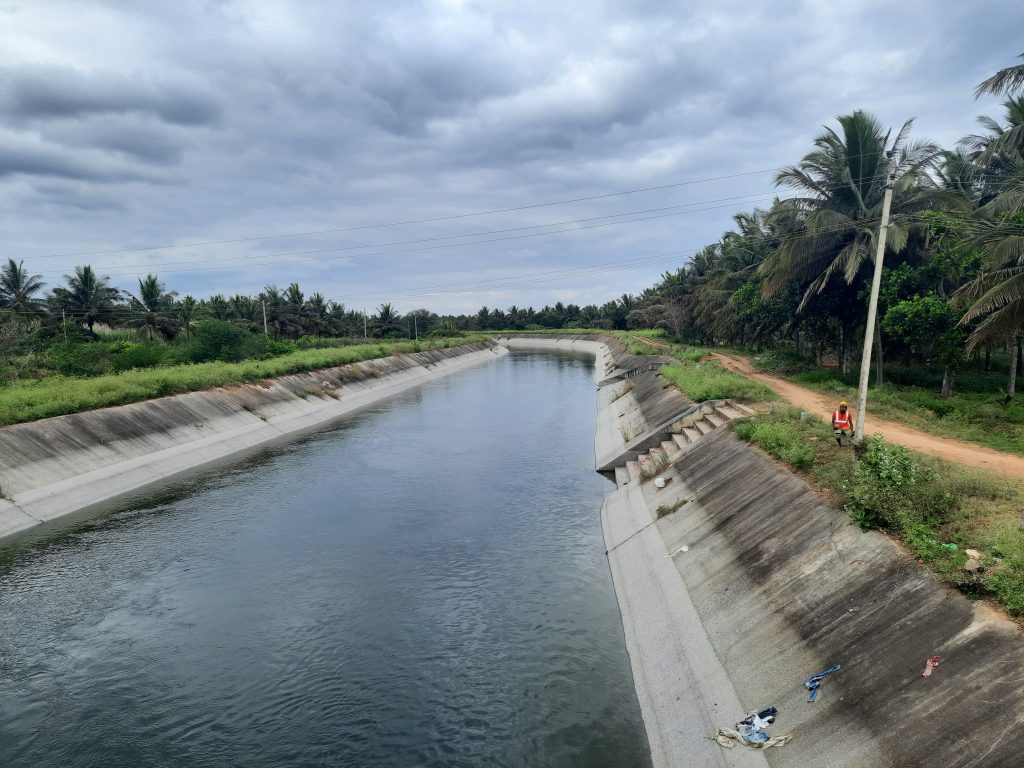 The usual way to enter Shravanbelagola is via Channarayanapatna, turning onto SH7 and then getting off on SH8 and continuing to Shravanbelagola. Mittal did not want to go via that route and decided to take smaller, village routes. So, we ignored the Channarayanapatna junction and moved ahead on NH75. The first route we found was unsuitable for riding our bicycles. Instead, we took another one via Bediganahalli. It was a nice change of scenery. Especially, it was something that Mittal needed as he was quite bored of the highway. For most part the route was fine, barring a kilometer of so before it hit SH8, where it was all dug up. We got off our cycles and walked instead.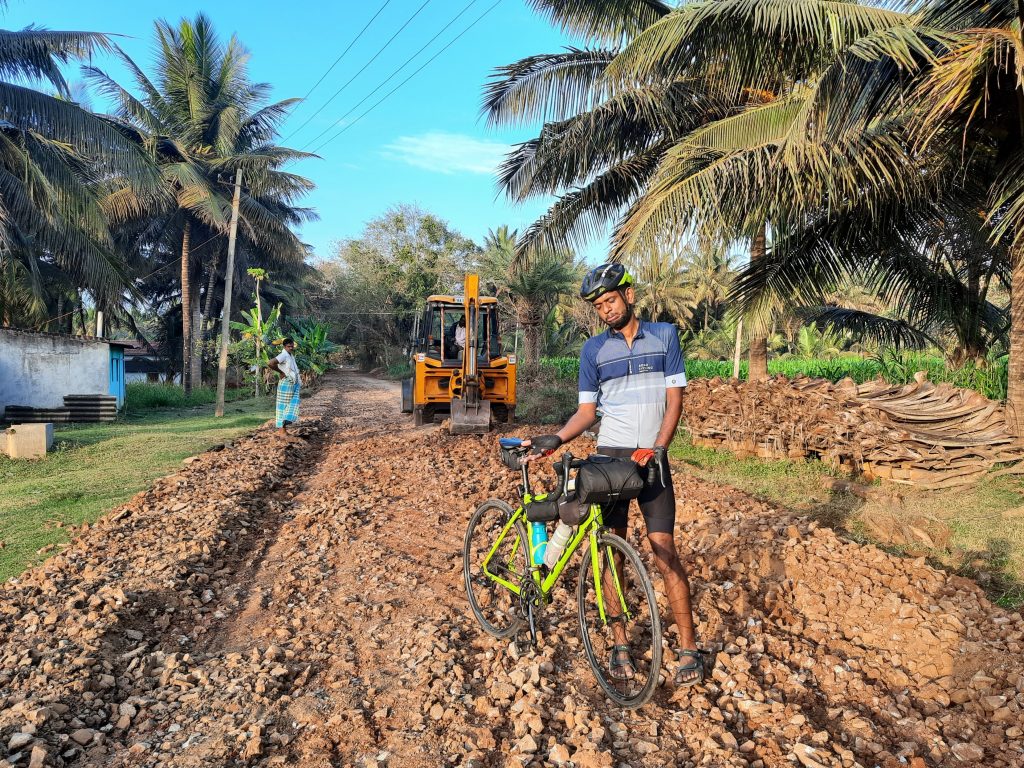 We did not reach Shravanbelagola by 4:30 PM as we had originally planned. It was not dark yet, but Vindhyagiri entrance was closed. This meant we would have to leave late the next day if we had to visit the temple.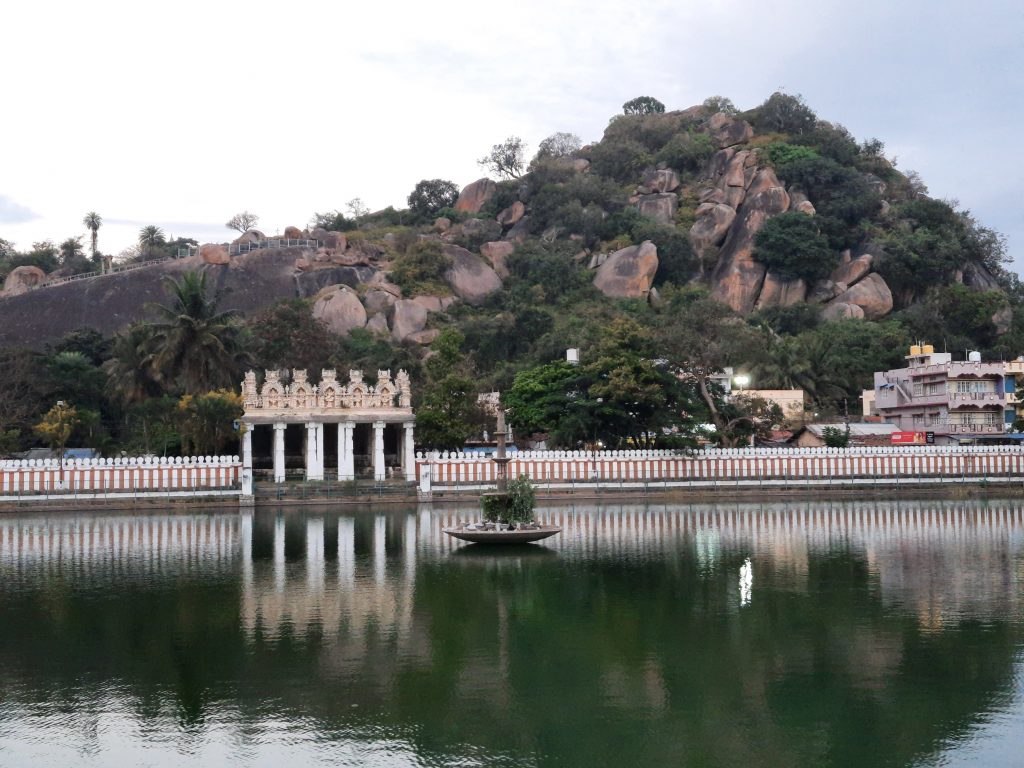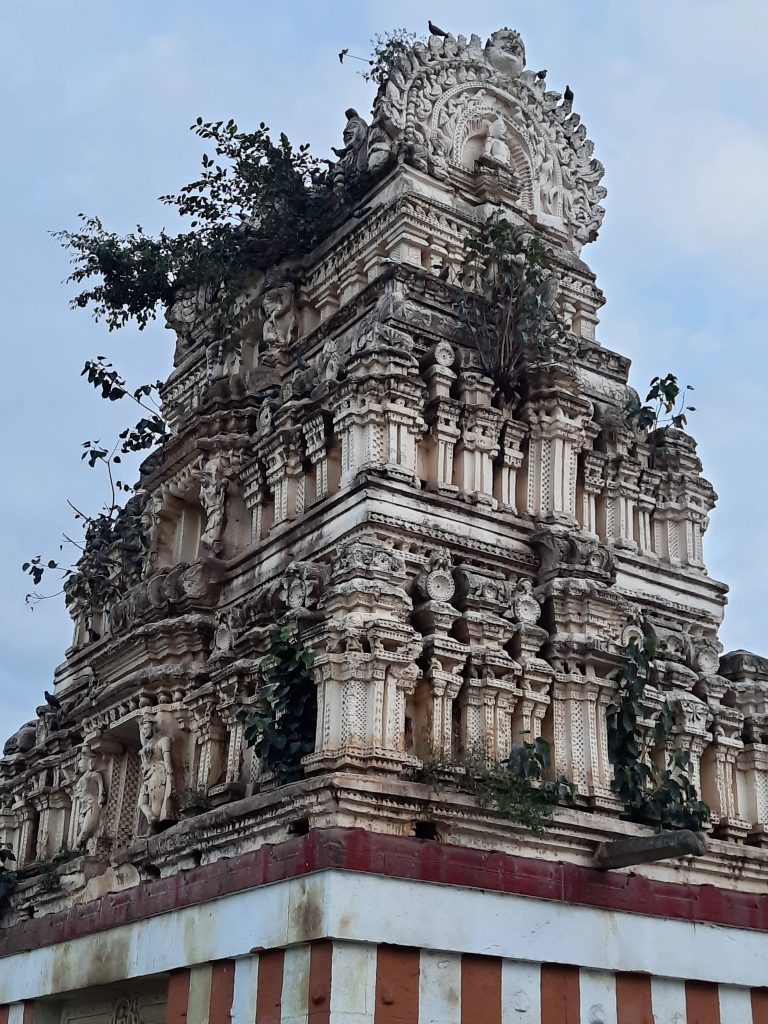 That night we had dinner at a shady bar. The bar at Dayvik Comforts only served drinks and gave some tables to sit. We had to arrange for chicken starters, biryani and peanuts from elsewhere.
Day 4: Shravanbelagola to Bangalore
28th December, 2022
We had a long day ahead of us. We had to cover about 130 km to reach IKEA Nagasandra in Banagalore. We had already asked the Chevrolet Enjoy driver to pick us up at 7:00 PM. It didn't help that we couldn't leave early. We packed everything, got ready and waited for the Vindhyagiri gates to open at 7:00 AM.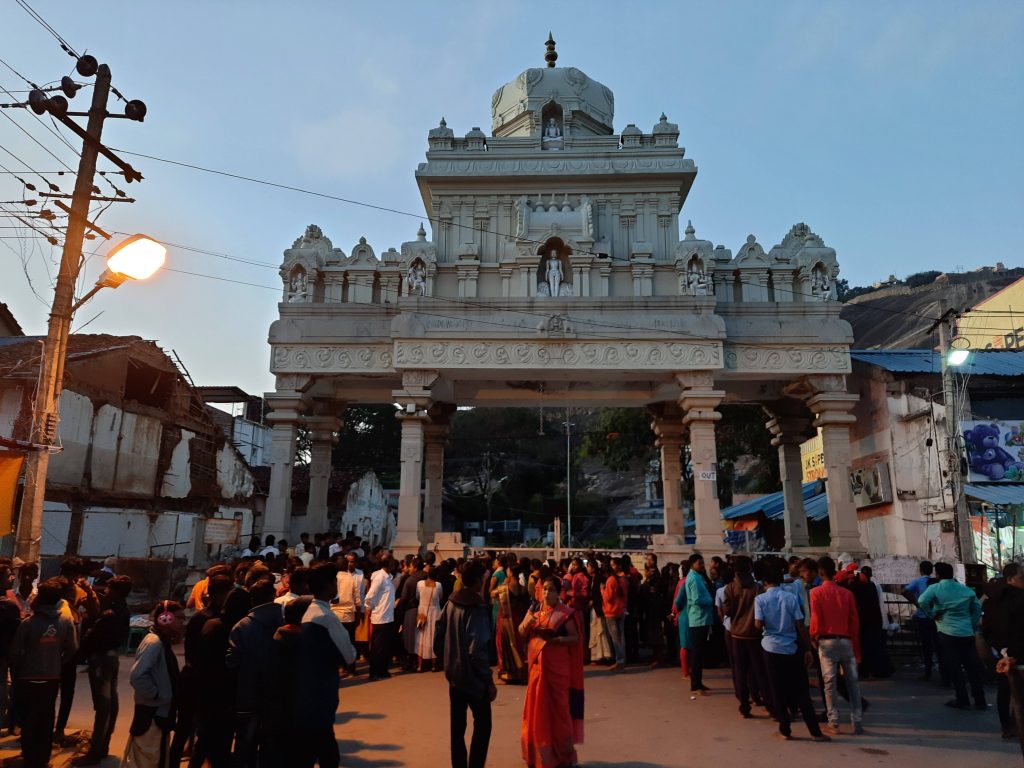 The route to the temple is a flight of stairs cut into a monolithic rock. The place is about 1000 years old. The main attraction is a giant statue of Bahubali, the son of first Tirthankara, Rishavadeva. In spite being a millennium old, the statue looked pristine. This place was also crowded by school children on excursion.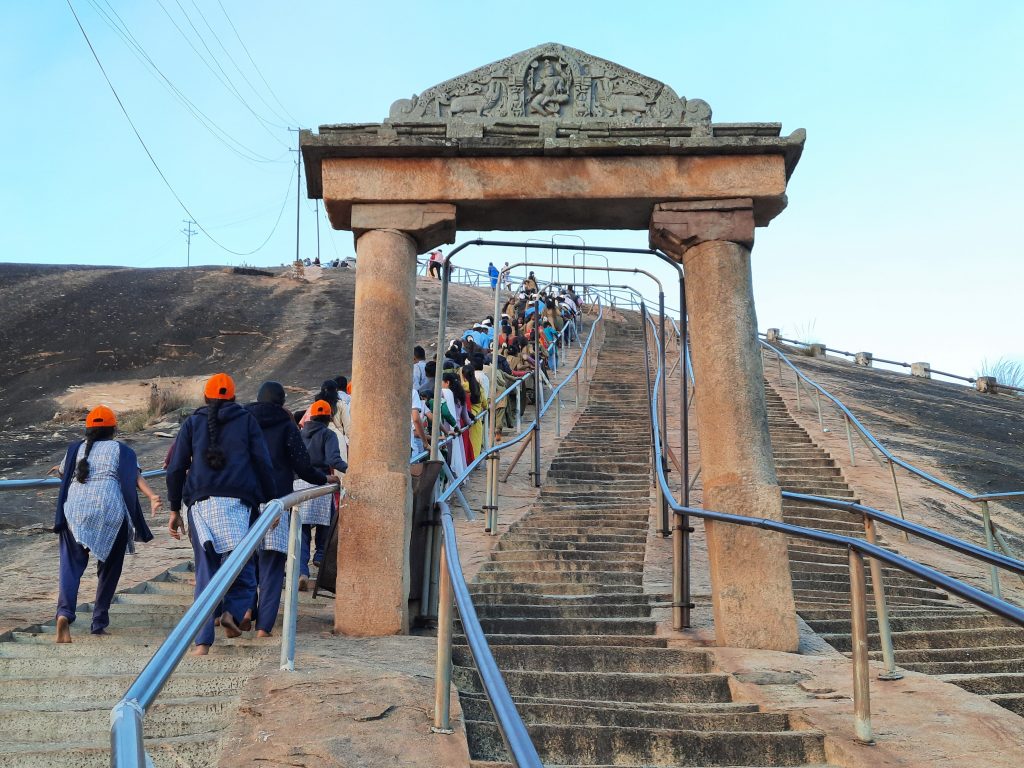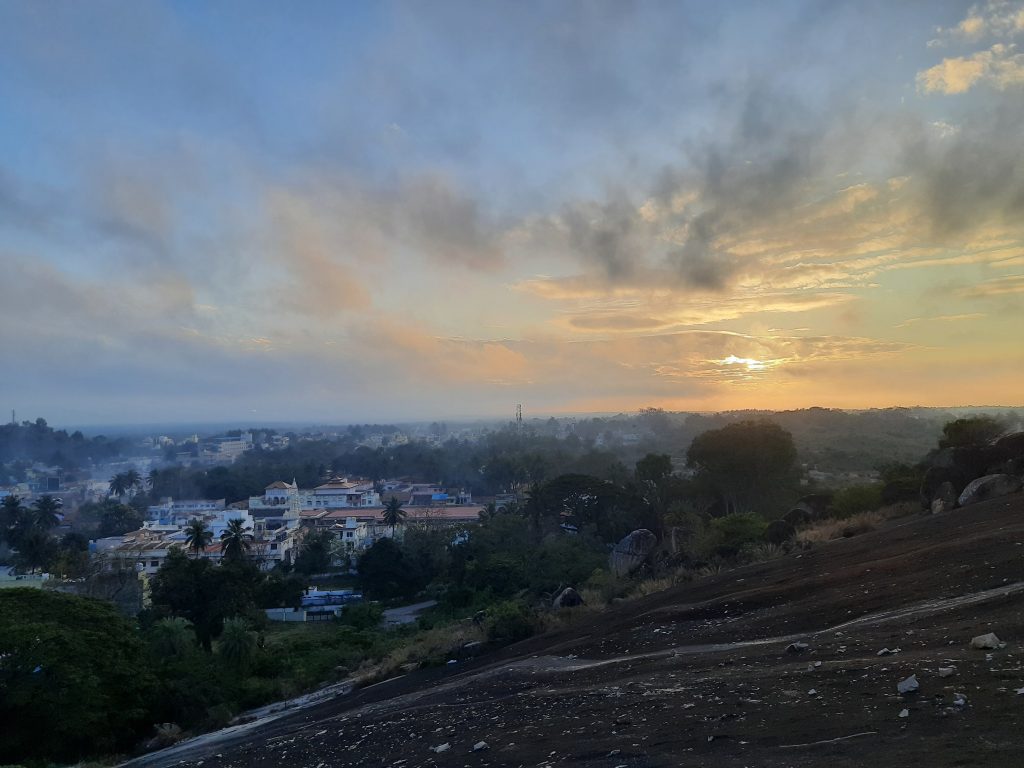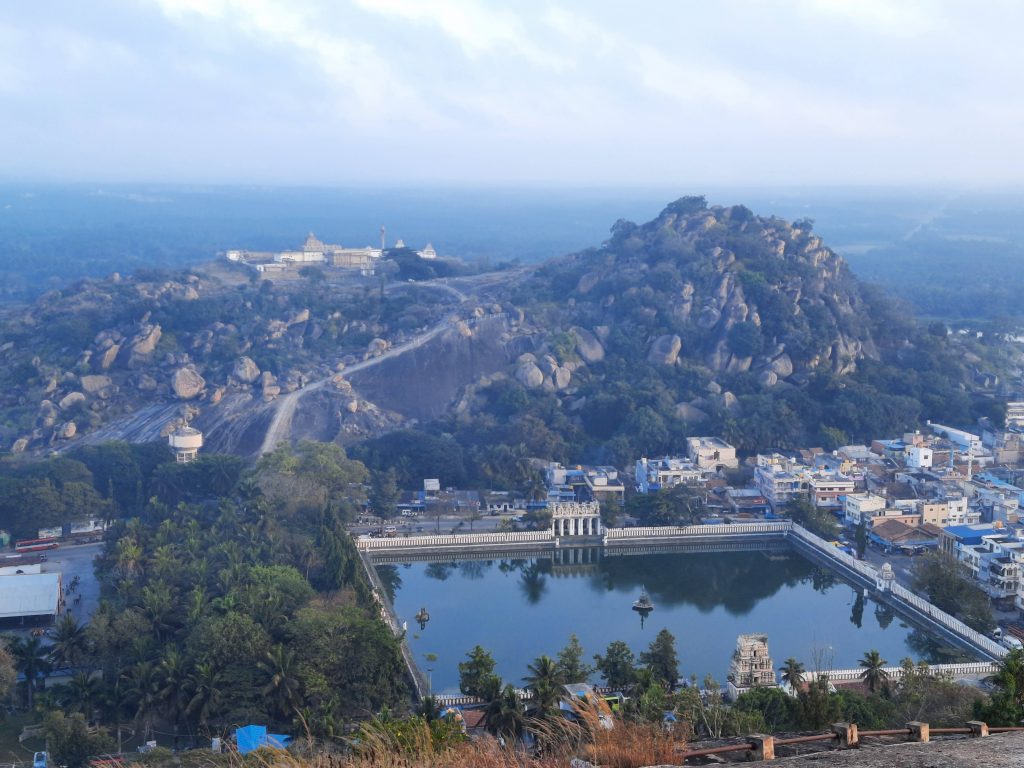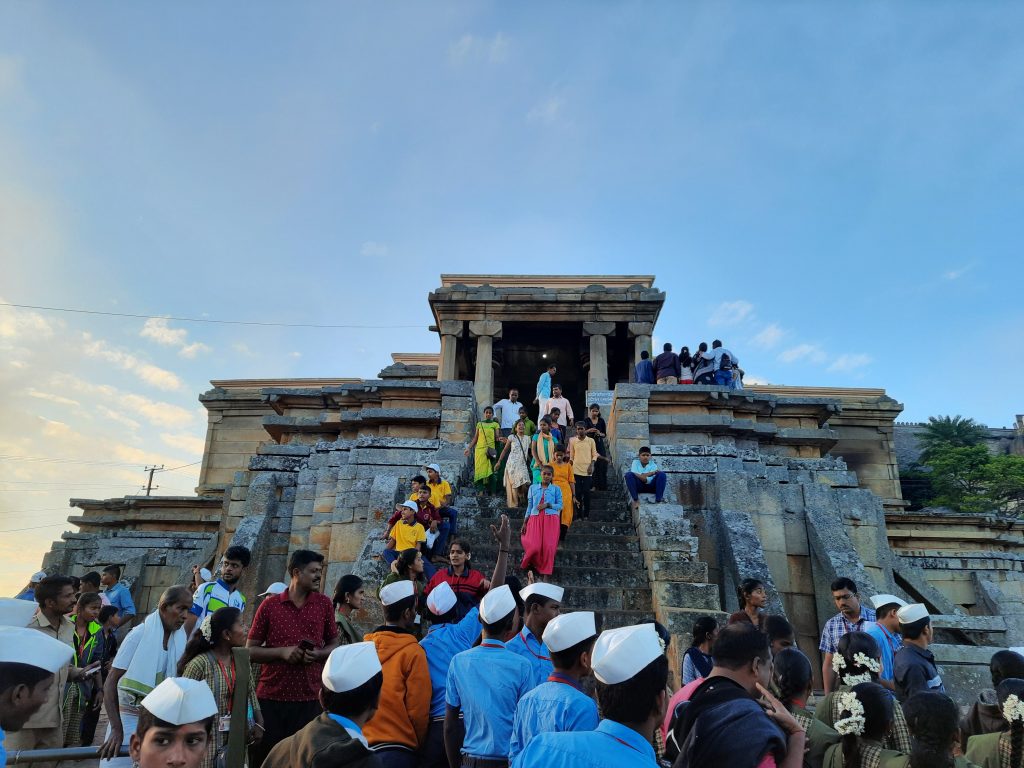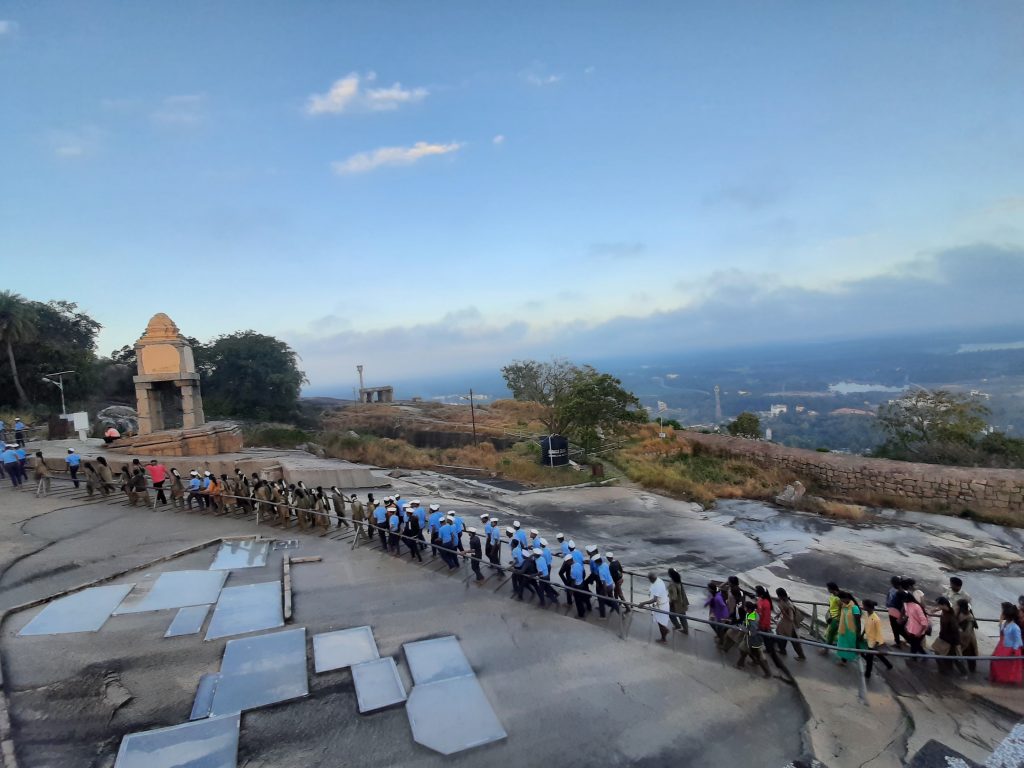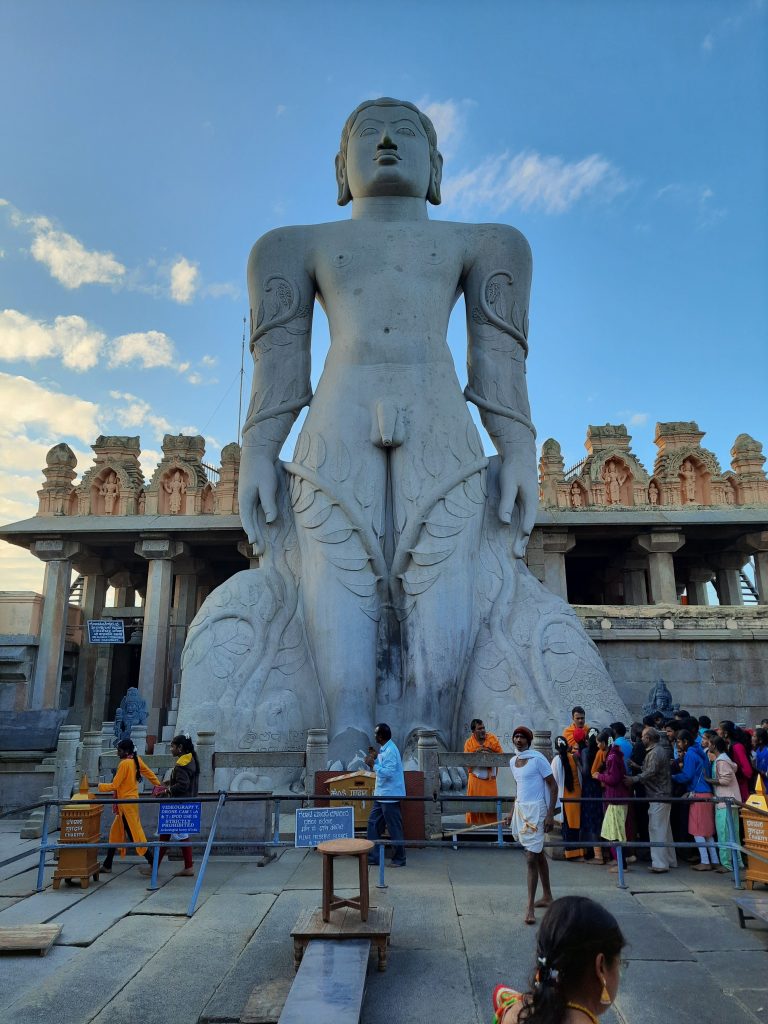 We came down to our lodge, Raghu Lodge, and checked out. For 700 rupees, the place was value for money. They also ran a restaurant on the ground floor. I had the best idly of the trip there; they were piping hot and were so soft that they broke with the lightest of pressure.
We had to get on NH78. But first we had a nice scenic ride on SH8 till Hirisave. Picturesque roads, laid-back villages and rolling terrain—what more could we ask for. My mantra for the day was not to grind at any cost. My legs weren't that fresh and we had a lot of distance to cover.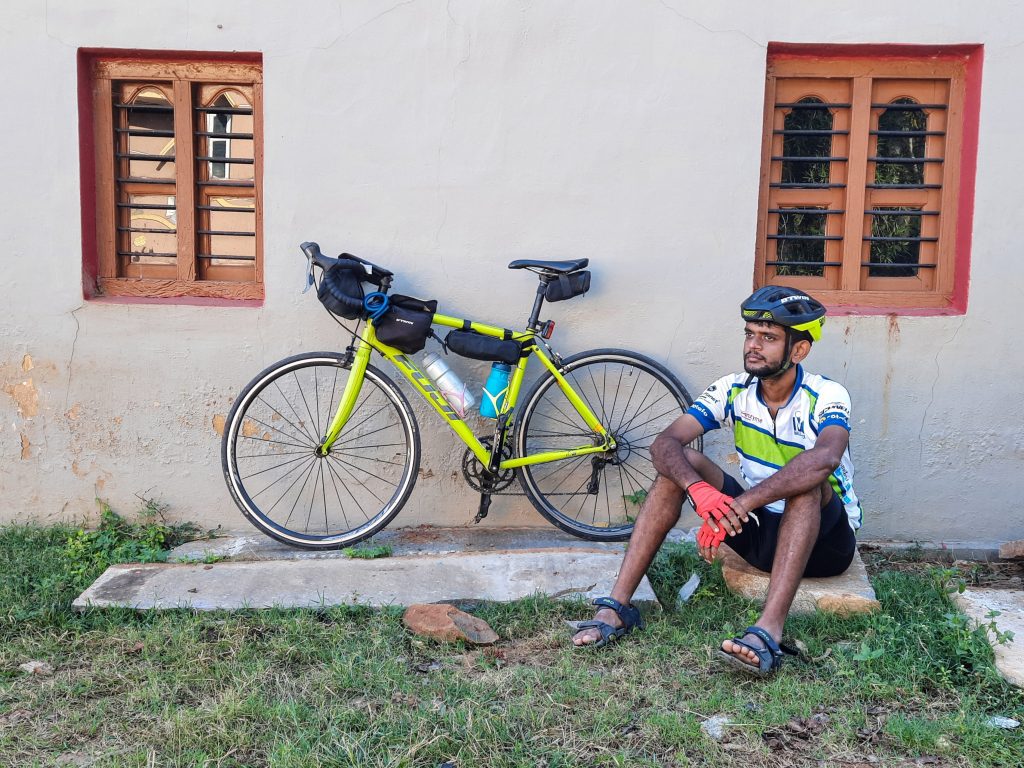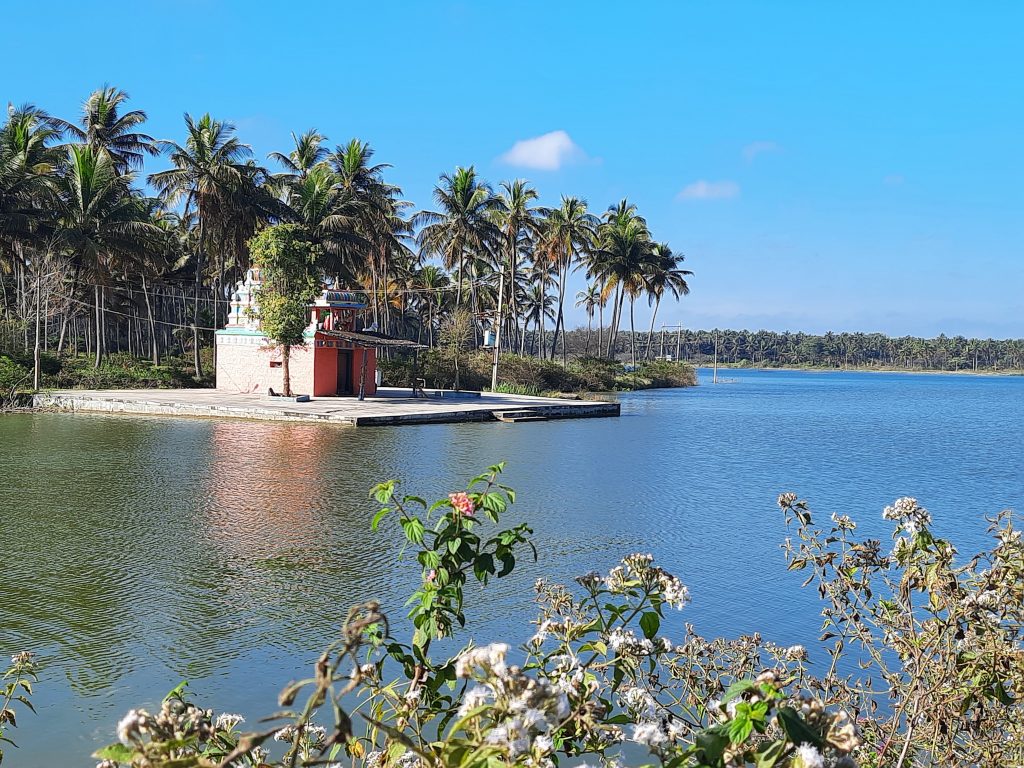 Once we were on NH78, we were greeted with familiar, boring roads. At least it was mostly downhill till Kunigal. If one follows NH78, like we did, it bypasses Kunigal town. There aren't any shops for food or water on that 10 km long stretch. The bypass is also on an elevated land with barricades on either sides. I was feeling hungry and Mittal had a bit of stomachache. This situation reminded me of the last day of Mettur trip. Near the end of the bypass, we stopped at a small restaurant. I gave Mittal some medicines while he had a packet of curd. I also picked up a couple of packs of ORS drinks for him at the next available medicine shop.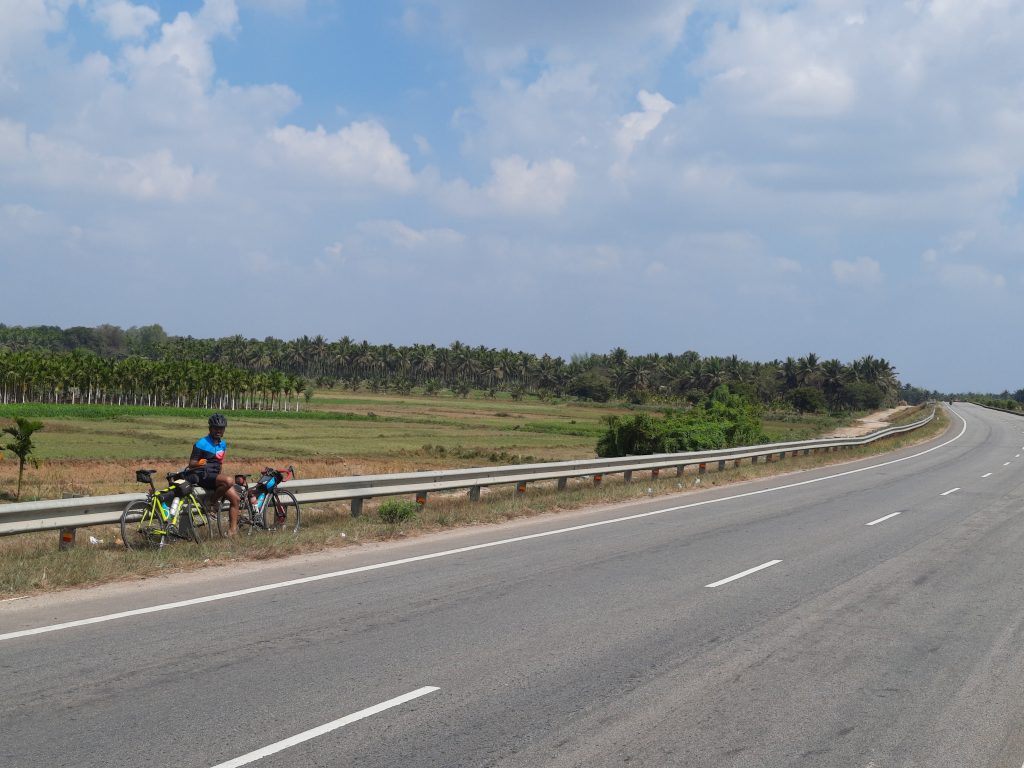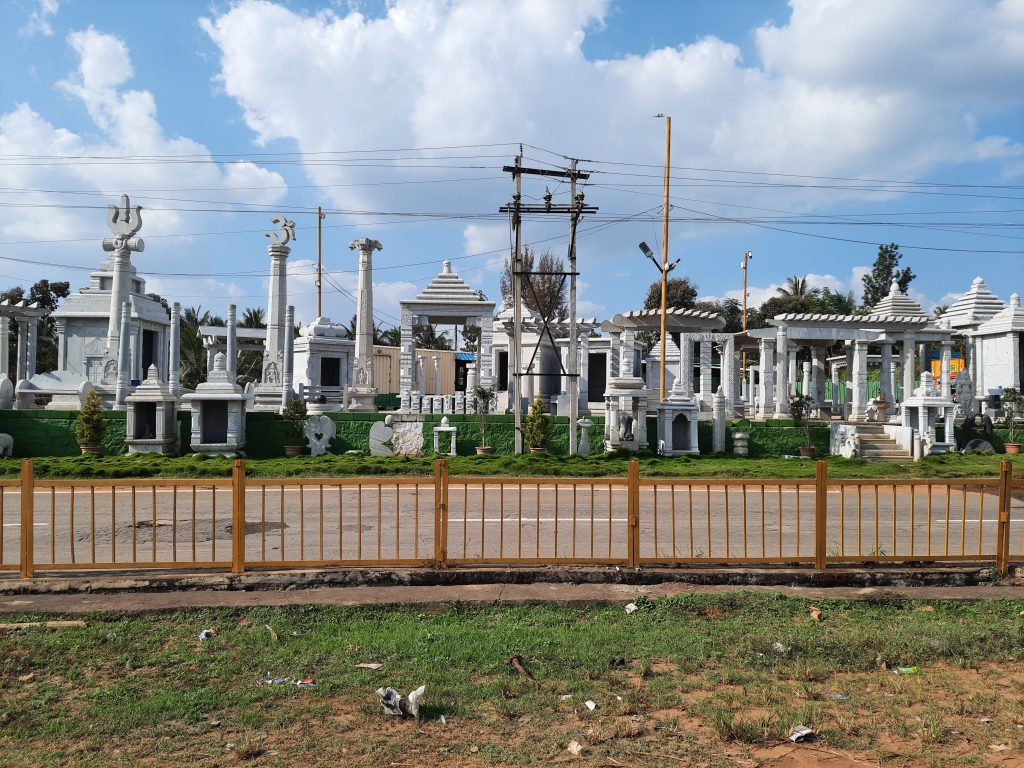 It was all climb till Soluru town. At Soluru, Mittal suggested that we bypass Nelamangala and instead take any set of available internal roads to reach our destination. Maps didn't show any motorable roads, just some paths marked for pedestrian usage. We got off at around 5 KM before Nelamangala toll and headed into the villages. The roads (or should I say, paths) weren't that great. This is where misfortune struck. While walking off from an elevated place onto a path, Mittal placed his cycle quite hard and his rear tube had a pinch puncture. We stopped at the sides to replace the tube and fill it up with some air. He needed enough to hit the main road and get to a petrol pump or a bike repair shop where he could inflate it to pressure. The drop also caused the bearing cap of his rear hub to come lose.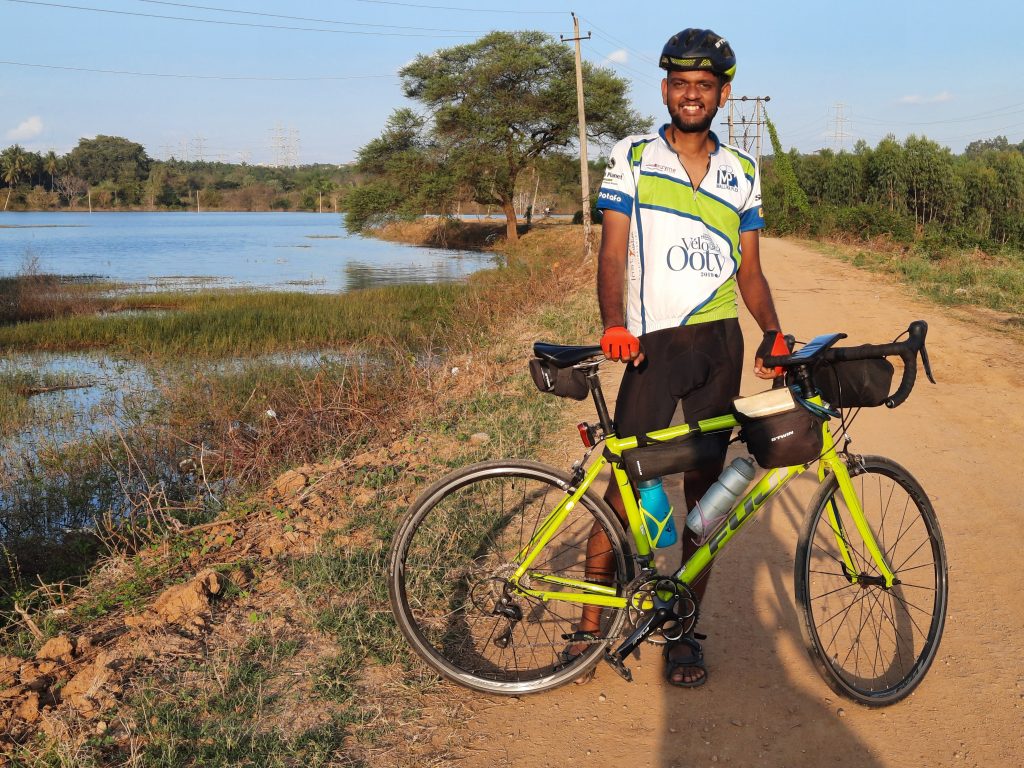 Once we were on the Nelamangala—Peenya stretch on NH48, it was already 6:30 PM. We stopped at a motorbike repair shop, who honestly did not want to cooperate. All we needed were a pair of spanners to fix the hub. After a bit of coercing, the owner agreed and handed some spanners to us.
We attached the lights on our cycles and rode towards IKEA. That 10 km stretch on NH48 service road was probably the most unpleasant ride of the entire trip. Mittal had earlier experience of riding on that road which is why he wanted to bypass this stretch as much as possible. Vehicles always drive on the wrong side of this road and drivers, in general, have no regards for other users. We reached IKEA on time. It took us about 30 minutes to dismantle everything, unpack some of our bags and place everything in the vehicle.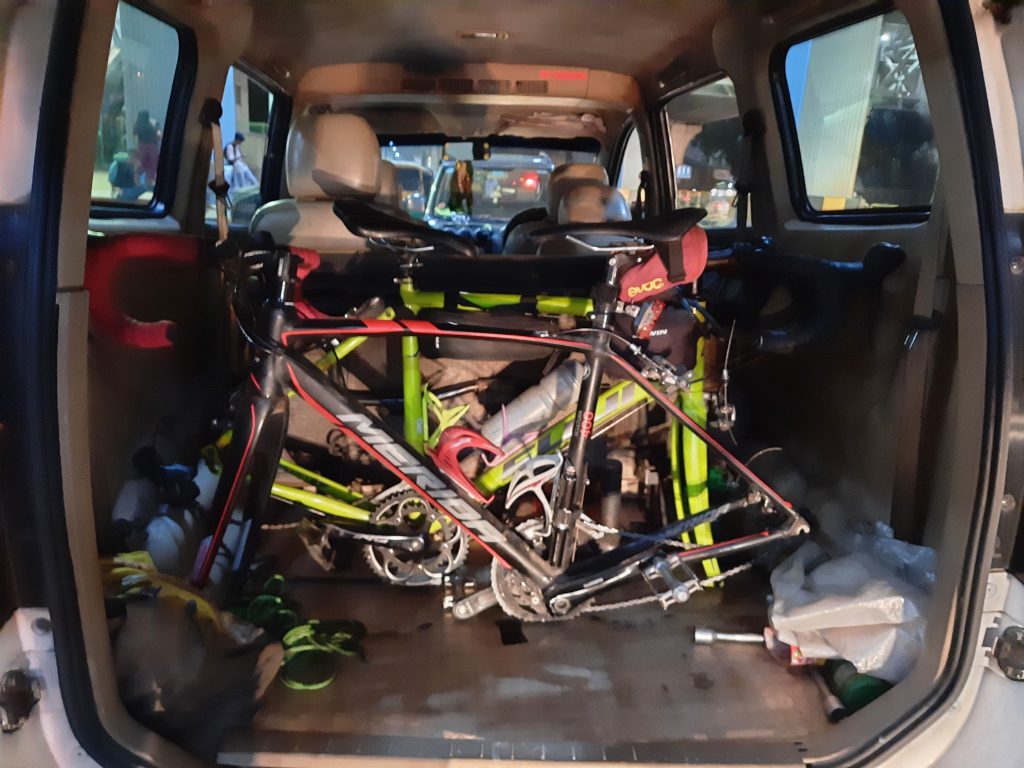 Overall, I would say, this was a nicely planned and well-executed trip.