D1.1 A rocky start
I started from Mahadevpura at 7:30 am on the 30th. I had already packed all my stuff the night before—including a set of clothes for sleeping in—in a small five litre bag and somehow strapped it to the handlebar of my bicycle. I called up Saurabh Mittal (henceforth referred to as Mittal) and left for Kadubeesanahalli—a junction closest to his home that's about five kilometres from mine. Once I was there, I called Mittal, only to learn that he had a pinch puncture and was getting it fixed back in his house.
We weren't able to start from there until about 8:45 am. I was on my old Schwinn Sporterra Sport while Mittal was on a Rockrider 8.2 that he preferred to call Githin's bike even though he had had bought it from Githin quite some time ago. We also ditched shoes for waterproof sandals. Bangalore and many adjacent areas were experiencing heavy downpour. Somehow the combination of hybrid or mountain bike and waterproof sandals made more sense.
En route, we halted at Decathlon Sarjapur. Mittal picked up a pair of spare tubes and ten packets of hydration powder. We filled up our bottles—one with plain water and the other with the hydration solution and made our way towards Chandapura. This stretch of route was slightly muddy and the sandals made so much more sense. My hybrid also has full length fenders on them, the absence of which on Mittal's bike caused the tyres to spray a nice pattern on the back of his jersey.
Our first stop was at 9:30 am at a South Indian eatery in Chandapura market. After having masala dosa and tea, we rode on the national highway and descended towards Hosur. Right as I was about to enter Hosur, I hit a bad pothole and heard my rear rim hit the tarmac. I had a puncture. I tried to call Mittal, who was ahead of me, but for some reason I wasn't able to get through to him. I pulled over and repaired the tube. Thankfully, the pinch caused the two puncture-points to be very close to each other. I only had one patch left and it was wide enough to cover both the holes. I should have had checked my patch kit beforehand. At least I could have picked up a pack from Decathlon.
I rode ahead and saw Mittal sitting on the service-lane divider. Some motorbiker had seen me repair my tube and had informed Mittal.
D1.2 A smooth descent
I was extra careful of the road imperfections. I didn't want another puncture. The elevation profile—although globally sloped downward—was more of a rolling terrain.
We stopped a few kilometres before Shoolagiri to have food at a roadside eatery. We had tea, paratha, omlette, peanuts, popcorns and whatnot from this place. It was also raining outside. Mittal had a raincoat but I didn't. I didn't want to ride in the heavy rain. We must have wasted quite sometime there—anywhere between forty-five minutes and an hour. Once the rain subsided, we moved on. After riding for another fifteen or twenty odd kilometres, it started to drizzle again. We took shelter in another tea shop and wasted another half an hour drinking tea and munching chips.
We made it to Krishnagiri bypass at around 4:30 pm.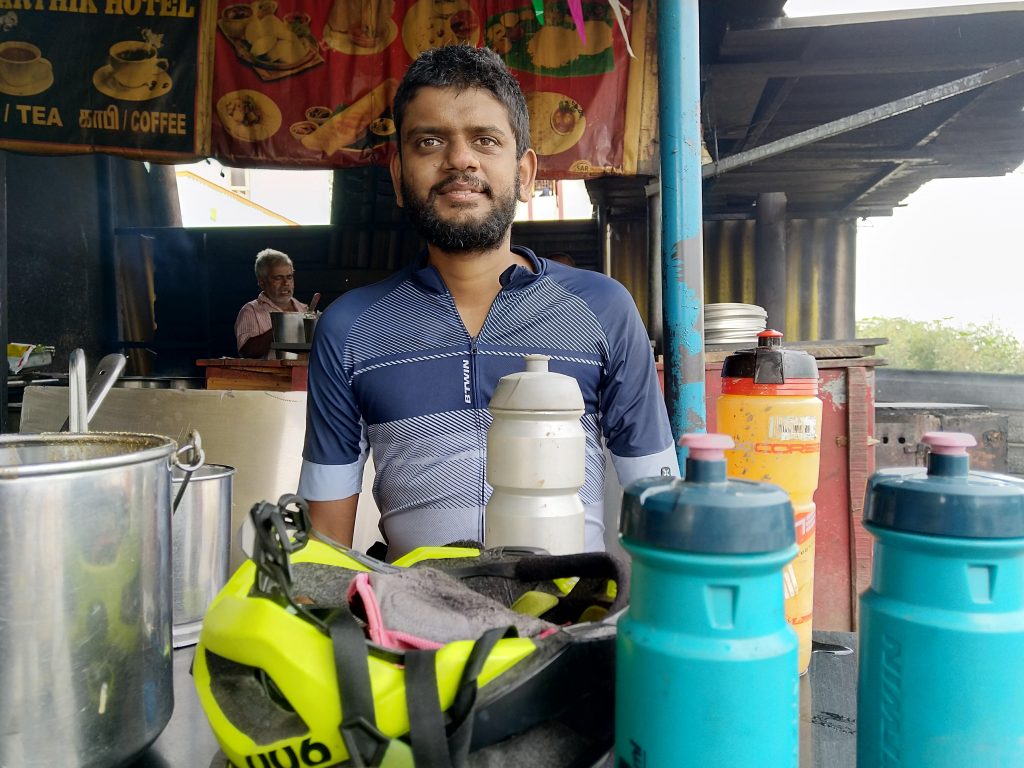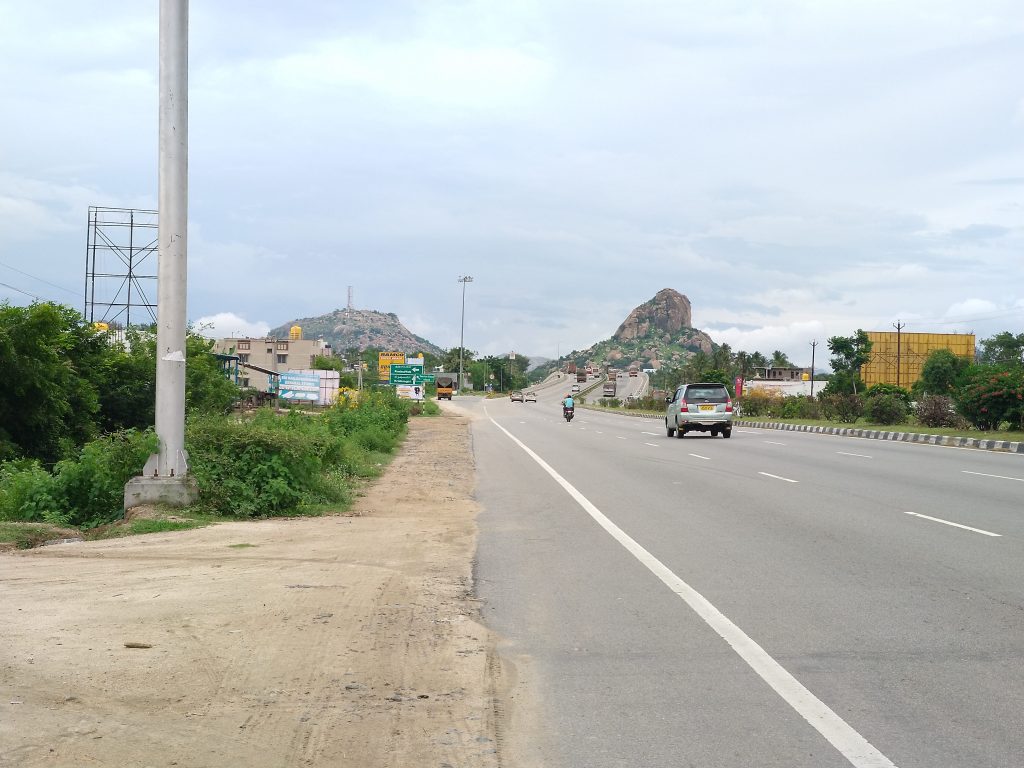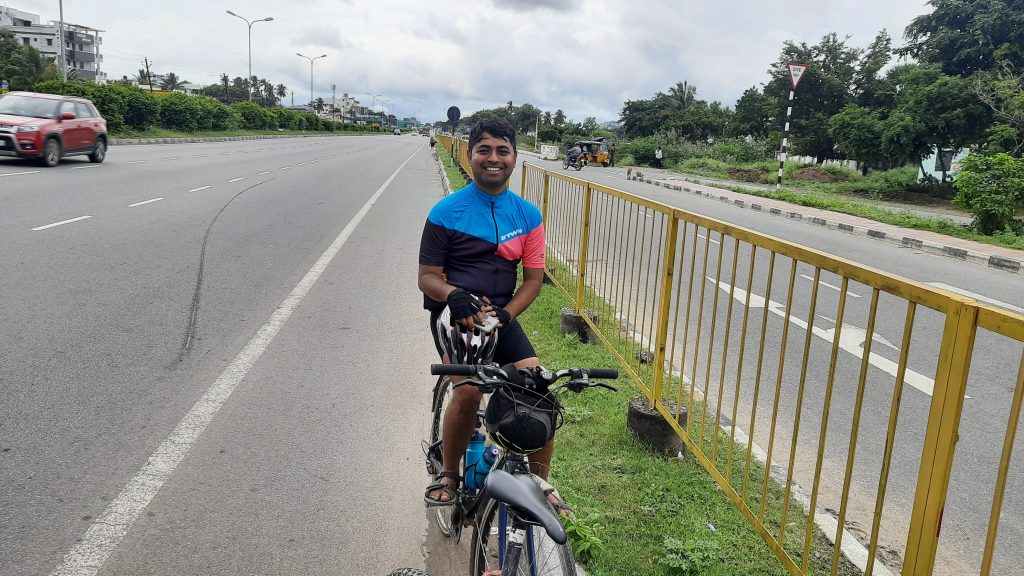 D1.3 Stretch, pull, bonk. Do anything to get to Dharmapuri.
If we had stuck to our original plan, we should have halted at Shoolagiri. Then again, we would also have eight more people with us. Then again, we would have had transportation arranged for us from Mettur Dam on the third day. Mittal insisted that we should somehow make it to Dharmapuri. Unlike our original plan—which involved corporate support and some bells and whistles—we had to return on our own. This meant that we had to cover about double the distance per day.
Mittal made sense. However, Dharmapuri was about forty-five kilometres from where we stood. We were tired, too. At best we had another hour of daylight. Krishnagiri to Dharmapuri is a rolling terrain with very frequent climbs and descents. I insisted that we took five to ten minute tea-break every fifteen kilometres. After the twenty kilometre mark, we had to turn on our lights and keep pedalling.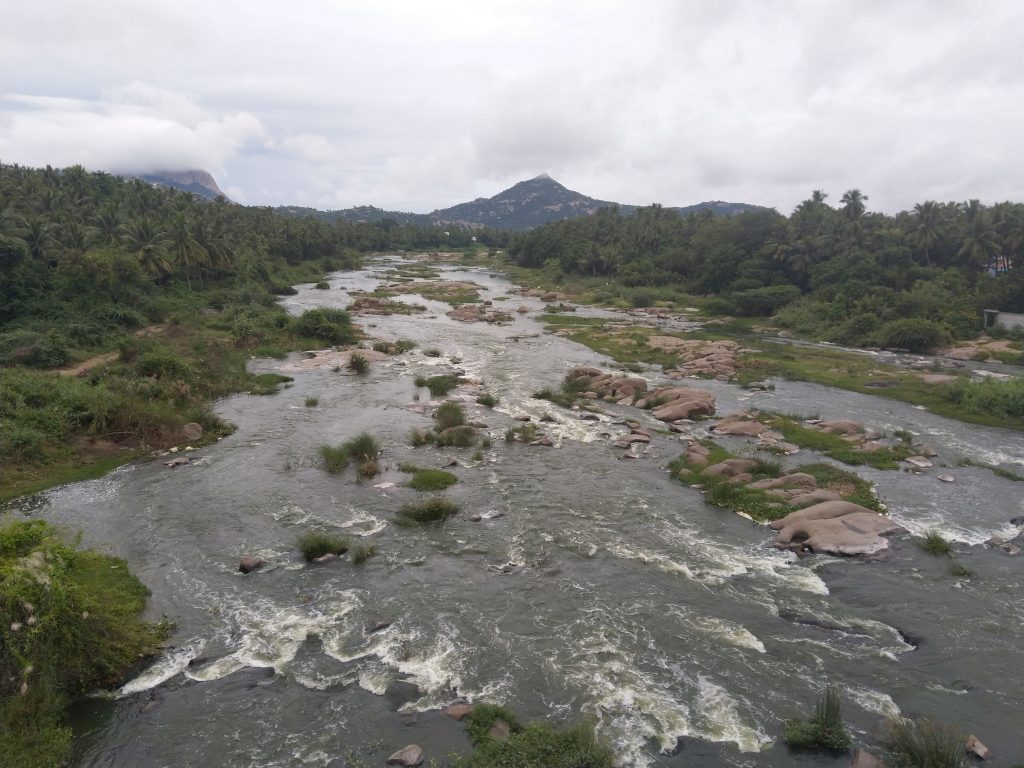 The owner of the stall where we had our last tea break mentioned that there was a nice lodge called DNG right before Dharmapuri. By the time we reached the place, it was already 7:30 pm. For 800 rupees, the room was excellent. We both took showers and headed towards the bar where we were served some beer, some fried rice and chicken. After all that, both of us went back to our room and crashed on our beds.
D2.1 Some time wasted
Although we left the hotel by 7:00 am, we spent a lot of time having our breakfast somewhere on the Dharmapuri main road. We had the usual stuff that one finds in the villages of Tamil Nadu in abundance—dosa, idly, omlette and coffee. Our target was Thoppur. The route to Thoppur is a long downhill through a reserve forest. Mittal's bike rolled better than mine. He was way ahead of me. I called him up and asked to be careful of the bypass we had to take before Thoppur. He missed it and entered Thoppur instead, where he waited for me to catch up.
Our next destination was Mechheri—another small town that's about nineteen kilometres from Thoppur. We were five kilometres in when Mittal realised that he had forgotten his helmet near his last resting place. I sat in a tea shop beside a petrol bunk while he traced back his wheels and did an additional ten kilometres. Thankfully, the helmet was still there.
These roads that snaked their way through small villages were some of the best we had ridden. Coupled with the cool weather due to overcast, they made for a pleasing ride.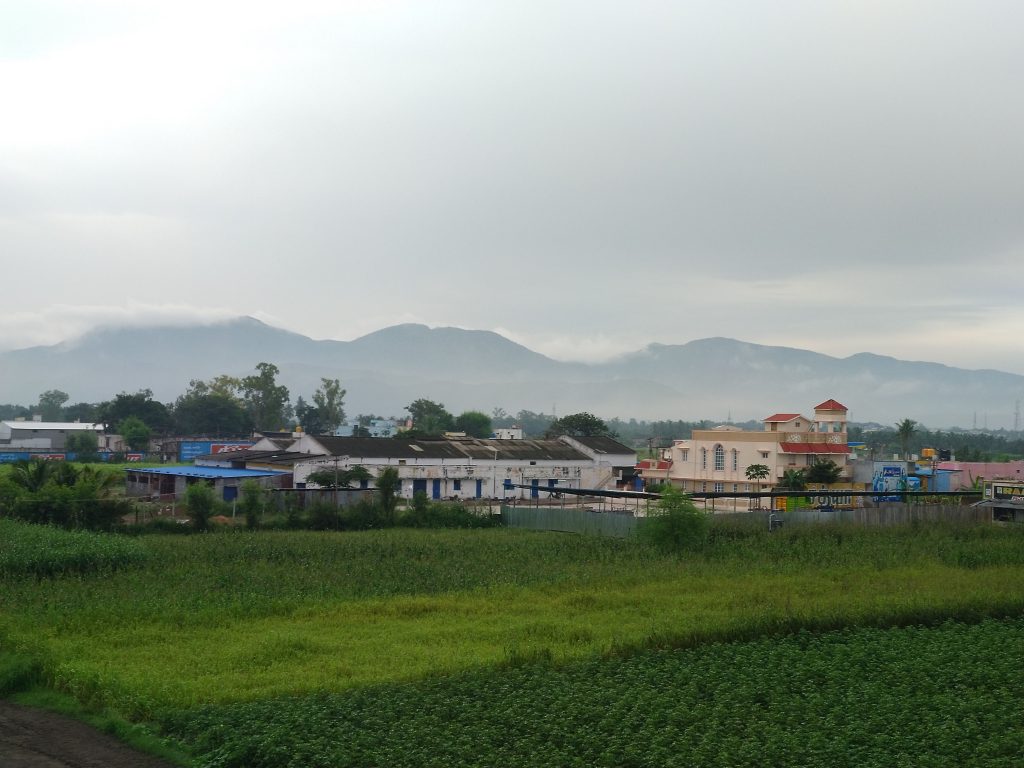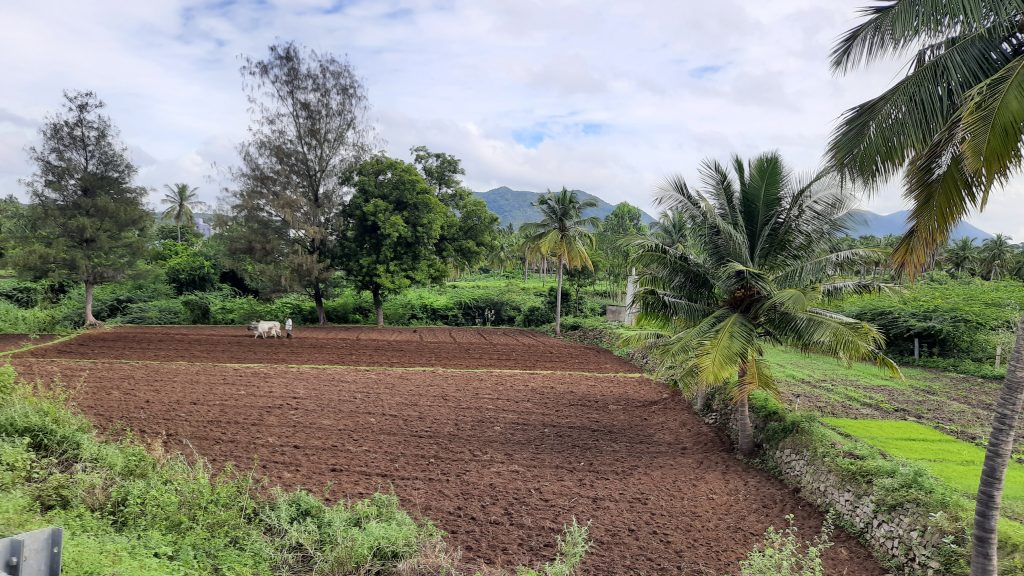 It was somewhere during this time that my drivetrain started to creak a little. It wasn't too loud. It wasn't catastrophic. It was slightly annoying.
D2.2 Mettur Dam and the boat ride
Mettur dam is a lovely site to see. One of its side is visible while entering Mettur. This side is usually dry and is probably used to control overflows. The other side side involves a short ascent and a nice long descent onto a picturesque bridge. Had we followed our original plan, we would have ended our trip there. Instead, we took a short break, clicked a few photographs and moved forward towards Pannavadi.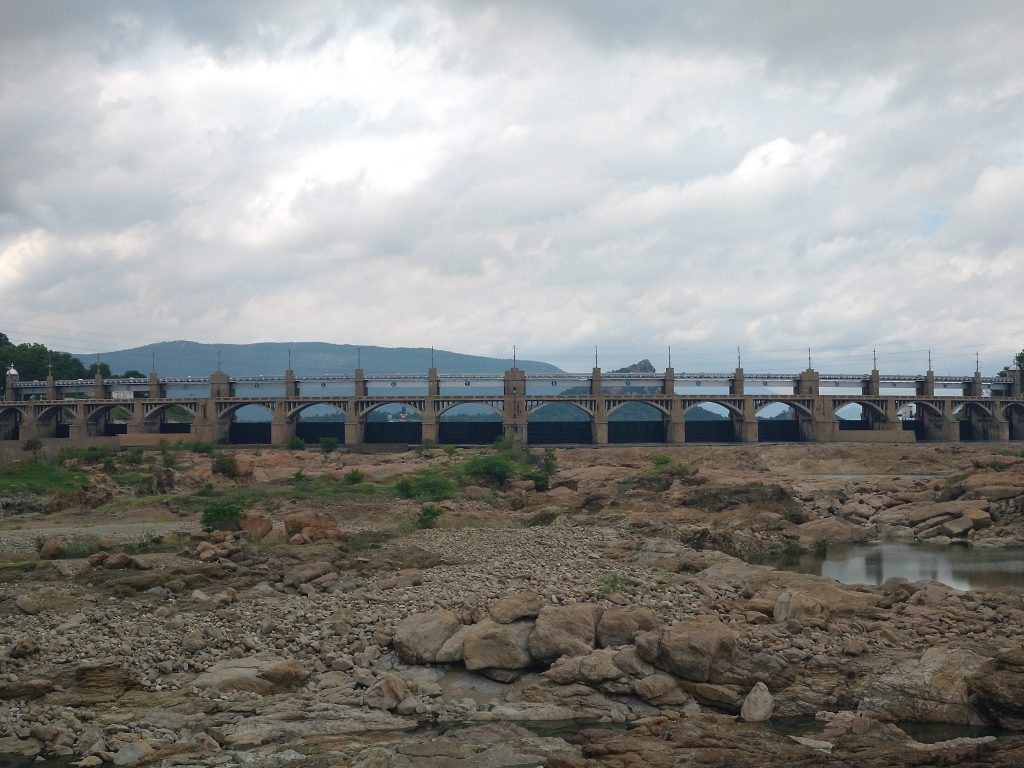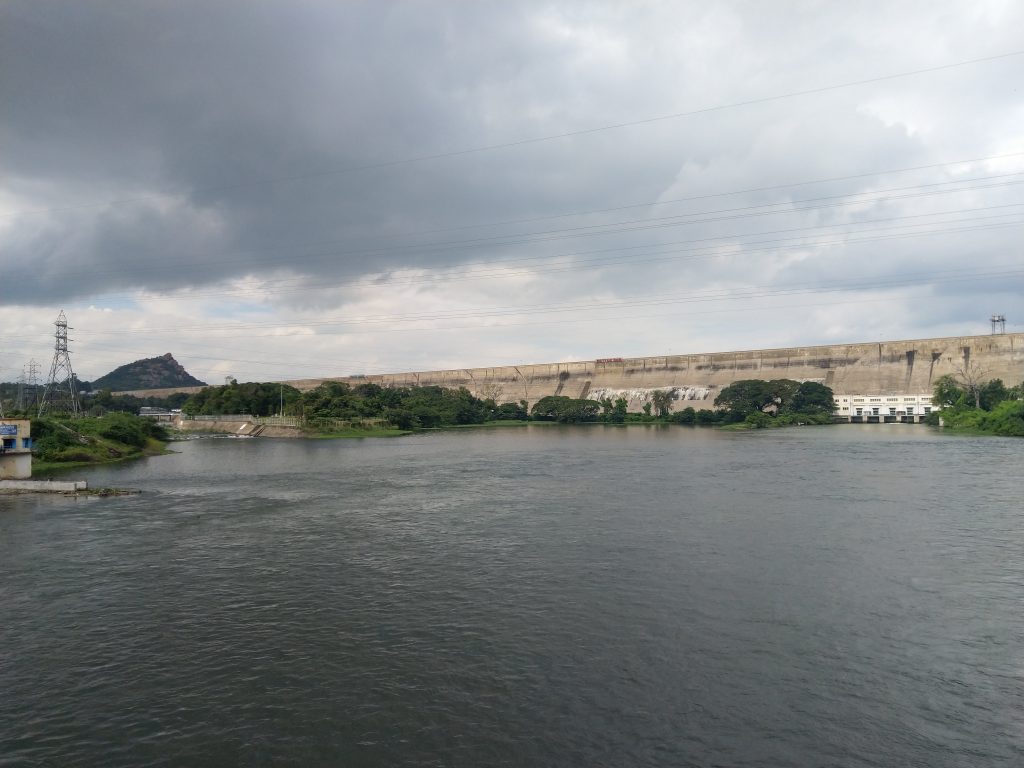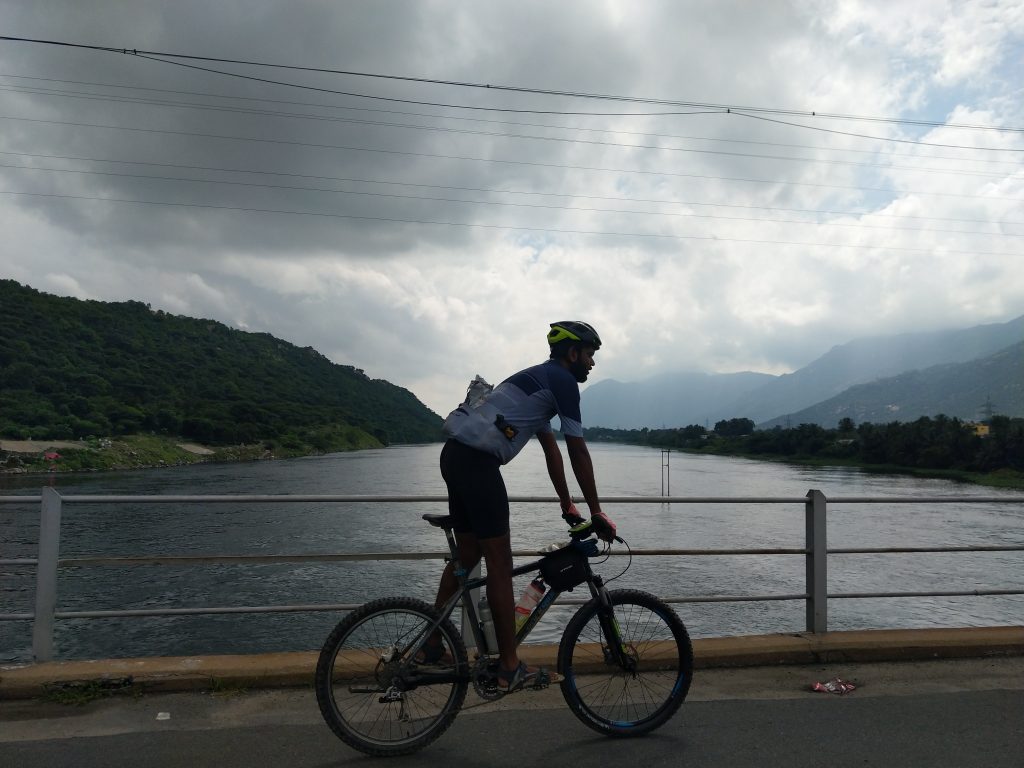 Pannavadi is about eighteen kilometeres from Mettur. The road was beautiful and passed through rural farmlands. We had our lunch at a restaurant in Kolatthur—a small village from where we had to take a right to reach Pannavadi. The owner of the restaurant was very happy to see us cycling. He used to be an army guy who retired in 2003 after serving the army for seventeen years. He gave us quite a lot of information about the timings of the ferry service. The last ferry usually left Pannavadi at 6:30 pm. We had ample amount of time. It was only 2:30 pm then.
There was only one ferry. It was a very slow one. We had to wait for about half an hour in order for it to reach the shores of Pannavadi. The ferry had a large coracle attached to it which was used to transport motorbikes. Not wearing shoes turned out to be good decision. We had to wade through the water in order to get on the coracle. The river is about four kilometres wide here. The ferry took about forty-five minutes to reach Nagamarai on the other side. Mittal clicked photographs while I rested my legs.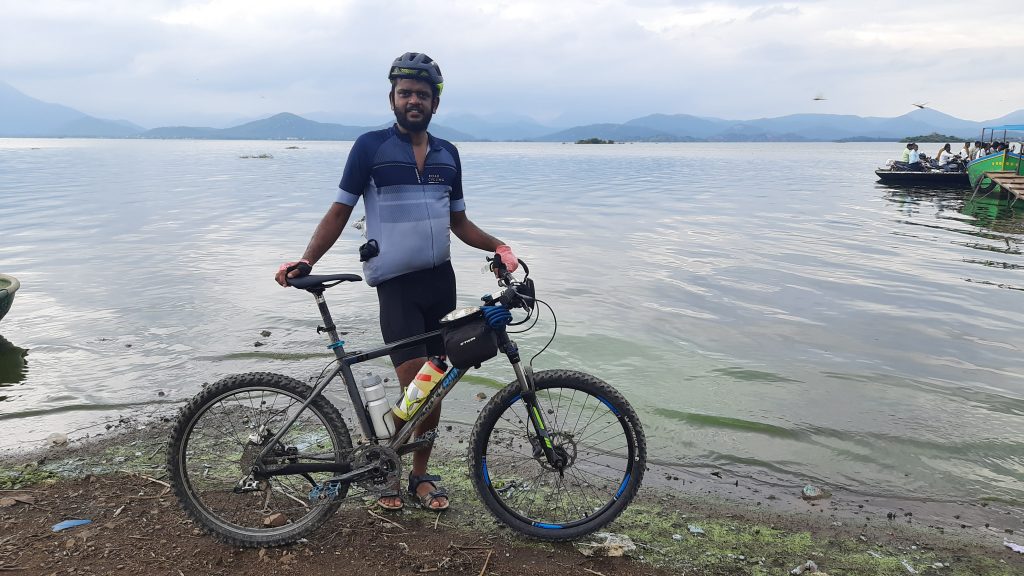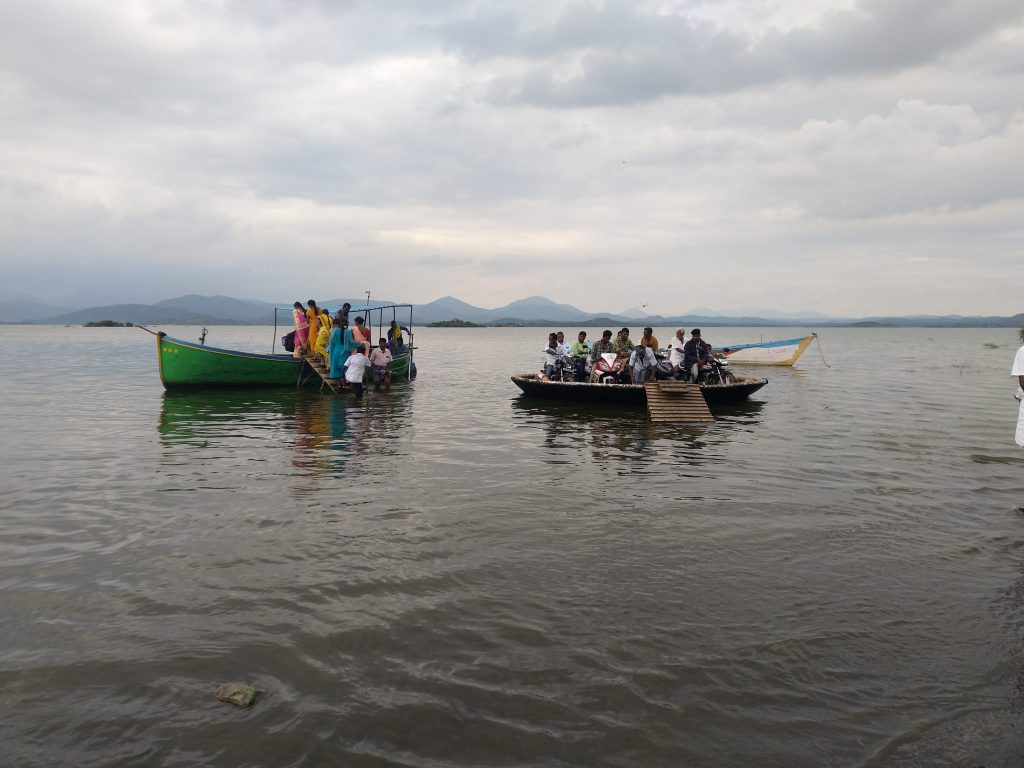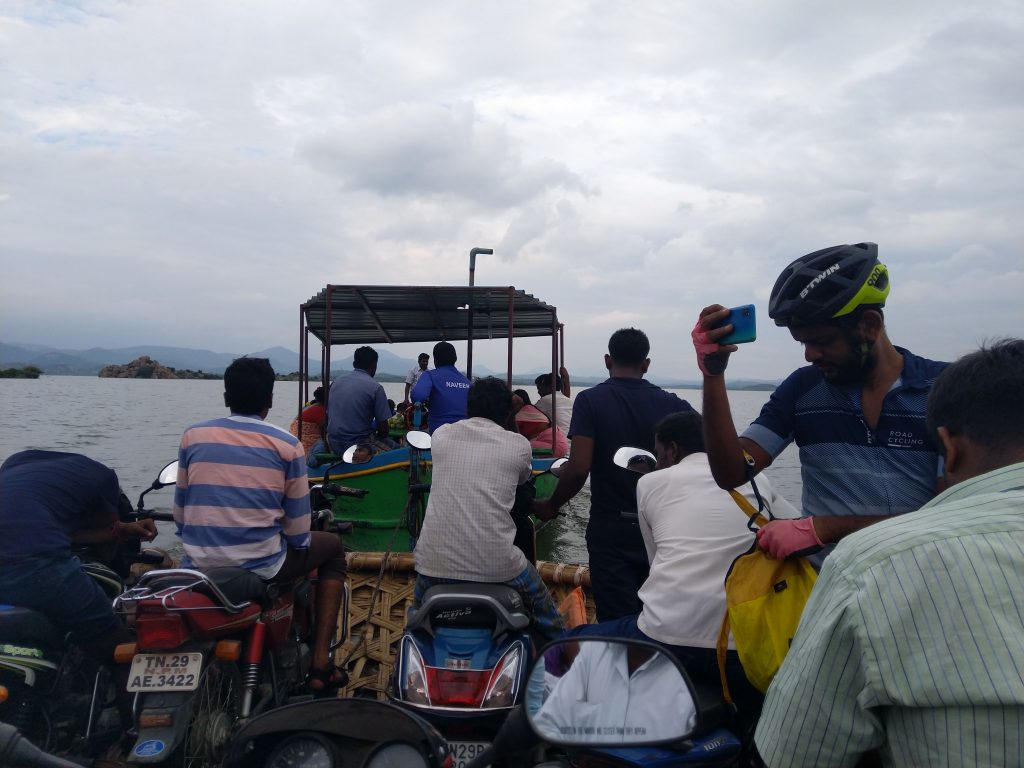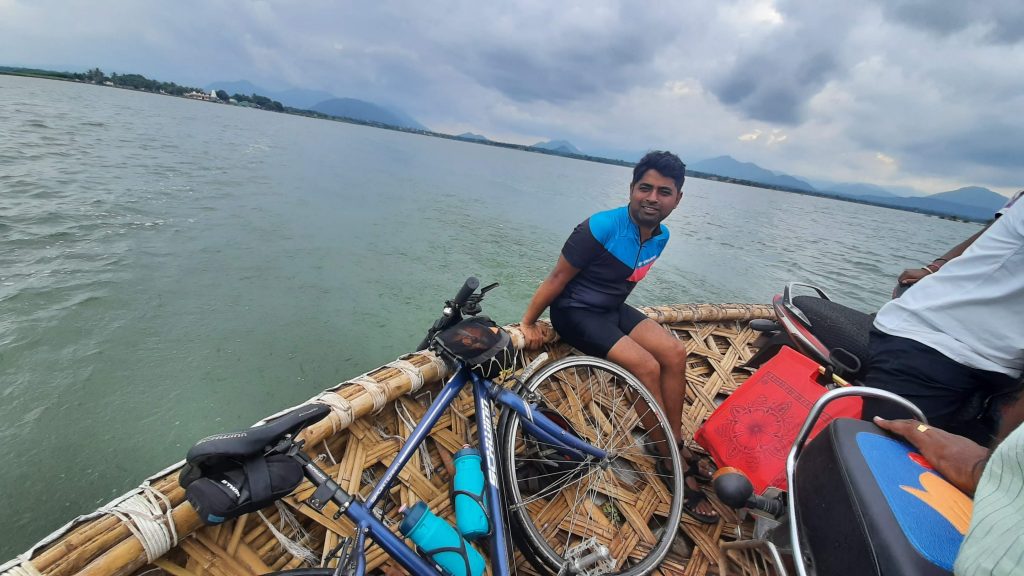 D2.3 A climb and a descent
I have two maps app on my phone—one is the default Google Maps and the other being Mapps.Me. The former showed a transverse route that bypassed Pennagram. At about thirteen kilometre mark from Nagamarai, a road forks towards the left, enters Bevanurmalai reserve forest and exits at Hogenakkal. Mapps.Me showed no such route. Even the locals knew of no such route. Mittal asked every person he met since the boat ride if they were aware of any such route, only to be met with a series of disappointing answers. After a nice gentle climb, we were forced to continue straight and take the road to Pennagram. This also meant that we had to gain two hundred and ten metres over a rolling terrain of ten kilometres. It had already started to get dark. It was also drizzling. We switched on our lights and pedalled on.
Once we were near Pennagram bypass, it was pitch black. Mittal was heavily in favour of stopping at Pennagram. I was not. I knew that the next day would be brutal. It would be far beneficial to cover the extra fourteen kilometre then rather than the next day knowing that it was all a downhill ride. Mittal took out his spare four hundred lumen light, fixed it on my handlebar and asked me to lead. We didn't have to turn our pedal at all as gravity did all the work for us. The entire road was well marked with reflective paint on the tarmac and reflective strips and stickers on trees. This was immensely beneficial as we descended with nothing but our front lights.
We checked in at Hotel Tamil Nadu at 8:00 pm. For 995 rupees, the room was even better than the one we had in Dharmagiri. They also allowed us to keep our cycles inside the hotel room. Their bar and restaurant were in two different buildings with no way to have a beer while eating food. They even had different closing times. We made it to the restaurant well ahead of the deadline. Yet, the restaurant was almost out of food. We scavenged whatever was available—few chapatis, some dal, a couple of fish fries, dosa and omlette.
D3.1 Three climbs
Mittal had lost a lot of sleep the night before while looking at the elevation profile. We had three climbs ahead of us. Yet, we took a small detour. We paid a visit to the bathing area near Hogenakkal falls and a view of the hanging bridge. The actual falls are not visible and require a boat ride of about an hour. One of the boatmen caught Mittal and insisted that we ride his boat. We did not have that much time to spare.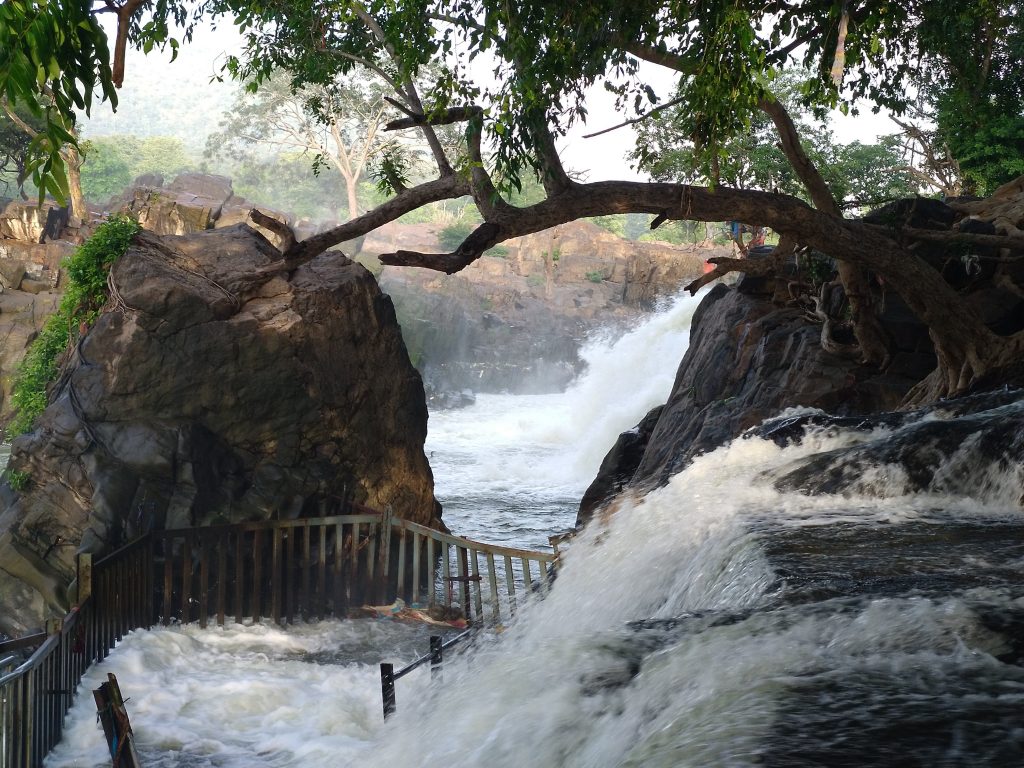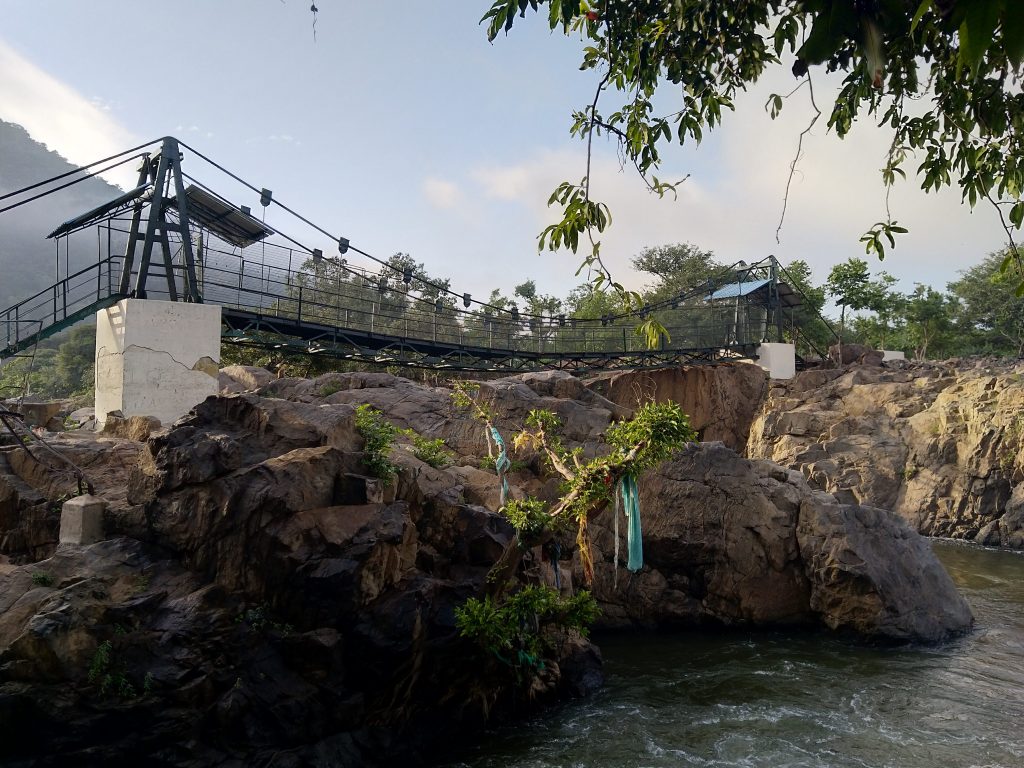 Mittal knew that the entire stretch was sparsely populated and it would be difficult to get any food inside the reserve forest areas. We stopped at a roadside stall right before the start of Oddapatty and had some dosas. Mittal bought some bananas and peanut-chikkis before hitting our first climb.
I was on a pretty low gear. Along with the slope, the road surface wasn't the best. And then there were the occasional potholes. Mittal and I were already separated. I couldn't see his location on my maps—there wasn't any network in the forest. I knew from my TfN experience that consistency is better than short bursts of power in these kind of terrains. The only thing that was bothering me was the constant creaking sound coming from my drivetrain whenever I was climbing. Once I was out of the forest, I saw a small shop—more like a shade with some packaged snacks and water bottles kept on a table—and stopped to take some rest while waiting for Mittal.
The next climb was a long and gradual one. The road circumvented a large cluster of villages. There was no shade. The harsh Sun compensated for the overcast and the occasional drizzle that had been our companion in the last two days. (After two days I can see that my right side is more tanned than my left side. It's all because of this stretch.) This road eventually joined the Pennagram-Anchetty road. The junction had quite a few shops. I had a cup of tea and water. Anchetty was about five kilometres from there and it was all downhill.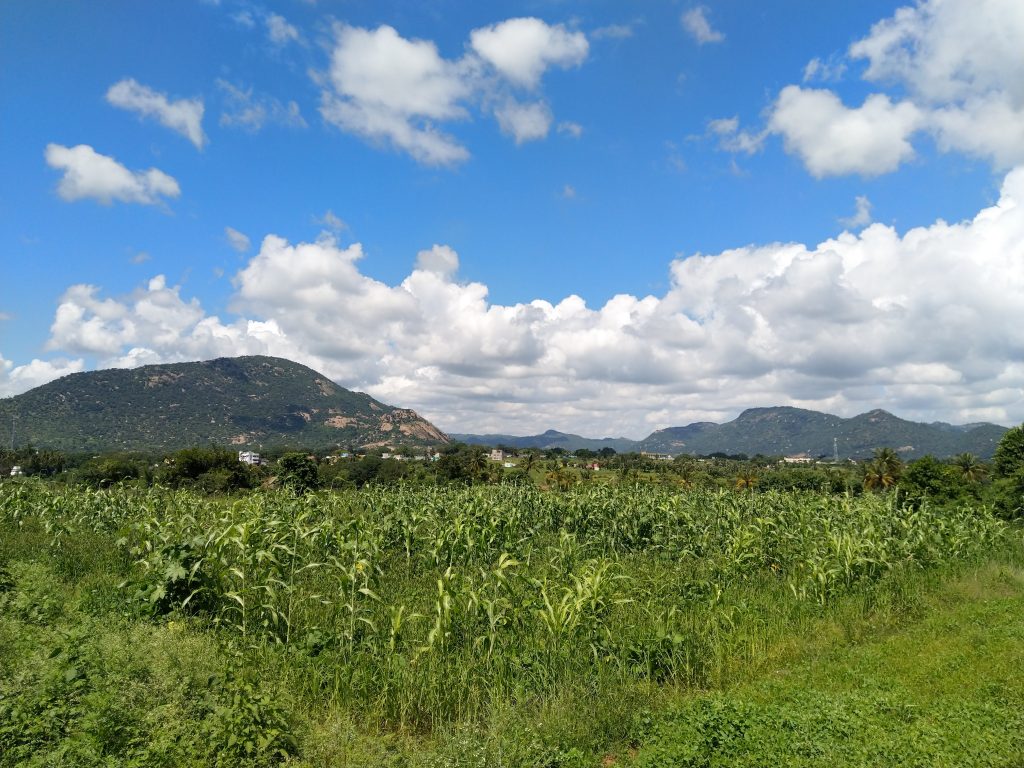 Anchetty to Denkanikottai road is part of Anchetty 200K BRM. This is one of the tougher BRMs in India, thanks to the stretch of road that lay ahead of us. This twenty-five kilometre stretch had some brutal stretches including one where the route passed through Ponai reserve forest and the gradient peaked at eleven percent. Mittal took a few breaks. During one of those breaks, a random car stoped by and asked him to beware of elephants! I left Mittal and pedalled at a pretty low gear. Whenever I was tired, I took a sip and moved on. My target was to reach Kundukottai—a settlement after the reserve forest area located midway between Anchetty and Denkanikottai.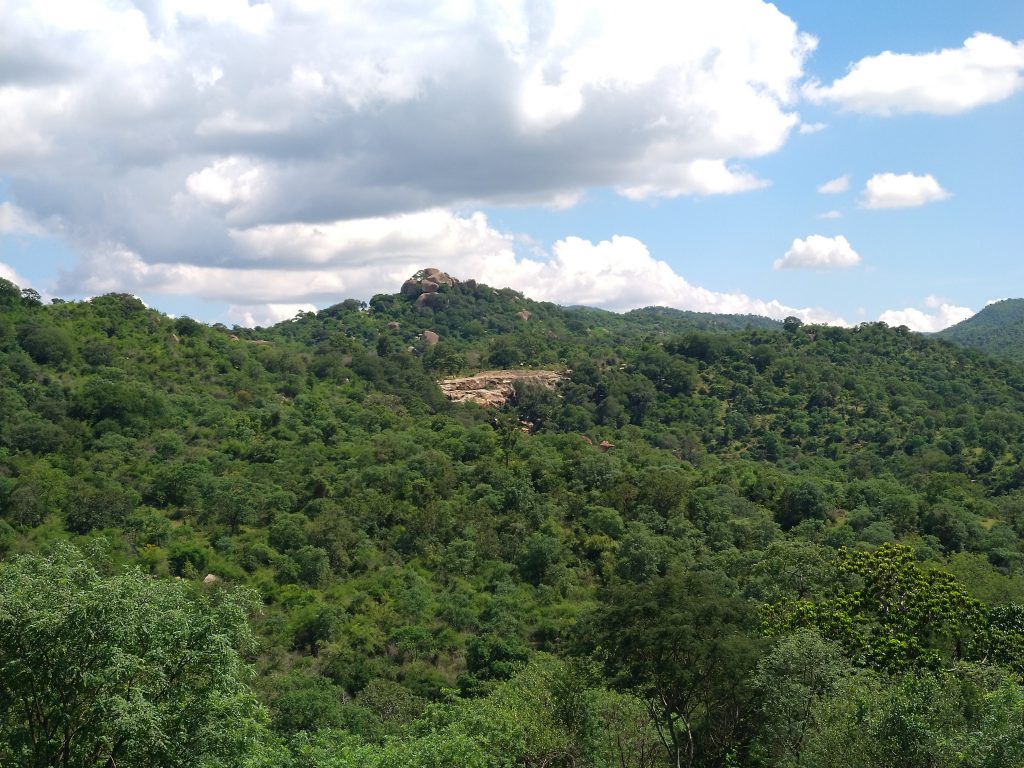 I had two small packets of corn flakes and a packet of biscuit while sitting underneath a banyan tree and waiting for Mittal. His location data hadn't been updated ever since he had entered the reserve forest area. I waited for over half an hour for Mittal—who was on his own break and hydration cycle—only to be passed by him. He did not notice me. I had asked a tea shop to prepare some tea for him. I cancelled the order once I saw him ride past.
D3.2 A great road, a bad road
We halted at a small bakery in Denkanikottai to refill our water bottles and have some food. At this point, I was practically pushing Mittal to not take any long breaks. In fact, he had already taken a long one prior to reaching Denkanikottai where he had stopped to have some deep-fried pakodas. He did not want any lunch while I did not have anything for lunch yet. It was already 3:30 pm and I wanted to reach Anekal before dark. Still, we ended up stopping for about thirty minutes before hitting the amazing road that connected Thally-Denkanikottai state highway and Thalli-Hosur state highway.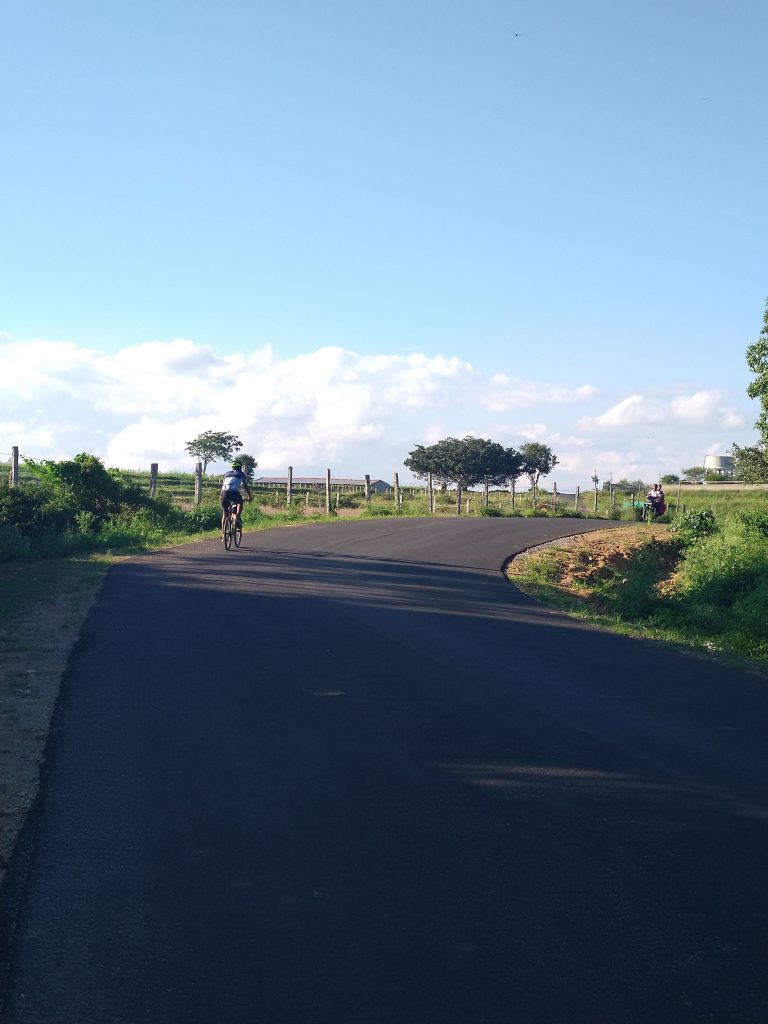 Although the stretch was relatively flatter compared to what we had already done, the relentless undulations and my creaking drivetrain made for a suboptimal enjoyment. Mittal on Githin's bike was slower. I pushed through to the Thalli-Hosur state highway and waited for Mittal while having some chips and a packet of rusk biscuits. It was definitely a poor choice for mid-day meal but I found no other options.
The next stretch of road was the worst we had encountered in the entire trip. There was no road, just a dirt and pebble track. I had to double check if that was the route that my map was showing. It was already getting dark. We fixed our lights and pushed on. The eight-kilometre "road", passing through small settlements, cuts Karnataka and Tamil Nadu border perpendicularly. That might be one of the reasons why neither of the governments have bothered to fix it. I was riding very slowly. I couldn't afford a pinch flat in that kind of terrain—that too when visibility is low.
Once we were out of the dirt, Mittal stopped to catch a breath. At this point, I could visibly see that he was not feeling well. We rolled on for the next two kilometres to Anekal.
D3.3 Finally, on a beautiful stretch of road
Mittal wasn't feeling too good. At Anekal bypass, we stopped at a bakery. I had an egg puff while Mittal had a cup of coffee. All that fried food from the last day and the deep-fried pakoda he had for lunch had caused acid reflux. I went to a nearby medicine shop and bought some Digene (Aluminium-Magnesium Hydroxide tablets). After chewing two of them, he felt better.
We rested for about an hour. Our final point was Chandapura—the southernmost tip of Greater Bangalore. I called up my friend in Chandapura. I wanted to spend the weekend at his house. Mittal on the other hand wanted to take a bus to his home from Chandapura junction. Although his acid reflux had subsided, he wasn't in the best shape. The temperature and humidity fluctuations had taken a toll.
That final stretch of eleven kilometres between Anekal and Chandapura was a bliss. It was all a gentle downhill. The entire area on either sides of the road had developed a lot in the last few years with many apartment complexes and a large number of restaurants. In no time we were there.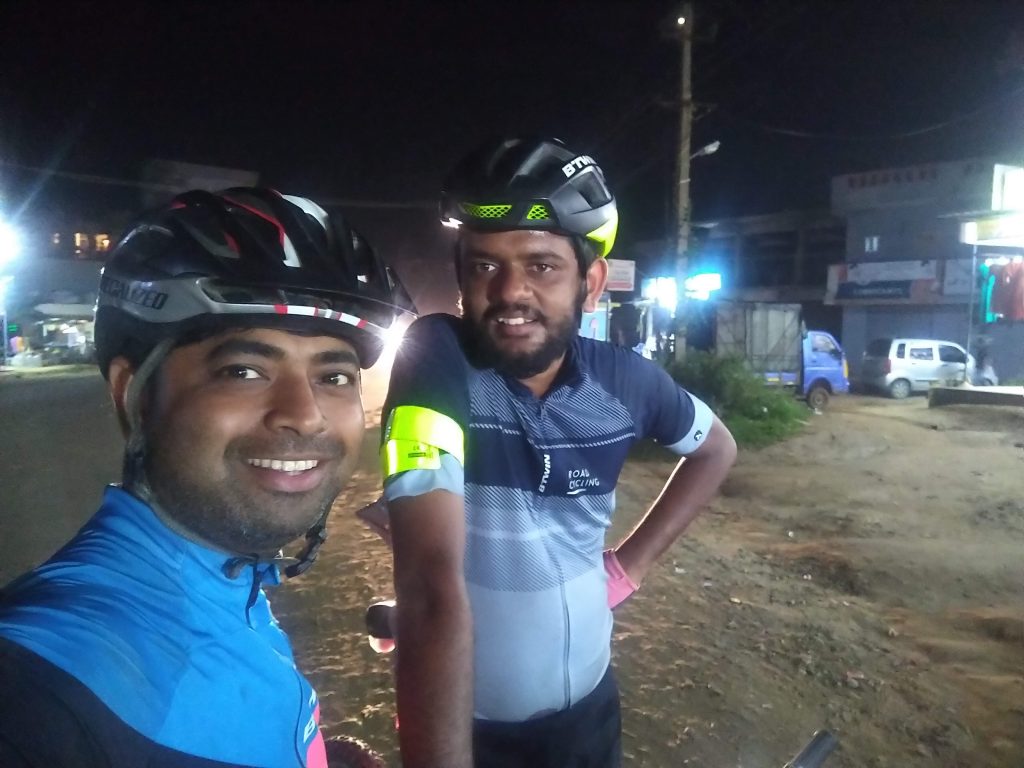 That's our final stats. Three days of riding, three hundred and seventy kilometres of distance covered, three thousand two hundred and thirty metres of elevation gain.