Giu monastery is known for the remains of a lama who has been mummified because of unknown reasons. It is about eight kilometres of the National Haighway, just ahead of Hurling while travelling towards Kinnaur. Sai had gone to visit the old monastery, the caves and hike the ridges with a group of guys from Delhi and Akshat. He wanted to move to Dhankar after that. I left a thank-you note for Sai and headed off to Tabo bus stand. Norbu had mentioned that the bus comes at 9:00 am. On the other hand a German traveller in the monastery—Jonas Eckert—said that bus arrived at 9:30 am everyday. In the end, German time was more accurate. (I believe Norbu did not want me to miss the bus.)
En route, I met an Argentinian couple who were studying meditation at Dharamshala's Tushita Meditation Centre. English was not their first language and the lady was having some trouble understanding some words in her text book. I tried my best to help her out. I enquired about Argentina. She said that Argentina would be only marginally expensive than India.
The bus dropped me at Giu gate on National Highway at 10:30 am after taking a half-an-hour breakfast break at Hurling. I had to walk about eight kilometres to reach Giu. Bus timings for the return journey isn't fixed. The general consensus is that one should be at the gate by 2:00 pm to catch the bus—the same one I took from Nako to reach Tabo. Luckily after three kilometres, a lorry that was passing by gave me a lift to the village. The monastery was another kilometre hike from the village.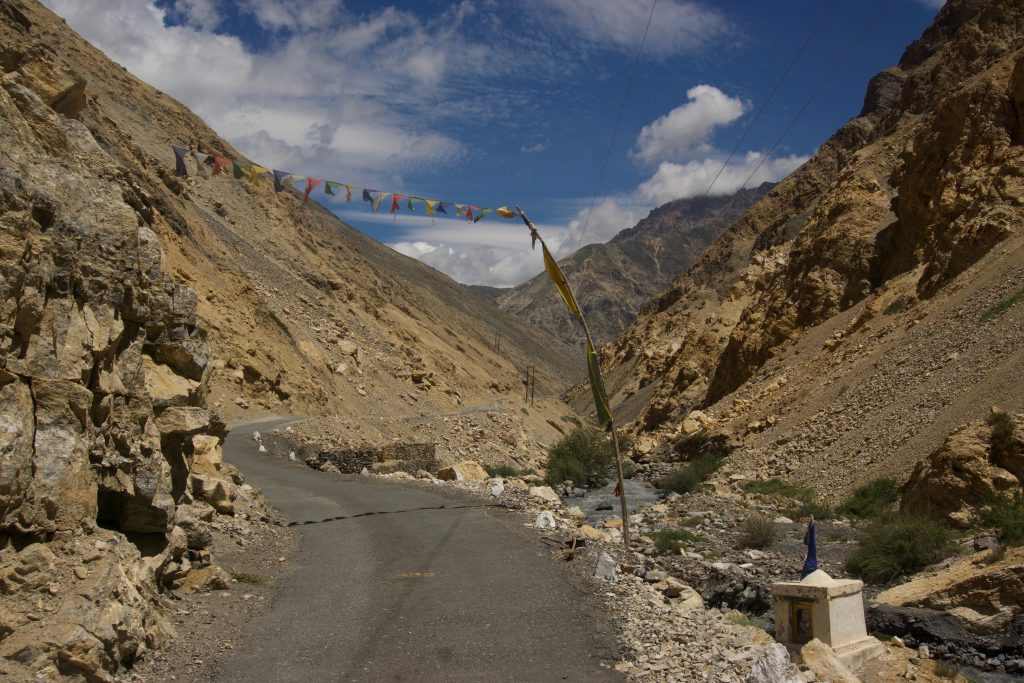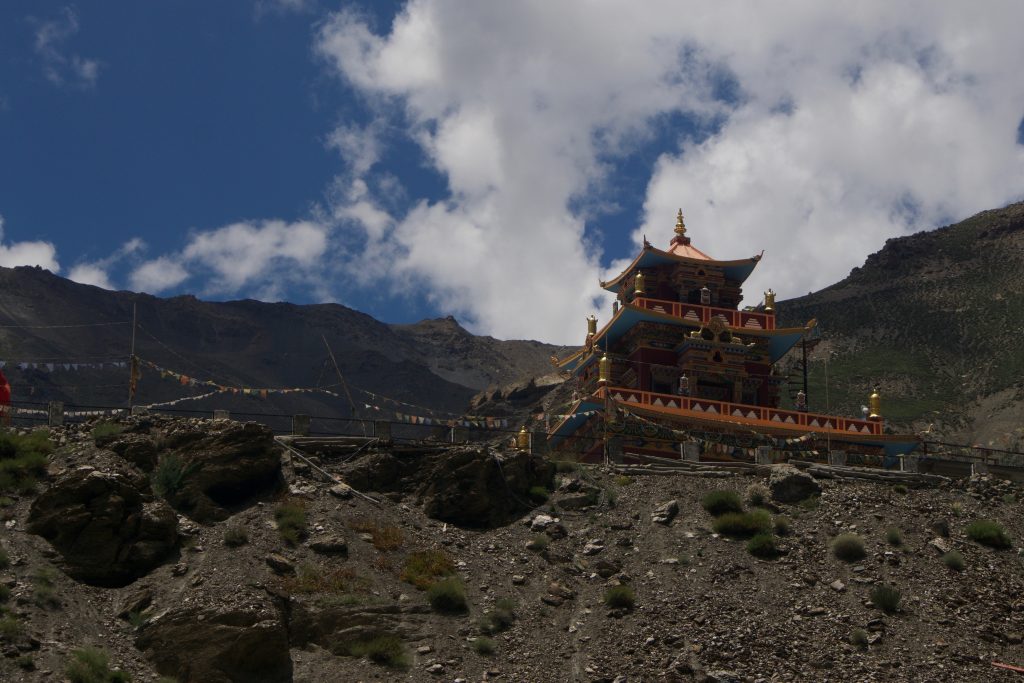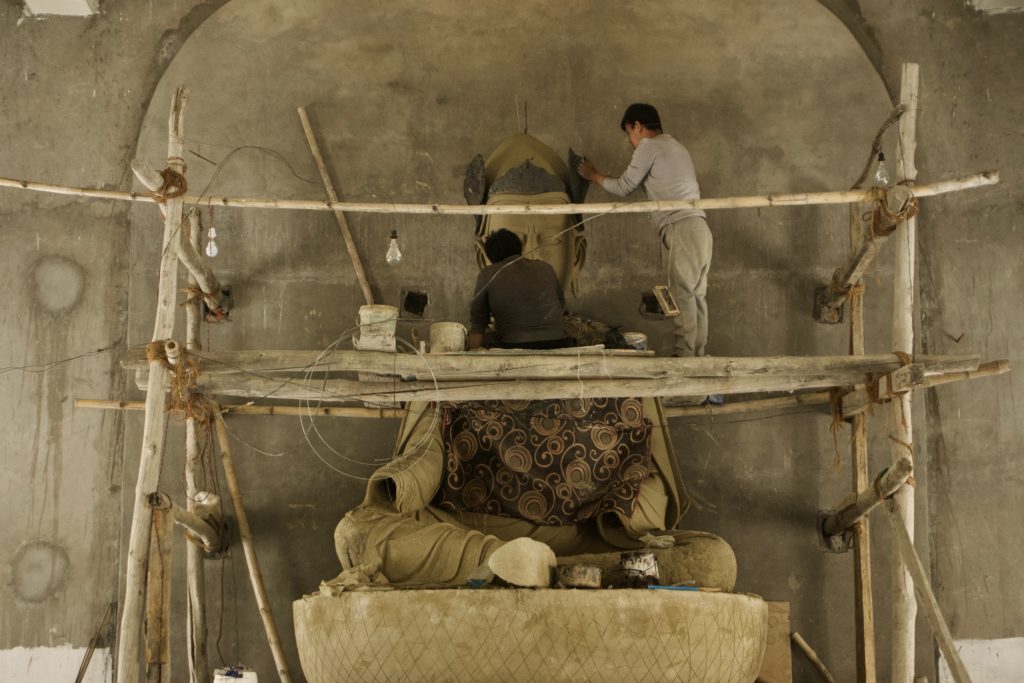 The mummified lama—one that belonged to Sangha Tenzin—is now housed in a separate building behind glass display-case. He is believed to be from the fifteenth century and was discovered in that state—with no signs of degradation due to exposure to the elements—in 1981 by ITBP. He has been in exposed state since 1975 when an earthquake destroyed the stupa he was buried in. There is an entire documentary about him by Discovery Channel.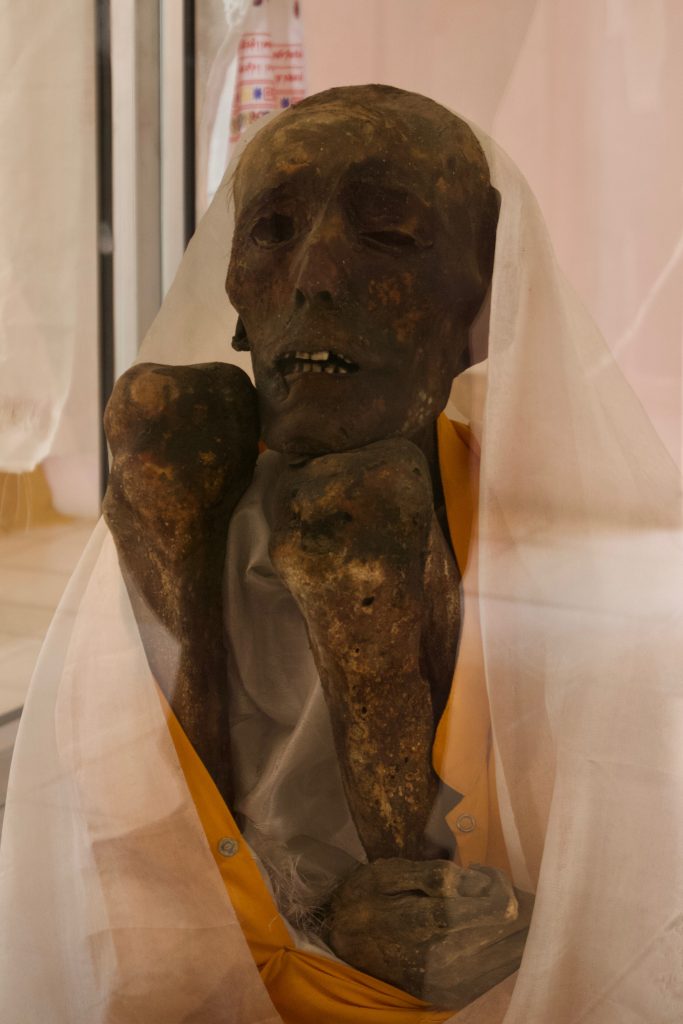 The tea shop inside the monastery premises was run by Tenzing Tendup—a Civil Engineering dropout. He was well exposed to the world and we chatted about the state of our country and compared it with other developed and developing nations. An ITBP personnel also joined us. I asked them about tourists in these remote areas. It appeared like the numbers were increasing. Both Tenzing and the ITBP personnel despised Bengali travellers travelling in groups. They said that they were the ones who are the most picky about their food, will not sample the local cuisine, will cook their own stuff and usually throw the leftovers and plates before moving on. I know what they were talking about. I hope that my generation and the next is travelling the right way.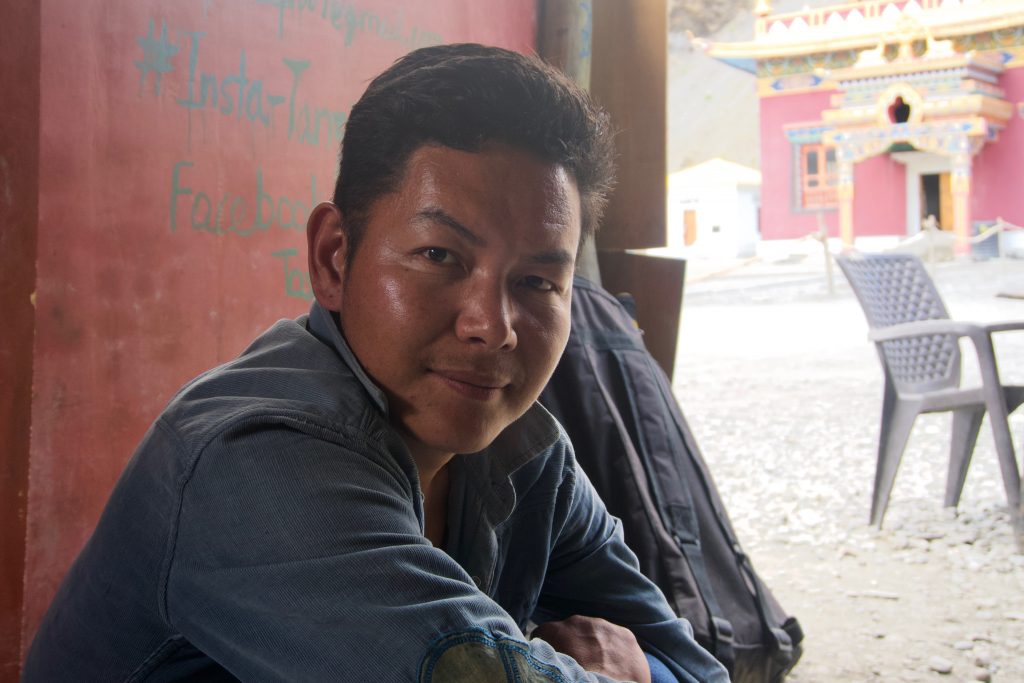 Dinesh Bhandari—an English teacher from DPS Jhakri—along with his wife—Ruchi—was riding his Alto through the Tribal Circuit. This was his fourth time in Spiti valley. They were headed towards Tabo and gave me a lift.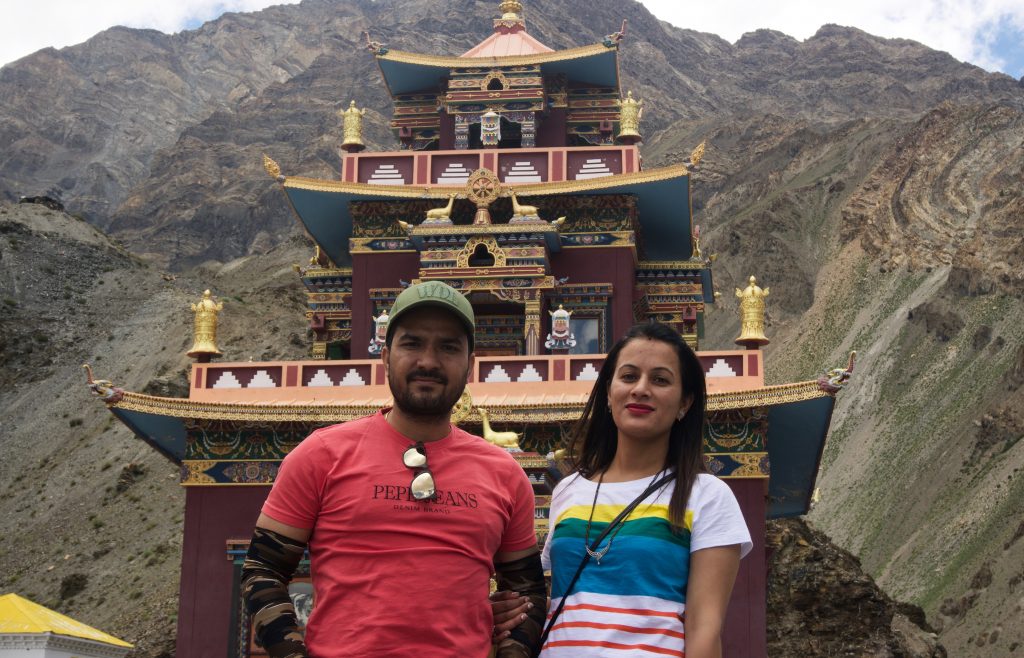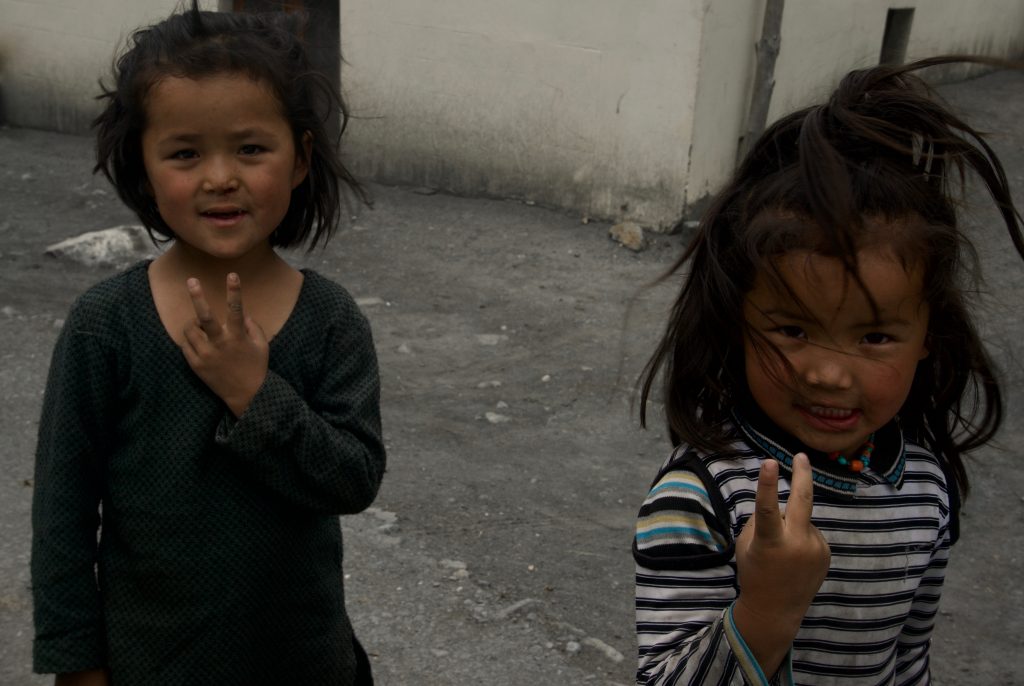 I had some momos for lunch at Cafe Kunzum Top before heading towards my room. To my surprise, Sai was still there. He and the Delhi guys had a horrible experience climbing. He had a close shave from getting hit by a rolling stone. The group had split up and Sai started to have cold sweat. Apparently, they did not even carry water with them. That's not a very good way to hike. Bad luck followed the Delhi guys even into the evening. One of them had a new phone with a BSNL sim that got activated today. It got misplaced or—more likely—stolen.

I packed light and headed towards the old monastery. It is currently protected by ASI (Archeological Survey of India). Sonam is employed by ASI to take care of the the site. She showed me the prayer hall and the murals. The finesse was extraordinary. I especially loved the painting of thousand-armed, eleven-headed Avalokiteshvara—specifically the detailed drawing of half-open eyes on each of the palms.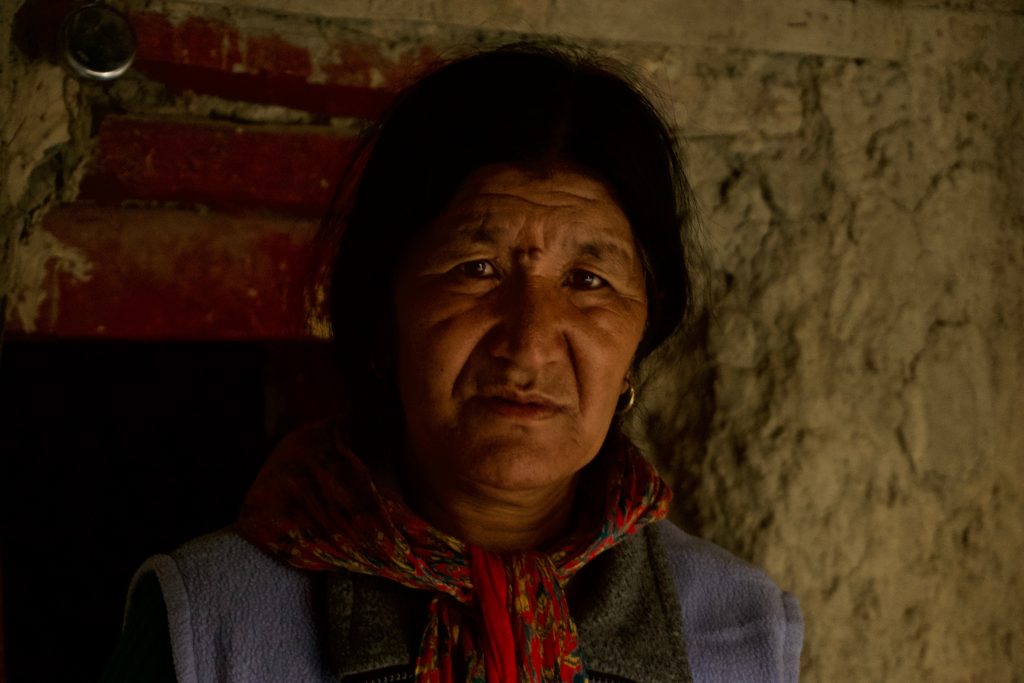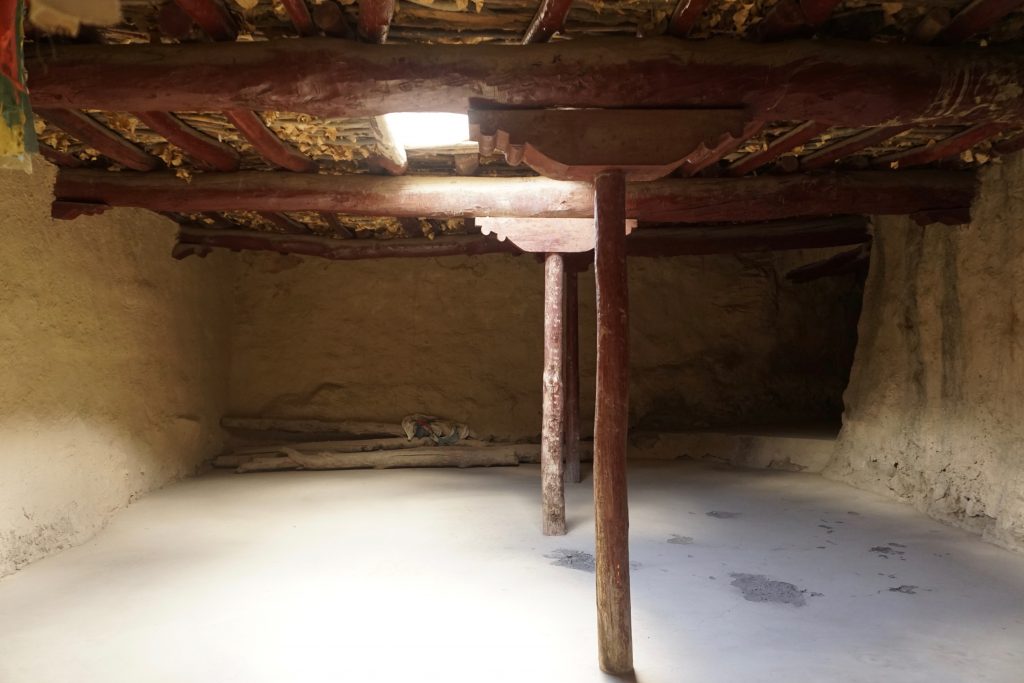 I visited the caves and hiked the hill to reach the stupas and the mantra. I couldn't get to the slope that had the mantra due to screes covering the surface and not giving me enough traction to stand. I skid three-or-four times. It's not dangerous or anything—just annoying for the fact that it makes traversal impossible.