Slight hiccup and a late departure
The owner of Hotel Govind Palace in Uttarkashi mentioned of a vehicle that left for Harsil everyday before sunrise. He did not know the timings, so he advised me to wait for it by 6:00 AM. He also mentioned that I could easily go to Harsil, roam around for couple of hours and return back. I had packed up my rucksack for keeping it at the hotel store room  and carried my daypack knowing that I would take an evening vehicle back to Uttarkashi.
While I was fully ready in due time, I was unable to get out of the hotel! The collapsible shutter was pulled down and I couldn't get it to open. I wasn't able to locate the hotel caretaker either. At one point I even contemplated of jumping across the wall into the adjacent Birla Dharmashala's compound and exiting through their gates. When I was finally able to locate the fellow sleeping behind the tables of the restaurant below, I knew that I was late. I had missed the vehicle.
My only option was to go to the maxi-cab union stand (technically, Vishwanath taxi union stand; colloquially, taxi-stand behind the peepal tree). I found a vehicle for Harsil but it wouldn't leave until it there were adequate number of passengers. For the first half an hour, I stood beside a fire that was kept alive by burning old tyres. Later, I went inside the cab and slept in the stationary cab for a good one-and-a-half hours.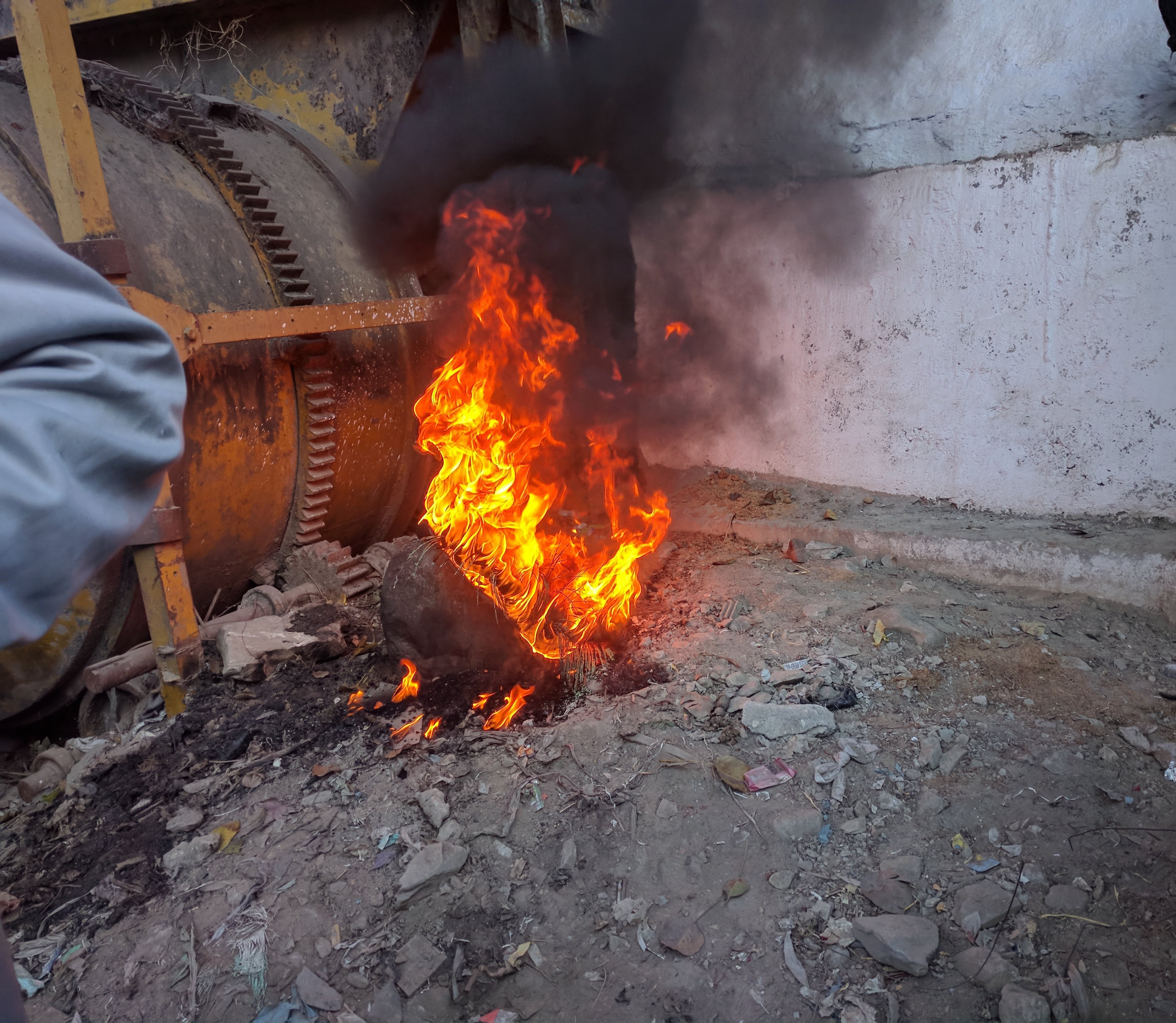 I was saved by a family from Nepal who wanted to go till Jangla—few kilometres ahead of Harsil. The only man was a migrant worker who worked as a contractual labour with BRO. Since they had paid a huge chunk of money, they made stops at innumerable locations—either to visit their relatives or to buy supplies for their migrant workers' camp. The driver himself picked stuff up for shopkeepers who had their businesses on the route, including a huge jerrycan of petrol. Survival is a co-operative business. Such is the life in these remote hills.
By the time I was back from Jungla and reached Harsil, it was already 1:00 PM. The cab in which I had come would have stayed there for an hour or so and would head back to Uttarkashi as the last vehicle for the day. I abandoned my plans to return and decided to enjoy the excellent vistas of Harsil and its neighbouring settlements.
Harsil on foot
After having some rice, dal and omelette for lunch, I hiked on a kachha trail to get to Mukhimath, the resting place of Ganga, in Mukhba village while Gangotri remained closed. (I even tried going there but I was unable to get a vehicle and that included the possibility of hitchhiking on goods trucks.) The priest, Mr. Govind, after a long chat about life, travel and other random things, was kind enough to open the temple gates for me and give me some sweet prasad. He even allowed me to take a photograph!
For the rest of the afternoon, I roamed around Bhagirathi, clicking photographs.
Harsil has an army settlement (Mahar 2 at present), which is why I was able to get food late into the night. In the hills, where the window of sunlight was lesser than the plains, I had to cram my entire day's nutritional requirement (including the additional calories required in colder climates) within a very short span of time and not eat anything else for over fourteen hours straight. I had momos from all the shops but the best momos in Harsil were made by Sherpa Shop—just as their handwritten board claimed to be.
Harsil had already started seeing temperatures below the freezing point of water. Icy sheets over stagnant water and glazed ice were visible at many places where Sun-rays failed to reach throughout the day. I had adequate clothing to survive a snowstorm but all of it was lying in Uttarkashi. Thankfully, the blanket at Hotel Madhuban was good enough to help me out (but only with my thin fleece pullover and lowers on).
Later in the night, my hotel's manager, Maninder Negi, arranged for the next day's shared cab to come and pick me up.