For the next one-and-a-half days I walked around Tawang and visited a number of places while spending time with the kids at my hotel.
I was not able to notice the Gompa that one spots in the Old Market the day I had arrived. It was too dark to notice anything. It is one of those places that is hard to miss in broad daylight as it is adjacent to the bus and the Sumo stand. The previous day I had spent some time watching people light lamps and candles on the occasion of Nobel Peace Prize day. Had I known earlier about the celebration, I would have walked to Tawang Monastery to observe the lights.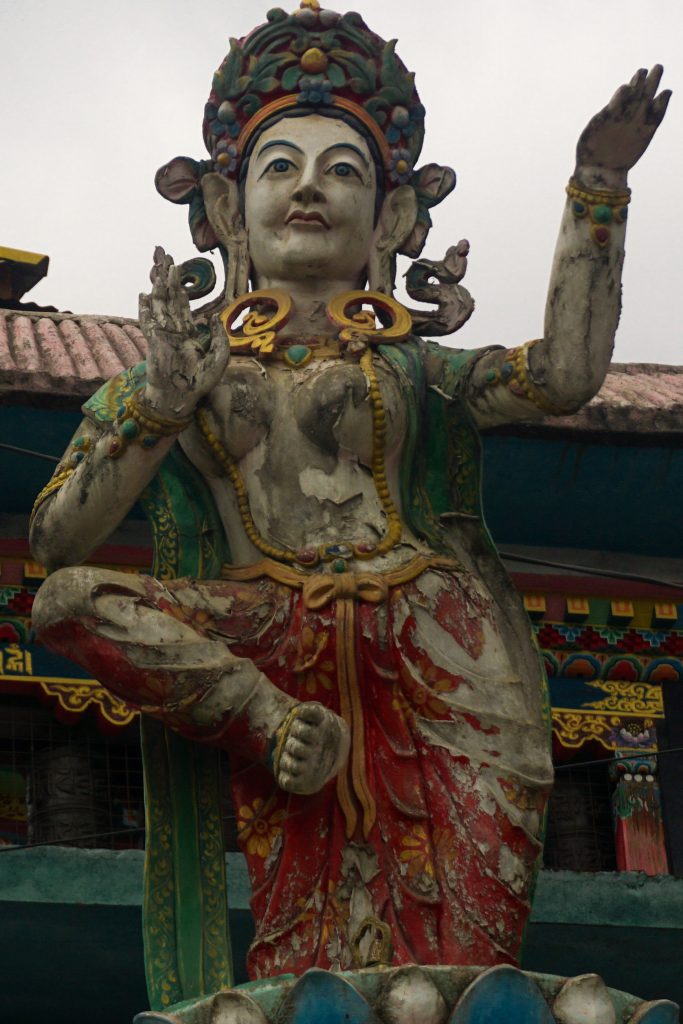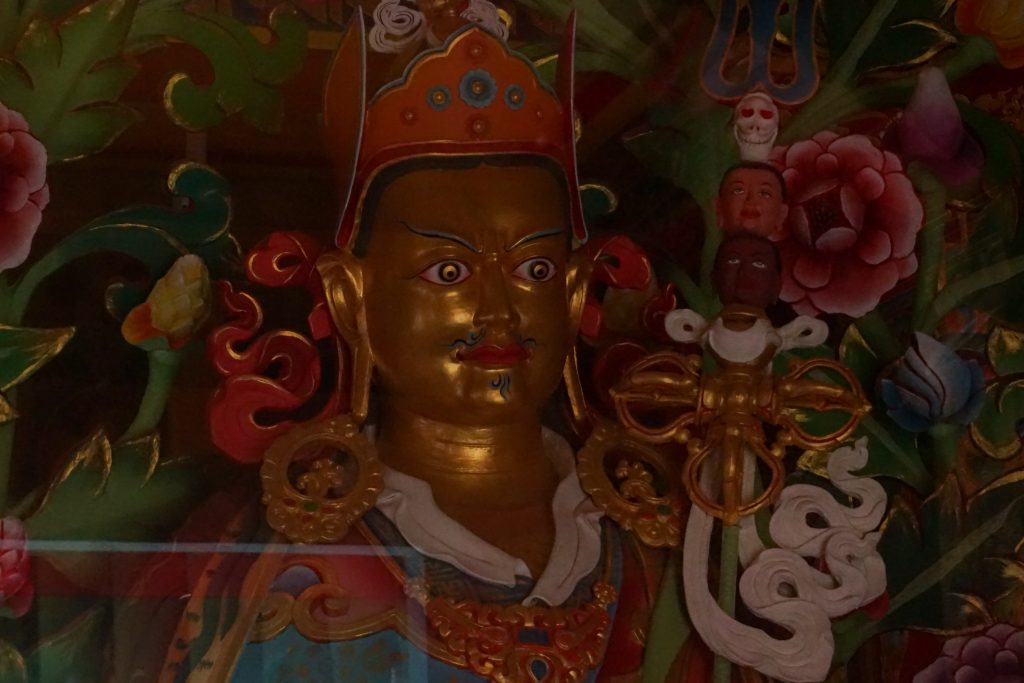 Nehru Market gets its name from Nehru Gompa. It was constructed to commemorate Jawaharlal Nehru's visit to Tawang after the Sino-Indian war of 1962. His visit was aimed at strengthening the relations between a devastated state and the central administration of a newly-independent India that was still struggling to absorb a number of princely states and define its international borders. Judging from the way Tawang has developed post its fall in 1962 and the way the locals in Tawang have integrated with the rest of the country—from movies to music to food and the diaspora of merchant communities who have established a bustling economy whose shadow was visible even during the less than ideal economic activities during the pandemic—we have come a long way.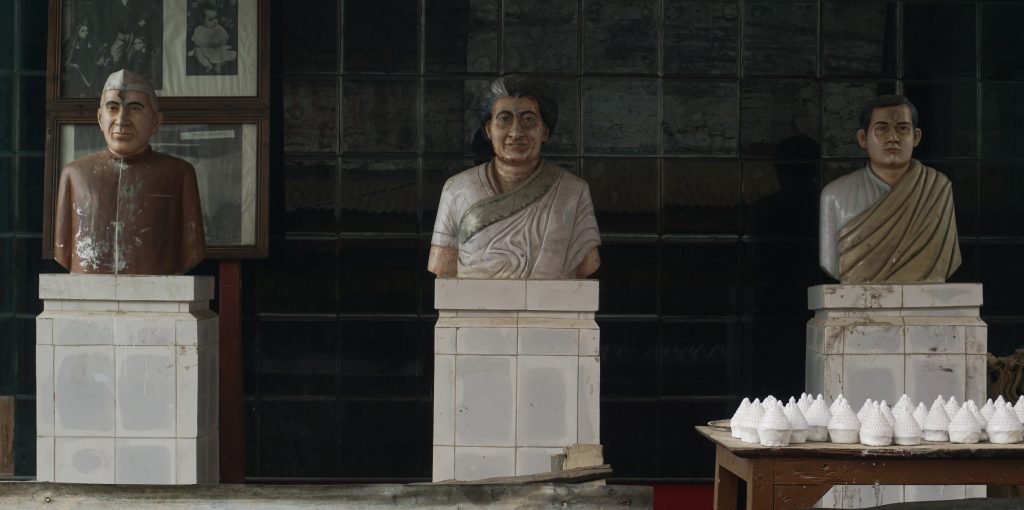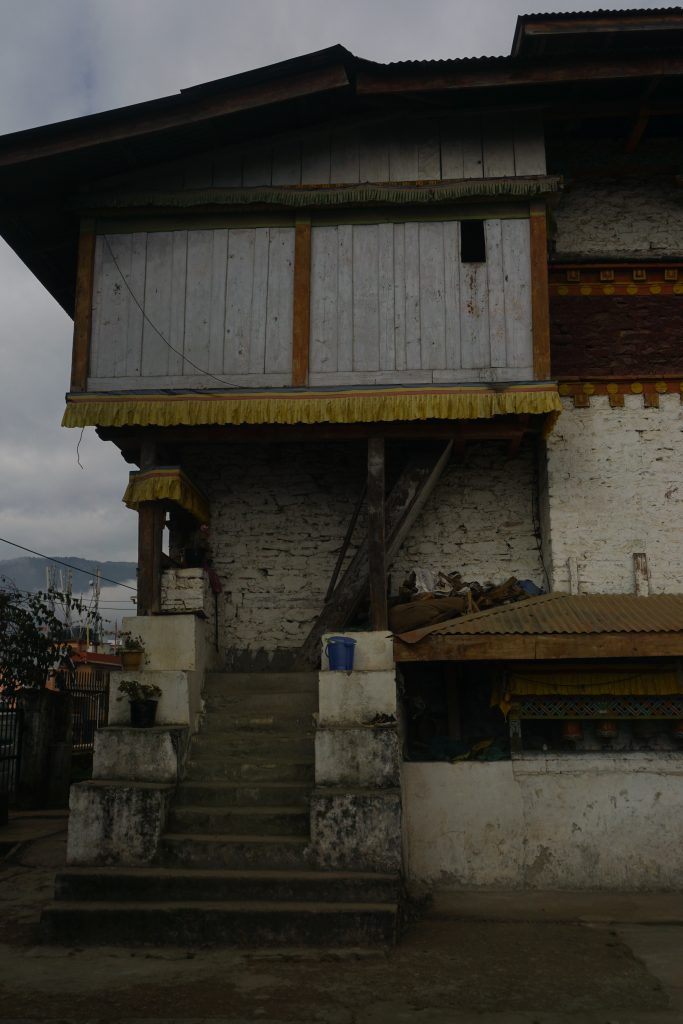 I ventured out towards north of Tawang. I wanted to visit two nunneries—or as the locals called it, ani-gompas. Just as male monks are called lamas, female monks are called anis.
Bramadungchung Ani Gompa
My destination was a village called Bramadungchng. (Google Maps doesn't list the place, so here it is: 27°36'43.2″N 91°51'18.4″E.) I hiked through the beautiful terrain of meadows, settlements and the occasional patches of rhododendron plants. There were places where I had pass through barbed-wire fences that had convenient cuts made by locals to facilitate movement. En route, I met Ramchandran—a jawan patrolling the area. He was happy to see someone from South India pass through the trails. His job was to prevent any local from building a shelter or a house in military lands. Since the area is vast, largely uninhabited, and obscured behind foliage, it was possible for someone to build a house in a couple of days without anyone else noticing. There is an official survey map that clearly demarcates civilian and military land. I also saw a number of bunkers that are no longer used by the military. Locals prefer these places for picnics with their friends with roast meat and beer as evident from the burnt ash-marks on the floors and the empty beer bottles lying around.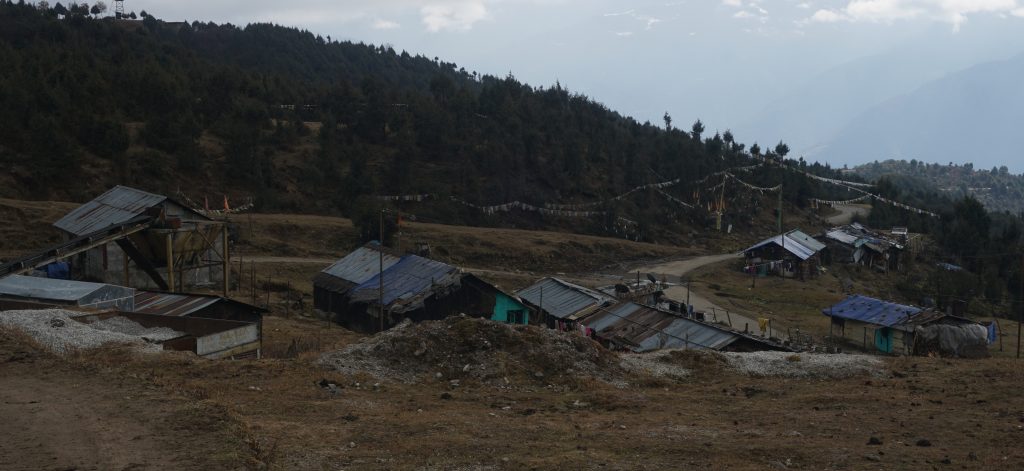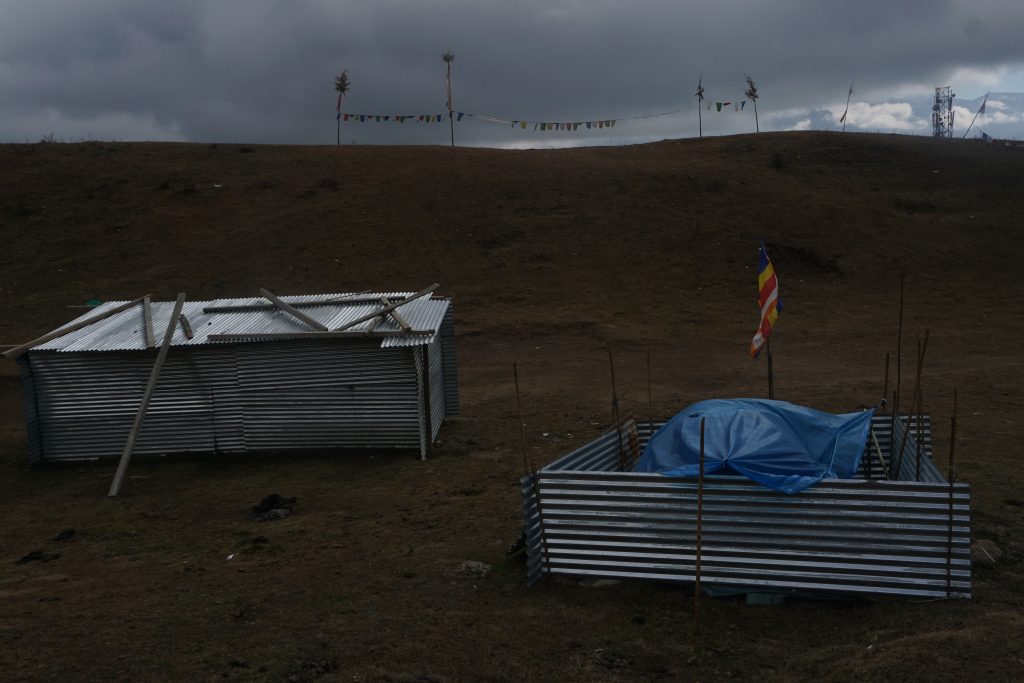 After crossing a stream and climbing up, I reached the Bramadungchung nunnery. Three nuns were decorating the prayer hall of which only one of them agreed to be photographed. The other two were camera shy even though they were very jovial and were not at all shy when it came to chatting up with a visitor like me.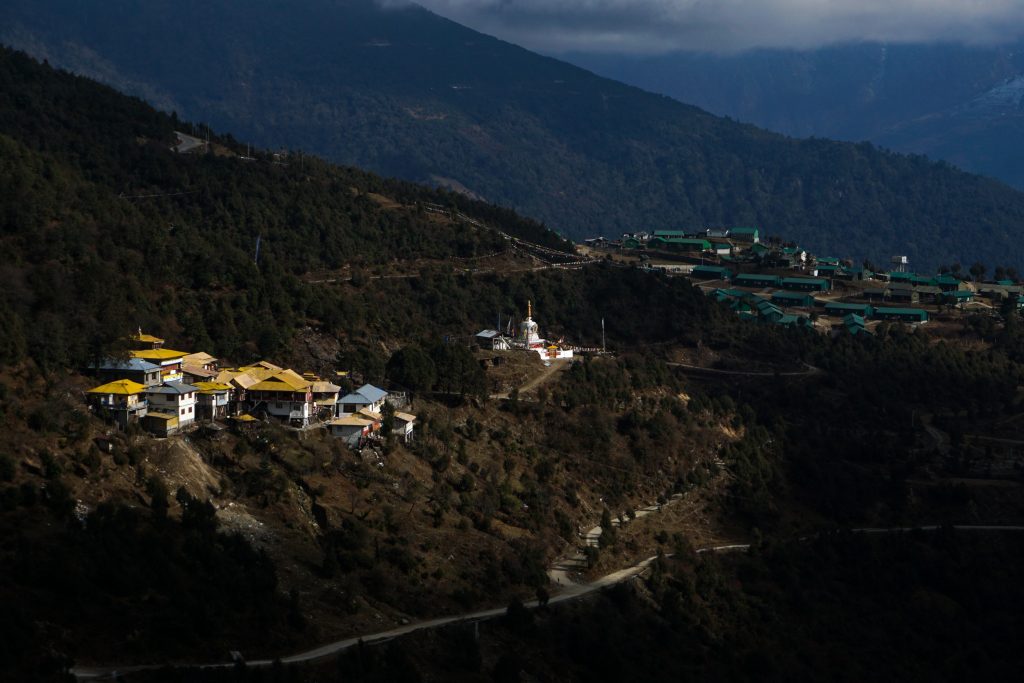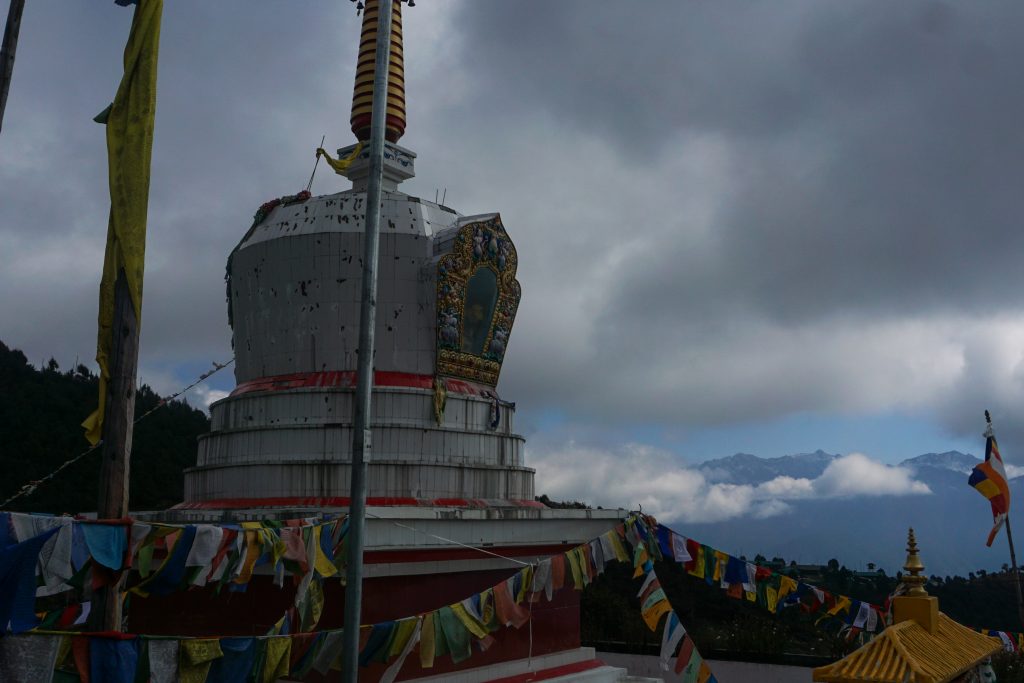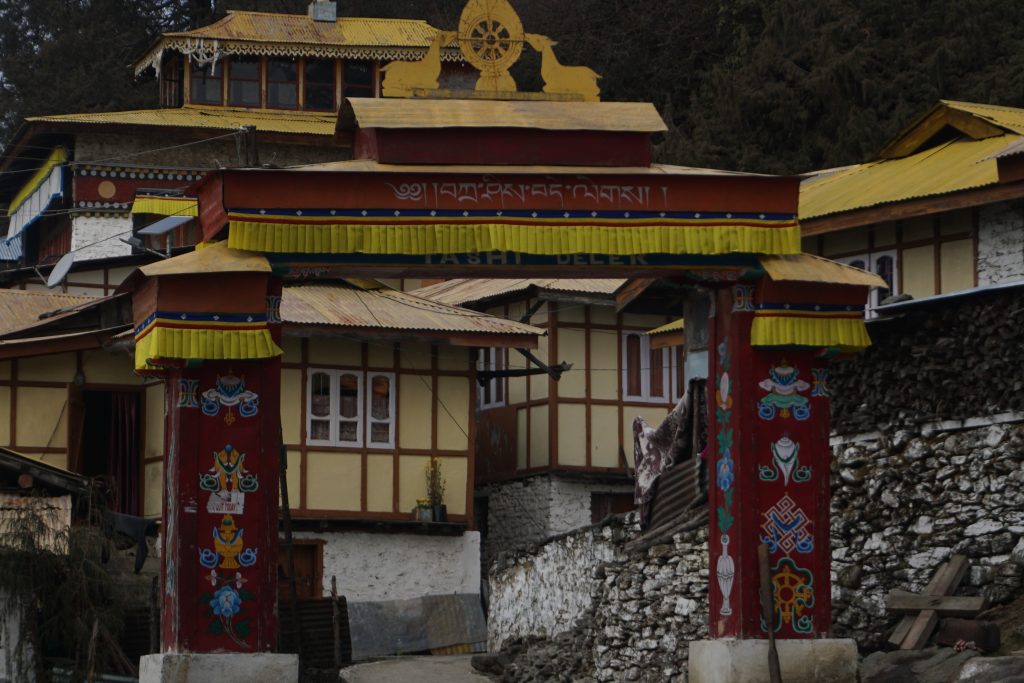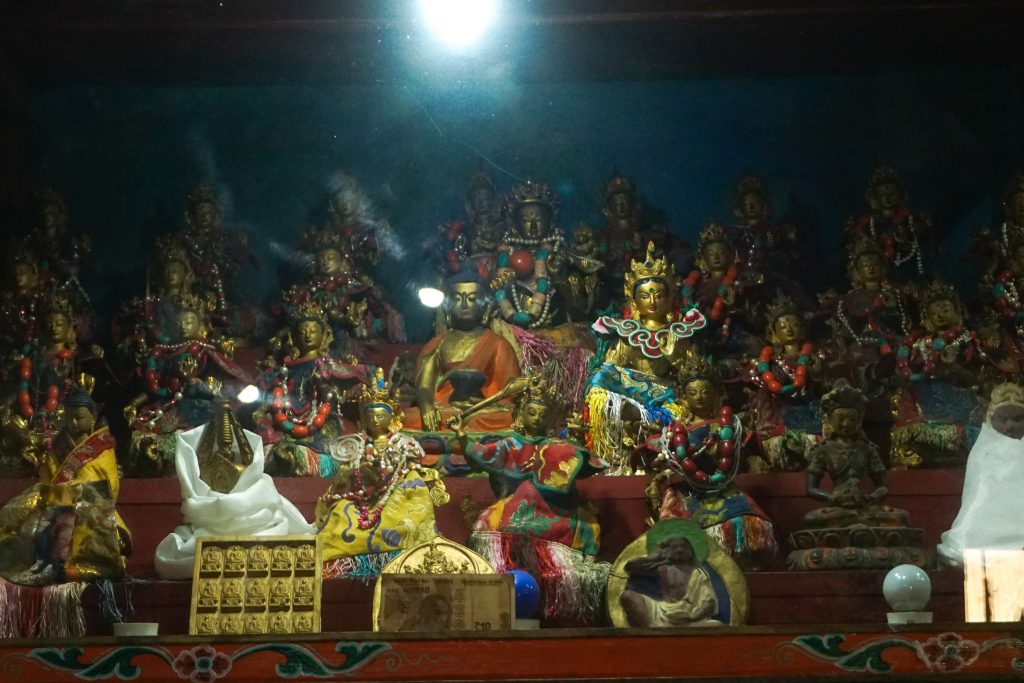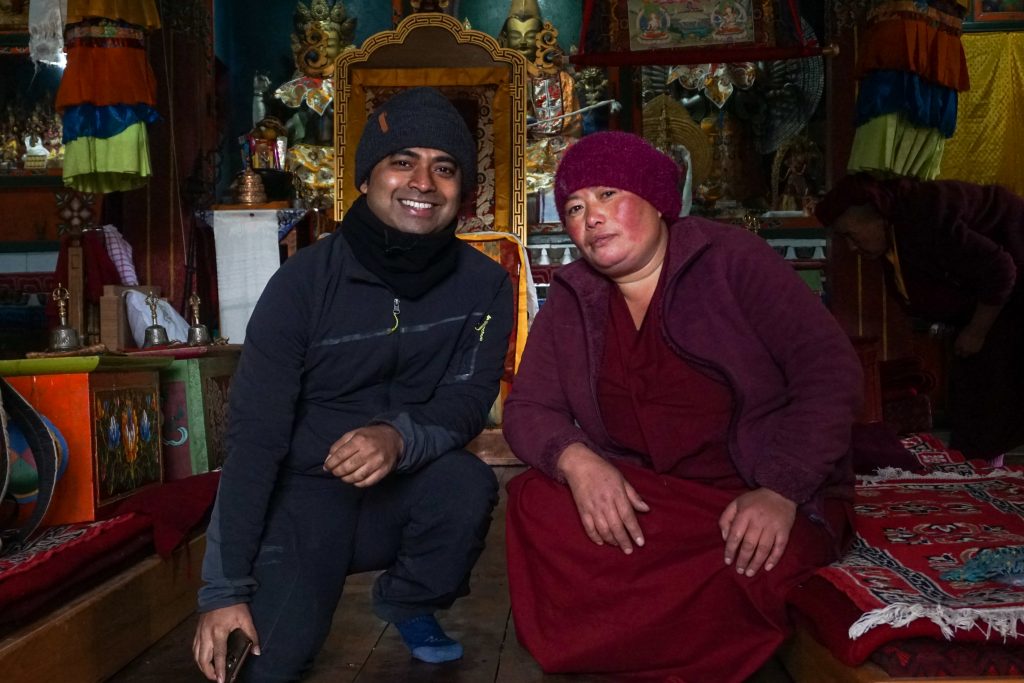 I also met three ladies from Guwahati who had hired a tourist SUV from there and had followed the paved road from Tawang to reach Bramadungchung. They were also the first proper tourists I had met during the trip. The next day, I met them at the Old Market and they offered me a ride to Sangestar Lake. I had to decline as I was headed south.
Gyangong Ani Gompa
The other ani gompa could be reached only through a slightly longer path that was motorable for most of the part. I walked past Bramadungchung's valley, its hydel power station, and climbed against hills that reminded me of those on Parvati valley to reach to a point where the only option was to descend via narrow trails to Gyangong Ani Gompa—also known as the Jangchup Choeling Nunnery. (Again, here is the location: 27°36'01.5″N 91°51'08.8″E.) It is a beautiful place nestled in the lap of the hills. Earlier it was possible to hitch a ride on a cable-car from Tawang Monastery but it was not operational.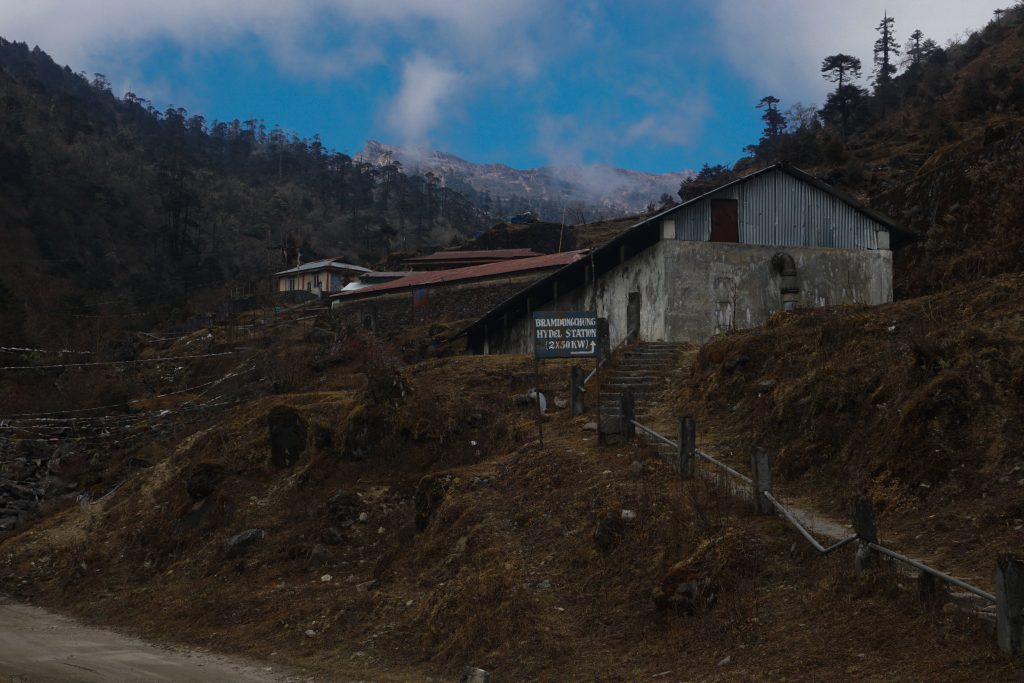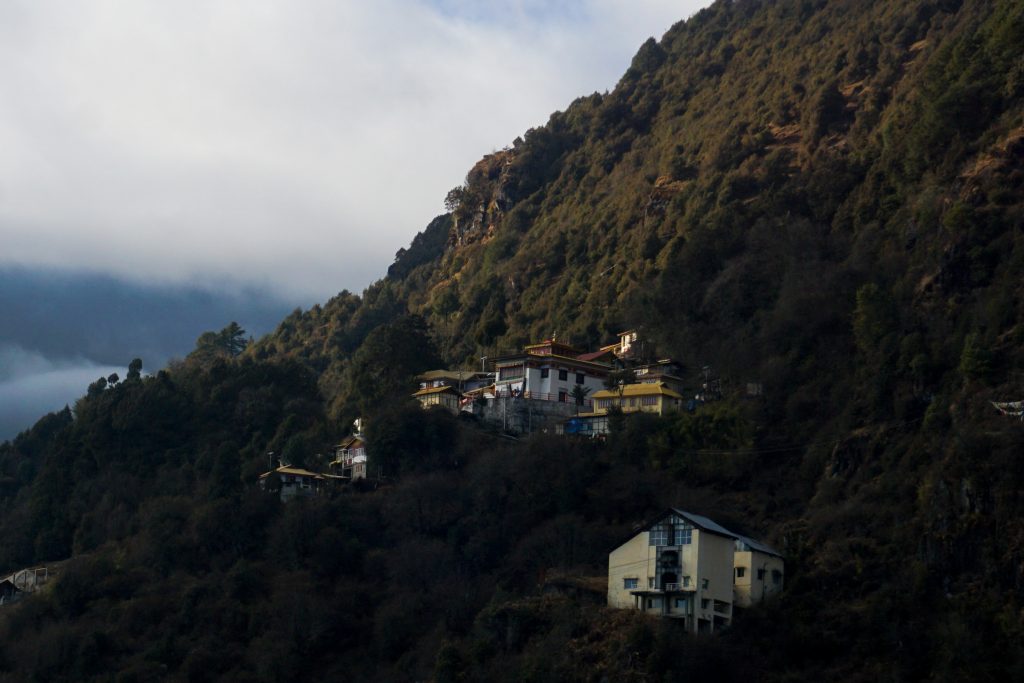 A young ani—Themzing Thket, about 11- or 12-years old—invited me to the kitchen and offered me tea. I asked her about her routine. Anis of her age woke up at 6, did her morning chores, attended school (right behind the gompa) from 8 to 2, had meal, went back to philosophy studies in the evening (the ones she regularly skipped because she wasn't interested), had dinner and went to sleep. In between, they are also expected help the elder anis with cooking and cleaning. I asked her about how was she chosen for a life in monastery. She said that it was decided by her parents back in Khyamdong village. For female children, it is often the decision of parents unlike the male children where the second son is send to become a monk. This practice is largely changing as I have met monks who are the eldest or the youngest of their siblings. Phurpa—who helped me out with the trip—was the fourth son of his parents. No matter how much I asked, Ani Themzing refused to have her picture taken. I spent so much time talking with her that I wanted to at least keep a memento.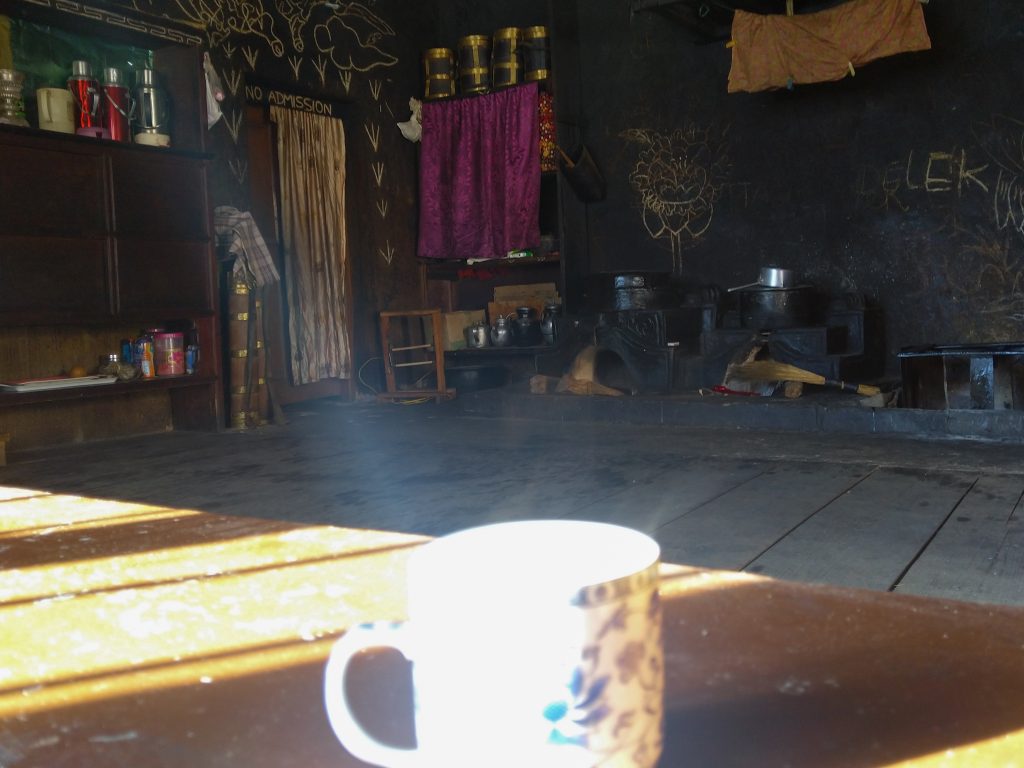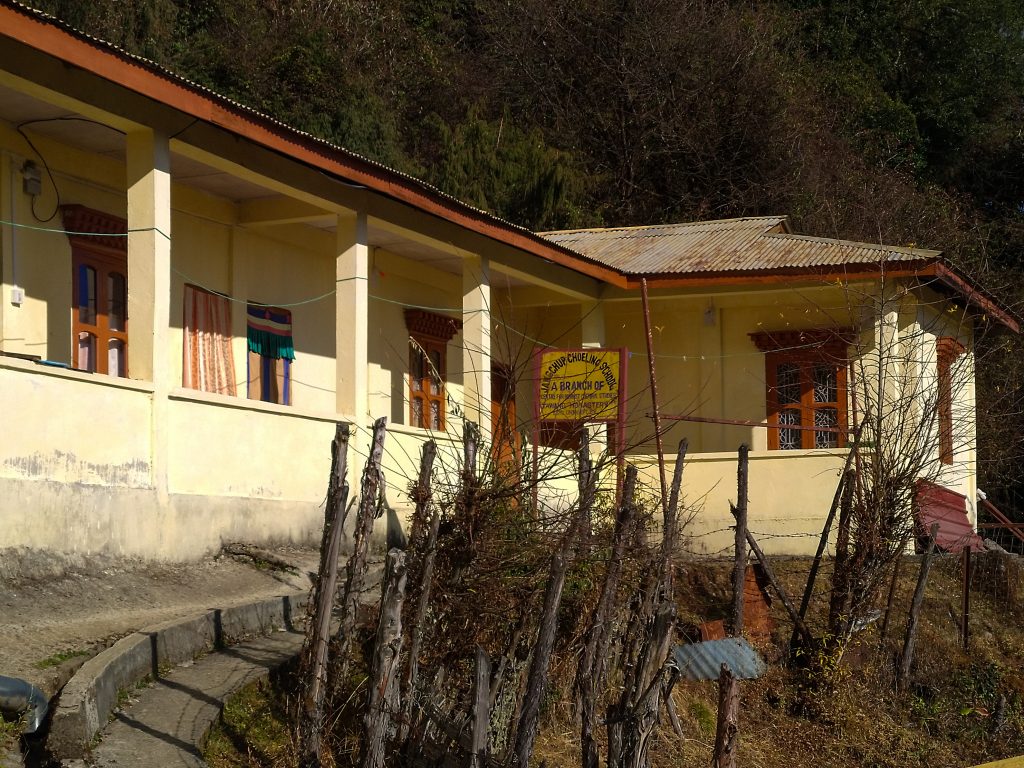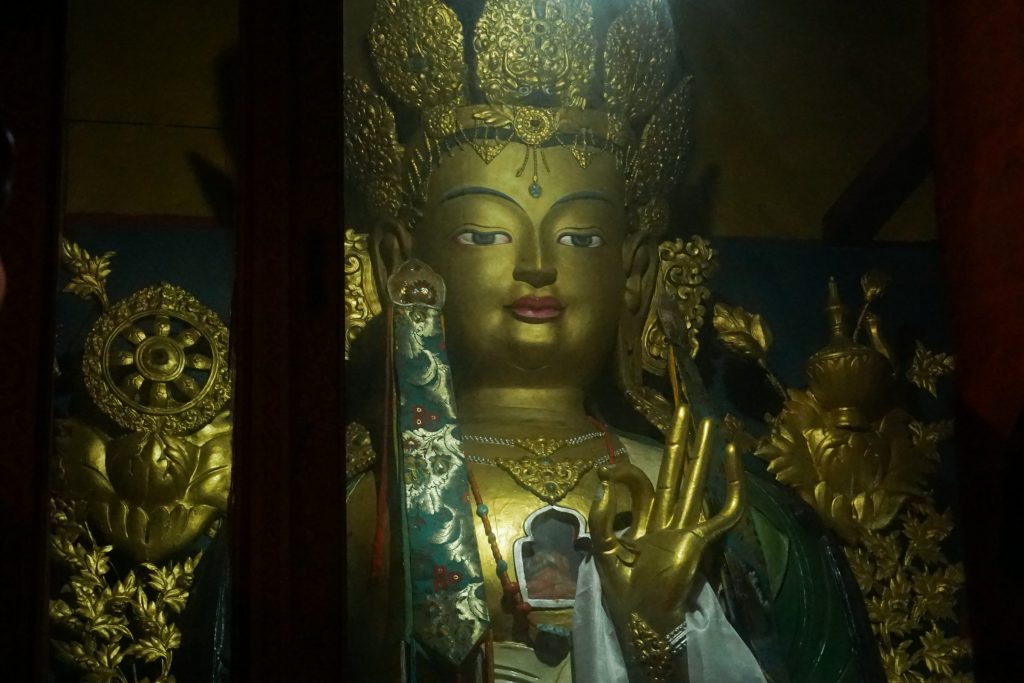 I climbed down the stairs that led towards Tawang Town. Construction labourers were working on extending the motorable road from Tawang that would reduce the amount of hiking required to reach the Nunnery.
Descending to Jang
The next day, I bid goodbye to Akash and Amit. I had spent a significant amount of time with the kids in the past few days. I wasn't able meet Lobsang. He had gone to his village and wouldn't be back until spring.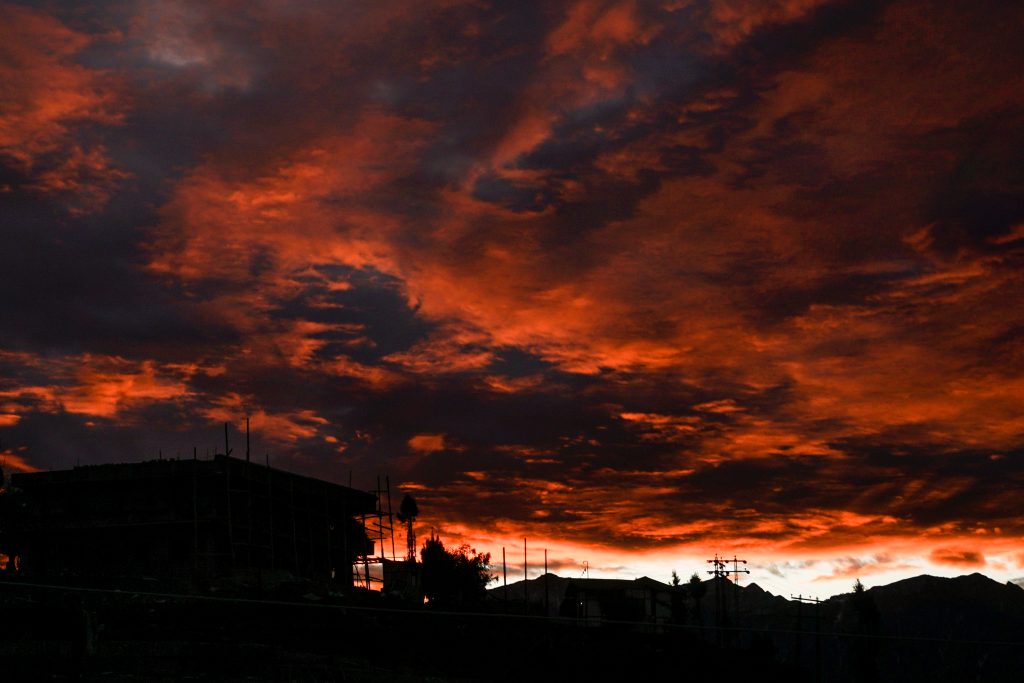 I wanted to buy some fridge-magnets as souvenirs. Most shops in Old Market and Nehru Market had little to no stock left. At least, they didn't have any left that appealed to me. The shops hadn't restocked in 2020 due to the lockdown and the lack of tourists during the pandemic.
I caught a shared Sumo from the Old Market at 1:00 pm. For INR 150, it dropped me at Jang SSB Chowk in 45 minutes. There are only two lodges at Jang. I had to walk for a couple of minutes to reach the nearest one—Hotel Gombu where I rested for the night.