I woke up quite early that day to catch a glimpse of the morning sun. Akash and the other kids were awake, too. I shared the morning tea with them. Amit, Lobsang and a neighbouring kid Ranveer—being kids that they were—headed to the terrace and played in a greenhouse made of bamboo and translucent plastic. The inside—filled with a number of potted plants, none of which had flowered, yet—was very warm. I inquired if I could get a shared vehicle to the northern areas like Sangestar Tso or Zemithang. Akash said that weren't any running at the moment. Most owners had stopped operating on the route due to the drastic drop of tourists during the pandemic. It was possible for me to book a vehicle for myself but I would have to pay a lot of money. Even then it would be impossible to enter regions like Bumla which are under military jurisdiction and require separate permission.
To Bumla Pass and Sangestar Lake (almost)
I ditched the idea and decided to hike to Panga Teng Tso lake via the trails. It's about 15 km north of Tawang town. The trails pass through beautiful rhododendron forests and two small settlements before hitting a military area with a milestone which indicated that the lake was 7 km away. From there the road goes straight north. I was about a kilometre in when I saw a car bearing a Bangalore registration number approach from behind. I asked for a ride.
Flt. Lt. Hritik Reddy stopped and picked me up. He was indeed from Bangalore and was currently stationed in Tezpur. He was doing a solo trip in Arunachal on his trusty old hatchback. He had already visited Itanagar and was headed for Bumla. I ditched my plans and tagged along with him. On our way, we had to stop near one of the lakes as due to ongoing BRO maintenance work. Hritik whisked up a conversation with one Lt. Col. Aditya Sinha who was getting down after completing his stint in the colder regions of the north. He warned us to get back by 3:30 pm.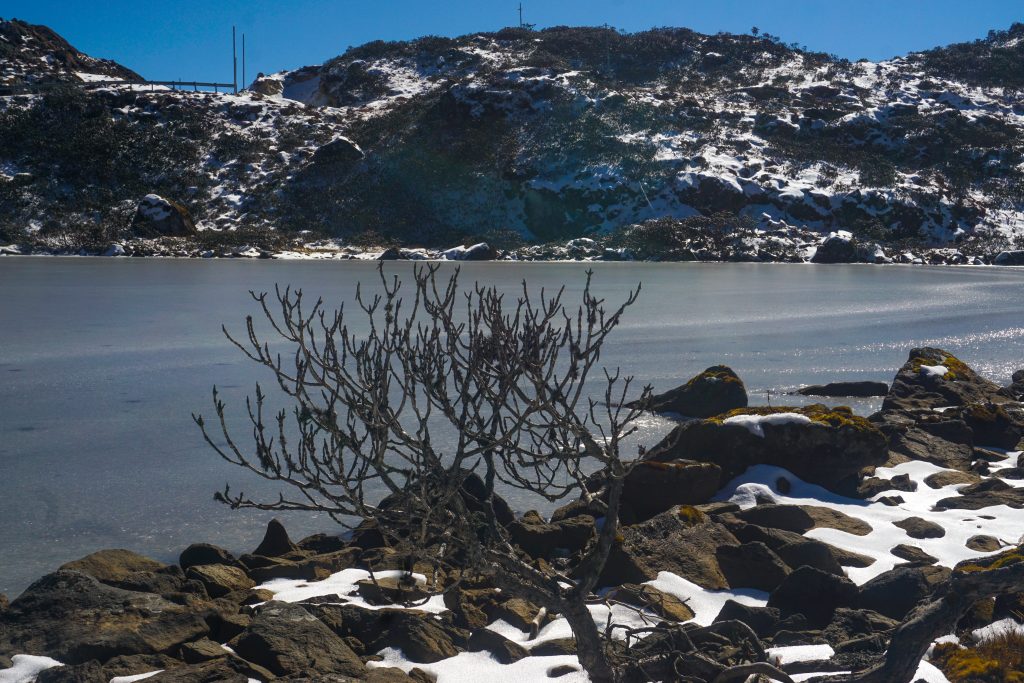 This north-bound road hits a y-junction (also called Y-Junction) and forks towards Sangestar Tso on the west side and towards Bumla on the east side. There is also a checkpost that checks for permission in case one is headed towards Bumla. Usually, this can be obtained through Tawang DC office. In most cases, tour operators and Sumo drivers do all the running around and would get it for their passengers. There is a lot of footfall during tourist season but at present we were the only ones on the route. I wasn't sure if Bumla Pass permits were being issued by DC office during the pandemic. Hritik took care of the entry courtesy of his Indian Air Force ID.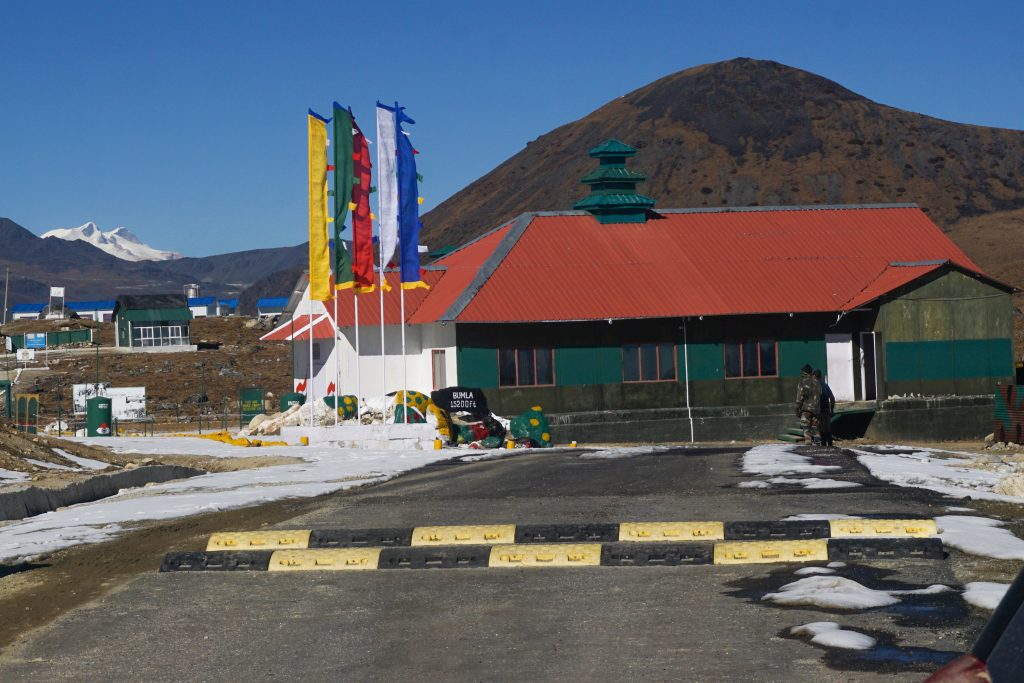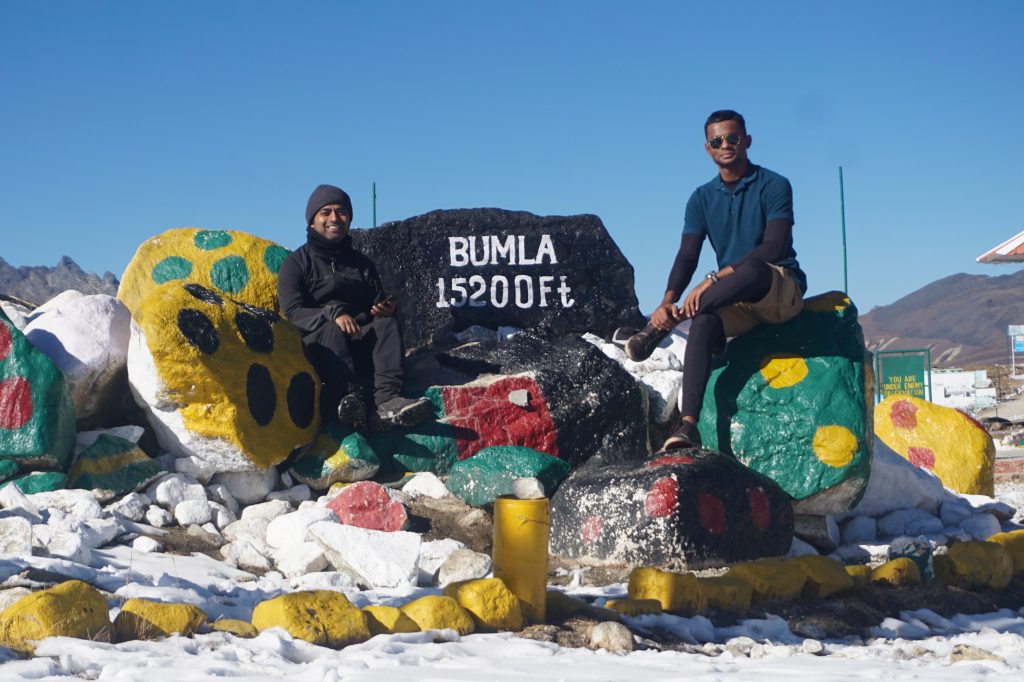 The memorial of Sub. Joginder Singh is near Bumla. He is remembered for his bravery during the 1962 Sino-Indian war where he had single handedly killed a number of enemies and kept the Chinese troops at bay until he was captured. He was posthumously awarded the Param Vir Chakra. During this time, my camera battery had drained out and I wasn't carrying my power bank. The rest of the photographs for the day were taken with my mobile.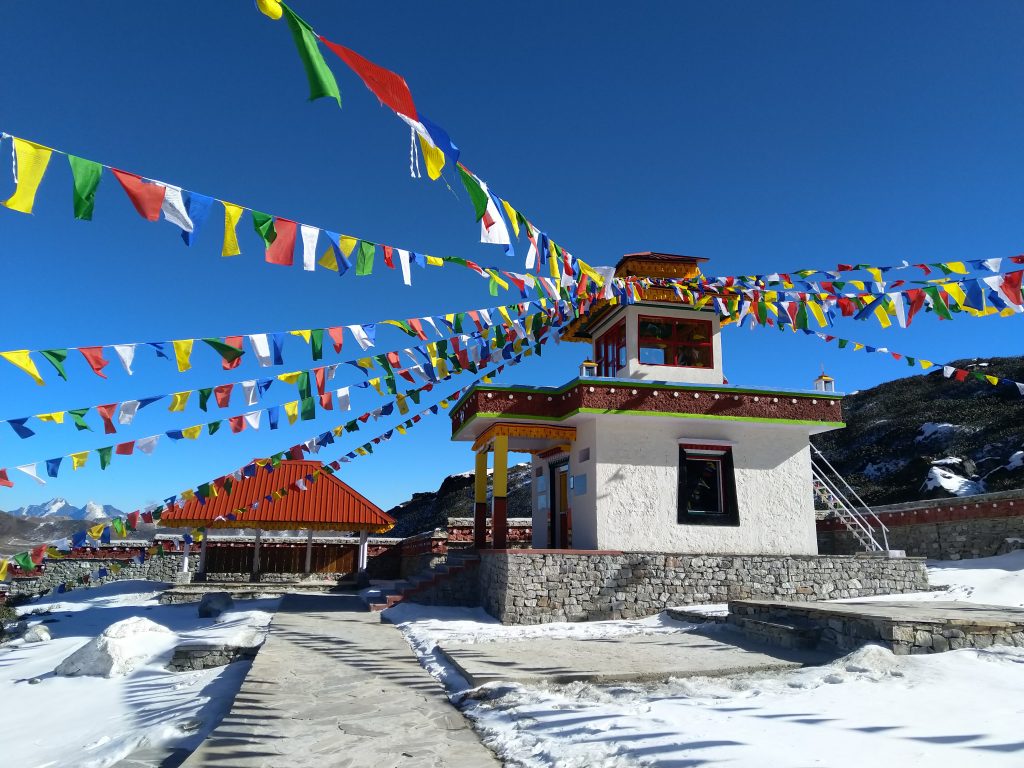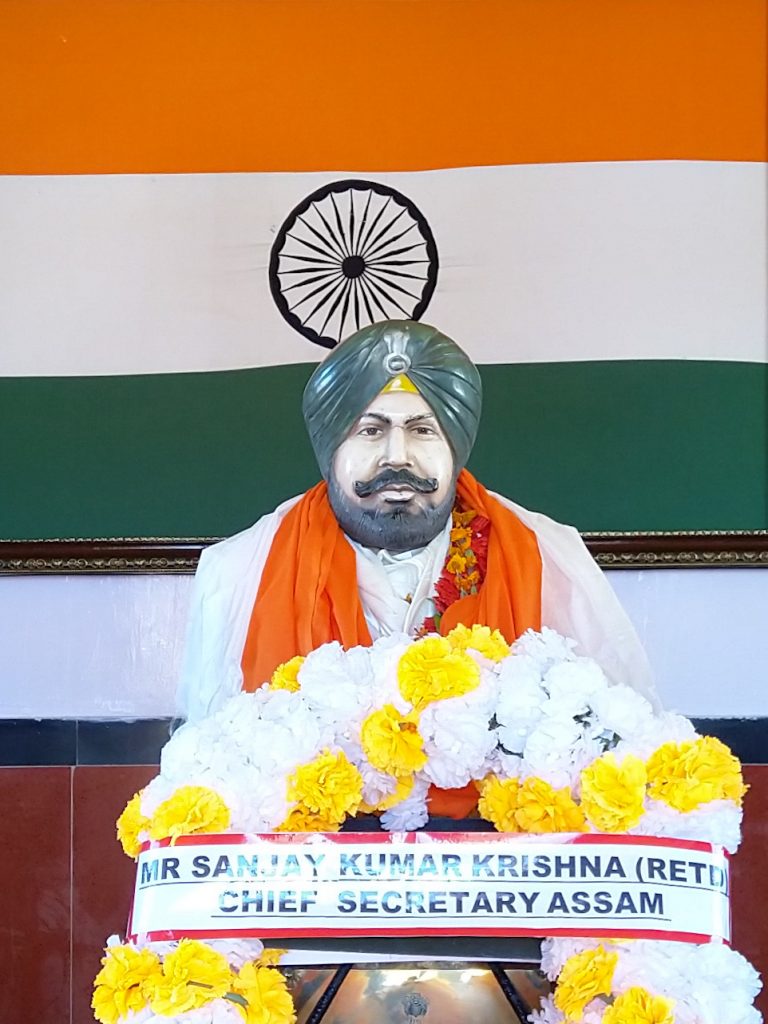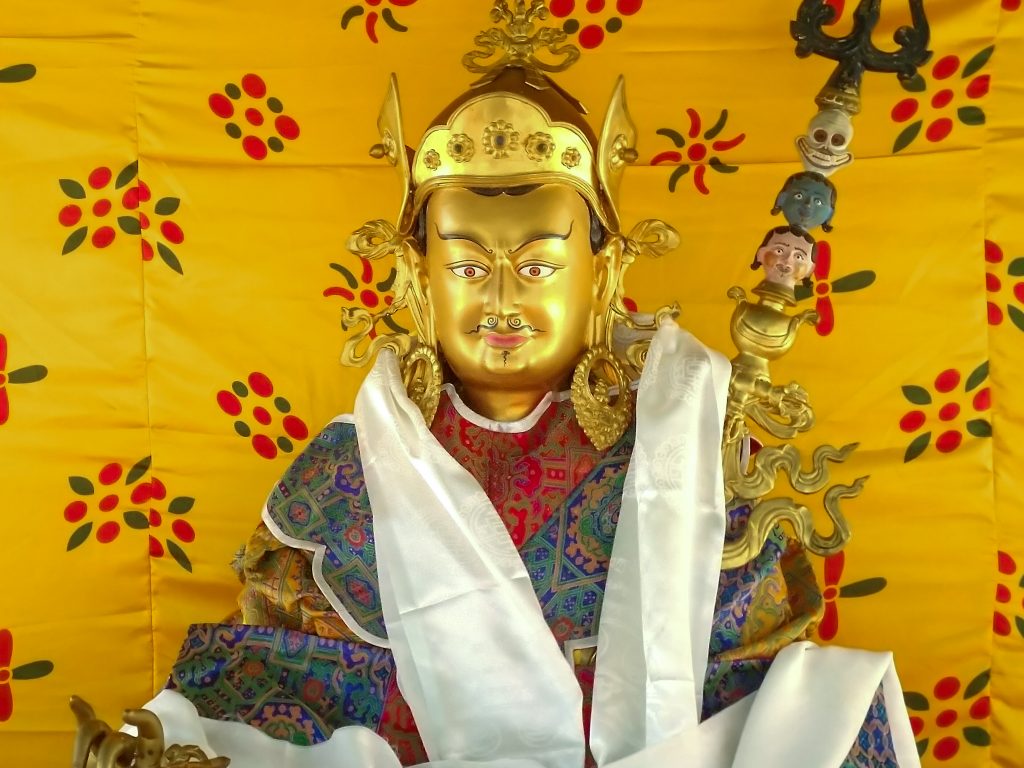 We rode back to Y-Junction and headed towards Sangestar Tso lake. This part of the road was not tarred. Hritiks hatchback was not the best vehicle to drive through the terrain. Although he was apprehensive, I narrated him my earlier trips in places like Nagaland where I had traveled in smaller cars like Alto; and his car was much more powerful and more well-maintained than those operated as taxis on such routes. Unfortunately, we hit ice about 2 kms from the lake and the rear wheel lost traction. There was also another hatchback stuck in the ice. BRO workers got down and pushed both the cars a couple of meters back onto the rocky soil that preceded the ice-covered roads. We had no choice but to make a u-turn.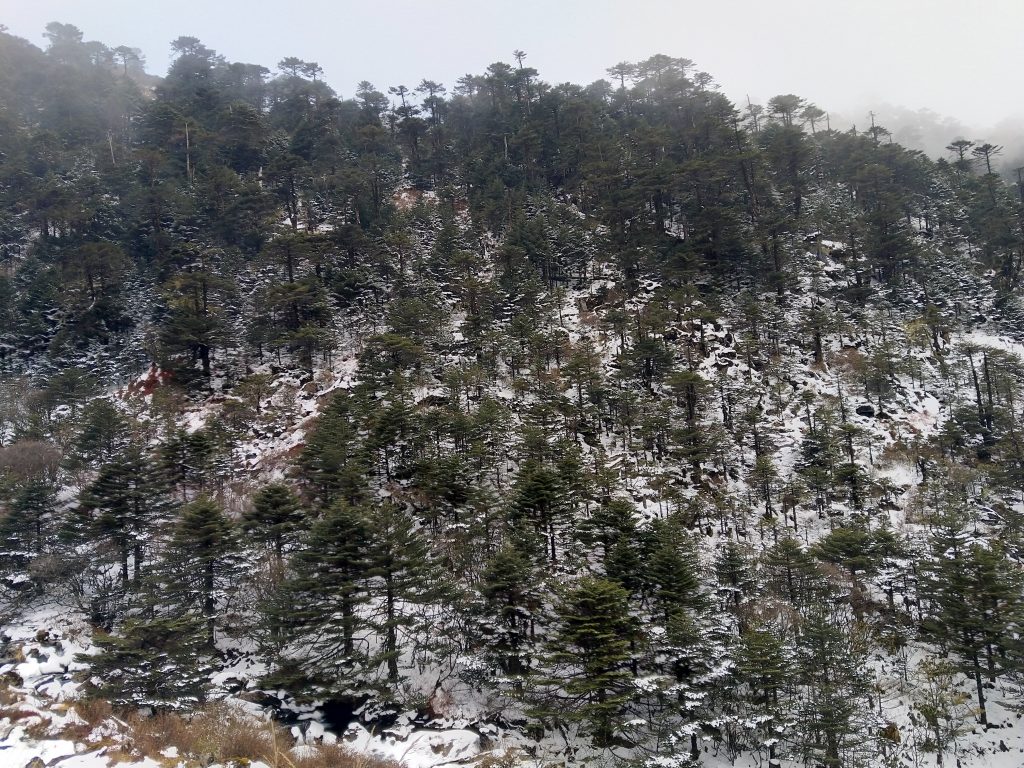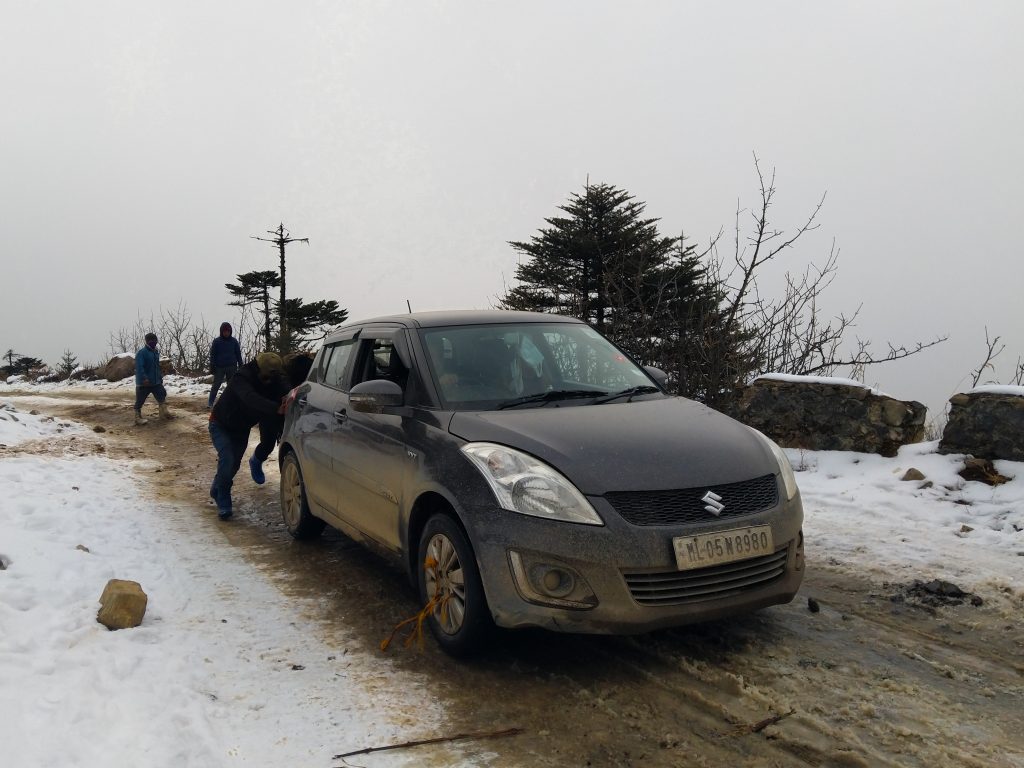 Hritik lamented that we were not able to visit the place. I thought it was fine and told him about the positive side of the experience. We had a nice ride and I was thankful that I was able to visit Bumla because he was there with me. Honestly, had we reached the lake, I doubt if we would have seen anything other than fog. Hritik was planning to buy Mahindra Thar—a four-wheel drive SUV that would navigate these terrains better. I am hopeful that he would revisit this place on his new more-capable machine.
On our way back, we stopped at Gurudwara Teesi Udassi (third pilgrimage). During Guru Nanak's third Udassi, he visited Tibet twice. In one of those trips, he visited Kailash and Mansarovar; and in the other, he visited Nepal, Bhutan, (present) Arunachal and Lhasa. He stayed and meditated at various Buddhist monasteries during these trips. Among Tibetan Buddhists, Guru Nanak is revered as a reincarnation of Guru Padmasambhava. They call him Guru Rinpoche. The Chinese claimed in a welcome address to Jawaharlal Nehru that the city of Nanking was named after Guru Nanak. A quick search would reveal that this claim is not true—Nanking is merely a corruption of Nanjing which means Southern Capital.
Jawans from nearby barracks usually pool in money and prepare langar—the community meal prepared at all Gurdwaras. That day too, Jawans had prepared a langar and invited us to eat. We did not want to have a full meal there. so both of us enjoyed the methi pakoda that they had prepared. On our way back, Hritik also gave lift to a couple of jawans who were headed towards PTSO barrack.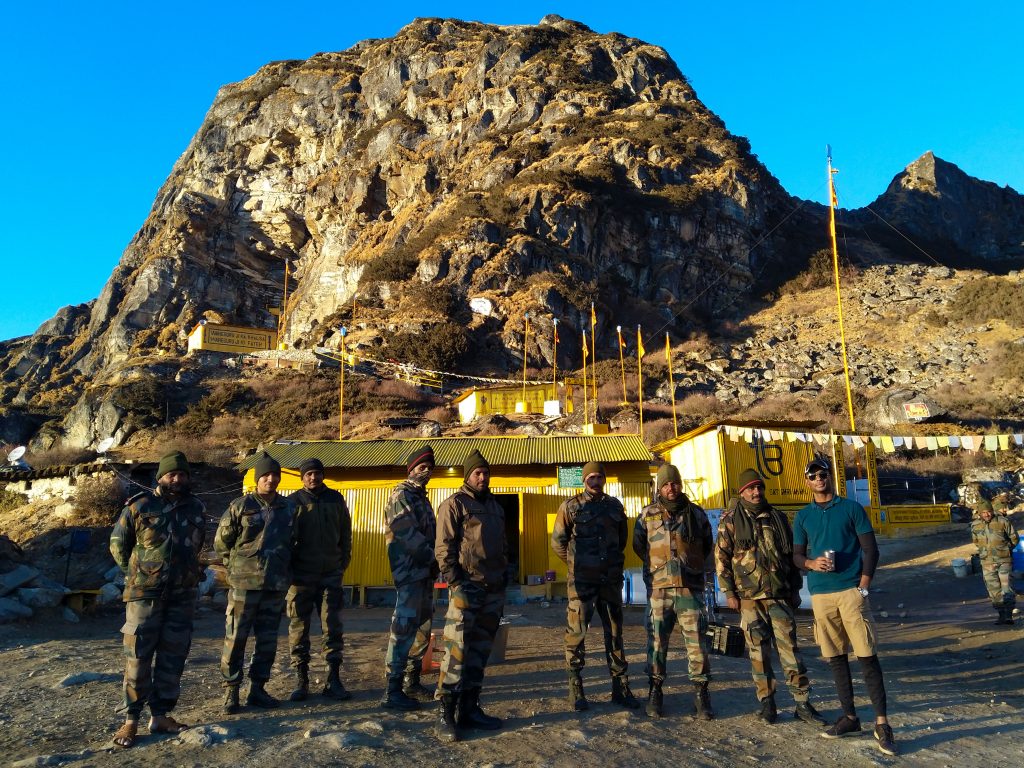 It was way past 3:30 pm; past the return time advised by Lt. Col. Aditya Singh. There was no sunlight and visibility had decreased significantly due to fog. No amount of light could cut-through the fog. Hritik drove carefully and slowly, following the immediate edges of the curve that was visible. There was a very thin layer of ice on the windshield, too that we mistook for mist and tried to wipe off using rags. When the jawans got off at PTSO, it was very cold and the barracks were hardly visible. I pondered how hard their life was—they had to stay there at a stretch for anywhere between two and three years. Some of the jawans I had met during the trip did not visit their family in over a year. Hritik did a good job navigating the foggy roads. Visibility was restored only when we had reached somewhere near the upper barrack in Tawang—the one where I had seen the milestone. Once we were back at Old Market, Hritik had to park the car as the brake fluid had heated up. He went his way to finish some errands—including fixing his brake. He had to leave early morning the next day for Tezpur.
Celebration of Nobel Peace Prize Day at Old Market
Old Market, the houses, establishments, and the Gompa had lighted up in candles. Every year, on 10th of December, people celebrate Nobel Peace Prize Day. This is to commemorate the conferring of the Nobel Peace Prize on the 14th Dalai Lama in 1989 (in the committee's words) for his non-violent struggle for the liberation of Tibet and advocating peaceful solutions based upon tolerance and mutual respect in order to preserve the historical and cultural heritage of his people.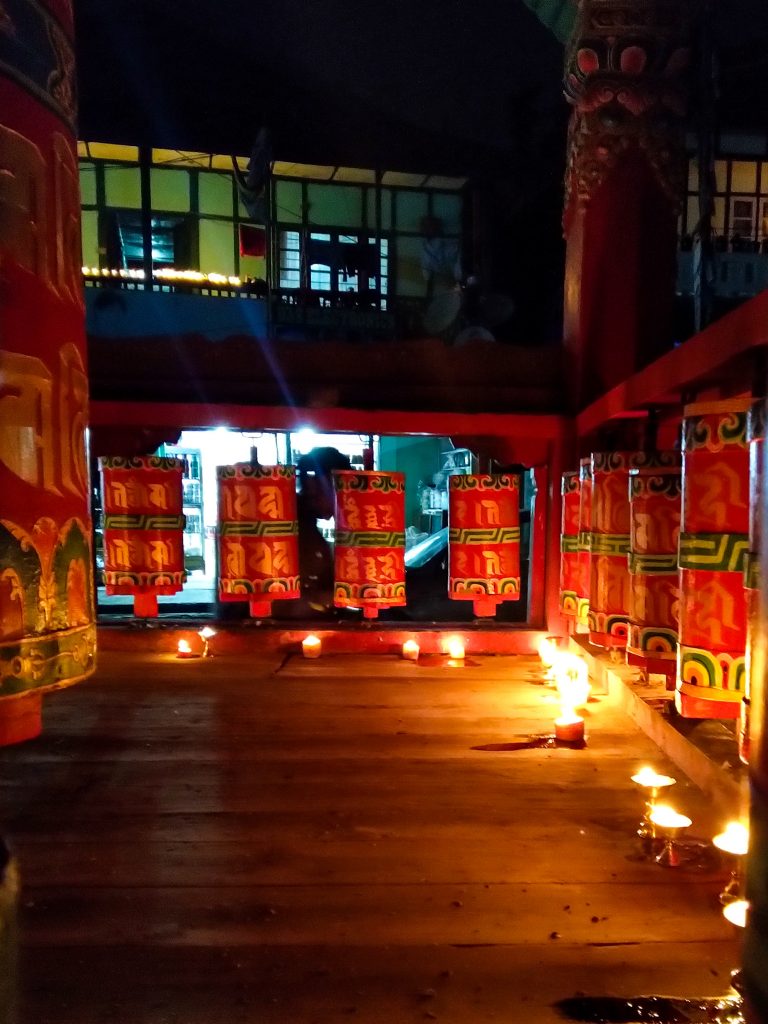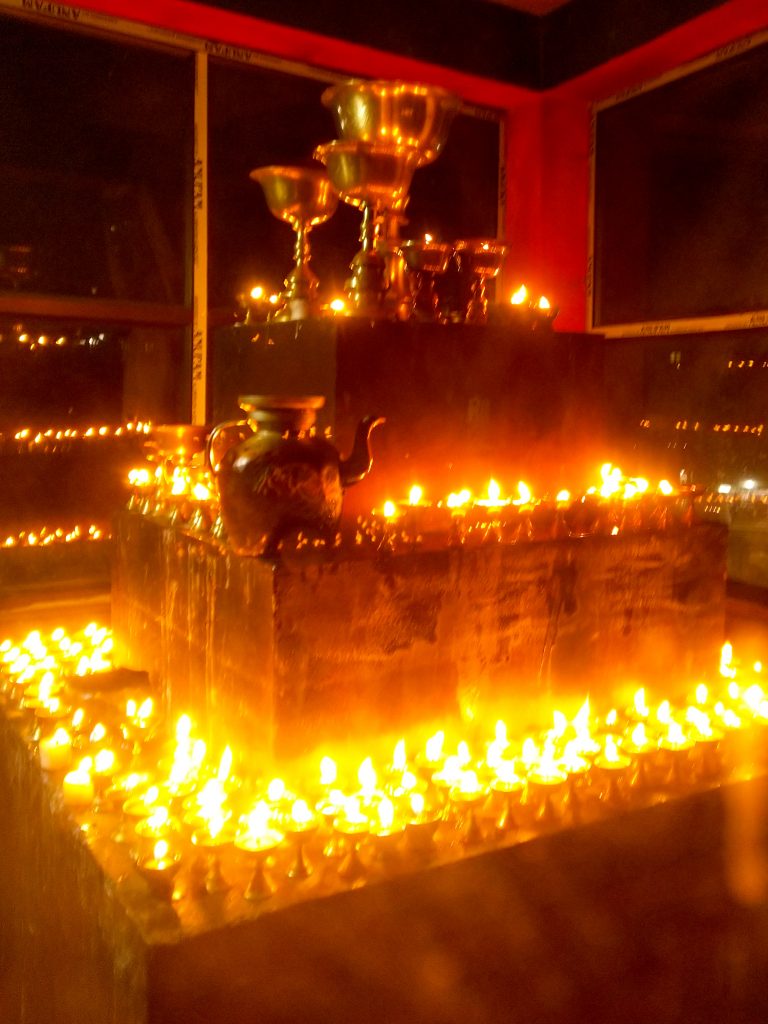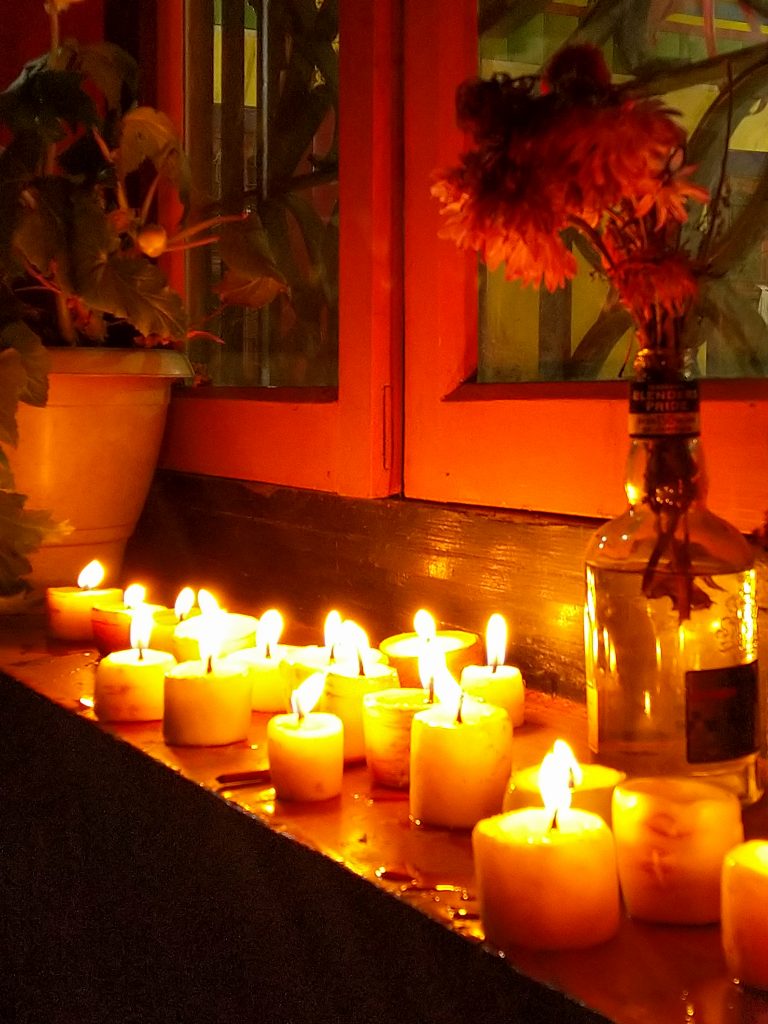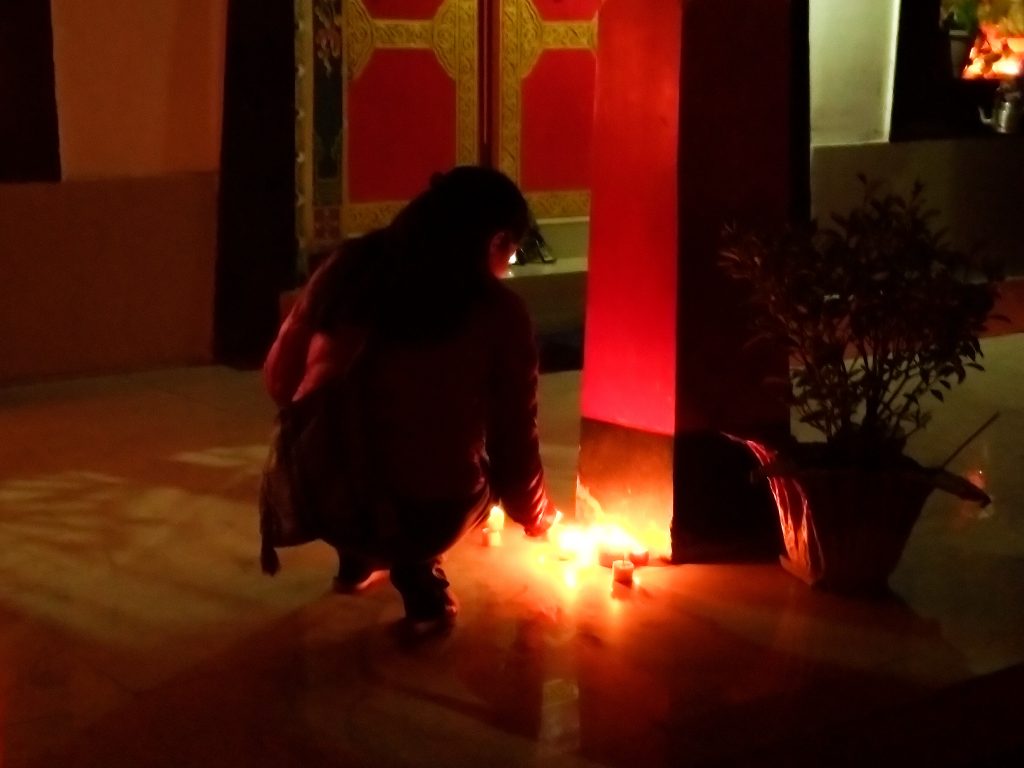 That night I had my dinner with Hritik at his hotel room before bidding him goodbye. Once I was done, it was quite late—about 10:30 pm. Akash had closed the gates of my hotel. I had foolishly forgotten to note down his phone number. I didn't have to worry though. Hotel Samdrupling's first floor balcony was accessible after climbing a wall and the roof of a shop which was an extension of the balcony floor itself.