It took me thirty-three hours to reach Reckong Peo! I left my house at 7:00 AM yesterday in a cab to catch an AirAsia flight at 11:00 AM to Delhi. The flight landed at 1:00 PM or so. I picked up my luggage and made my way towards ISBT Kashmeri Gate. Delhi Metro is laid out pretty well. I was able to travel all the way in less than an hour—and for eighty rupees.
It was raining heavily outside. The weather report on my phone showed that the temperature was twenty-six degrees. It didn't feel like so. The humidity made me uncomfortable. The rains forced me to stay indoors. I had a badly prepared plate of Rajma-Chawal (kidney beans and rice); post which I had not else to do but observe the crowd for the next five hours. My bus to Reckong Peo was scheduled at 8:00 PM.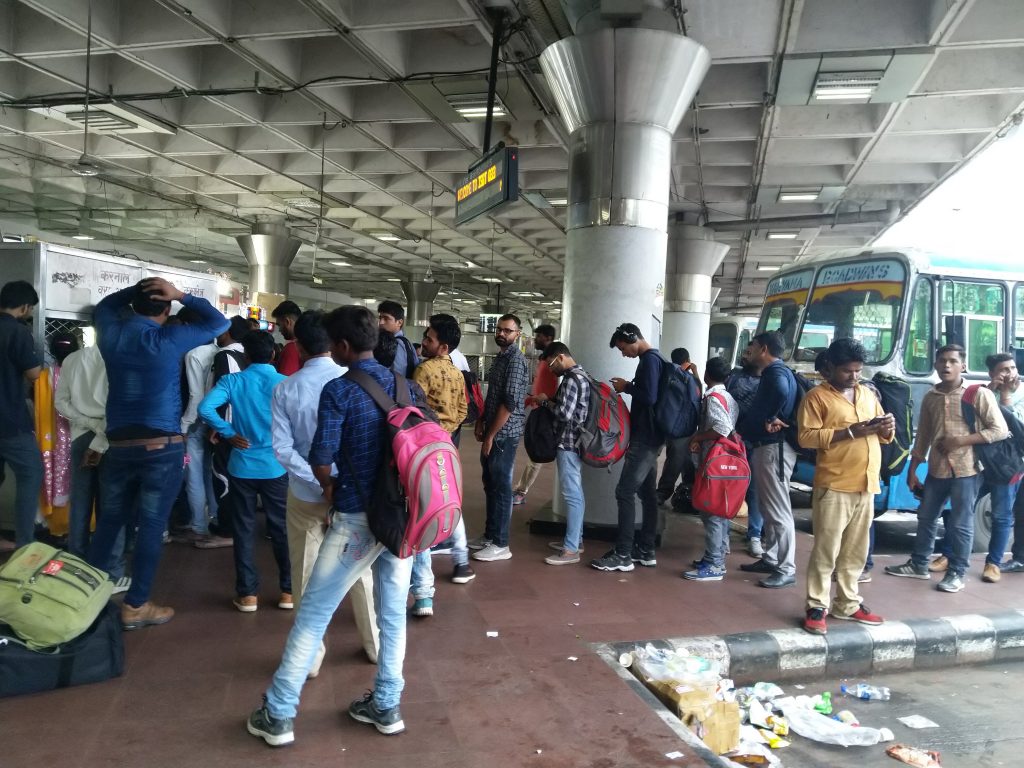 The HRTC (Himachal Pradesh Road Transport Corporation) bus arrived on time. I had a plate of Maggi before boarding the bus. I don't like Maggi anymore but that's the best thing I could have had at that point, not knowing when I'll be able to have my next meal. I bought a packet of biscuits to take care of any emergencies.
I noticed something else in the bus. Almost everyone had a counterfeit bottle of Bisleri—all procured from the numerous stalls at ISBT. They had different names—Brislei, Brisllie, Blissli—but shared the same logotype and colour scheme of the original.
As the ordinary HRTC bus headed out towards Chandigarh, I inflated my travel pillow, supported my head against the window and dozed off.
I was woken up by commotion outside. It was 5:30 AM the next morning (today) and we were in Shimla. After a brief halt of twenty minutes, a new driver and conductor took over the bus as the bus headed towards Reckong Peo.
The orderly reservation based seating and uninterrupted stretches of long distances traversed by the bus was replaced with general commotion, standing passengers and unexpected halts—sometimes in the middle of nowhere. It was needed. Public transportation is infrequent in this region.
The bus stopped at two places on either side of Rampur for breakfast and lunch. The bus halted at Rampur for over half and hour. Earlier this week a colleague had shared a picture of the Rampur–Peo road closed due to a landslide. I believe it was right after Kinnaur gate. Thankfully, BRO had cleared up most of the road. The whole stretch of the road between Rampur and Kinnaur Gate was also being widened.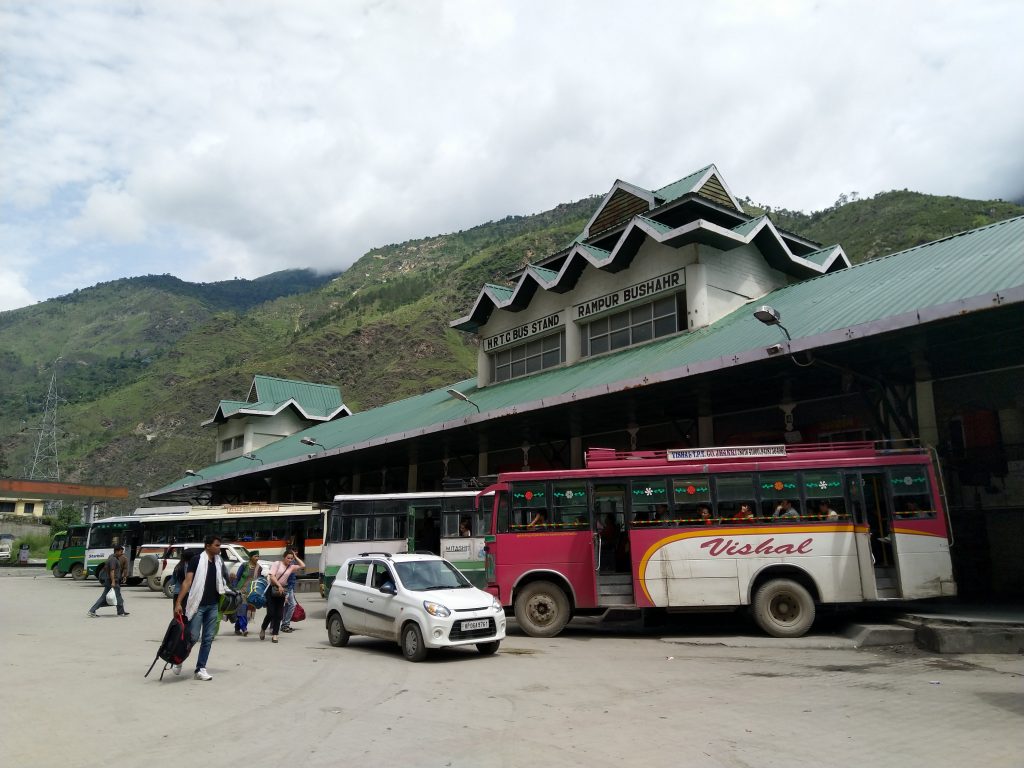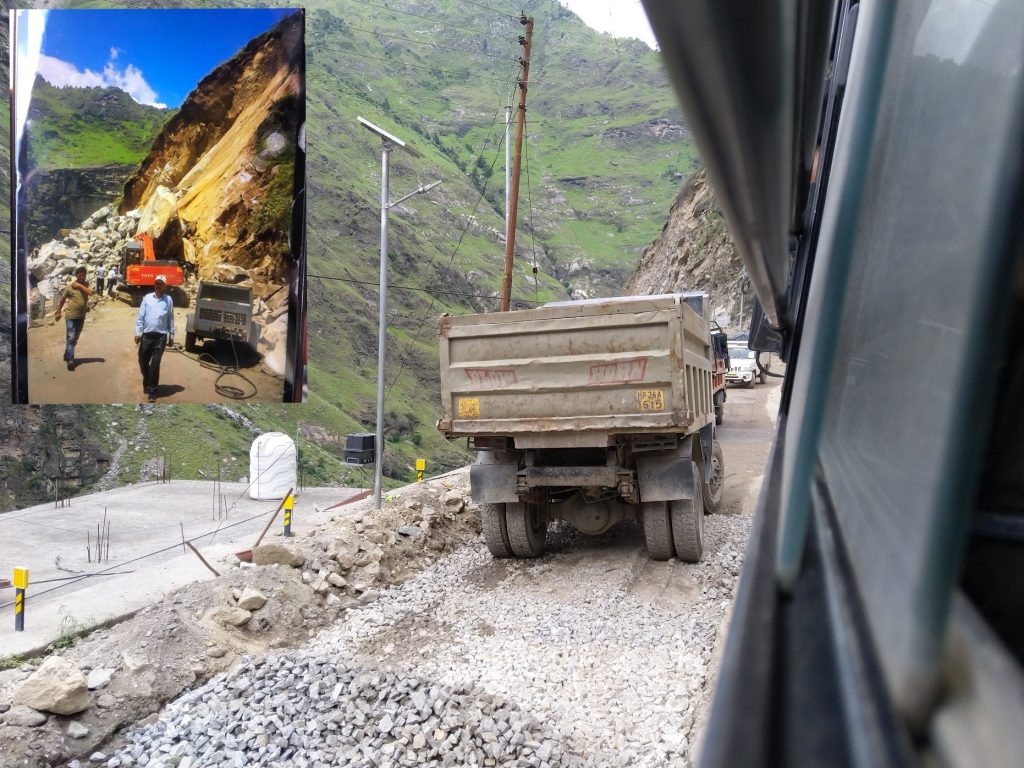 For most part, the ride was alongside Sutlej river. As the bus moved farther towards Reckong Peo, the density of settlements visibly thinned out. The green slopes were intermittently interjected by the sights of military barracks.
The bus finally stopped at 4:00 PM at Reckong Peo. I booked a cheap room in a nearby hotel—Hotel Sairag. After taking a long needed bath, I headed out to the market. Today, being a Sunday, Reckong Peo is closed. Instead, I had half a plate of momos from a small shop hidden behind the bus stand and returned back to my room.
I didn't realise how tired I was until I lay on the bed. I slept for over four hours. My circadian clock woke me up. I needed my dinner.
I chatted up with Shravan, the caretaker and the resident cook, as he warmed up some food for my dinner. Rajma-Chawal seems to be some sort of staple in this region. He served me some potato-peas curry, too. Shravan works in Reckong Peo only during the tourist season—June to November. He explained me about the various kinds of tourists he meets during various timeframes. June and July is the time for motorbike-packers. They had all moved ahead or had completed the trip. This was a down time as monsoons at Shimla and Manali had chocked up the tourist inflow. The season would pick-up once again after August. In October, the area sees a surge of Bengalis who cash-in on their Durga Puja vacation. After that, once the season is over, he would move back to his village as work as a contract farmer in someone's apple orchards.