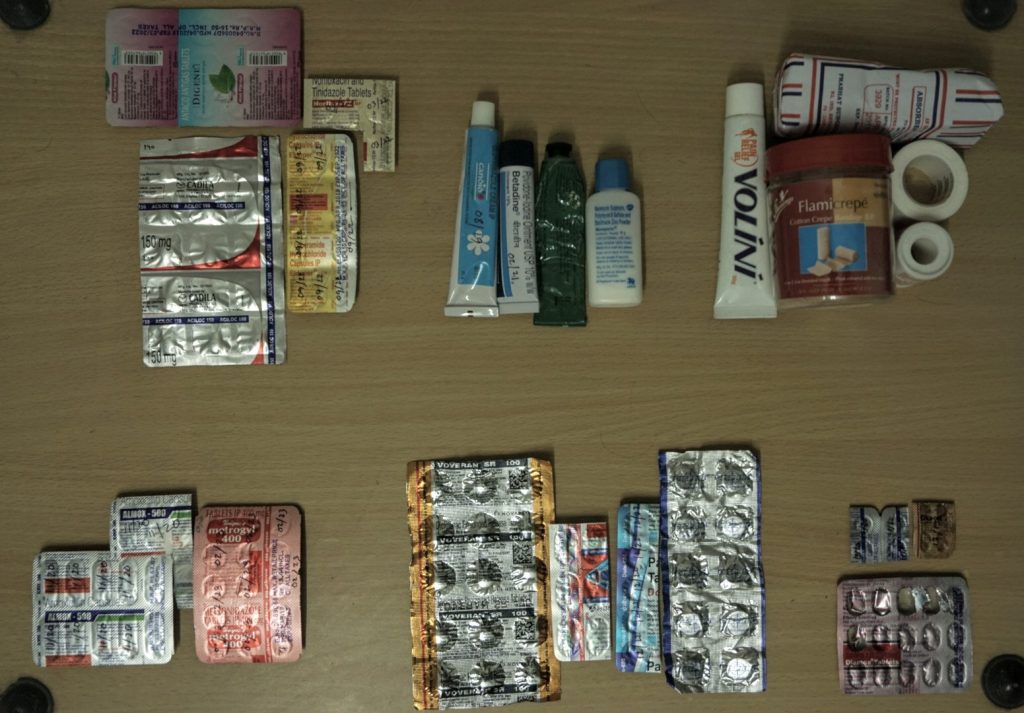 The medical kit that I carry around has six distinct components—stomach ailment, antibiotics, fever and pain management, skin care, sprain and wound care, and speciality medicine.
Stomach ailment
Aluminum-Magnesium Hydroxide (Gelusil / Digene): Good for mild acidity and indigestion. I usually carry an entire strip.
Ranitidine 150 mg (Aciloc / Rantac): Decreases acid production in stomach. Good for severe acidity and heartburn. I usually carry an entire strip.
Norfloxacin 400 mg + Tinidazole 600 mg (Norflox TZ): Antibiotic and antiparasitic. It is usually recommended that one complete the three day course of one tablet per day. I usually carry three tablets.
Loperamide 2mg (Imodium / Eldoper): This stops diarrhoea. I usually carry an entire strip.
Antibiotics
Amoxicillin 500mg (Amoxil / Mox ) +
Metronidazole 400mg (Metrogyl / Flagyl): Together they cover a broad-spectrum that can take care of most common infections. The usual course is three tablets a day for five days for each medicine. I carry fifteen tablets / capsules of each.
Fever and pain management
Diclofenac 100mg (Voveran SR): Good for muscle pain, cramps and other inflammation related pain. I usually carry an entire strip.
Ibuprofen 200mg (Combiflam—has Paracetamol, too): Generic nonsteroidal anti-inflammatory drug (NSID). Diclofenac takes care of most cases, so I don't carry too much—maybe, four or five tablets.
Aspirin (Dispirin) : Good for headaches but is not recommended at high altitudes as it can mask any signs of AMS (acute mountain sickness). I have been carrying a strip for quite some time as it has not expired, yet. I will not be replacing it.
Paracetamol 650mg (Dolo / Calpol): Antipyretic (anti-fever) and analgesic (anti-pain). I usually carry five tablets.
Skin care
Poviodone-Iodine cream (Betadine): Topical antibacterial and antifungal cream. Usually good for cleaning most generic wounds and cuts.
Clotrimazole cream (Candid): Topical antifungal cream. Mostly for exposed rashes. I have rarely used it.
Neomycin-Bacitracin-Polymyxin powder (Neosporin): Topical antibacterial and antifungal powder that is good for sweaty parts like armpits and groin.
Boroline: This is the only thing that works as a lip balm in high-altitude, dry climate.
Sprain and wound care
Diclofenac gel (Volini / Voveran): Topical application in case of sprain. The oral version works better but the cooling sensation has a psychosomatic effect.
Crepe bandage: Compression bandage in case of sprain or muscle pull.
Cotton +
Gauge +
Medical adhesive tape: For dressing cuts and wounds. The adhesive tape can be used for other purposes as well—say, to fix a hole in the backpack.
Speciality medicine
Promethazine 25mg (Avomine): For motion sickness. I am not prone to motion sickness but my sister is. I carry four or five tablets. Often I end up offering a tablet to someone else.
Cetrizine 10mg (Okacet / Avil): Anti-histamine for allergic reactions. I carry four or five tablets and usually take half-tablet as it causes severe drowsiness.
Acetazolamide 250mg (Diamox): This is a common medication used by many high-altitude trekkers and travellers. Many experienced trek leaders recommend taking half a tablet twice a day well before an ascent and stop only when the descent has been completed. I have not used it on myself yet.
I decided to write this blog post so that I have a comprehensive list for myself. I hope it is useful for the reader, too.