I saved the best for the last.
I had to vacate the hostel room by 10 AM. I freshened up, took a bath, repacked by big rucksack for one last time and headed off to the reception. The free luggage storage facility was super handy. My bus was at 10:20 PM and I had the entire afternoon and evening to spend.
A visit to the Hergé Museum
I had already planned my afternoon. I bought a return ticket for Louvain-la-Neuve to visit the Hergé museum. As a Tintinologist, it would have been great shame if I wasn't able to go there. I was greeted by Tintin multiple times at Brussels-Midi station.
There weren't any direct train on weekends, so I had to change trains at Ottignies. The train journey lasted for about an hour. The museum itself is very close to the train station.
I must have spent an entire afternoon there—playing the audioguide and reading, observing every detail. There were a lot of original panels drawn by Hergé and his assistants. I knew those images by heart but here I had a new appreciation for the creator's work.
The museum not only focuses on Tintin but also Hergé's other works. Not many original panels remain but still, the foundation was able to source a lot of things from the Joe, Zette and Jocko era, the old drawing books and some published sheets from Le Petit Vingtième, where most of Herge's earlier works were published.
And finally, the room of albums. I was disappointed to not find a Bengali edition in there.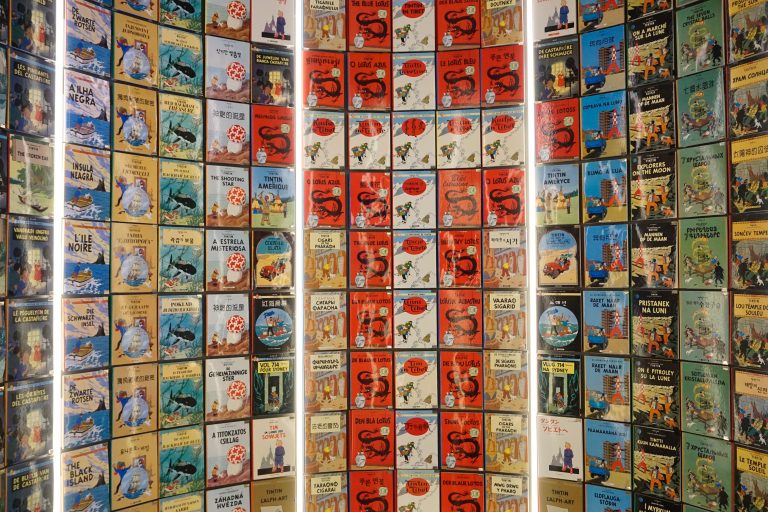 I got back to Brussels and wasted some time at the Christmas market before heading back to the hostel to pick up my rucksack. My bus departed from Brussels-Nord and dropped me in front of Amsterdam Schiphol airport at 2:00 AM. It was snowing heavily. I was headed for a warmer climate in a couple of hours.