It had rained all night. When I woke up, it was still raining. Nothing was visible through the windows of my hotel room. At times, small particles of hail bounced off the angled shed below and bombarded the glass panes of the window. Eventually, at 11:00 AM, I gave up my hopes of the weather clearing up and ventured out with a rain-jacket.
The weather was definitely a spoilsport for the townsfolk as the tourists alike. Not a single shop was open in the Landour Bazaar area. As I walked towards Mall Road, the surroundings felt like they had been completely deserted. It was such a contrast from yesterday night's hustle and bustle. The visibility was low. I found a couple of groups huddled around make-shift bonfires here and there. The cycle-rickshaws that operated between Jhula Ghar and Library Chowk lay as if they were abandoned.
Gun Hill
A famous spot in Mussoorie is Gun Hill. I walked all the way up only to find a deserted hill top with an inch of rain water over the concrete. The viewpoint on the top of Gun Hill was surrounded by a lot of shops—mostly that sold fast food, souvenirs, clothes, trinkets and packaged magic items. (Who else could be the face of these magic shops but Daniel Radcliffe as Harry Potter!) These shops left only a few spots from where one could see Mussoorie.
Company Gardens
Once I started descending Gun Hill, the rain intensified. At that point, I was headed towards Company Garden. After a long walk through the rain, over shortcuts littered with white hail particles, I reached the entrance and paid nineteen rupees to get inside the garden premises. A rainy winter day was not the best day to visit the place. Everything was barren. I could only imagine the colourful bloom of the spring. The small boating area was a pathetic sight—the pool was covered in algae and hyacinth and one of the boats had been toppled over. They might eventually take care of it before spring.
There was also a wax museum inside the garden premises that housed a few good wax replicas and a few okay ones. For hundred rupees, I was allowed to spot Barrack Obama, Saddam Hussein, Gandhi and Hitler under one roof.
Tibetan settlement and Flag Hill
From the gardens, I walked through the LBSNAA campus to reach the Tibetan settlement. The shorter, non-motorable route passed through many hostels that housed the students of the two Tibetan schools. Right beside the schools and hostels was Shedup Choephilling Temple and Monastery.
A few steps away from the temple was the famous Flag Hill. Innumerable lung-ta prayer flags covered the Buddha statue.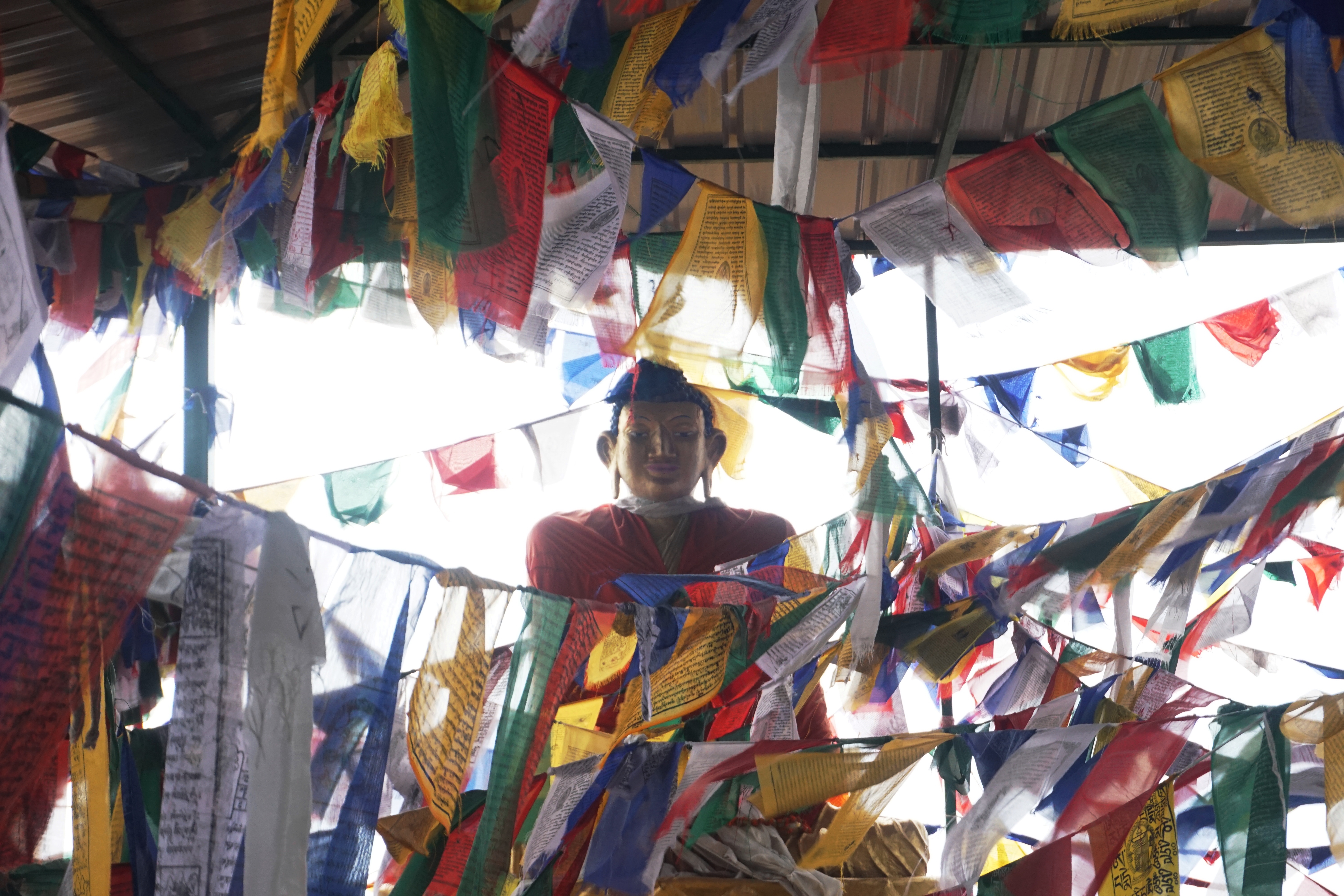 A trail headed west of Flag Hill, down into the valleys and all the way to Kempty Falls. By the time I had reached the trail, it was too late to venture towards Kempty Falls and get back before sunset. Here I met four Tibetan students. They were singing Tibetan, Hindi and English songs, busting their stress after a hectic exam. One of the guys was quite old for school. He and his family had fled from Tibet when he was twelve years old and had lost a few years of education.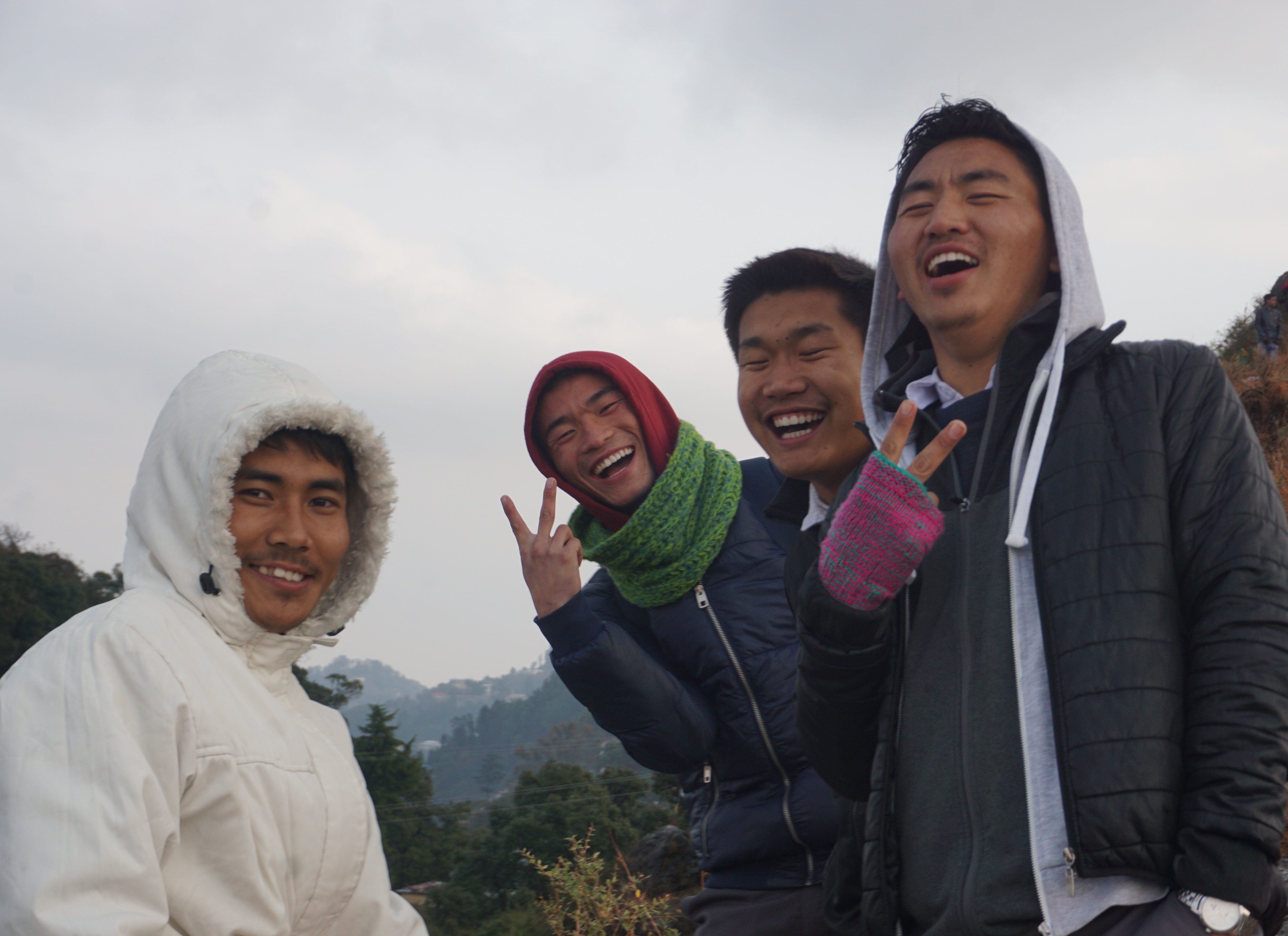 A long walk and two books
I walked back to the mall via Camel's Back Road. The views, for which this road is known, were barely visible in the fading daylight. The entire road was maintained by one Nirankari Baba and his aashram. His large, red neon sign was visible from afar. His quotes were stencilled on the fences of the road. At least his marketing department was doing a good job. At this point, rain had stopped completely for which I was happy.
On my way back I stopped at Cambridge Book Shop. They stocked signed copies of Ruskin Bond's titles. I picked up two books by a different author—Stephen Alter, who also hailed from Mussoorie. The owner showed me many other books by authors based out of the place.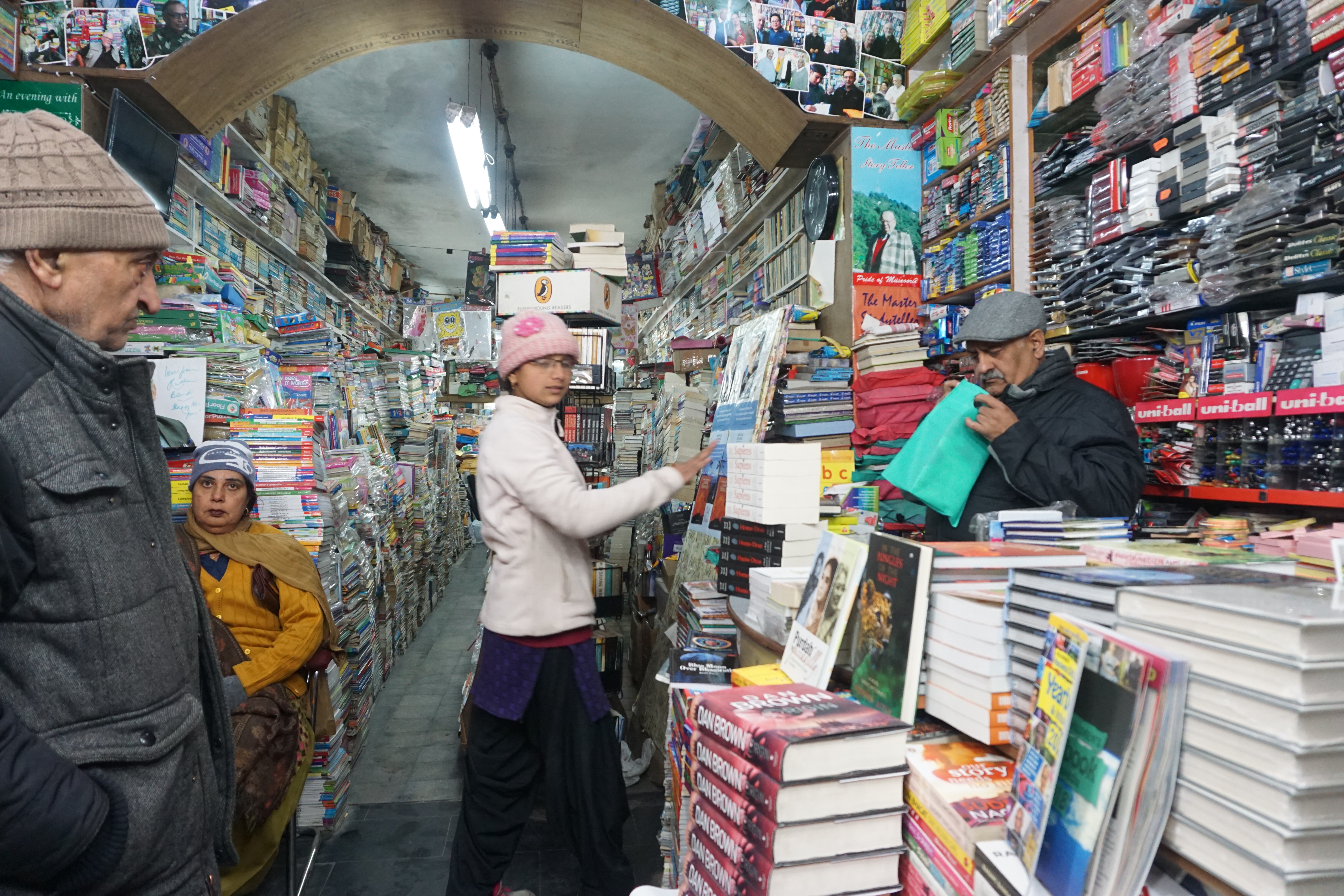 I finished my day with a bowl of thentuk at Momo's Tibetan Restaurant. It was one of the few days where I had not over-eaten.