I wanted to pay a visit to Pandukeshwar and Tapovan. I reached the taxi stand at 7:30 AM—very early by the standards of the hill. The taxi stands for both these places are located on either sides of the road that ascends to Auli from the eastern side of Joshimath.
I waited for two hours to get a taxi to either place. Sadly, there weren't any other passengers. Yesterday, Harish had asked me if I wanted to book his cab for these two places. I regretted my decision for not doing so. I would have spent a bit more but I would have been able to at least go to those places. I was too late to call him and venture out at that point. I wouldn't have enough time. I decided to abandon my plans and head towards Gangotri route.
That last sentence was easier said than done.
The last bus that headed in that direction had already left at 9:00 AM. The owner of the hotel even made an attempt to check personally if there was any vehicle available.
In the end, I was relieved to find a shared cab bound for Rishikesh that was almost full. The driver agreed to drop me at Srinagar-Garhwal, from where I could catch a bus to New Tehri. The cab driver stopped at a god-forsaken place near Narkota for lunch. There wasn't anything besides that one shop that called itself Negi da Restaurant.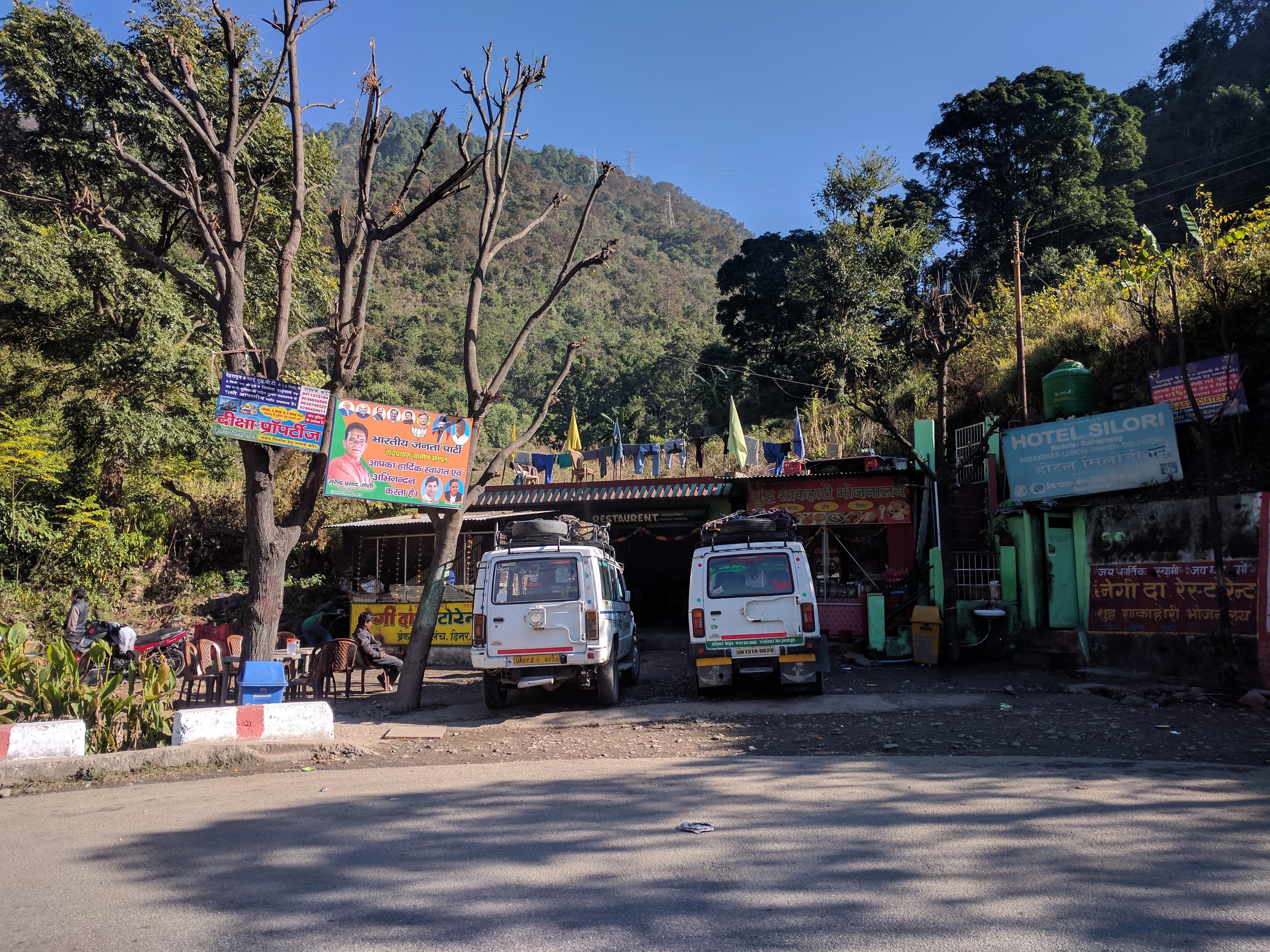 This stop caused a huge problem for me. The hour long stop caused me to miss the last bus to New Tehri from Srinagar-Garhwal. The farthest I could co to was Peepaldali on a 3:30 PM bus. In the worst case, I would have to stay at Peepaldali.
The bus took one of the smaller roads and passed through many villages. It stopped whenever anyone outside gestured with their hands or anyone inside asked the conductor to stop. I realised that this was how people in these remote villages commuted. If those sporadic buses and cabs did not stop and cater to their needs, life would have become more difficult than what already was.
The bus halted at Peepaldali at around 5:00 PM. I stood with my dual-packs, waiting for anything to come by, anyone who could give me a lift. I was looking at a sad looking tea shop and a sadder looking lodge, waving my hand at every passing vehicle.
A particularly elderly man named Moti Ram stopped and agreed to give me a lift for a standard price of seventy rupees. He was being honest with the asking price since the distance was almost forty kilometres. He took the road over Tehri dam. The road closed at 7:00 PM sharp, beyond which all vehicles had to take a thirteen kilometre diversion over bad roads to reach the city. When we crossed the dam, it was about 6:00 PM but the sentry asked us to hurry up. Whatever was left of daylight was gone.
Mr. Moti Ram dropped me at a hotel just opposite to the ISBT bus stand. Run by an old Mr. Rana, he agreed to rent me a room for two hundred rupees—the kind the required me to unpack my sleeping bag. He even asked me to get a photocopy of my ID proof from a neighbouring shop. Mr. Rana was the kind of person who instructed his guest regarding everything—placement of shoes and bags, operating the television remote and even where to have the evening meal!