I must admit that the cold made me a lot lazier. I didn't feel like waking up before 7:30 AM. Hotel Heaven felt further from its namesake with its rooms and room service. I had to wake up the caretaker for some hot water so that I could make some tea. What I was given was lukewarm water, that is if I took the liberty to report the temperature quite a few degrees higher than what I was given. I hurriedly packed my bags and checked out of the hotel.
The span of working hours in those remote hills were pretty narrow. Shared cabs to Joshimath weren't available until 8:30 AM. A kid, who was travelling in the taxi also carried a crossbred Tibetan Mastiff puppy. The puppy did not like the shakes and twists throughout the stretch of the journey. It kept squealing all the way to Joshimath.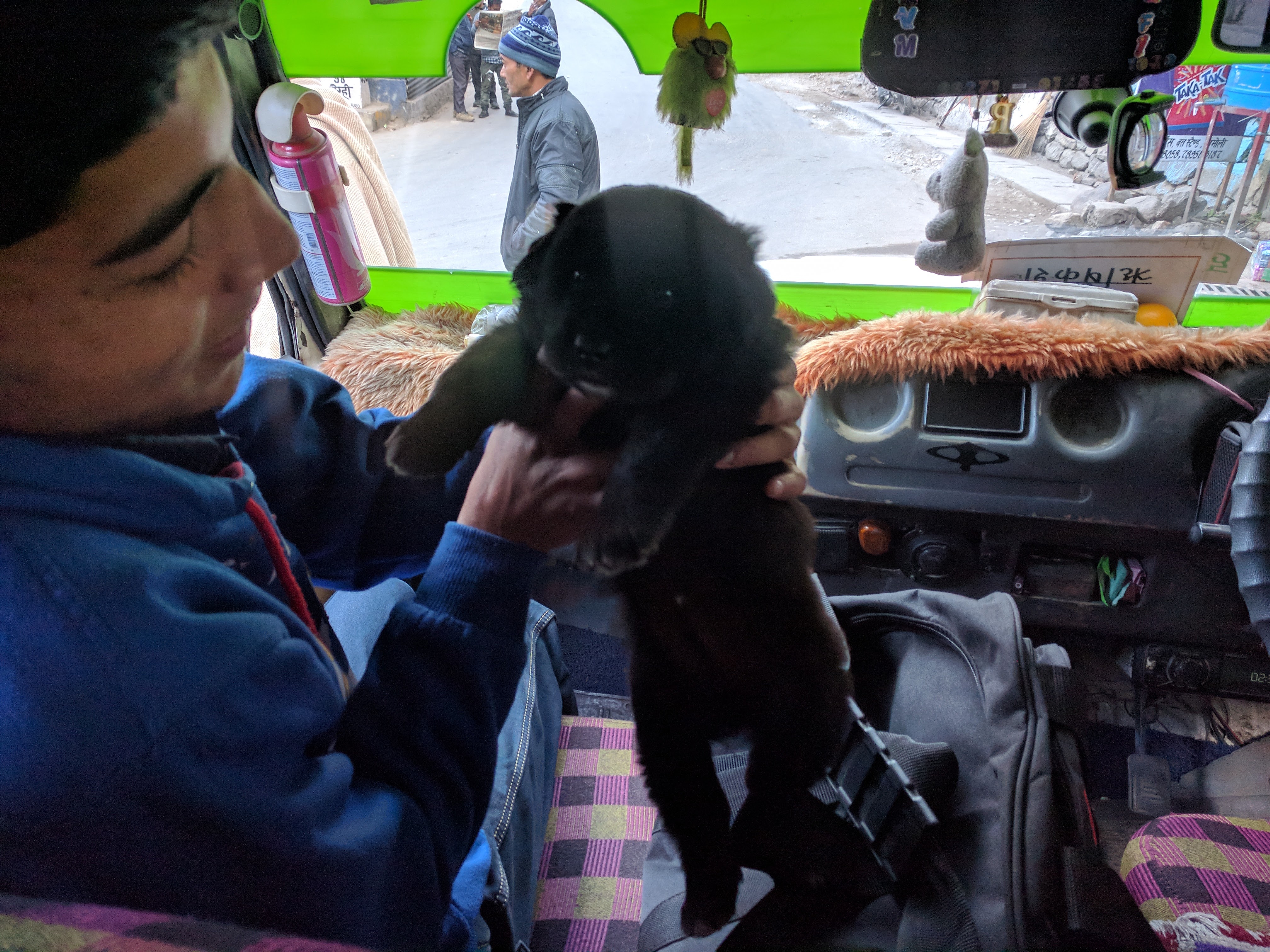 Once I was off the cab, I entered the first hotel that I saw—Hotel Sriman Palace. Their reception had a rate list hung behind the counter. The cheapest being a dormitory bed at five hundred. I asked if dormitories were available. The owner instead gave me a a twin bed room with a balcony for the same price. Off-season travelling had its own perks.
A chat with the owner quashed my hopes of venturing into Badrinath. The roads had been closed since late-November owing to snowfall and would not open until late-March. At most, I could go till Pandukeshwar.
Narsimha temple at Joshimath
During the winters, while Badrinath is closed, Badrinarayan is worshipped at the Narasimha Temple located in Joshimath. A new temple was being built to replace the old Narsimha Temple. A prophecy says that the day the right hand of the Narsimha idol will fall off, there would be destruction of the current Badrinath temple and the route would become inaccessible.
I was surprised to see some text in Tamil with English and Hindi transliterations (not translations). Later that night, my friend Mogit told me that the head priest of Badrinath had to be a South Indian Keralite Brahmin. This system of non-local head priests for all the four pilgrimage sites were set up by Shankaracharya himself.
The upper floor of the temple was dedicated to Shankaracharya with an elaborate text that attributed him to certain efforts in re-converting a lot of Buddhists to Hindus.
Hike to Vishnuprayag
A flight of stairs right beside Narasimha temple steeply descended down towards a hiking trail to Vishnuprayag. The stretch was almost two-and-a-half kilometres long. While it was possible to drive about eleven kilometres to reach there, the foot-trail had its own charm. I was the only one on that nicely laid out trail. Only once I was crossed by a sanyasi who was probably headed to Joshimath from one of the shacks that looked like abandoned homes lying in isolation somewhere on the slopes leading to the valley.
While I was a Vishnuprayag, it started to drizzle. I waited for about half an hour for a shared cab to Joshimath. Once I realised that I had to get back before dark, I walked back the same way I had come. While coming I had noticed many boards warning of bears and leopards. It was highly unlikely I would spot one. Still, I thought it was much better to pay heed to the caution.
A note on the food: I had really good food at Joshimath. The block canteen at the block office served me aloo parathas without oil. In the afternoon, I had really good (and hot) chhole samose. I was actually lucky to enter a sweet shop that were still frying a batch of samosas. At night, I went to a roadside vendor who sold momos and soup in front of the Joshimath Gurudwara. The mutton momos were some of the best I have had.