Until last night, I had not decided my next destination. After a brief chat with one of the guys at Bunk Stay, I decided to venture out towards Joshimath. He mentioned that it took only five or six hours to reach Joshimath from Rishikesh. Either he used a different clock or he had never travelled to Joshimath—the latter of which seemed more likely. I wouldn't come to know about it until later in the day.
Oblivious to the timings and schedules, I woke up early, filled my flask with some tea and went to the nearby ghat to spend some time.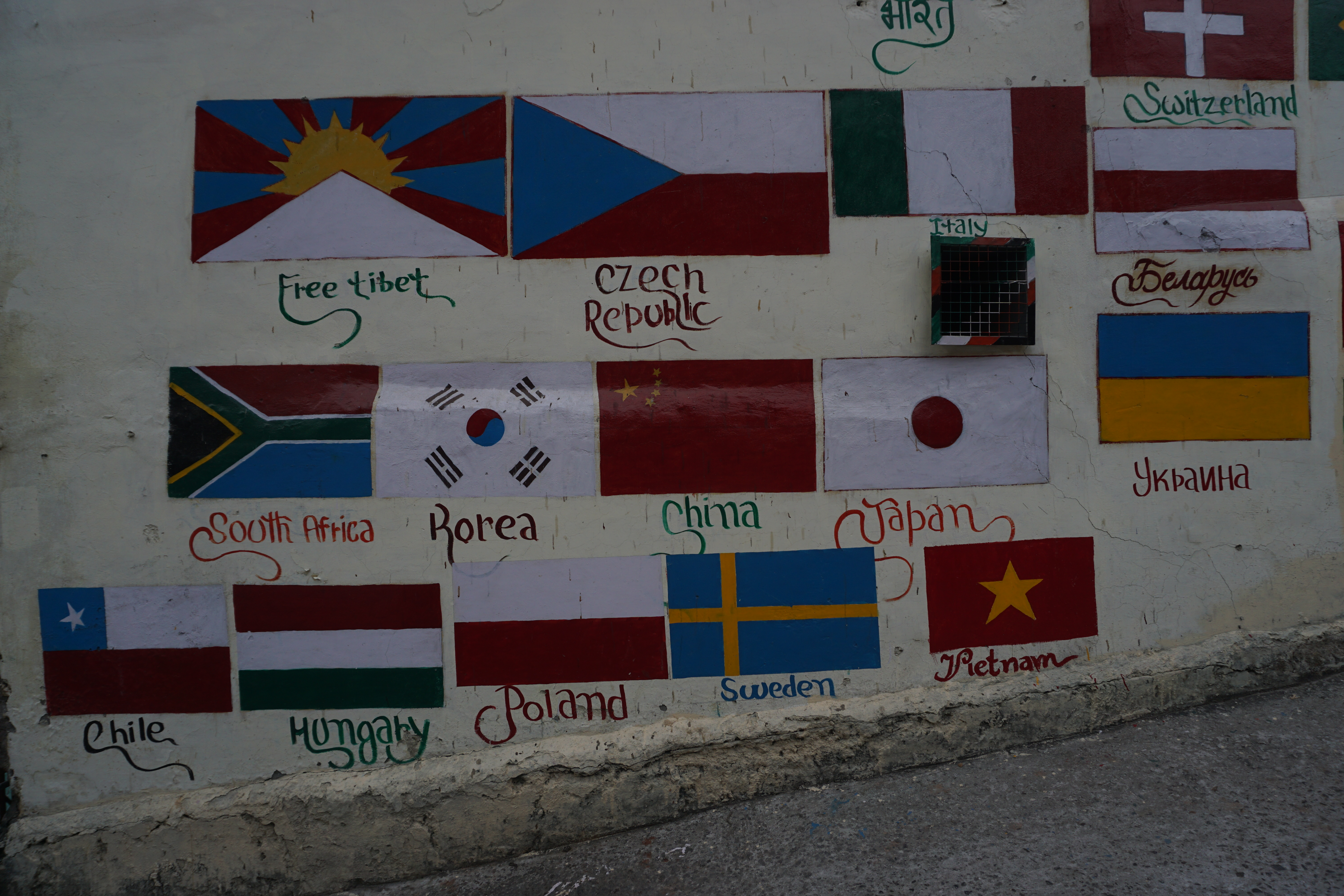 Before venturing out to Uttarakhand, I had bought the only book I could find—Driving Holidays in the Himalayas: Uttarakhand by Koko Singh. While in Rishikesh, I had completed the book and found it to be an insufficient source of information for a traveller like me. I doubt if it would even help someone who would actually want to plan a road trip through Uttarakhand. Being neither a proper travelogue, nor a guide book, it lacked the depths and insights of the former and the raw information of the latter. Luckily, the German lady had left her copy of Lonely Planet: India. (That is, after she had ripped off the first page. She had this peculiar habit of keeping the cover pages of the books she had read.) I swapped the books, cleared my dues and ventured towards Rishikesh bus stand.
On my way, I picked up some fruits—a stark contrast to the oily aloo parathas available at all breakfast joints. There was a Vikram ready to go to the bus stand. Co-incidentally, the shopkeeper I met at Neer Garh waterfalls yesterday was also with me. He was headed to the market to replenish his stock.
A quick check at the state run bus stand showed me how far from truth the worker at Bunk Stay was. The only bus till Joshimath left at 5:00 AM. There was a reason for that. I would only come to appreciate that once the day was over. It was the only possible departure time that would give the bus any fighting chance of reaching Joshimath while there was still some daylight.
A 10:30 AM, a whopping five-and-a-half hour after the bus had left for Joshimath, the closest thing I was able to get on was a private bus that was headed towards Chamoli. The bus conductor assured me that there would be a lot of private vehicles from Chamoli once I was there.
I learned two things. Firstly, private buses stopped anywhere and everywhere, taking way more time to reach the destination. It also stopped half an hour each at Devaprayag, Garhwal-Srinagar and Rudraprayag. I should have had a proper meal a these places. However, all I had was two rotis and some gram based curry at Garhwal-Srinagar. Secondly, they terminated whenever there were too less passengers or if they were beyond their scheduled operation time. The bus stopped at Karnaprayag at 5:30 PM and refused to move any further.
With receding daylight, I was still fifty kilometres from Chamoli and eighty kilometres from Joshimath. At this point, reaching Joshimath was out of the question. I walked around looking for any vehicle that could take me to Chamoli. Luckily, a shared private taxi (Mahindra Maxx) was headed in that direction. I dumped my rucksack on the top rack and headed for Chamoli in the darkness.
People who travelled short distances got on and off frequently. In the absence of seats, some even hung on to the rear of the cab. In spite of the darkness and delay, the driver dropped me safely on Chamoli highway.
Night stay at Chamoli
The only place open that late during this off-season was Hotel Heaven. The owner agreed to give me a room for four hundred rupees. Incidentally, the hotel was listed on all major travel websites and the prices were north of three thousand mark. The room wasn't that good and did not deserve the listed price. I thought it did not even deserve the discounted off-season price. This was the first instance where I had to open up my sleeping bag—mainly, for hygiene reasons.
I was very hungry. I had an entire plate of momos, half plate noodles, two rotis and an entire serving of some cauliflower dish within a span of half an hour.
Gopeshwar, a better and more populated settlement was a couple of kilometres away on the other side of Alakananda river. It was also the home to the famous Gopinath Temple. I had no intention of going there. I wanted to get to Joshimath as soon as possible.