Trainspotting in Pathankot
Pathankot Cantonment (PTKC) was foggy when I got down at 7:15 am. The train was late by over an hour and half. This could be one of the circumstances where I was thankful for a delay. Had it dropped me at 5:30 am, I would have been blinded by poor visibility.
Waiting rooms at railway stations are excellent places to freshen up oneself as well as electronic devices. Yesterday, at Delhi Sarai Rohilla station, I was chatting with the waiting room guard. He said that nowadays, government should make Sulabh charging points just like Sulabh Shauchalaya. He was right. All the sockets in these waiting rooms are usually taken.
Punjab is battling one of the worst issues with its youth. 73.5% of Punjab's youth are drug addicts. A film called Glut documents this. Just while I was reading Trainspotting…
From Pathankot to Dalhousie
To get to Dalhousie, I had to get to Maharana Pratap Interstate Bus Terminus (the Pathankot one, not the Delhi one) and catch a bus. A twenty rupees ride on a shared auto took me there. The driver somehow managed to squeeze eleven passengers in that Piaggio Ape auto rickshaw.
The terminus was very clean. However, I did not manage to find a clean breakfast. I had some horrible Poori-Chhole at the bus terminus. My other option was stale samosa!
The buses to Dalhousie (or Chamba or Khajjiar that go via Dalhousie) leave once in an hour early in the morning. Later, the frequency decreases. I got on a bus that goes to Banikhet, a junction that is about 6 kms away from Dalhousie. This appeared to be a better option than waiting for a direct bus.
The bus took over three hours to reach Banikhet. Google Maps is pretty inaccurate when it comes to timing on hilly terrain.
Rest Stop at Dalhousie
I got a car from Banikhet and split the fare with two army guys. The car dropped me off at GPO, located at the centre of Dalhousie. My hotel was about 2.5 kms uphill from this point. I decided to walk. With 12-14 kg of stuff on my back, it was a tiring walk. En route, I crossed Dalhousie Public School. The school has a beautiful campus and part of the road runs right through it.
I had booked my rest stop a priori. I got some good off-season deals for this hotel- Hotel Megha View. The room was pretty nice. I needed to take a shower, have some proper food and rest after over twenty four on the road.
In the evening, I went out for a stroll near the GPO area. I had to traverse via the same one kilometre long stretch of road that cuts through the DPS campus. Compared to other segments of the road, this area was pretty well lit.
Even though it was a Sunday, most shops in the mall were open. I went to the #1 ranked restaurant on TripAdvisor. It's not a restaurant. It's a counter that sells fast food. I decided to forego their deep fried menu and just have coffee. I have gotten used to filter coffee. The vending machine Nescafe stuff that they served tasted pretty bad.
There is a small Indo-Tibetan market nearby. Most shops were closed but some souvenir shops were open. The shops that sold alpine grade clothing for use in upcoming snowy months by general people and in the current month for those Bengali travellers were also open. At the end of the market is a small momo shop. The momos were average but the chilli based dip and the soup were pretty good. A fifth grader, possibly the owner's relative, was trying hard to light a bonfire.
On my way back, I stopped by the military displays near the exit of DPS campus.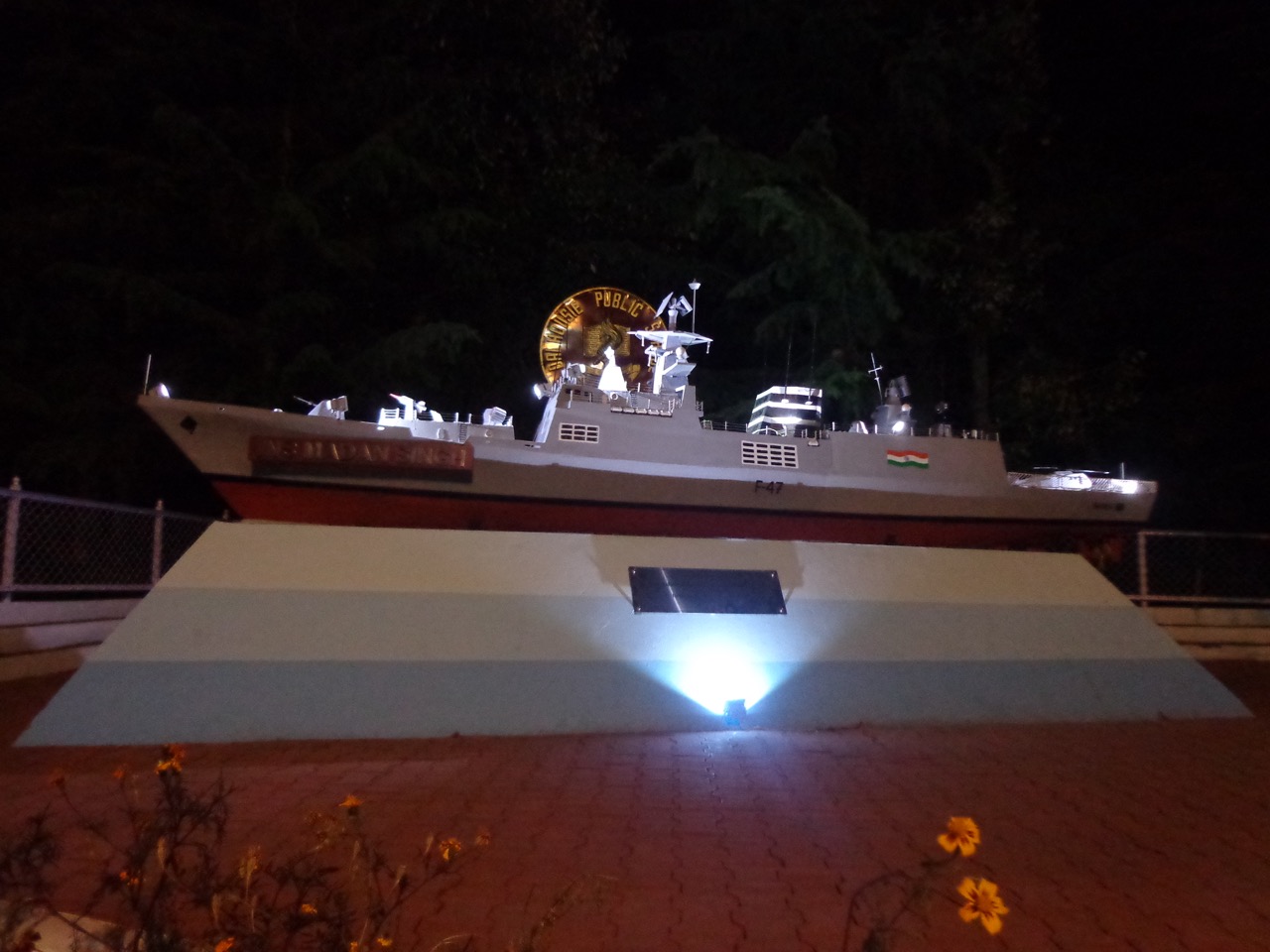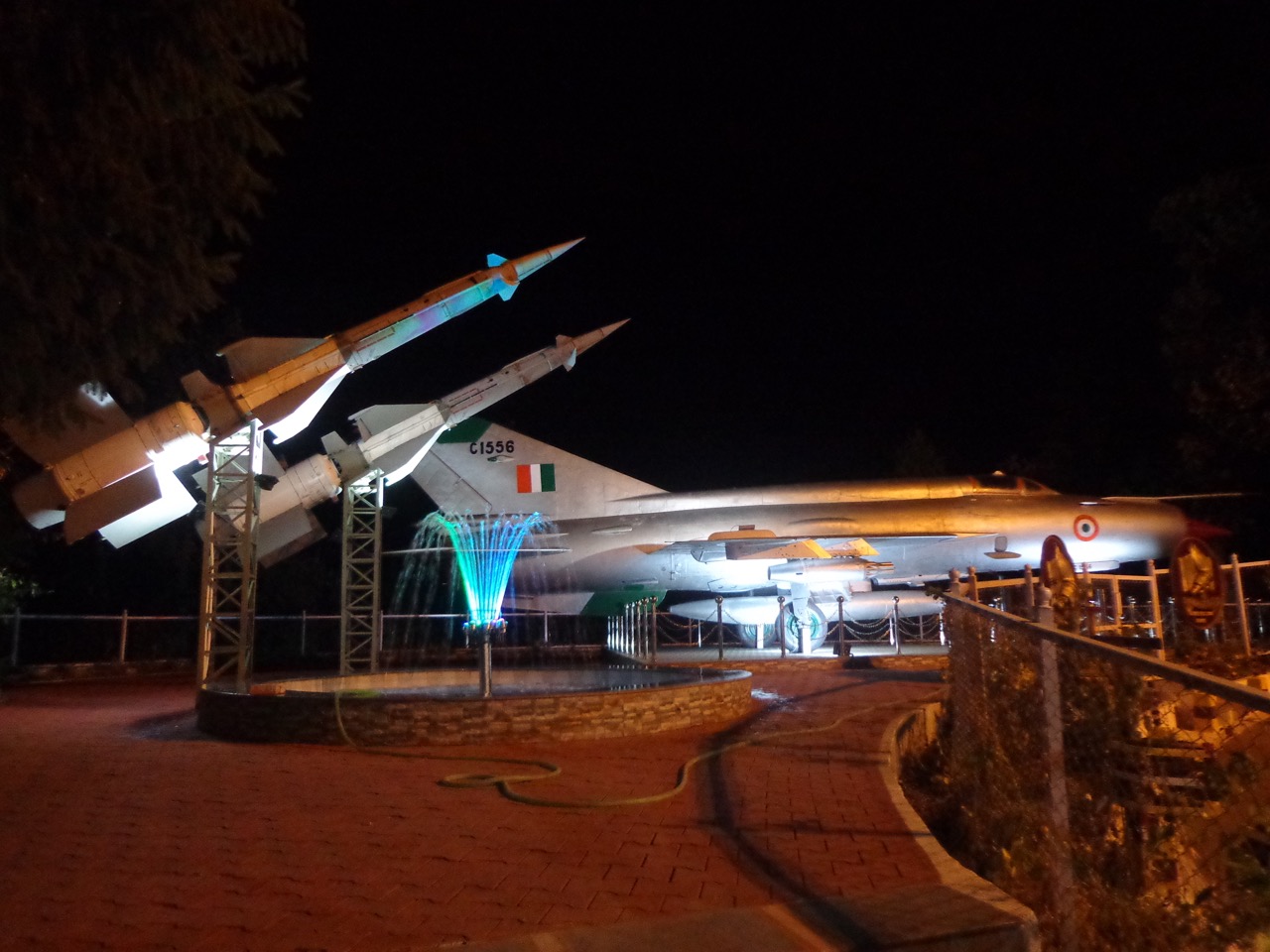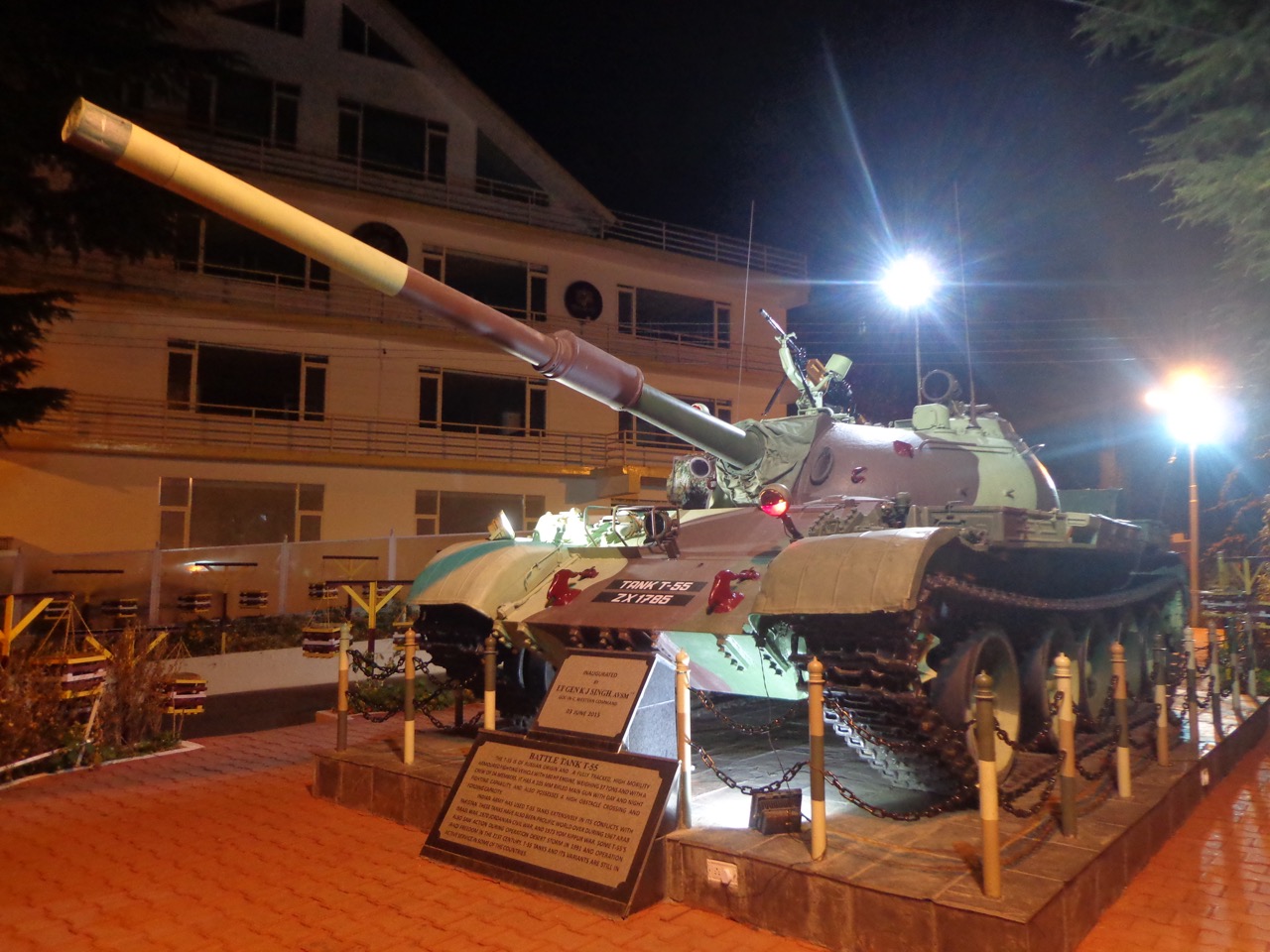 I spent some time sitting near a bench beside the tank and gazing at the amazingly clear sky before heading back to my hotel room.