Like all previous years, I had called my sister and my mother to Bangalore in March. It's usually to escape the heat wave that builds up in Kolkata at the onset of summer. Sadly, this year it wasn't a good decision on my part. Kolkata had much pleasant weather as compared to Bangalore, which regularly hit thirty-four degrees in the afternoon. All nearby places that we hadn't visited before were experiencing similar temperatures. In the end, I decided to take them to Pondicherry. My rationale was that even though the weather forecast showed that it had similar temperatures, the sea breeze would help regulate the comfort level.
I had been to Pondicherry in 2012. It was a short trip with my friends; and an uncomfortable one in a Maruti Alto. I wasn't able to cover most of the places. This time I made sure that I had three whole days to visit all the important places and inhale as much sea breeze as possible.
Day One: The White Town
We left on a Friday and rode an overnight bus to Pondicherry. It dropped us in front of the New Bus Stand at around quarter to six. Our Airbnb guest house was near the Clock Tower. The manager was kind enough to give us an early check-in time without asking anything extra. After freshening up and having a hearty South-Indian breakfast, we ventured into the White Town—erstwhile French Colony and current administrative hub of Pondicherry.
It was quite hot outside. Proximity to the rock beach helped aerate the grid-like streets, thus making the walk somewhat manageable. Our first stop was Bharati Park—a decently sized park right next to the beach. It acted more as a respite for my mother. She has grown up in the lap of nature. The trees, fruits and birds made her very happy.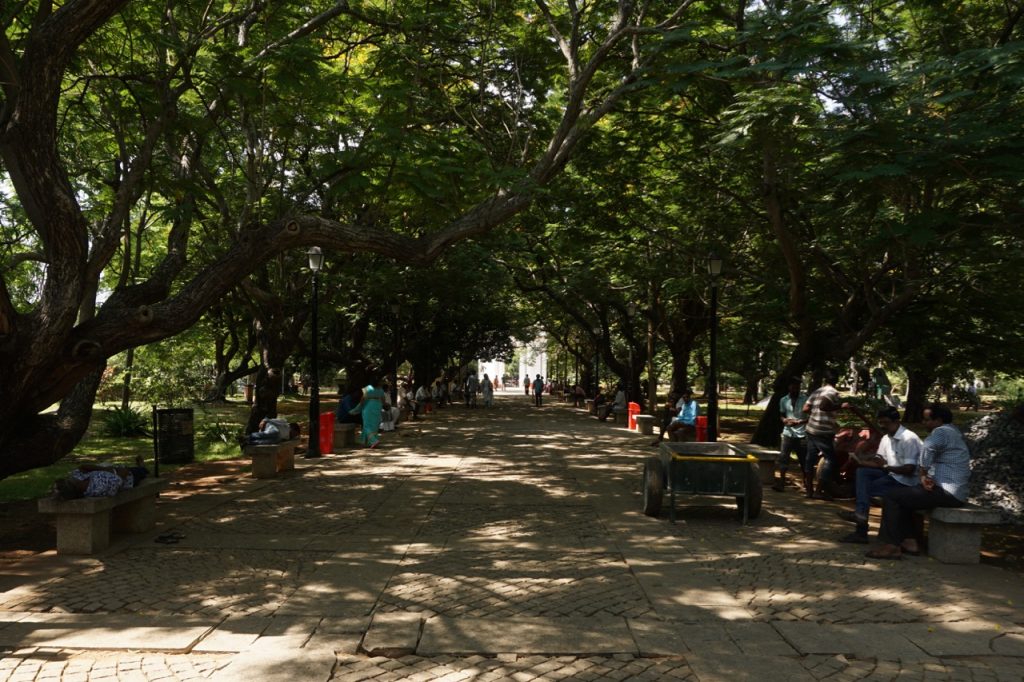 Most of the places of interest were located nearby. Our host had given us a good overview of the place and I had noted some of the things down. Our afternoon was spent walking around the area and visiting these places.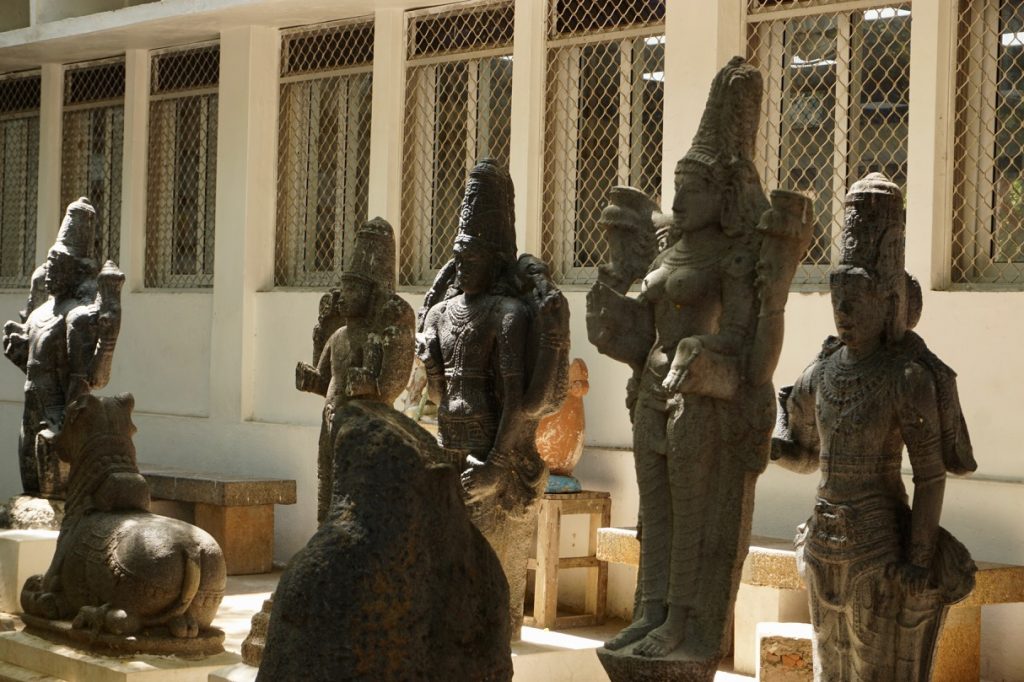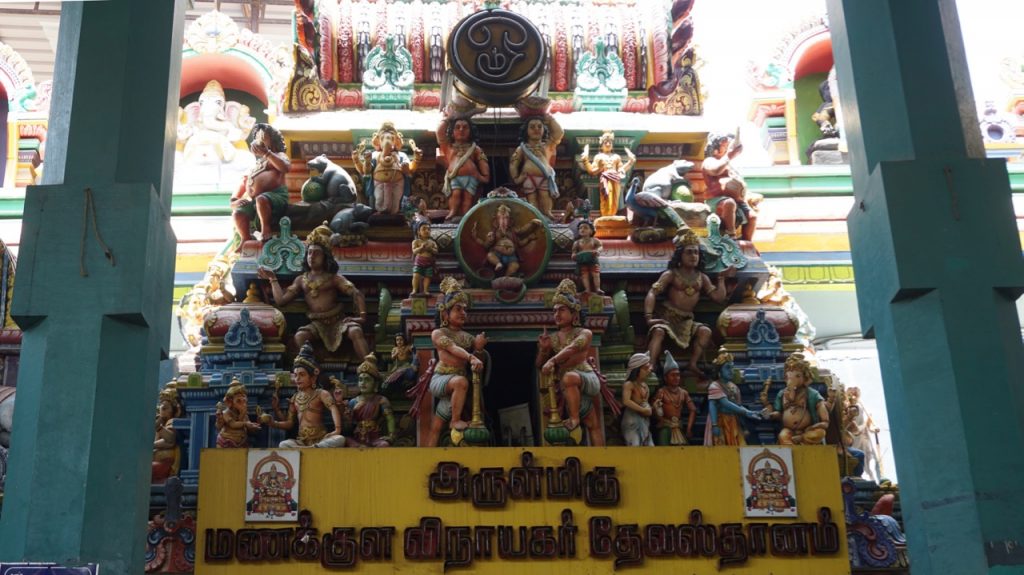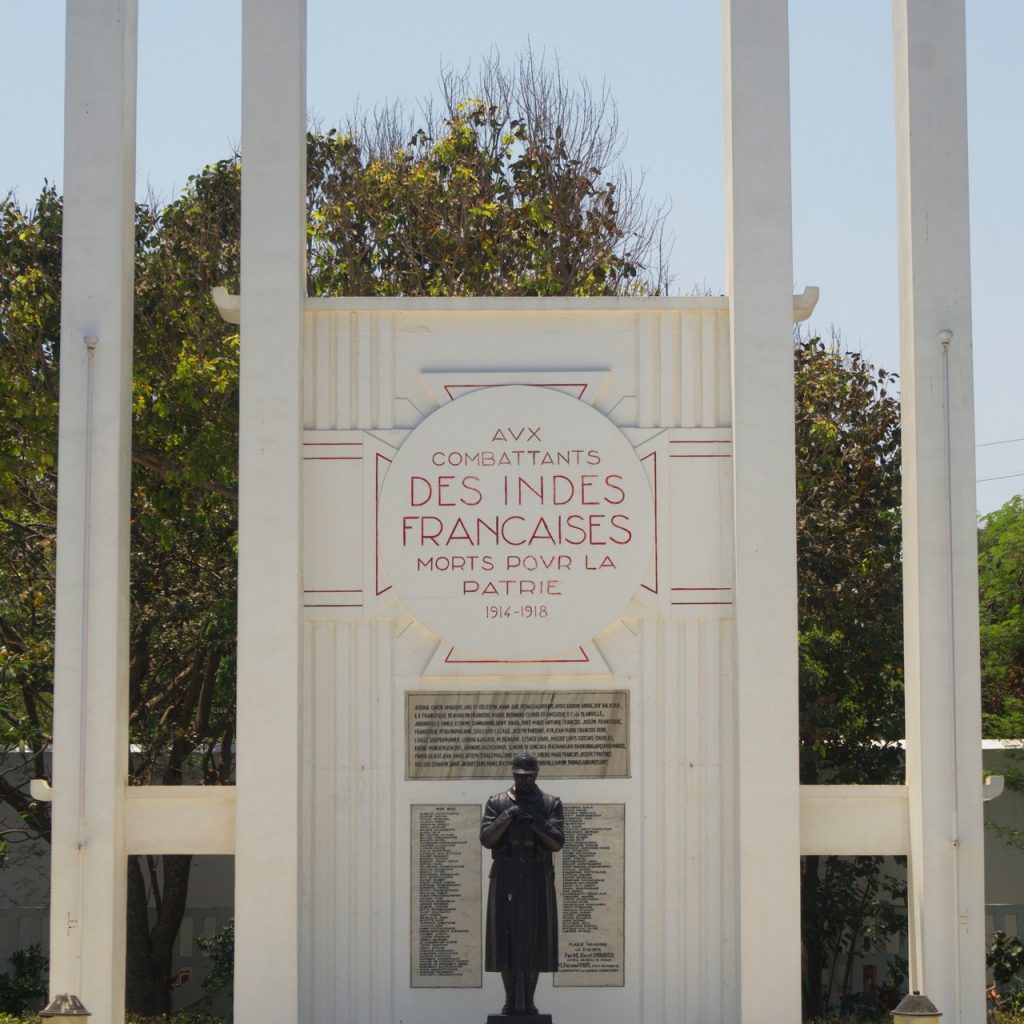 It was very hot in the noon. There wasn't enough green coverage on the beach. Once we were tired, we had our lunch at one of the many restaurants near the beach and went back to the comfort of our guest house. We would eventually return to the promenade adjacent to the Rock Beach in the evening once the temperature had subsided.
The beach is closed to all motorised vehicle from 6:00 PM to 8:30 AM. As such, a lot of people from all walks of life flock there to spend some quality time with their friends and families. It gets a bit crowded during the weekends but the din and hustle adds to the charm.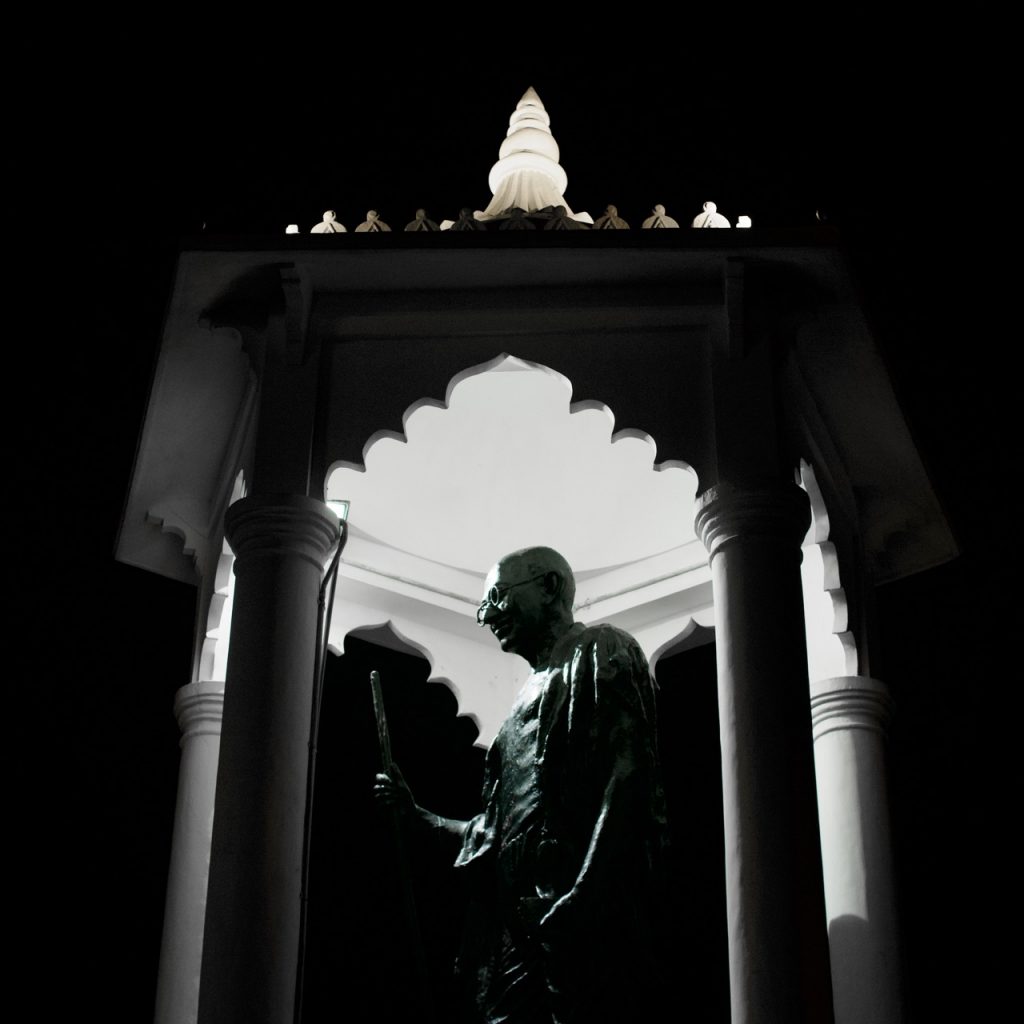 Many walls in White Town are covered with nice artworks.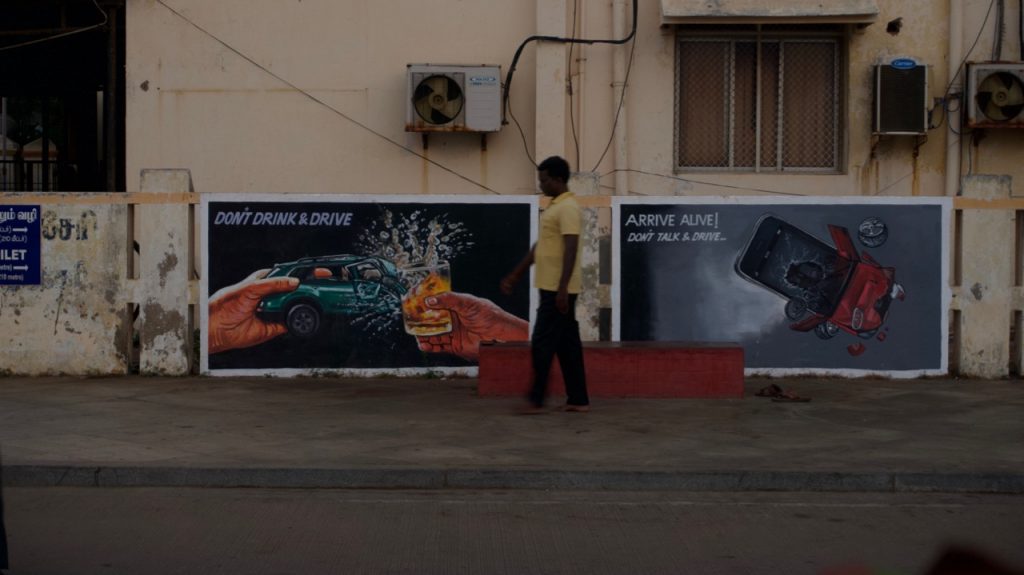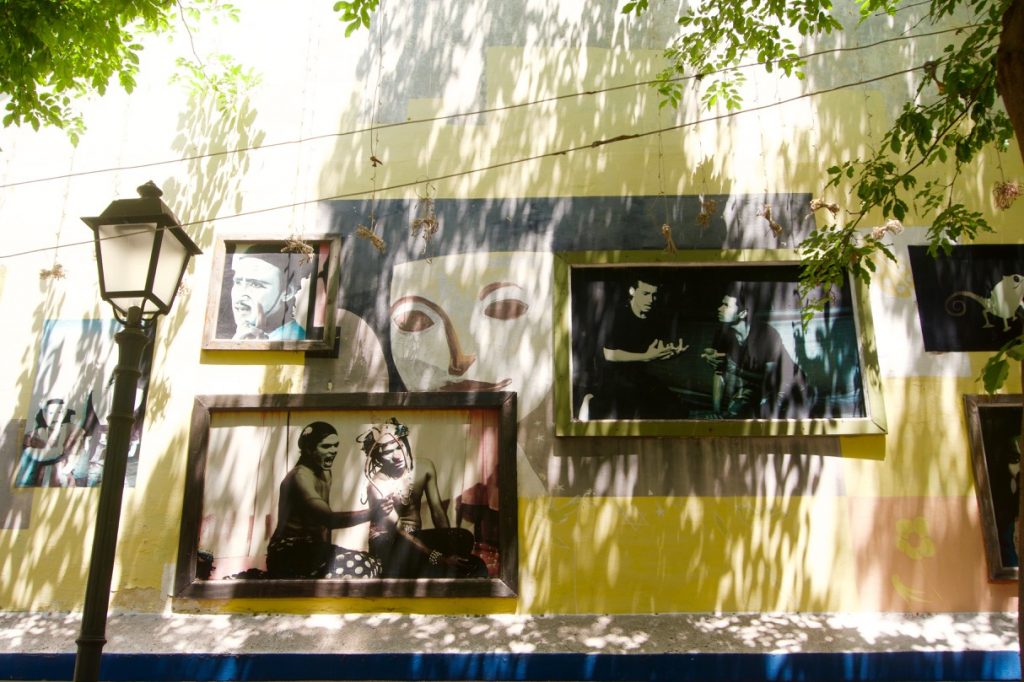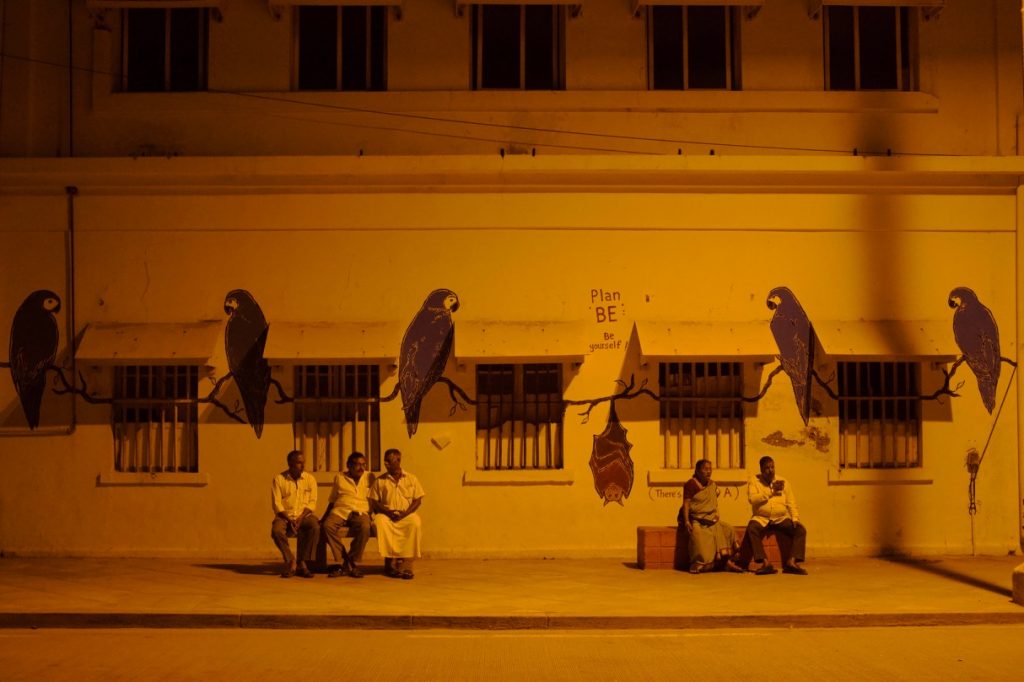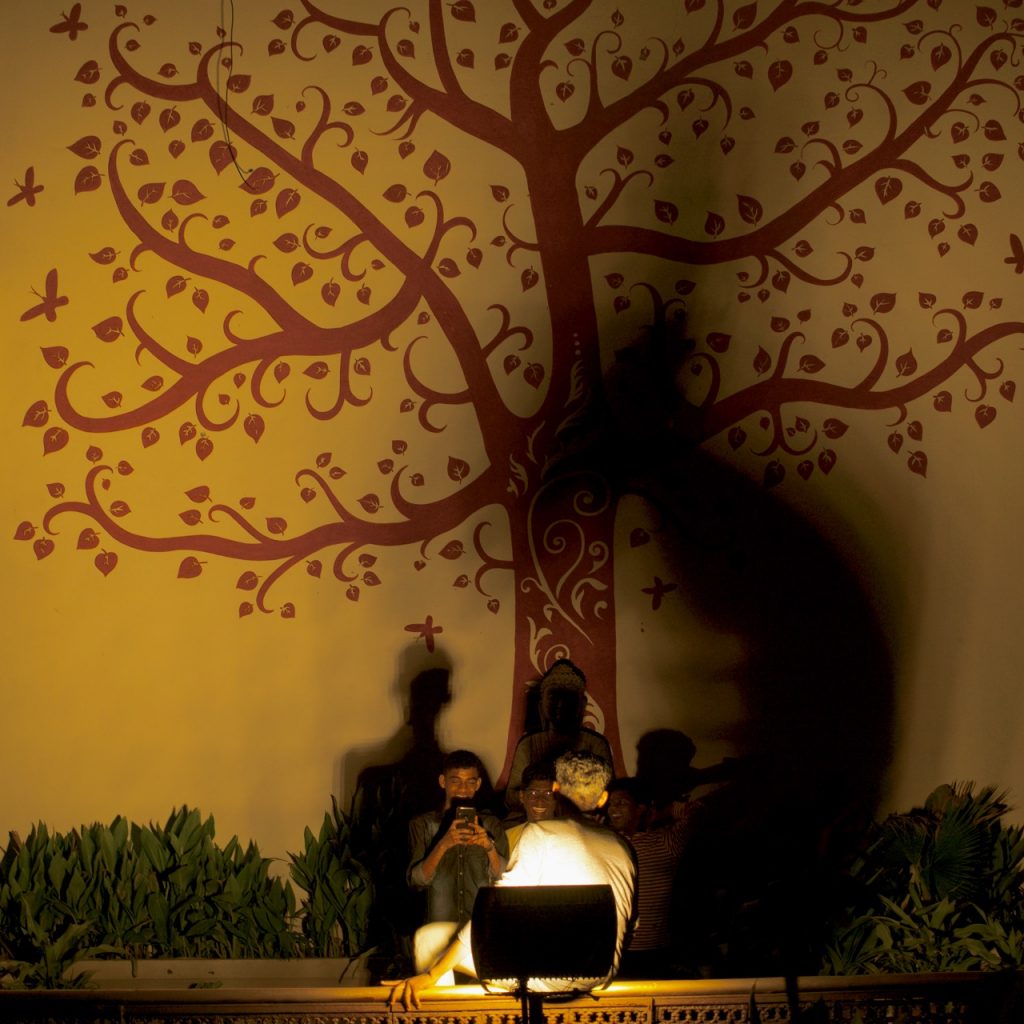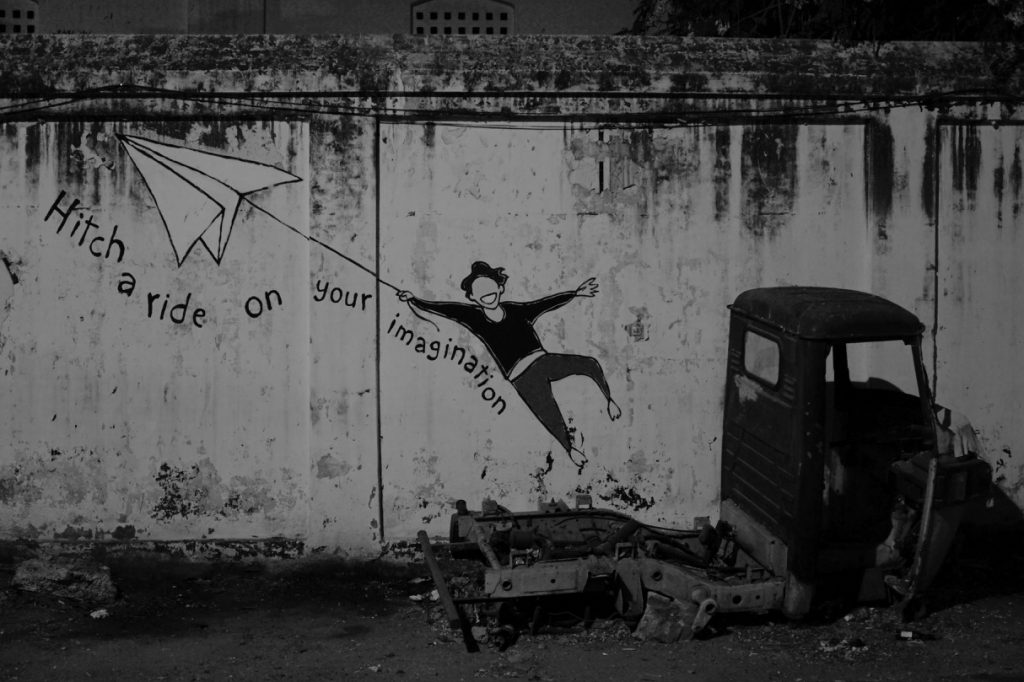 Day Two: A sunrise and a different beach
Since the Rock Beach is an east-facing beach, it is a great place to see the sunrise. Google showed that sun would rise at 6:04 AM. It meant that we had to get up at 5:00 AM, freshen-up and leave our guest house by 5:30 AM.
We managed to reach there in time but the horizon was covered with clouds. There were a lot of people on the beach. Many of them had specifically come to watch and photograph the sunrise.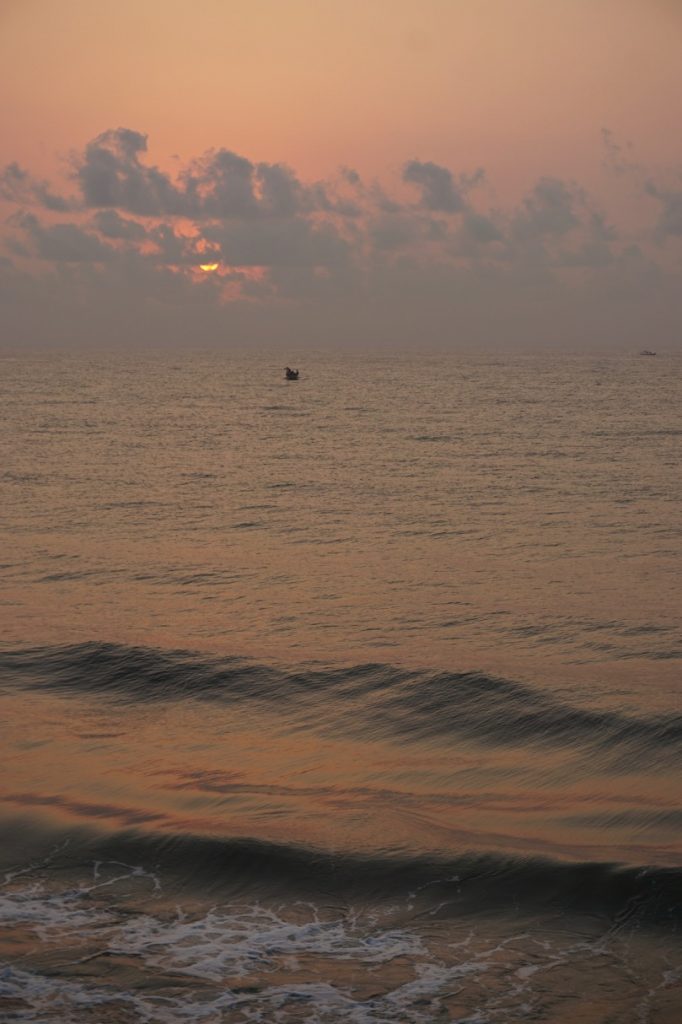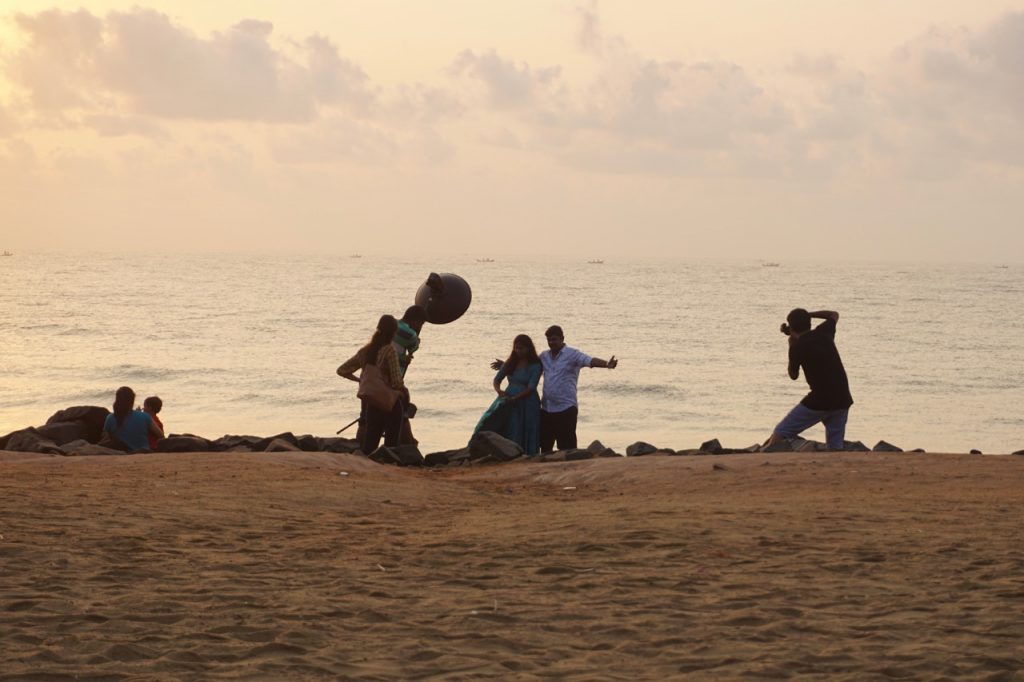 We had plans of visiting Auroville later that day. However, we found out from our host that Auroville closes early on Sundays. On top of that, it gets quite crowded during the weekends. Since we were staying there for another day, I decided to postpone our visit.
Instead, we made our way to Paradise Beach. We took an Ola (It's limited service but it's available unlike Uber, who only operate their Uber Eats service in Pondicherry.) and made our way to the Chunnambar Boat House. We had to pay INR 13 for entry into the boat house and INR 300 per person for a ferry over the backwaters to the beach itself. The northern side of the beach is maintained and controlled by the boat house authorities. They had guards who ensured that there wasn't any infiltration without the payment of appropriate fees.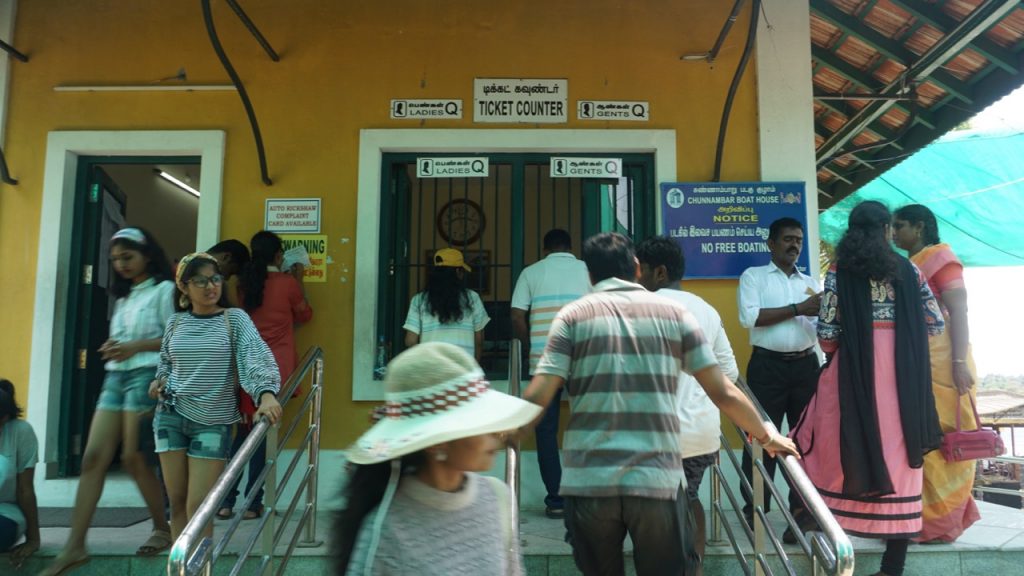 We found a quiet little spot near the border. Me and my sister dipped our feet in the salty water while my mother sat under one of the thatched shades and clicked a lot of photographs.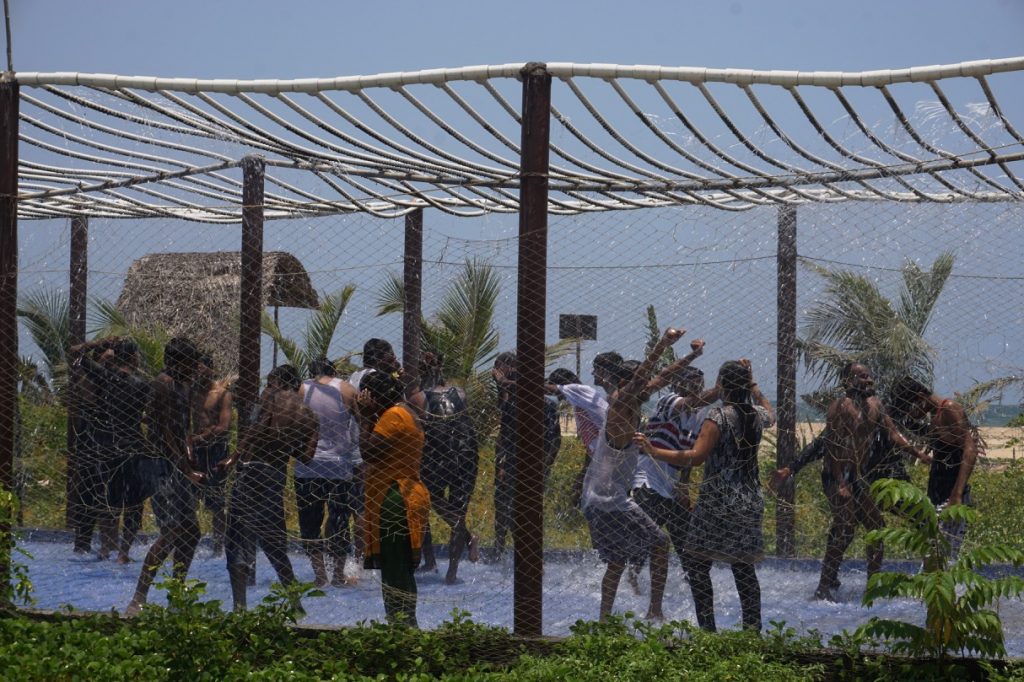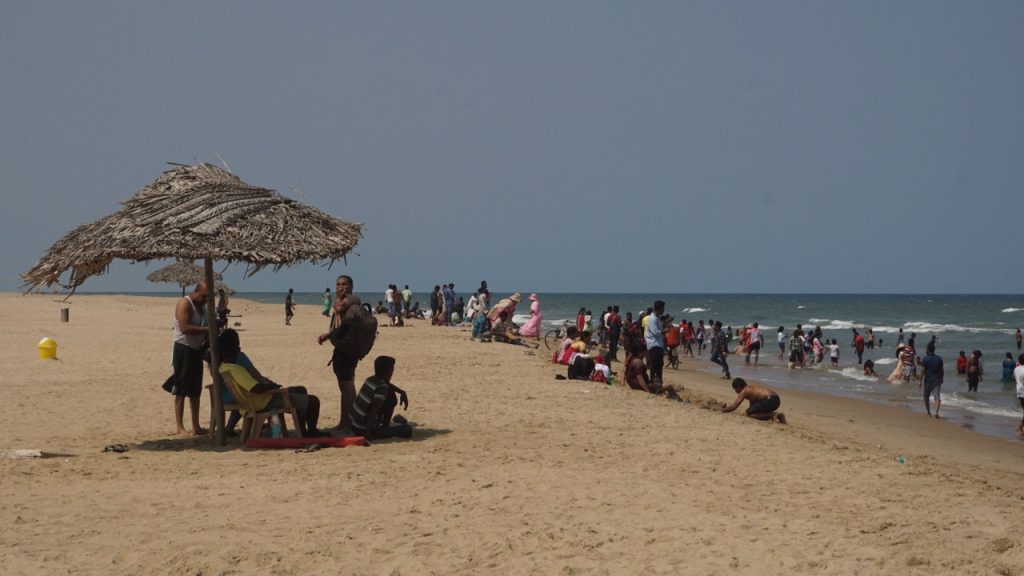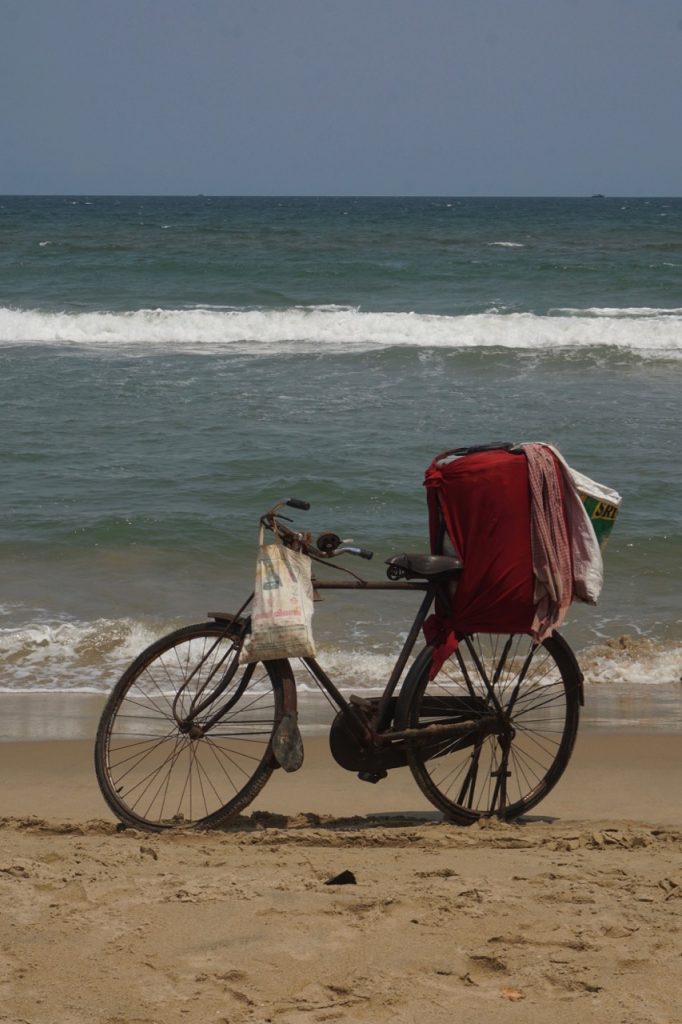 After spending a good amount of time at the beach and some more time in Sea Gull—the only restaurant on the beach—we headed back to the city in a bus. Theses buses pass over the New Bus Stand but I did not know that and got down at Indira Circle. I had to pay an auto to take us to the Botanical Garden.
The garden was in a state of disarray. None of the areas were maintained. The only place that was in use was the Kids' Play Area right near the entrance. We walked around a bit but I did not feel like wasting any more time there. I was tired. So were my sister and mother.
Day Three: Aurobindo, et al.
Auroville is actually pretty far from White Town. Technically, it's in Tamil Nadu and not in Pondicherry. Also, it has its own charter and its own governance system. We rented a cab for INR 1300 that would drive us around for the next five hours.
We couldn't visit the Aurobindo Ashram in White Town on the first day. This was a good opportunity to visit the Ashram. A lot of residents and visitors sat around the memorial—all decorated with flowers—meditating and contemplating. One is supposed to observe strict silence. There was also a book shop that stocked books published by Sri Aurobindo Ashram Publication Department (sabda.in). My mother and sister picked up one book each – both in Bengali.
We made our way to Auroville via the East Coast Road. One has to walk quite a bit inside Auroville. The information centre has a large exhibition hall. It's also the place where we had to obtain a printed slip that would allow us to visit Matrimandir—the iconic ellipsoid work of architecture that forms the epicentre of the township. It serves as a meditation chamber but one has to apply early to get a reservation. The walk to the geodesic structure's viewpoint was quite pleasant. Perennial trees covered the unmetalled road and a lot of art and artefacts flaked the sides. It wasn't so green when the township was set up. There is a stone plaque documenting a mythological tale that concludes with a divine prophecy—people from far-away lands would one day make the place prosperous. It is said that this was the reason why locals welcomed the foreigners when they wanted to build the place.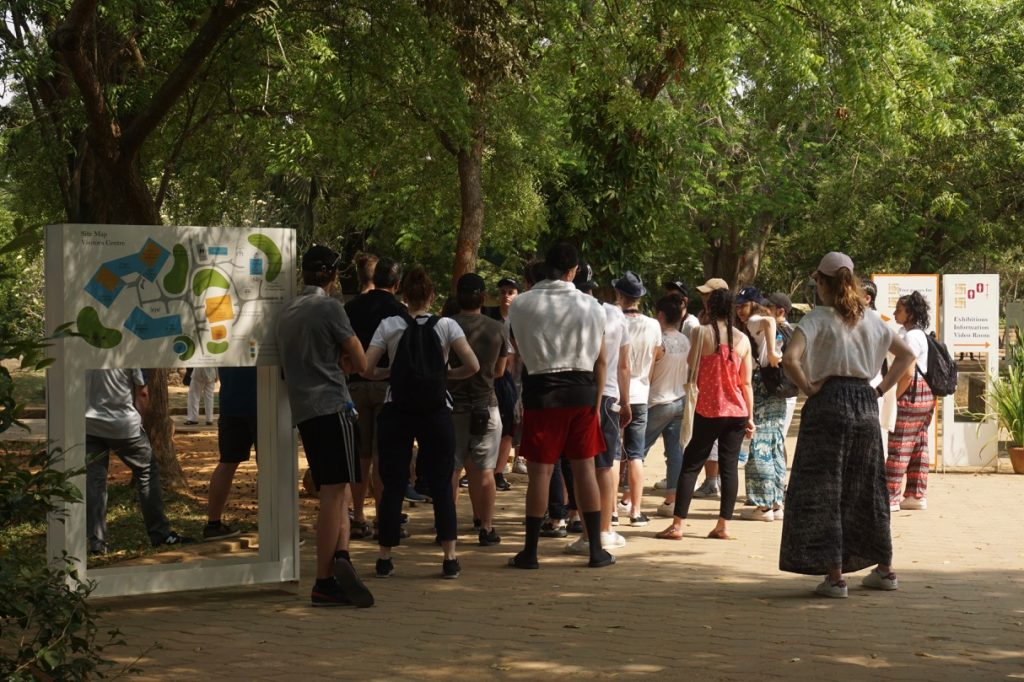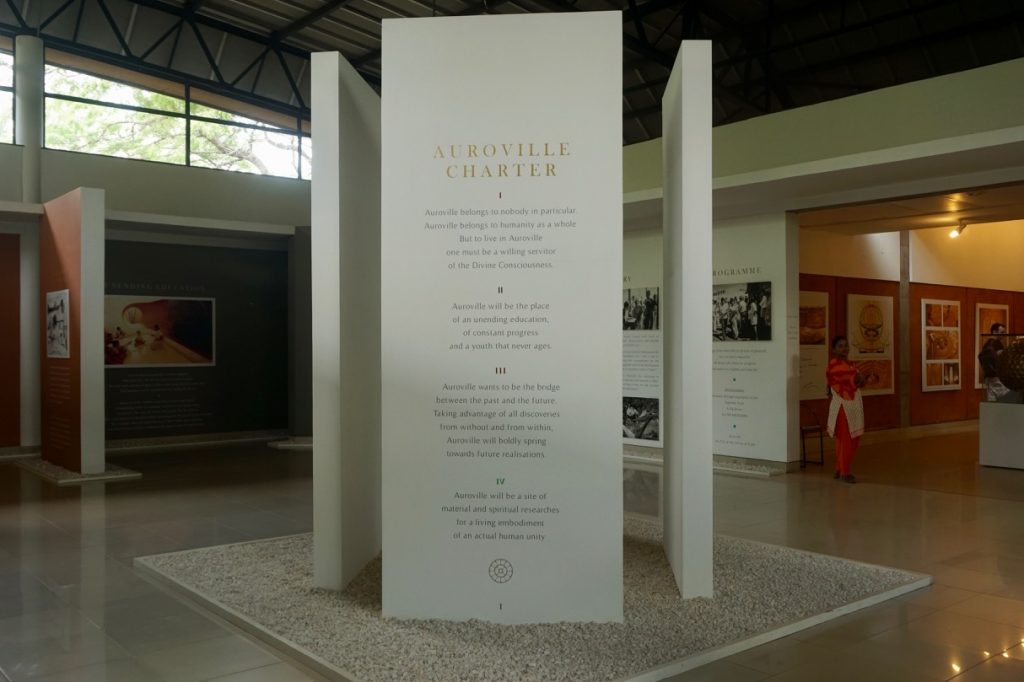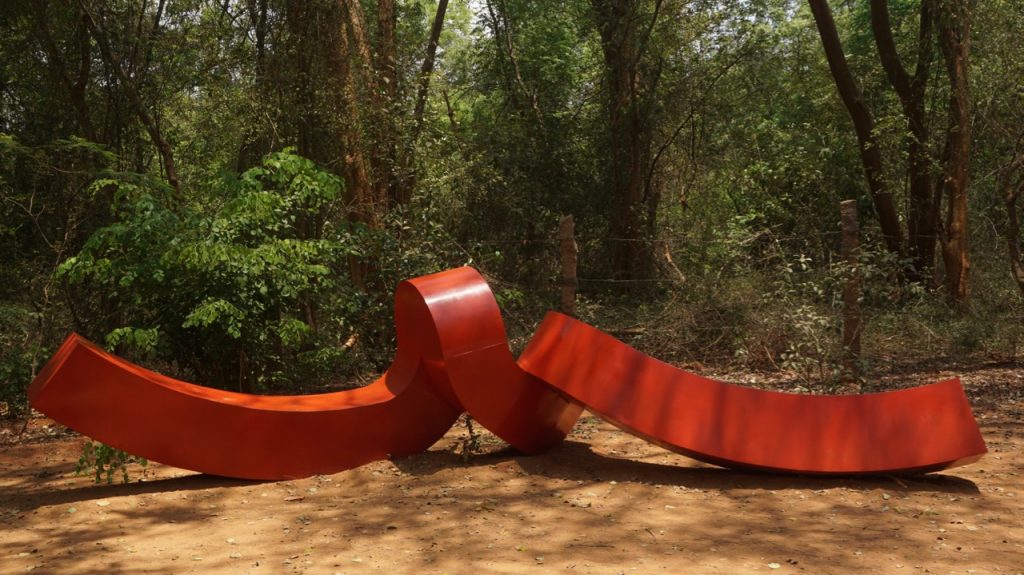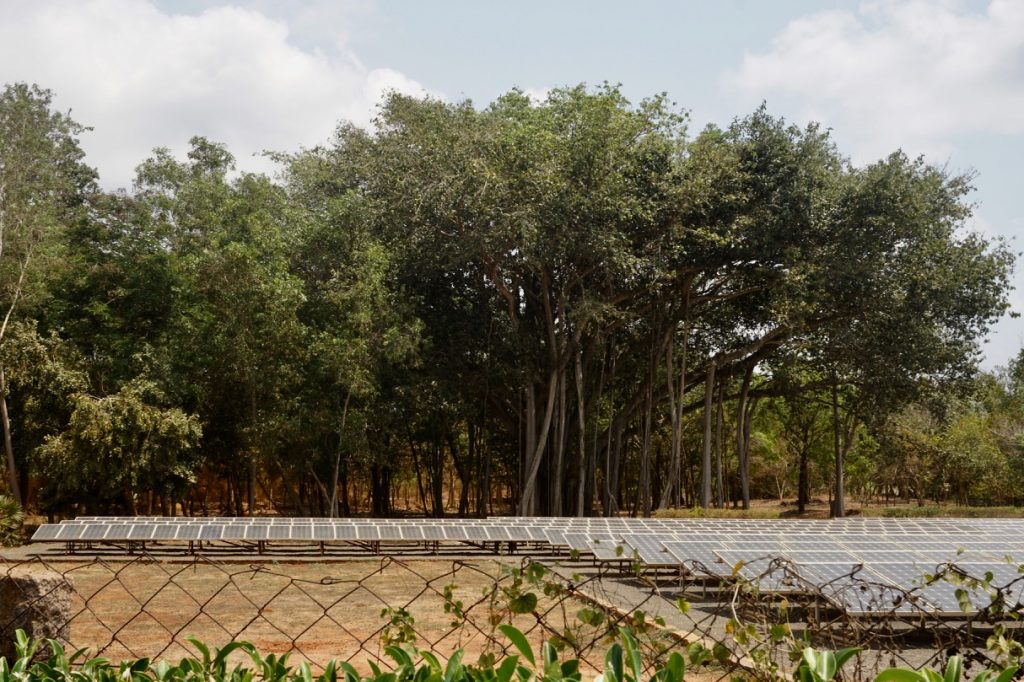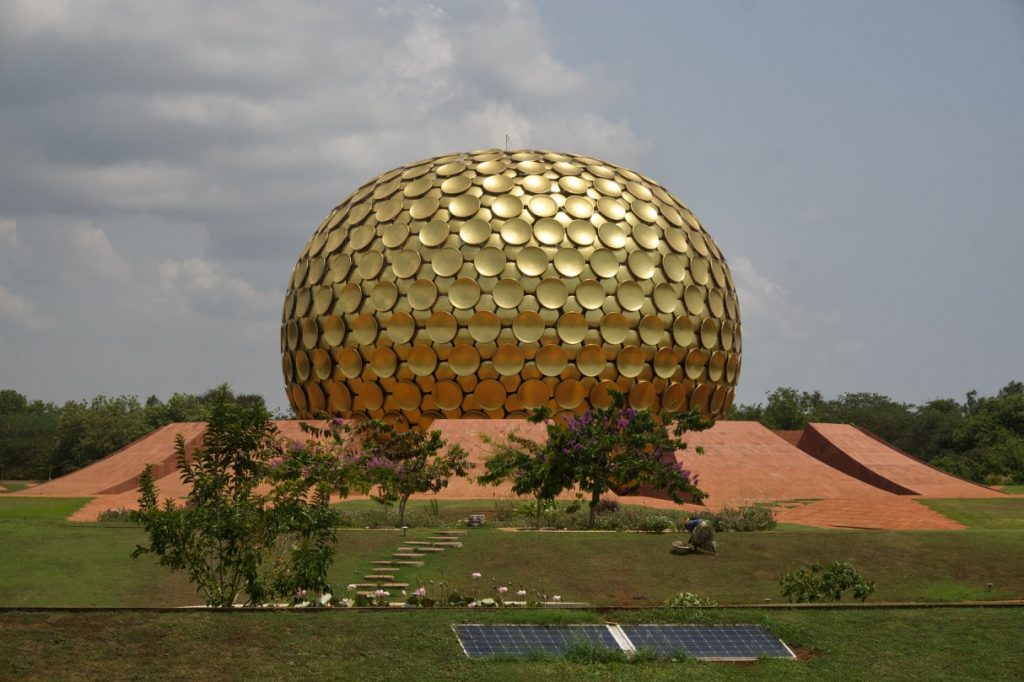 Auroville Beach was a few kilometres away. There weren't many people around. Bamboo structures—skeletons of shops—and plastic spoons scattered all around the beach suggested that the beach sees decent footfall during holidays and weekends. Monday noon wasn't one of those times.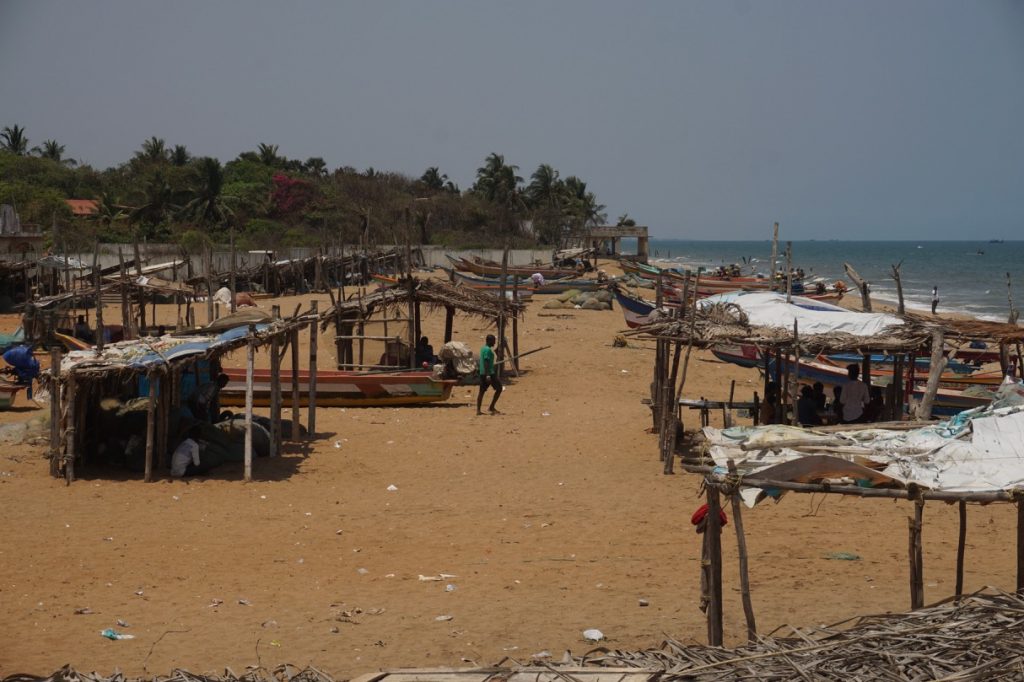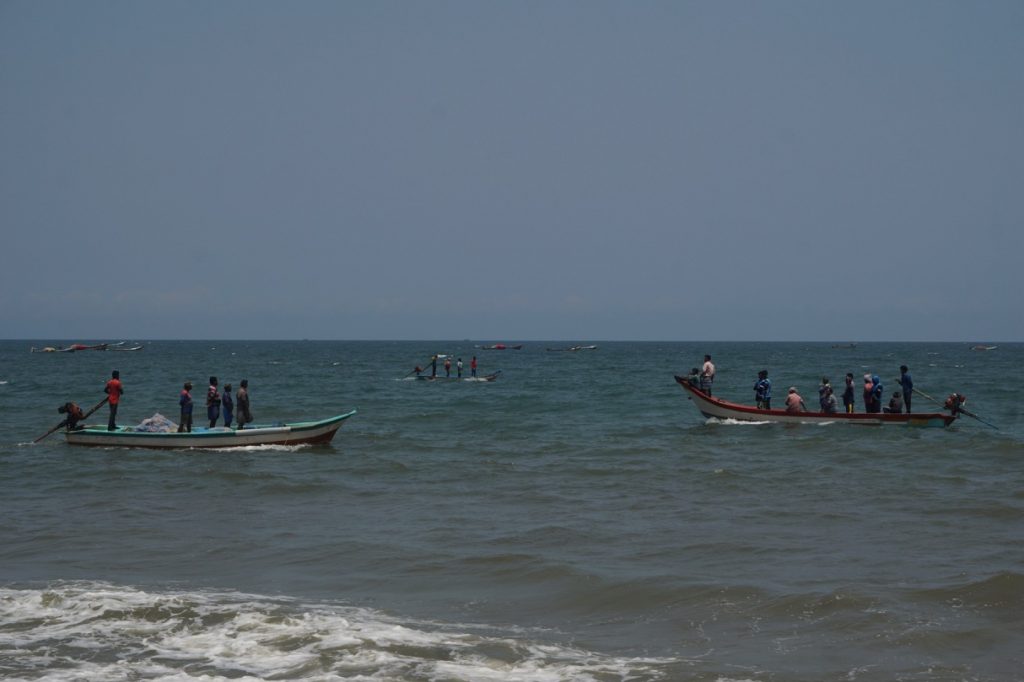 Our evening was mostly spend visiting the churches in White Town. Once the sun had set, we ventured into Nehru street—the commercial area of Pondicherry. It's like any regular market in an old city or a larger town where one could buy all necessary items at reasonable prices. My mother even peeked into the fish market area inside Goubert Market. She is more familiar with freshwater fishes. She couldn't identify the ones that were on sale.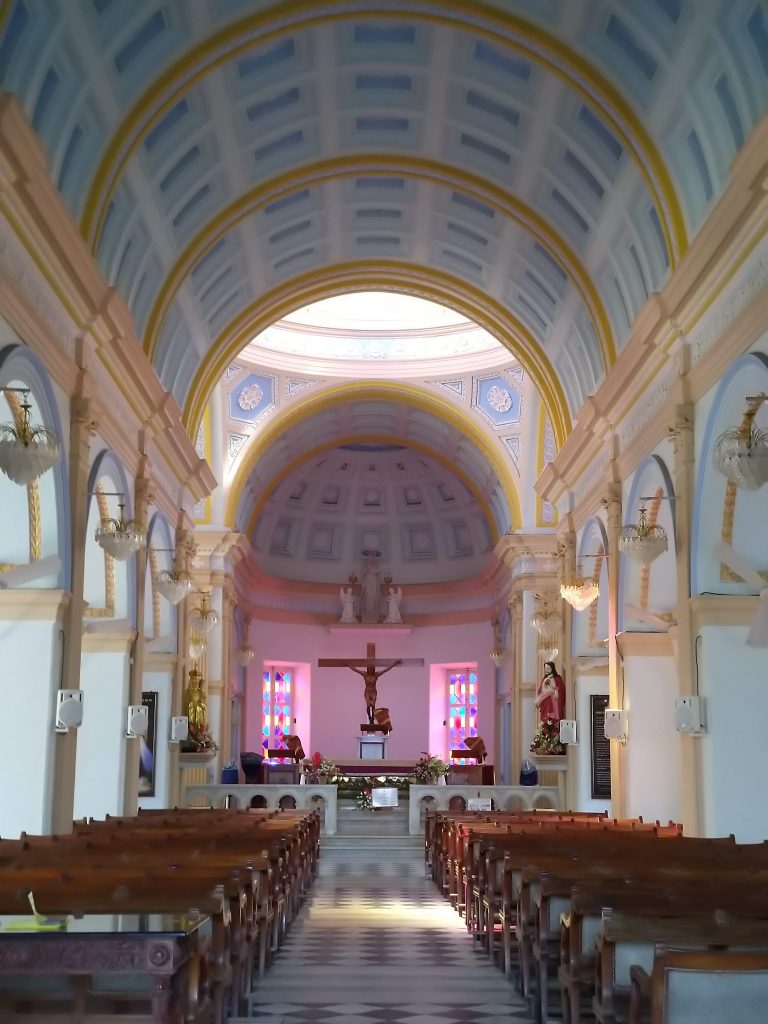 Some final thoughts about the place
First of all, let me talk about the food. During our three-day stay, we visited three Indian-style restaurants—Madame Shanthe's, Escape In and Spice Route. In each of these places we ordered a mix-veg dish, a chicken dish and some staples to go with them. The food was very good in all the three places. My mother doesn't eat chicken or meat. She liked Escape In while I liked the food at Spice Route. We also visited two Pizza places—Sicilys and Mr. Pizza. While both of them were good, Sicilys' veg. pizza was exceptional. Even my mother—who isn't a pizza lover—liked their pizza. The only place that we didn't like was Sea Gull in Paradise Beach. The food was sub-par. The only reason why they were in business was because there wasn't any competition.
Since we were walking most of the time, there were many places where we stopped for some tea. The one place that we visited the most was KBS Kofi Bar—not because it was exceptional but because it was convenient.
We had kulfis twice. Once on Paradise Beach and once in Auroville. The former one—like all fast food served on the beach—was frozen diluted milk laced with sugar syrup. However, the latter one was exceptionally good. Later, my sister wanted to have coffee from The Indian Coffee House on Nehru Street. We had cold coffee there. It was pretty average and too sweet for my taste.
The other thing that I observed was the laid-back vibe of the city. It's something that we all enjoyed. The streets are wide and the layout follows a grid pattern. This makes the city a joy to walk around. I can't stress how important it is to make a city walkable. This is something that I miss staying in Bangalore.