The sweet shop across the street was visible from our window. I saw them taking out a fresh batch of samosas and alerted Shubhajit. We had our breakfast—samosas and tea. It was in this shop that we met Prem Singh Rana—a frail looking man who smoked bidis with a shaky hand. He had been guiding, porting goods and taking care of logistics in expeditions with the Indian Army until '99, after which a mishap motivated him to abandon the job. He had climbed Black Peak, Banderpunch and Swargarohini in his heyday. Nowadays, he was more than happy to take care of the logistics of a political party's local branch. It was a less riskier job.
Shubhajit knew quite some people from his earlier stays at Purola. He contacted Gautam, a cab driver who took him to Sankri, and Mahavir Singh Kandiyal, the erstwhile manager of the hotel. We went to the upper entrance of Negi Tower (or the terrace?) and waited for them. Mahavir wanted to visit Yamunotri with us.
On our way to Janki Chatti
I was running low on cash. In these places, all transactions had to made through paper money. We made rounds of the ATMs at Purola but failed to find one that had money in it. We were hoping to find a working ATM at Barkot. However, the situation wasn't that different over there, either. Luckily, both me and Shubhajit had our SBI ATM cards. We stood inside SBI's Barkot branch and used our cards to withdraw some cash via their green-counter. The teller refused to give us anything more than five thousand in cash per card. Collectively, we could manage with that cash until we reached a much bigger town.
We were unable to find a suitable spot to have our lunch. Being off-season, most restaurants were closed. A few agreed to make us some food but it would have been a time-consuming task. Instead, we stopped at Kharadi to have some samosas and Maggi. It wasn't the lunch we wanted but it was all that was readily available.
Kharadi State Inter College School was located right behind the shop. We kind of trespassed into their compounds. Classes were being held outside, underneath the Sun, on one side of the vast ground. Few students played on the other side. This is a usual practice in schools during the winters. One of the teachers, Mr. Sangeet, approached us and stirred up a conversation. While it started off with usual fare, it soon turned into a discussion regarding Karnataka's politics. He was a right leaning guy who had good amount of awareness regarding the political fabric of the southern states.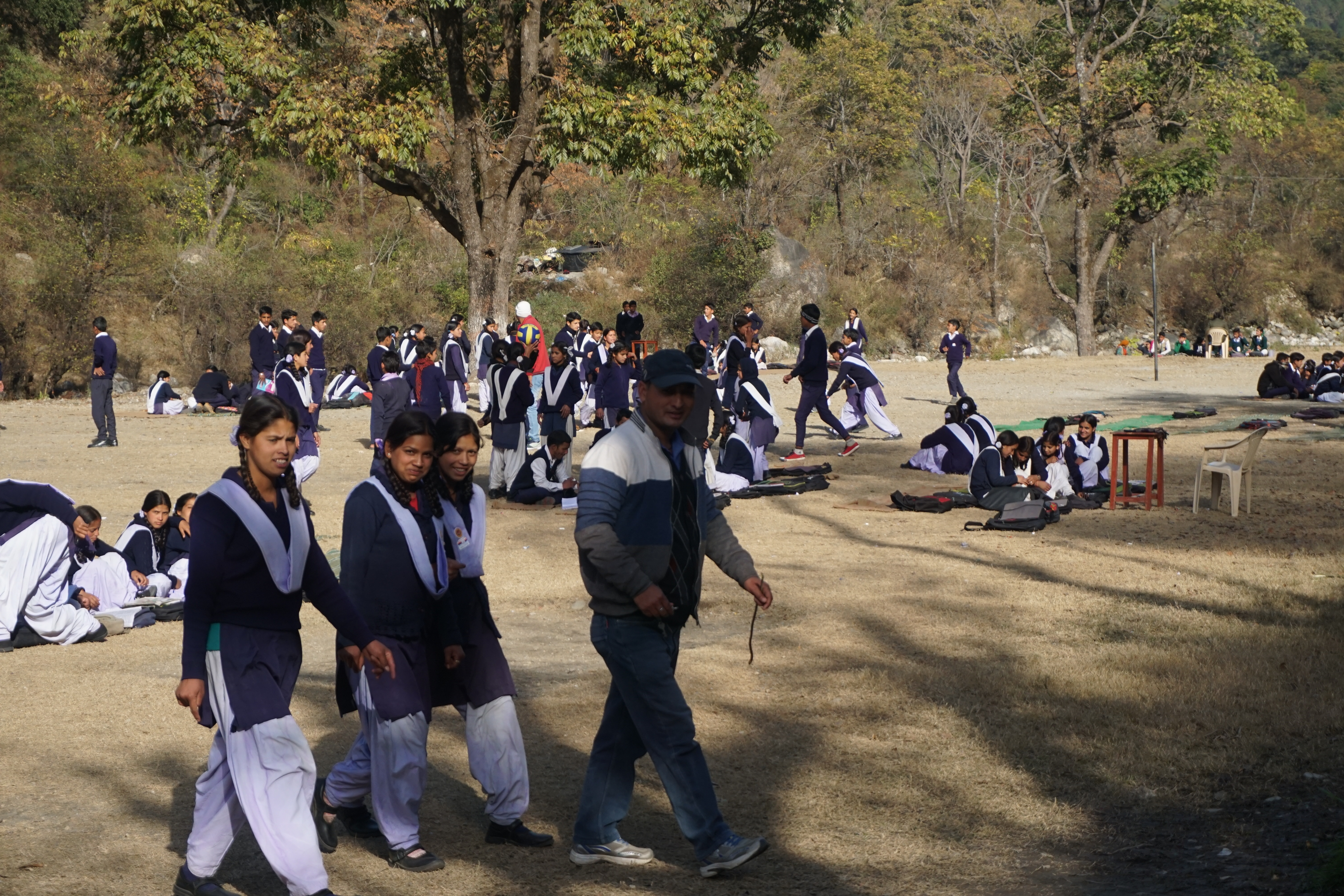 En route, we also had to stop for quite some time to let workers fell a large pine tree and subsequently chop it into pieces and clear the road. It was all part of the ambitious Char Dham Expressway NH project.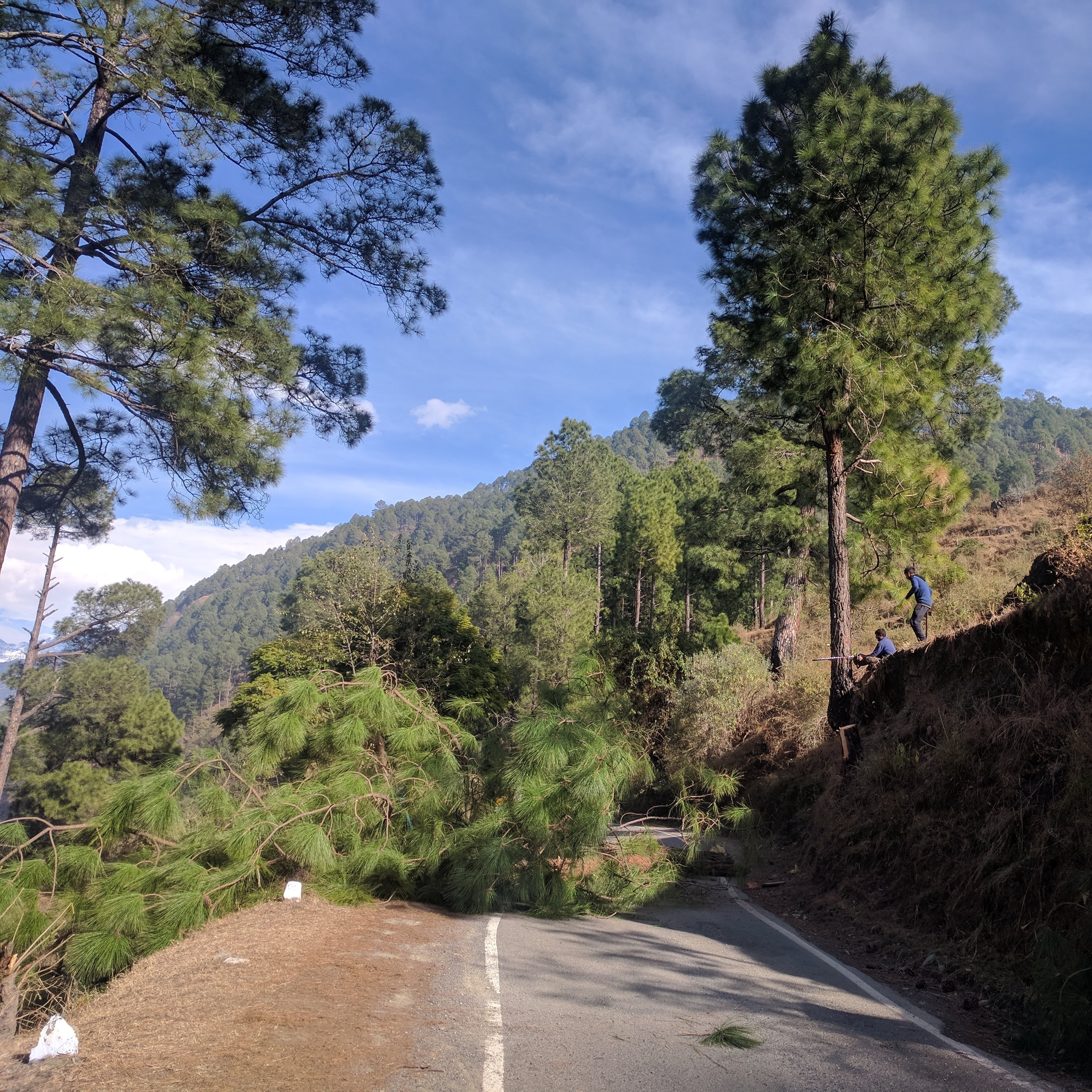 We also drove across the massive landslide near Sayanchatti that had occurred last September and had trapped almost 1300 pilgrims and tourists on the Yamunotri side. The landslide had damaged almost two kilometres of the road and damaged anything and everything till the riverbed. I was unable to take a good photograph. I made a mental note to take one on my way back.
Janki Chatti and Kharsali
Shubhajit wanted to stay in the GMVN bungalow at Phool Chatti. He was informed that the booking had to be made at Barkot as there might not be anyone at GMVN Phool Chatti to take care of lodging. Shubhajit did not know of his dates to take care of this aspect. We eventually drove all the way to Janki Chatti. It turned out that Hotel Shubham Palace, located right next to the bus stop, was owned by Gautam's uncle. The manager, Mohit, took care of the four rooms that were operational as well as ran the dhaba opposite to the hotel.
After some food, we went to Kharsali, a village on the other side of Yamuna. The village housed the Yamuna deity of Yamunotri in a Radharani temple during the winter months. There was also a Shani Temple right beside. It was quite old (nearly seven to eight hundred years) and was  not in the greatest shape. A new temple was being built right in front of the old one. While the new one had elaborate woodwork, the old one had some kind of rustic charm.
Here we met one of the pandits, Raghavanad, who asked us to meet Bharat Das at the Hanuman temple in Yamunotri once we reached there. There were few other pandits at Kharsali, too, who asked us about our whereabouts and where we were settled for the night. For some reason, which I strongly believe can be attributed to the loss of business, everyone was disappointed when they got to know that we weren't staying in Kharsali but at Janki Chatti.
We spent the evening inside the Radharani temple and sat with the villagers while the two pandits did the evening Yamuna aarti. They used a microphone and a speaker mounted on top of the temple so that the villagers could hear the chants. Prior to that, the pandit narrated how most people had fled the onslaught of Mughal invasion to these hills and how his clan, the Uniyals, came to become the pandits of the temple. They had been doing this for the last six generations.
Back at Janki Chatti, a group of porters were huddled near a heater-stove inside Mohit's restaurant drinking hooch (commonly known as kachhi) and smoking charas. These men told of many trekking routes in and around Yamunotri, including ones that connected Har-ki-Doon and Harsil. However, these were doable only during favourable seasons. Two of them even promised to treat us to wild pheasants but that promise was made under some heavy influence.