Update: I got my refund. But the hassle has shaken my belief in Amazon's system.

A long and painful case history
Let me start with a super-short version of the order. I had ordered a book from a seller who was covered by Amazon's A-to-Z buyer's guarantee. It was supposed to reach me by 13th but it did not. The seller had also shared a tracking id. Sadly, it never worked.
A kind customer rep asked me to file a guarantee claim. In fact, she did that on my behalf. What was supposed to be a simple solution to a problem turned into a long, painful and exhausting situation for me. But, little did I know about it then.
Within two days, I got a mail from the buyer guarantee team –
Greetings from Amazon.

Your A-to-z Guarantee claim for this order has been denied:
404-9410436-3813165

This order is not eligible for the A-to-z Guarantee because the tracking information shows delivery was confirmed with a signature:

Carrier:  BLUEDART
Tracking Number: 20035152141

We can only guarantee the delivery of a package to the shipping address on the order.
The problem was that someone had checked the tracking number and found that it was delivered. This was not the actual case. I spoke with at least three customer representatives after that and they all got the same "not found" response from BlueDart. One customer rep even raised an appeal on my behalf. She even asked me to send the screenshot and ask the team for a proof of delivery. So I wrote another mail to the buyer guarantee team.
I have not received the package. Please provide me with a proof of delivery if you guys refuse the claim and say so.

Even on the website the tracking number is inactive and has been inactive since the beginning. There are recorded correspondence with the seller asking them repeatedly for a correct tracking id.

Here is a screenshot of the tracking result [… and I attached the BlueDart screenshot shown above]
Meanwhile, I started contacting the seller (Indiawagon). Basically, I asked them the exact same thing – to share a valid tracking id. To which they replied that the package is in transit and I should wait for two days and the shipment would reach me soon. They did not share a valid tracking id even on repeated request and avoided answering the question altogether.
I actually got a reply from the buyer guarantee team –
We can certainly understand your concerns about the A-to-z claim for order  404-9410436-3813165 being closed.

We have reviewed this claim and as per our records we have confirmed that shipment is delivered to the shipping address you have provided on  06/07/2017 with signature acceptance.

We advise you to check with your family members on the delivery of this order.

We understand that you may not agree with this decision, but this claim will remain closed.
I still have no idea where the guarantee team was getting this data from. Not from BlueDart website for sure. Or do they have some special access to BlueDart database that is not trackable on the website? On top of that the seller themselves admitted that the packet is in transit (I doubt if that is the case based on their reluctance in sharing a valid tracking number).
Where are these Amazon guarantee guys getting their tracking data from?
So, I wrote back and forth to the seller, called the Amazon customer care another 5 times until I was so frustrated that I filed a cancellation / refund. I also re-appealed the case with the guarantee team.
New disappointment level: A-to-Z guarantee team
So, Amazon calls itself the most customer centric company on Earth. What unearthed after that made me lose my faith in Amazon more than a seller who was clearly trying to dupe me.
The seller wrote back
Dear Sir,

We are sorry to inform you that this order has already been shipped out from our warehouse and therefore, we are unable to process your cancellation request. Please let us know if and what we can do to change your mind.

However, if you still wish to cancel the order you may choose to not accept the delivery of the product, in which case it'll be returned back to us and we will refund you back (if its not a c.o.d).

Thanks
I wrote back to the seller
If the order is under transit, please share a valid tracking id.

The tracking id shared is invalid – see screenshot.

Also, it is already 9 days overdue. How would I even know you have even shipped the item? Or for that matter the correct item?
The problem remained the same, I asked the seller a few more times for a working tracking id, but they selectively chose not to answer that question.
Interestingly, the seller's recent ratings have plummeted to a near 50:50 good-is-to-bad ratio.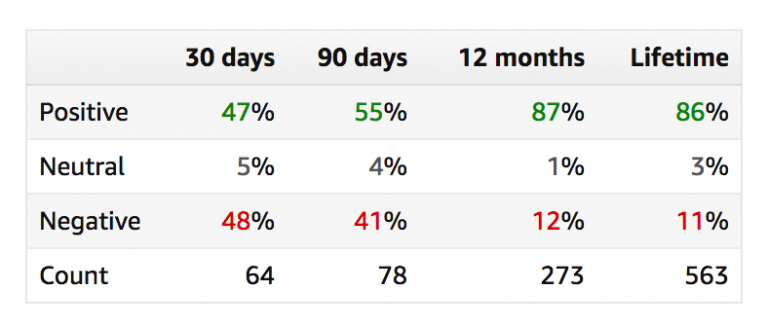 By this time I had already received another claim denied from the guarantee team.
I went back to my office and scanned through the register for any shipment that might have come. I found none and wrote back to the customer support guys.
I want to put another information on record that concerns the rejection of claim by your A-to-Z guarantee claim guys,

The address provided for the package is an office address and the reception remains open 24x7x365. Any package that comes is meticulously placed in a register by the security at reception. It is a procedural thing that is followed at our company.

Your A-to-Z guarantee guys have stated – "We have reviewed this claim and as per our records we have confirmed that shipment is delivered to the shipping address you have provided on  06/07/2017 with signature acceptance. We advise you to check with your family members on the delivery of this order."

I want to categorically state that I have personally gone through the records of any package arriving in my name and have not found any entry that can correspond to this. The seller himself accepts that the shipment is under transit but refuses to share any tracking number.

I can only believe that your A-to-Z guys are either looking at wrong data or are just treating me with a "don't care" attitude. They even refused to share any proof of delivery they might have to come to such a conclusion. In our phone call, I did mention that I was disappointed by your buyer guarantee team. I am more disappointed now that I have checked all possible circumstances that your buyer guarantee team has proposed me.
After this I had another round of daily chat with a new customer representative. This had become a daily routine.
So, what did I learn?
I will summarise my troubles so far here –
The customer support guys have no real power or authority over the guarantee team. They are very polite, though. But politeness doesn't equate to solutions.
There is no chain of command that can save you in the customer support. If there is one, it must be hidden beneath a lot of layers. I have called them up 10 times so far and have spoken to 10 different reps. I have even spoken to someone who leads the team. All they can do is re-appeal.
There is no continuity while talking to the reps. This is because the reps are assigned randomly and every new rep understands the problem in his or her own way. With such a history, I have to spend ten minutes every time briefing the rep about the problem and any new developments. I have done that 10 times by now.
The buyer guarantee team is actually a joke. Probably, there is an automated bot who choses to discard all evidences and reply using a template. I can't stress this point hard. I have tried gathering as many points as humanly possible to convince them that I don't have the order. So much so, that I wrote this to a customer rep who asked me to file an appeal for a third time.
Could you forward this information from your end. As I said earlier, I don't trust your buyer guarantee team anymore. Either they are looking at wrong data or are treating this as a "don't care" thingy.

That claim has been reopened and closed twice even after giving them concrete evidences including a screenshot of tracking number that doesn't work, the seller himself admitting that it is in transit and my correspondence with the seller where he has refused to give me a correct tracking id.
By the way, for all I know, this is what my order page looks like: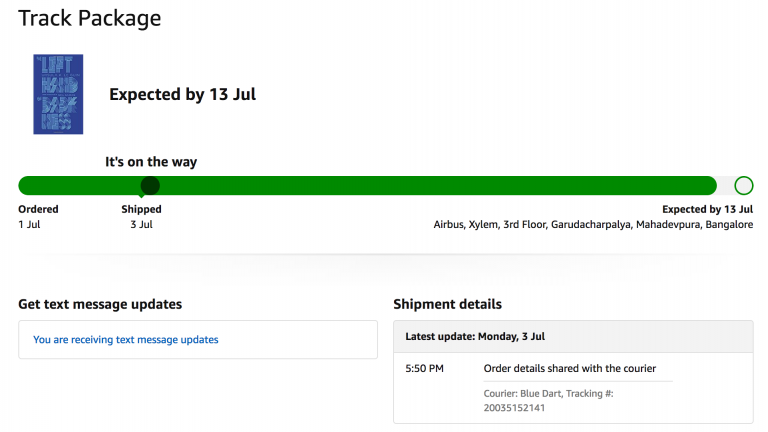 Even their page shows that the package is not delivered!
Jeff Bezos to the rescue?
I had given up on getting the money back. I had even formulated two rules for future purchases from Amazon:
Only do a COD for non-Amazon fulfilled seller. Even then, be cautious of fake products. Resorting to A-to-Z guarantee is not a safe option.
Be vigilant on the orders that were fulfilled by Amazon. If I knew that there was a glitch in the system, there is high chance that there maybe glitches elsewhere.
I had read somewhere that Jeff Bezos had once told his customers during an interview, "If you have a problem with Amazon, email me." He is also known to read through the complaints he receives diligently. I decided to write to him without any hope of any positive outcome. So I wrote to him the following mail, summarizing the generic nature of the problem –
I do have some problems with an order but I know you are a busy man. Instead, I would like to highlight some problem that exists with the Customer Support escalation and the A-to-Z buyer guarantee team. This may help in fixing the system in general and solve my problem in particular.

1. There is a data related disconnect when it comes to tracking information the buyer guarantee guys have and the actual tracking that can be performed on a shipping company's website. This creates huge problem for customers who would want to file a claim
1.a. Even when shown that a tracking id doesn't work, they stick to some mistaken data about order being delivered.
1.b. They overlook the delivery status displayed against the order on Amazon website which may show "dispatched" or "in transit" and not delivered.
1.c. They would trust their own faulty tracking data (which may say delivered) even when third party seller admits that the order is in transit and not delivered.

2. The customer support team of Amazon India may not have strong escalation mechanism to challenge the decisions of A-to-Z buyer guarantee team.
2.a. Their recourse is often to re-appeal a claim which sadly wouldn't work in this kind of scenario since the A-to-Z team prefer their own faulty data over evidences.
2.b. There is no single person follow through for a problem. Or the help of somebody who has authority to handle a problem in the system like the one described in point 1.

I have been a long time customer of Amazon and in case your team needs more data, a particular incident is documented here [link to this page]

I am optimistic that it must be a glitch in some data and not apathy towards a customer, and the problem would be fixed.
I decided not to call the customer care anymore.
I got a mail from a customer care rep. I was happy that the mail has been paid attention to but was still apprehensive –
I'm XXXX from Amazon.in's Executive Customer Relations team. Jeff Bezos received your email, and I'm responding on his behalf.

I understand you're concerned with the order #404-9410436-3813165. Please accept my sincere apologies for the inconvenience caused due to this issue. I've engaged this to our buyer guarantee team to investigate this issue thoroughly and get back to with an update, as I do see there has been a discrepancy between the A-Z claim team and the seller regarding the delivery status for your order.

I'll personally followup on this with you once I have an update from the team. Hence, I'd request you to allow me 24-48 hours to have this issue concluded. We look forward to seeing you again soon.
In a few hours, my claim was granted and I had my refund.
I hope they have resolved the internal issue with the system. I will still be cautious and remember my two rules for future purchases from Amazon.
Pain in numbers:
Delayed by: 15 days
No. of calls with customer rep: 10
No of mails exchanges with seller: 12 sent, 8 received, 1 mail documenting higher level problem.
Correspondence with buyer guarantee team: 1 Claim,  2 reopening, 5 received, 2 sent with additional info, 2 re-appeals via a customer rep.
Correspondence with customer support: 13 mails received, 3 sent, and 9 tweets.
Time spent on the phone with customer reps: 153 minutes