Before the round trip
I woke up quite early and felt rejuvenated after the much needed rest day. The weather was also very good and the sky was clear.
Yesterday, Amit Goyal, a fellow rider had lent me his spare bottle. It was one of the most useful things somebody had lent me in the entire ride. I need at least one and half litres of fluids in forty kilometres, roughly the distance between two support stations.
A few people formed their own group and gathered around a veteran rider, Srinath Rajam (aka the coach). He was taking them for a different course altogether. The organisers noted their bib numbers so that they would not be attended to by the official support staff for the day.
Nils gave a small briefing about how to do technical descends. After a while we were off to a staggered start (bunch of 20) escorted by a four wheeler for the first ten kilometres.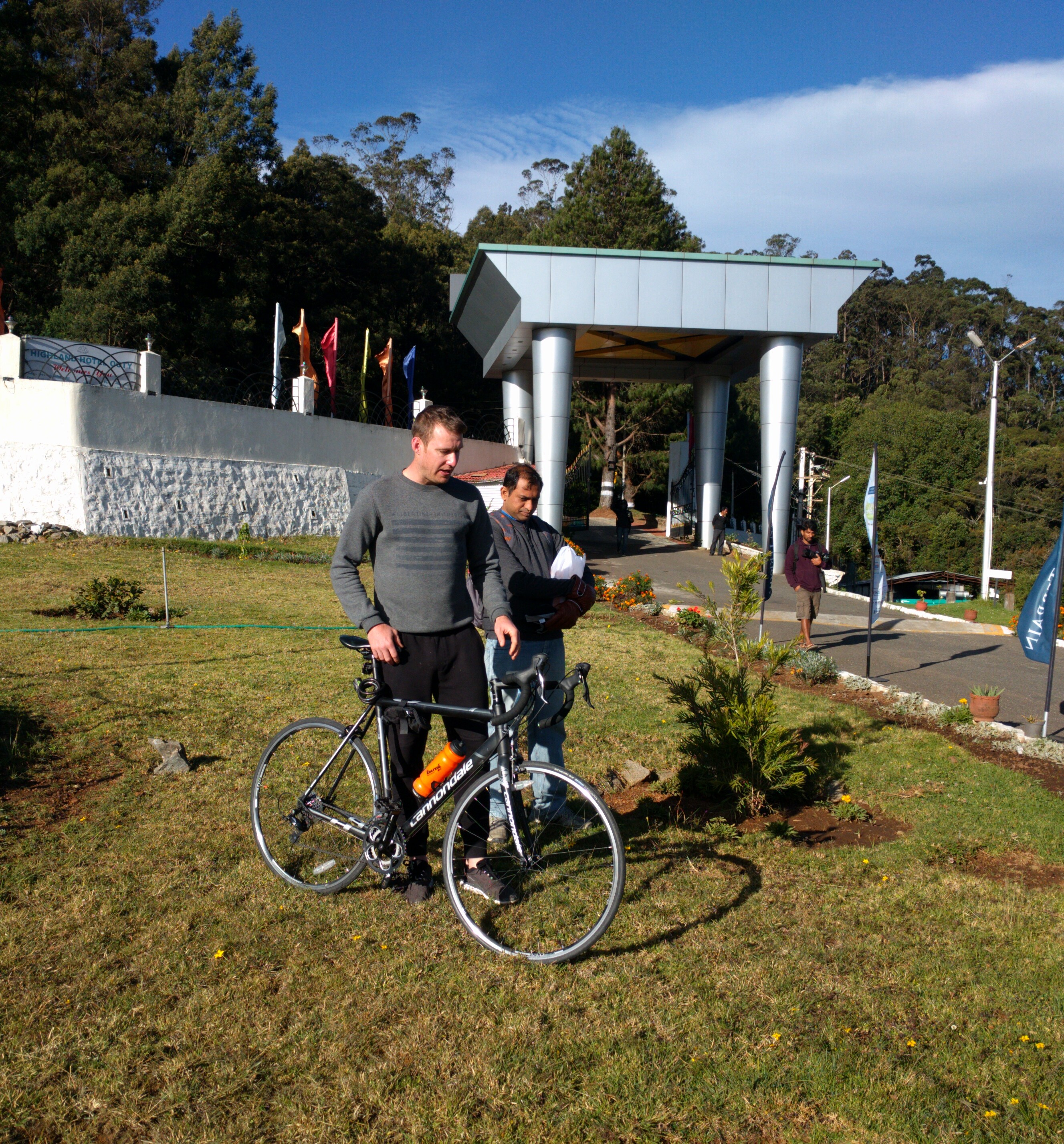 Ups and downs
Todays course had four small hills to traverse. To an amateur (and a beginner) like me, the climbs, if not brutal, were exhausting. If I had to finish the course, I had to be slow and steady. I did not wait at any of the support stations for more than 10 minutes. Just before support station 2, there was a tea stall and most riders had gathered around to have some tea. I did not have the luxury. Instead, I went ahead and bought two bars of chocolate from the next town for my on-bike food.
Every time I had fun descending, I kept reminding myself that I would have to climb the same hill on my way back.
I think I had the fastest lunch of all these days. It was already 1:00 pm. By my calculations, it would take about five hours to get back. I also saw Srinath Rajam's group moving further ahead in some other direction.
Bad weather
En route to the lunch point at Thiashola, I had seen clouds all around the neighbouring mountain. While returning, these clouds fast approached our route. There were occasional drizzles. I just kept my pace and passed support station 3 (erstwhile, support station 2) and reached support station 4 (erstwhile, support station 1). I did the recommended stretches, filled my pockets with biscuits and headed for the excruciating 25 km climb. This was the same downhill I had enjoyed at the beginning of today's ride.
My strategy was simple – no matter what the speed, do not stop. Even if I had to get off the bike to rest, I walked while chewing on a biscuit. Clouds had surrounded the hill completely; visibility was reduced to 100 metres.
By the time I was at the hotel, I was tired and cold. Experienced riders enjoyed the route.
A briefing about training and nutrition
Since Jamie Anderson was one of the riders, the organisers had asked his to give a talk regarding training and biking. His talk was focussed on the people who were on the wrong side of 30s and had a day job and a family to support.
This is what I took away from the talk – if I have to get serious about biking, I need a power meter, a heart-rate monitor and an indoor trainer.
You can watch his TED talk here.