Flag-off and the importance of being safe
We started at around 7 today. Before that we had to deposit our luggage by 5:30 pm. We had about 1 hr 30 mins to take care of our bikes. I had already degreased and lubed by drivetrain yesterday. I pumped my tyres up and I was good to go.
During flag-off Satish reiterated about the importance of safety. Yesterday, Mayuri, one of the riders, had a crash and had to be taken to the hospital. Although the injury wasn't that bad but she had some muscle inflammation. After diagnosis, she was ordered complete bed rest for the rest of the week. She would be flying off to Delhi.
Mysore to Support Station 2 (aka the competitive section point)
The roads out of Mysore were very good. On such a rolling terrain, cycling feels so liberating. There was one point when the road took a direct plunge downward. The scenery was breathtaking. The image below doesn't do much justice.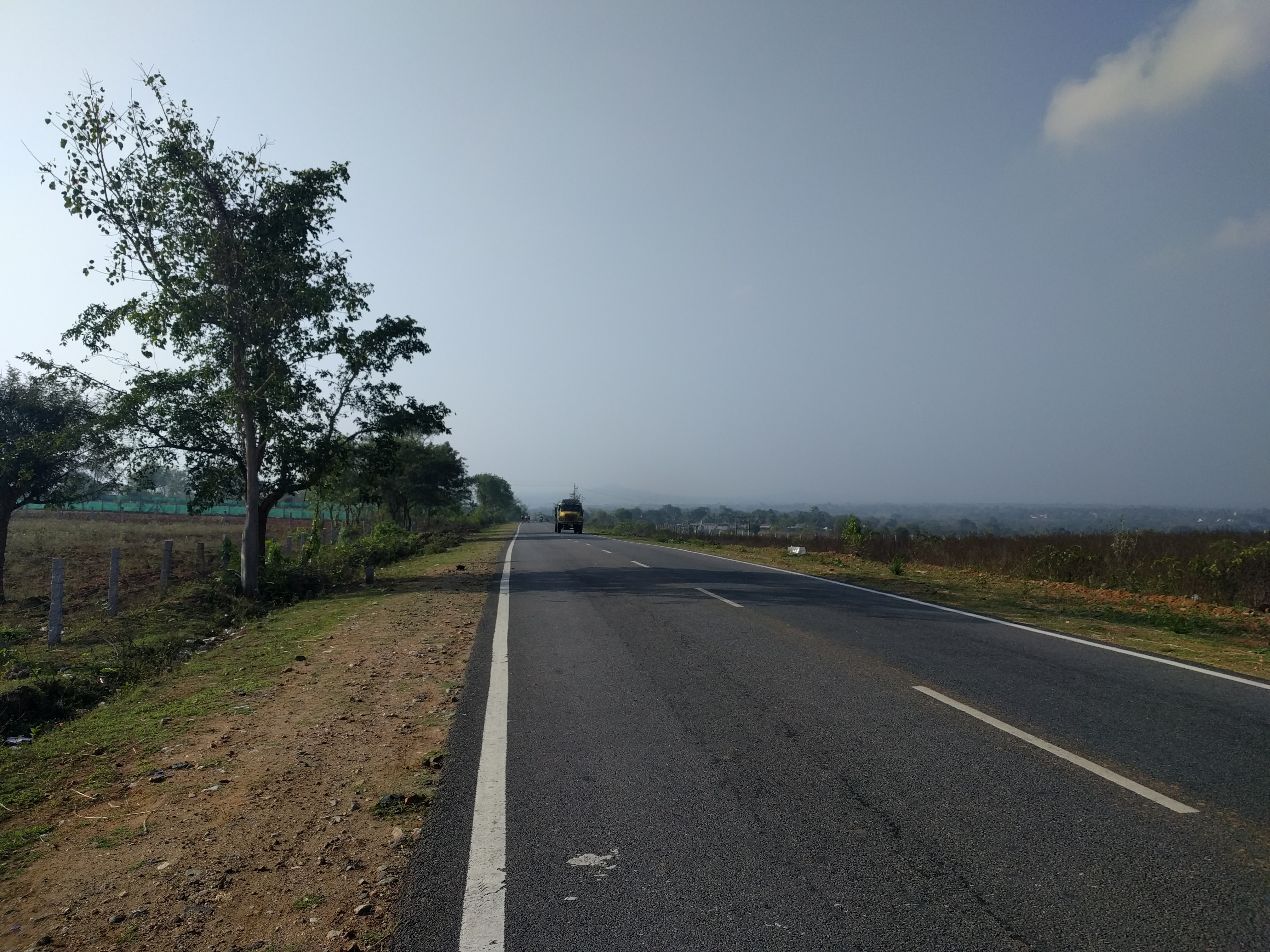 One of my roommates is Siddharth Iyer Verma. He is a 19 year-old rider (the youngest) and rides a Giant Roam, a hybrid. He accompanied me out of Mysore until I left him somewhere in the hills.
I had developed a strategy. I would stop just enough at each service station to do some basic stretches, fill my bottles with electrolytes and  have some snacks (and put some in my jersey). That timing boiled down to nothing more than 15 minutes. Since I am not as experienced as most of the cyclists, this decision turned out to be in my favour.
My other roommate is Manjeet Singh Balyan, who is riding for Firefox. He is one athletic fellow and is eyeing the competitive section GC. From what I have heard during the dinner discussions, he did pretty well. At present he is no. 14 on the GC in the Elite category.
Sometime during support station 1 and 2, the battery of my cyclo-computer display unit died. Instead of shutting itself off, it started to display arbitrary stuff. It felt like some kind of disco display. The cyclo-computer is a very important piece of equipment. I use the distance to calculate when to hydrate and when to eat.
A different podium
We stopped for lunch at St. Thomas English school at Manchegowdanahalli. The principal of the school, Father Thomas, gave us flowers. Satish gave a speech to the kids. The organisers, Ride a Cycle Foundation will be doing something for them.
The kids asked the foreign riders some questions, the answers to which boiled down to "We are crazy to deliberately have our bums sore."
I had a very light lunch, swapped the batteries of my cyclo-computer, and rolled ahead.
Bandipur and the horrible tarmac
We were asked to stay in groups and ride slowly inside Bandipur National Park. The quality of the tarmac was very bad. My tyres refused to roll. On top of that, the speed breakers and blockers were very badly constructed. There were downhill sections with five or six consecutive speed breakers. It is very difficult to control one's speed while going downhill. I made sure that I was always on the drops. This gave some extra stability. At other times, the consecutive speed breakers would be at the base of a downhill. This completely killed any momentum required to climb the next uphill.
We did have an elephant sighting.
The Kerala counterpart, Mudumalai National Park was somewhat better. Although I sighted a cyclist somewhere in the grasslands. He was quite far for me to ask what he was doing down there.
Intermittent absence of tarmac
The final fifty kilometres were gruelling. The climbs were short, but brutal. On top of that, the roads were really bad. There were stretches that would put European cobblestones or a cyclocross race to shame.
I made sure that I stopped to sip some water and have a bite of biscuit before attacking the hills. Consistency was the key.
When I reached the final support station, I drank a lot of fluids. I even put my bottles in ice while I was doing my stretches. In the end, I drank about 8 litres of electrolyte just on the bike.
Some advice from Dr. Dhananjay (physiotherapist)
I had some fatigued muscles near my lower back. Dr. Dhananjay asked me to do a lot of stretches and asked me a lot of questions. He checked the muscular tension for each of the stretches and deduced that the cause of fatigue is the stiffness in my hamstrings and not due to back muscles. It was an indirect deduction and turned out to be very true. When he tried his methods of extending my hamstrings, there was a point when I let out the F-word. He said, 'All this time I was waiting for that. It means what I am doing is correct.'
He has asked me to do simple hamstring stretches at each support station. That should help things out.