An unusual source of motivation
Let me put the most obvious thing out first – I don't think that I have trained enough for this tour. The reason why I had decided to participate in this tour can be attributed to the blogs of Mr. Venkateswara Rao Navasi (also known as Lord Venky or BikeyVenky). He has participated in all TfNs since 2011. You have to look no further but visit www.govenkygo.com and read through the December entries of the respective years to get a feel of what to expect.
I have done quite a few long distance routes in the last one year. But I have never done them back-to-back. My ride partner, Ravish, had a freak injury while running sometimes in September. As a result, he had to stop cycling. It had an adverse effect on my ride plans. I have not done as many long rides in the second half of the year as I had done in the beginning of the year.
I can say that physically, I am better than what I was an year ago. My whole mindset would be to ride it injury free, enjoy the scenery, click a few photographs and post daily on this blog.
Modifying my bike bit by bit
As I rode these long distances on weekends, I realised how my bike was not setup for a trouble-free, multi-day tour. I started to make some modifications –
I had to carry two bottles instead of one. The second one holds electrolytes.
I flipped the stem to get a more upright position. This also shortened the reach by a few milimetres.
I changed the saddle to one that is more suited to my riding style. Suraj of BOTS helped a lot with this. I got a Specialized Phenom instead of the stock slippery Merida saddle.
Swap the tires to Schwalbe Marathon Plus so that I was no more the king of punctures. And while I was at it, I have upped the tyres to 25mm ones instead on the 23s I was using earlier.
At some point during late October, I had a slight pain in my right knee. The fixed tracking of clipless pedals aggravated that. I reluctantly swapped my clipless for some good quality flats. Aravind from Happy Earth suggested the MKS Touring pedals.
The final item list and the packed version looks like this: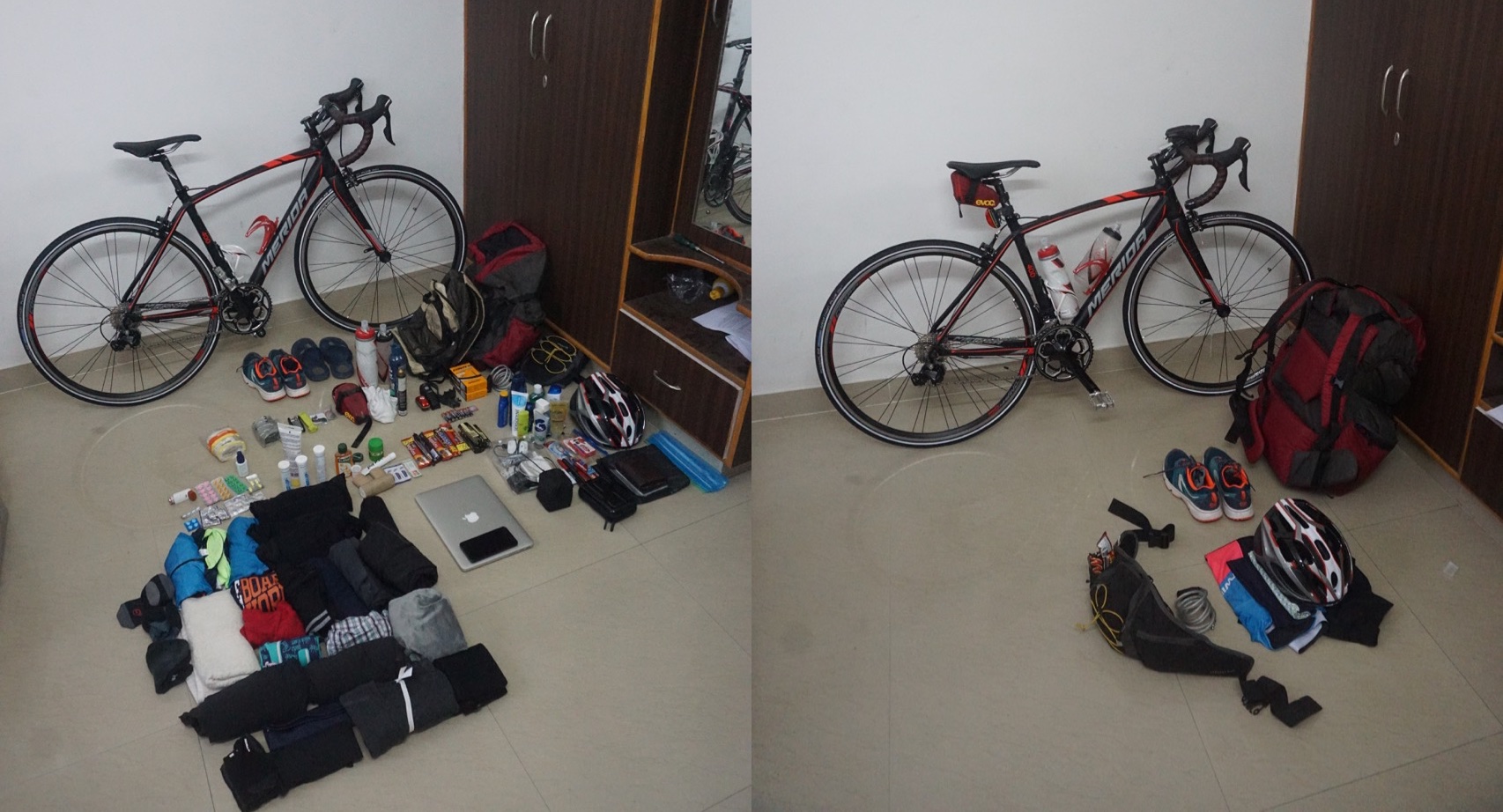 Meeting an old friend
Satish is an old friend. He is a colleague of Sudipto and has seen us live more times than anyone else. I was so surprised to see him as this year's tour director that I exclaimed, "Really!" I knew he was associated with TfN but I did not know that he would be the tour director.
He was not the only one to brief us about the tour. There was Karthik (the broom), Francis (the race director), Sridhar (the guy spearheading TfN), and a word from the various sponsors.
If there was one word to sum it all up, it was "safety". Everyone recounted how important safety was for our own sake. There were people riding to raise money for various charitable causes.
There were newbies and veterans alike. For some this was their 5th TfN. For someone like me, this would be an unmatched experience. According to the veterans, the first TfN is always memorable. Amidst the lunch at Taj, the constant talk was about the Kalhatty on day three. This is an Hors Catégorie climb and seems to have seeded some deep roots of fear in the minds of many. Karthik (the broom) warned us not to take the fifth day lightly either.
Goodies and more Goodies
The TfN goodie bags were so full of stuff that I decided to repack my bag and deposit it early tomorrow morning. Especially because there were duplicate items in the sanitation and toiletry department.
There the three important items in the lower-left corner of the photograph. My bib number is 80. I have a sticker that I must place on my backpack so that it can be placed in the right room at the next location. Then there are a set of top-tube stickers that are essentially cue sheets for each leg of the race. There is also a wrist-band (Wiz ID) that has medical information and emergency contact.