Ed Viesturs is a great thinker. Well, he is a great climber, too. Reading through his book, I could realise how much of a mental fortitude and clarity one needs to do tasks that are superhuman. In his case, it was climbing all fourteen eight-thousanders in the world.
A few days ago, I had borrowed his autobiography from Nabyendu. It's aptly called No Shortcuts to the Top. It is a narrative of Ed's legendary feat of summiting the fourteen beasts without supplemental oxygen during the period from 1987 through 2005.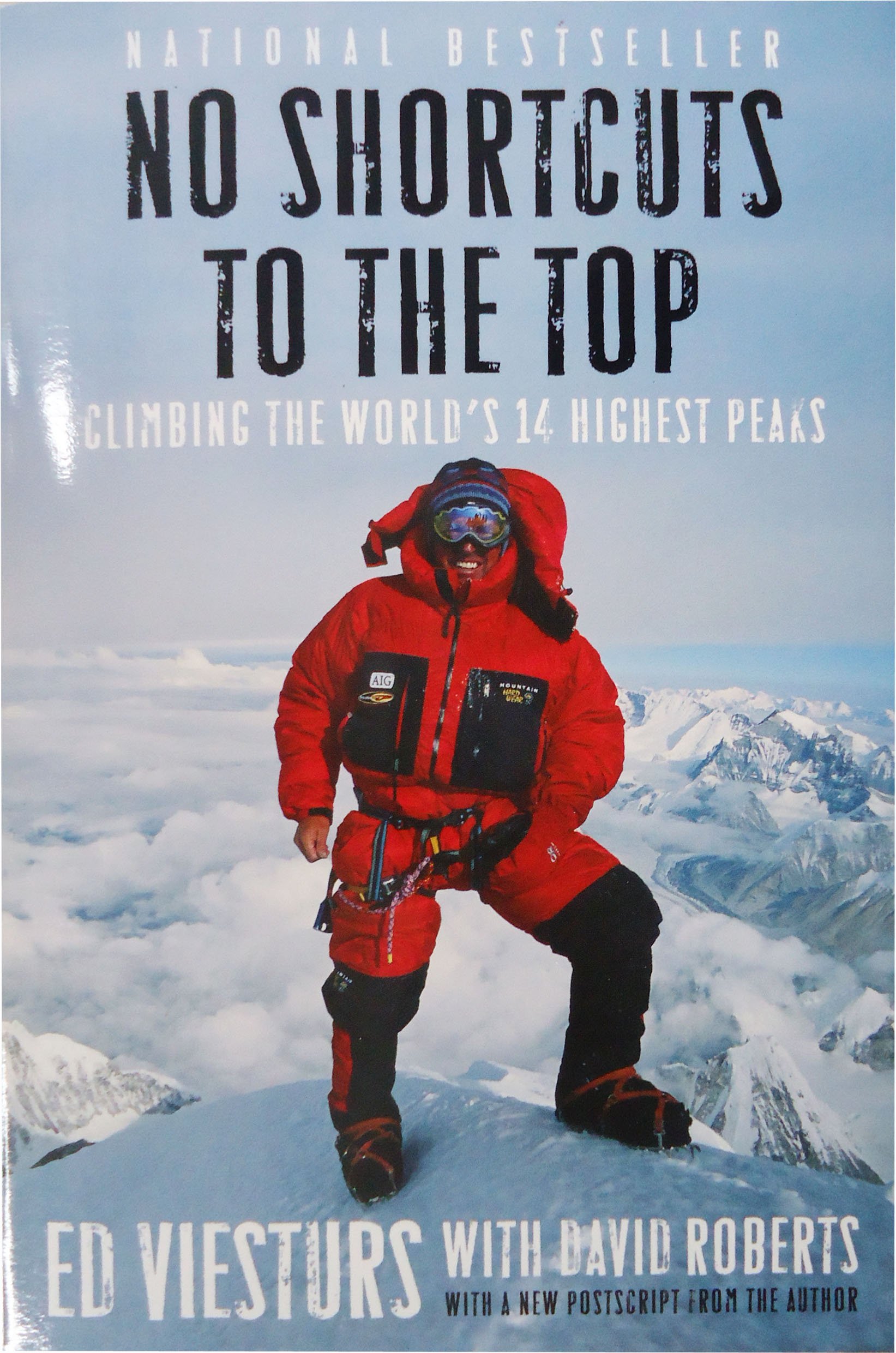 For someone who finds solace in the lap of the mountains, there is something soothing about reading a personal account of such extreme encounters. The more I read, the more I appreciated his motto – 'Getting to the top is optional. Getting down is mandatory'. It's a simple motto. Yet, in the harrowing conditions where summit fever and acute shortage of oxygen can cloud even the best man's judgement, this man had stuck to it. His approach to mountaineering did not change even when he had a family waiting for him back home.
I can't but draw some comparison to a fictional climber's tale in Koukou no Hito, where the protagonist, Mori Buntaro (based on real life mountaneer Kato Buntarou), lived for the climb. Yet, he thrived in that recklessness for as long as he wasn't tied to the consequence of his fear of failure – i.e., leaving his pregnant wife to fend for herself. That philosophy is a stark contrast from Ed's own philosophy. Yet, throughout Ed's book, we encounter many people who have made the mistake of being reckless and paid the price with their digits or worse, with their lives.
Getting back to the narrative if book itself. Ed follows a strange clustering to construct his narrative. Instead of a chronological treatment, he presents his story in clusters. Some of the most challenging and interesting climbs have their details blown up while some of the uneventful climbs have been completely skipped. His own backstory gets interleaved in the chapters as flashbacks. In the epilogue, he says that such was deliberate. For me, this is a good sign. For a reader like me, entire books on each of the mountains he has climbed would be a great read no matter how uneventful the climb would have been. He has already done that for K2, Annapurna and Everest.
An entire chapter is dedicated to the events of 1996 Everest season. I have read almost every account of that tragedy (barring Boukreev's The Climb). I was so moved by the actions of David Breashears in this passage that I watched the 1998 Everest IMAX documentary once more.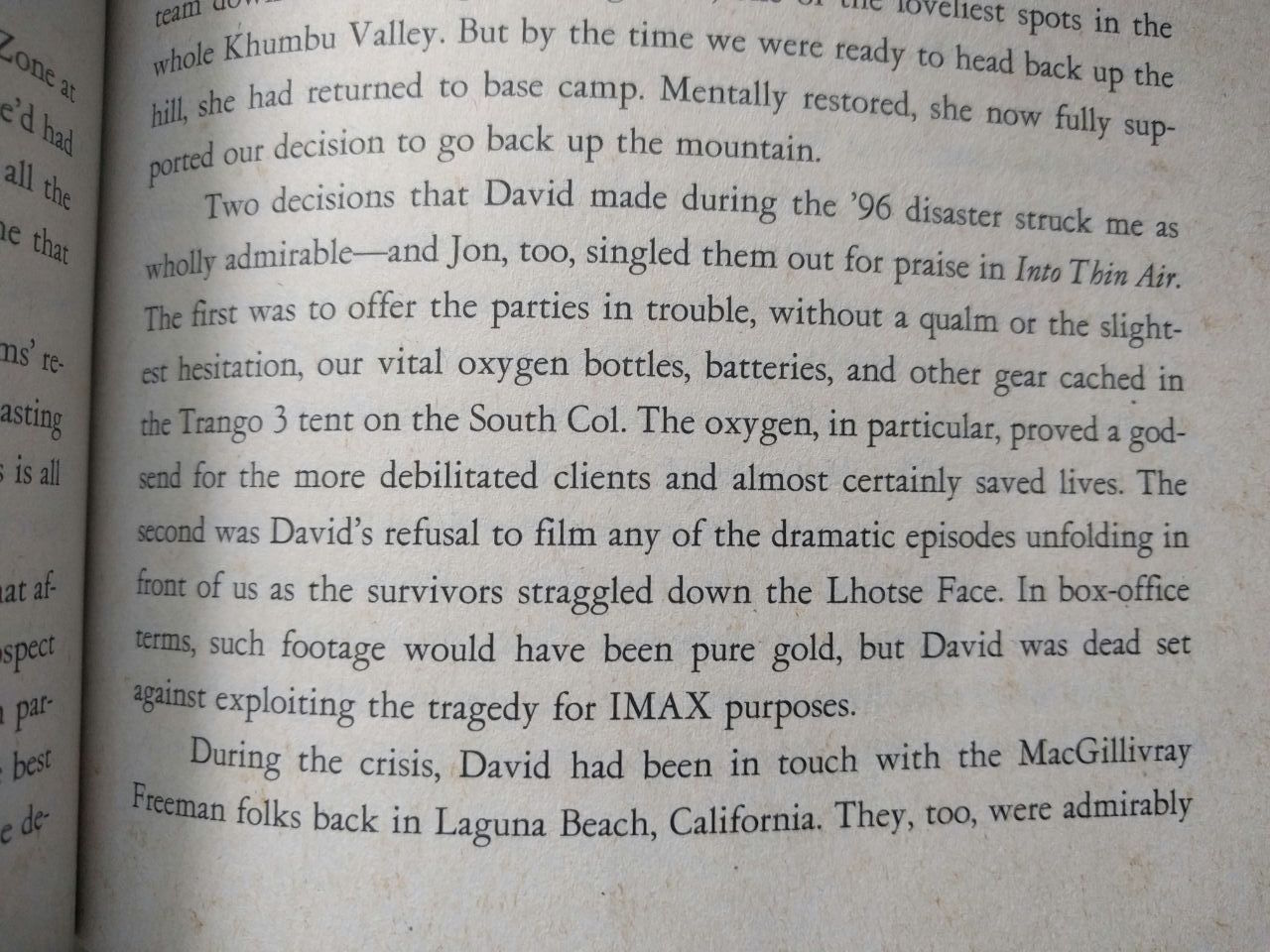 Annapurna, the elusive and bloodthirsty peak gets the final two and half chapters. It had to be so. For years, Ed had no clue as to how to get to the top of Annapurna. Right at the end of his successful descent, just when he thought Annapurna had shown mercy on those who had set foot on her, the mighty mountain took the life of Christian Kuntner.
In the end, Ed's narrative feels exhausted. He has fulfilled a dream he had set for himself. He even dubbed it Endeavor 8000. He doesn't frequent Himalayas nowadays. In fact, he has only been to Everest once in the last ten years.
I got some more fodder for myself to read. I am interested in Reinhold Messner's books, Ed's other three books on K2, Everest and Annapurna, Maurice Herzog's Annapurna and J.-C. Lafille's Prisoner de l'Annapurna (if there is an English translation).
On a lighter note, I have my own motto – 'Chai ko mana nahin karte'. This roughly translates to, 'Never refuse the tea'. I'll reserve the explanation to that for another blog.