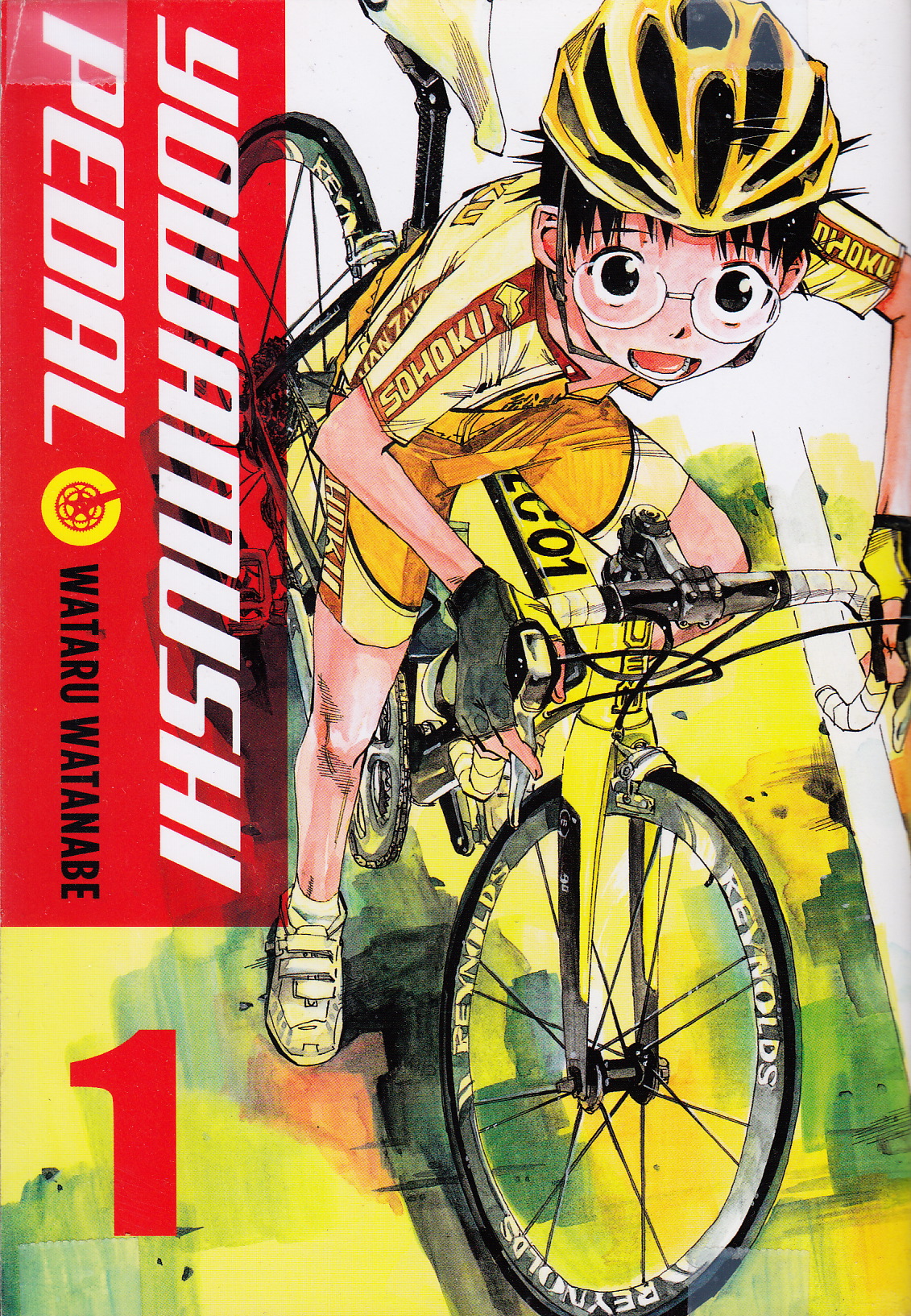 A few days ago, I received my copies of Yowamushi Pedal Volumes 1 and 2 in English. I have already seen the anime and have read scanlations of the manga. It was one of the bicycling mangas that I wanted to see translated in English. I was happy to see Yen Press doing the translations. I really loved how they had handled Yotsuba&!
These books are essentially two Japanese volumes translated into one English volume. The manga is thick. The trim size is bigger than usual – almost like the Viz Signature editions.
Storywise, it's a nice, lighthearted read
We are introduced to our protagonist, Onoda, who is a geek (otaku) and is generally a shy kid. He rides his mommy bike (European City Bike) to Akiba every week so that he can save some money and buy some figurine or DVD instead. He wants to join the anime and manga club but is disheartened to find that there are no members. The entire volume focuses on how his quest for fellow geeks inadvertently introduces him to the bicycling club.
We meet three colourful characters, who would later become his teammates in Sohoku Bicycle Racing Club – Miki, the girl who would eventually become the club manager, Imaizumi, the wannabe ace climber and Naruko, the sprinter. The volume sets the tone of these characters pretty well. Through their actions we get to know that Imaizumi is a calculative guy, albeit a bit naive, Naruko is a hot head and prefers to show off, Miki is kind, yet very manipulative as a person.
Towards the end, we also get a glimpse of the seniors of Sohoku Bicycle Racing Club but not much is revealed about them in this volume.
In the end, Onoda realises that the reason why he wanted to join the manga club was because he wanted to make new friends. By this time he also realises that he has already befriended people from the bicycle racing club. As far as his cycling goes, he has a gift that even he doesn't realise. He is adept at high cadence climbing. This doesn't go unnoticed by others.
Regarding the artwork
The art style is very sketchy and may not be to everyone's liking. The anime smoothens it out a lot. In spite of its sketchiness, I really liked the art style. I think it lends very well to the tone of the manga. (This is drastically different from Attack on Titan, whose art style was also sketchy and had to be polished a lot for the anime. I did not like the art style of AoT at all.)
Wataru Watanabe uses a lot of wide angle, highly distorted perspectives. This exaggerates the action and brings a sense of urgency. Some of his best panels are spread over two pages. I can't wait to see how he depicts scenes from inter-high.
There is a lack of concreteness in the character designs, especially in the early chapters. It happens often with serialisations. Even veteran mangakas zero in on all aspects of their character designs only after a few chapters.
On a side note
In this volume, there are interviews of two Japanese professional road cyclists – Daisuke Imanaka and Fumiyuki Beppu.
I have not mentioned this earlier, but the reason why I have ventured into road cycling is because of Yowamushi Pedal. I am not a racer like the guys depicted in the manga. My rides mostly focus on endurance. However, I cannot stress enough how much this manga / anime has influenced me.