"Take the bus." – that's what Mr. Pho Said
There are two ways to get to Hoi An from Hue. The first is to take a train from Hue to Da Nang and then take a taxi from Da Nang to Hoi An. Cumulatively, that turned out to be very costly. There are local buses that run from Da Nang to Hoi An but they take a long time to cover that distance. However, by paying a price that is marginally more than the train tickets, we were able to book a bus from Hue to Hoi An.
The journey was over 4 hours long. There were a short break of about 30 mins where the bus pulled up to some roadside eatery. This particular meal was the worst we had in Vietnam so far. Nandy left most of his Pho while I managed to eat the meat and 50% of the noodles.
As the bus drove along the coast, I snapped a few pictures through my window.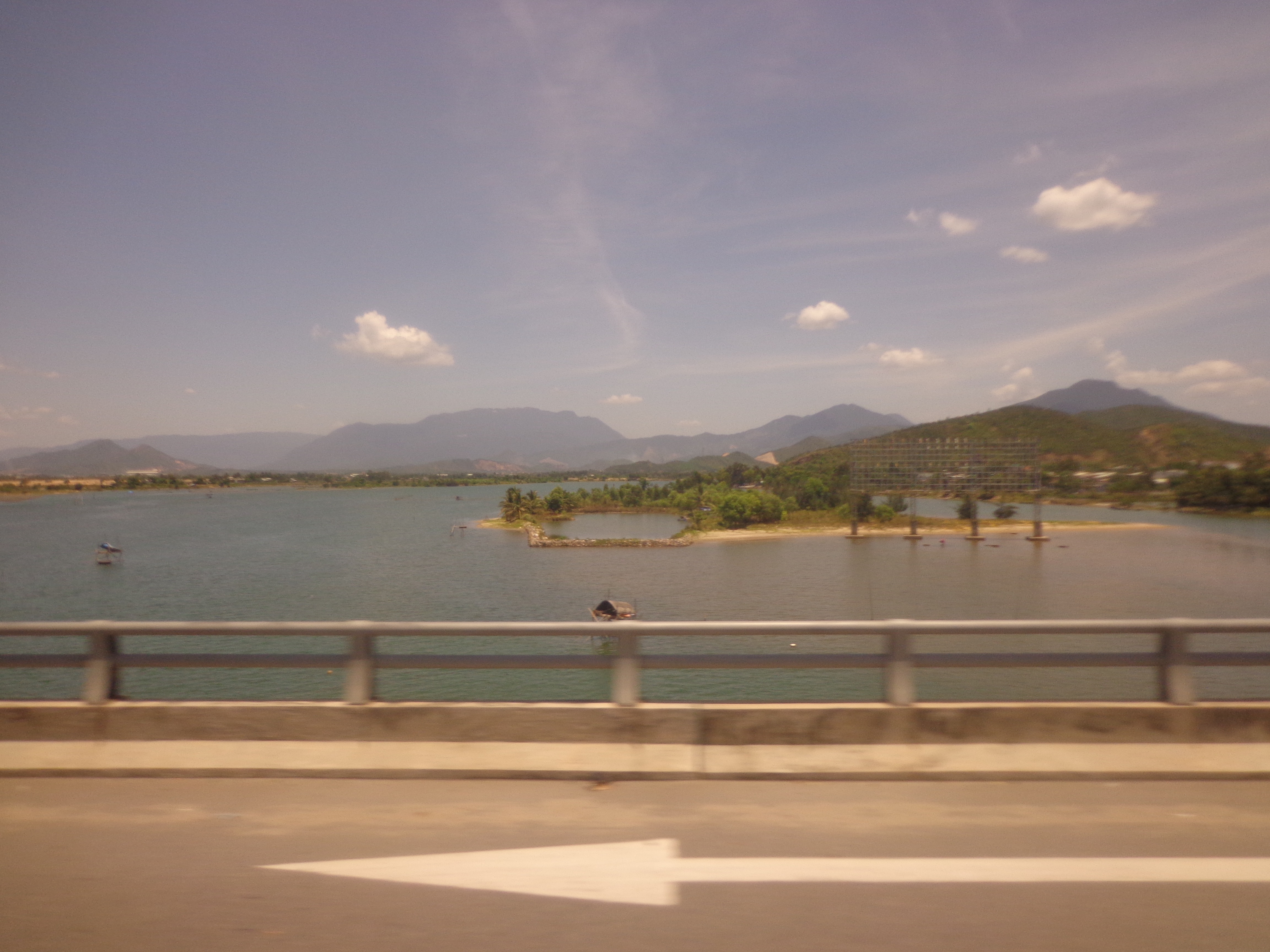 Redemption at Hoi An
The bus stop is usually filled with people who want to make some quick money from unsuspecting tourists. Luckily, the folks at Four Seasons Hotel warned us regarding the same and asked us to book a taxi. We were able to reach our homestay, Full House for just 50k VND.
Our host Ly gave us a warm welcome and gave us two city cycles to roam around Hoi An. The temperature was soaring and the sea breeze wasn't helping much. We decided that it was best to have some lunch and sleep until the sunset. It would be much pleasant to go around the town in the night.
Ly recommended a restaurant called Cafe 43. The shop itself was pretty small. Underneath the glass tabletops, we could see a lot of photographs and handwritten notes left by satisfied customers.
In the end we had these (and as a previous customer had written in a note, the food was "yum") –
Sunset trip on bicycle
We rode about 3 km to the beach. The beach was very crowded. I felt stuffed and made up my mind to go light with my food. I had some orange juice and some fresh spring rolls. In Vietnam, the term fresh spring rolls refers to the ones that are not deep fried.
I caught the sunset on my camera while riding on my way to the beach.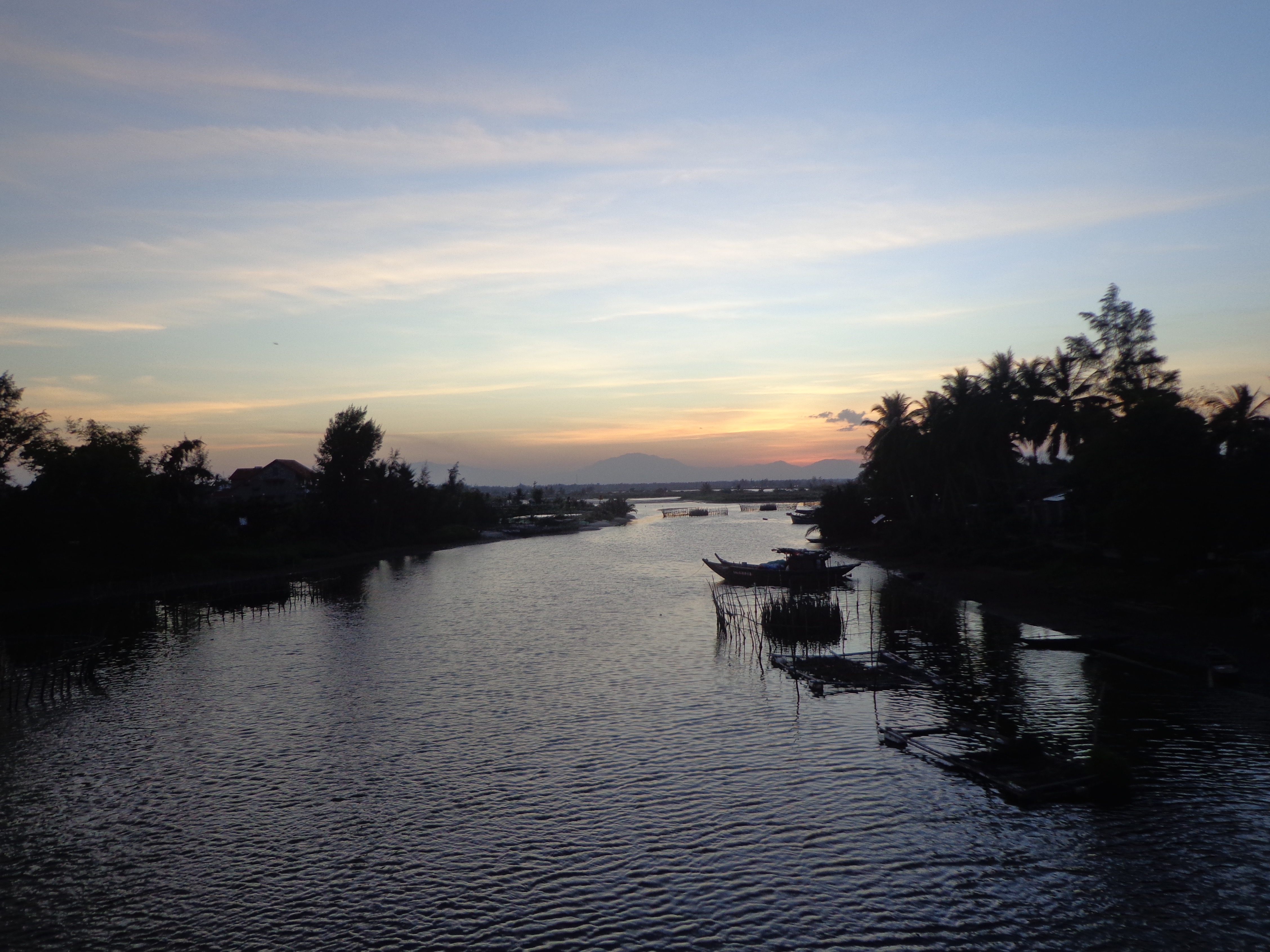 The beach got less interesting after the sunset. We pedalled our way back into the ancient town to check out some action and grab some street food. Here are some pictures.
A word about Vietnamese women
During the last week, I saw a lot of women working hard in shops. These shops are usually family run and in many cases it is the lady of the house who takes care of the businesses. Even Mr. Pho admitted that his cafe was actually run by his wife.
A lot of women sell souvenirs, eatables and lottery tickets just like we would find men in India hawking on the pavements, in stations and in terminuses. I have even seen women carrying huge sacks into their kitchen when stock arrives.
In three cases, I have come across women working even when they were pregnant. One of the lady's at Hue Four Seasons Hotel was expecting in two weeks. Yet, she was taking care of the kitchen and the ledger as if it was nothing!
That level of dedication and hard work is hard to find in most places, and that is irrespective of gender.