A short walk around Dimapur's commercial area
We took a small walk around the New Market and Hong Kong market area of Dimapur. The market area is just like any other small city. The shops give away the fact the Dimapur residents have good purchasing power as compared to their neighbours. There are roadside, nondescript shops, too that sell more affordable stuff.
In Dimapur and Kohima, Alto replaces the 800
Maruti has penetrated well into the North-East. Even though upmarket residents use expensive SUVs, the taxis and the common folks prefer to use Maruti Alto.
We couldn't get a seat in the bus (they were booked). Instead, a shared Alto belonging to Kohima taxi union took only 220 rupees to drive us and three other passengers from Dimapur Railway station to Kohima bus stand.
Dimapur has a relatively high density of vehicles. There were stretches where we encountered bumper to bumper jams while exiting Dimapur. Our taxi driver was skilled enough to jump lanes and squeeze through just like an Auto driver in Bangalore.
In the taxi, I met a drummer, Avizo Solo, who played in a Guwahati band called Aspirant. They were influenced by bands like 30 Seconds to Mars and were working on their first studio record.
The sad state of Vodafone and Airtel 3G
If there is one thing that ruined our trip multiple times, it is the pathetic state of Vodafone and Airtel 3G. Having a workable net connectivity is absolutely essential if one wants to backpack. When you make your plans on the fly, a lot of information can be obtained from blogs, travel apps and forums. Not to mention, the frequent peek at maps to locate oneself and chart out the directions is invaluable. So far, we got the best 3G at Guwahati. Beyond that, 3G signal was shaky and inconsistent. There were pockets in cities like Shillong, Dimapur and Kohima where we got good connection at certain times. At other times and places, it was a nightmare. In places like Nongriat, even cell reception was absent.
If one wishes to travel through India, I must suggest a BSNL connection. Their towers are omnipresent.
The Sun sets at Kohima
We arrived at Kohima at around 3:30 pm. The Sun was already setting. The falling rays made for a picturesque view of Kohima town.
Our hotel receptionist mentioned that shops at Kohima shuts down at 5:00 pm. We were hungry and did not have much as our lunch. I looked up on TripAdvisor and found that there is a restaurant called Rattle & Hum Lounge near High School Junction in Kohima. We had some momos, fried rice and pork with bamboo shoot. Allow me to make a bold statement. I have not tasted a better pork dish.
We finished our dinner at around 5:00 pm. By the time we were out of the restaurant, it was very dark.
Kohima had that Christmas vibe in the air. The entire landscape looked like a backlit canopy with holes punched in (ref: Wish You Were Here by Incubus). The following images don't do much justice. One has to see with ones own eyes.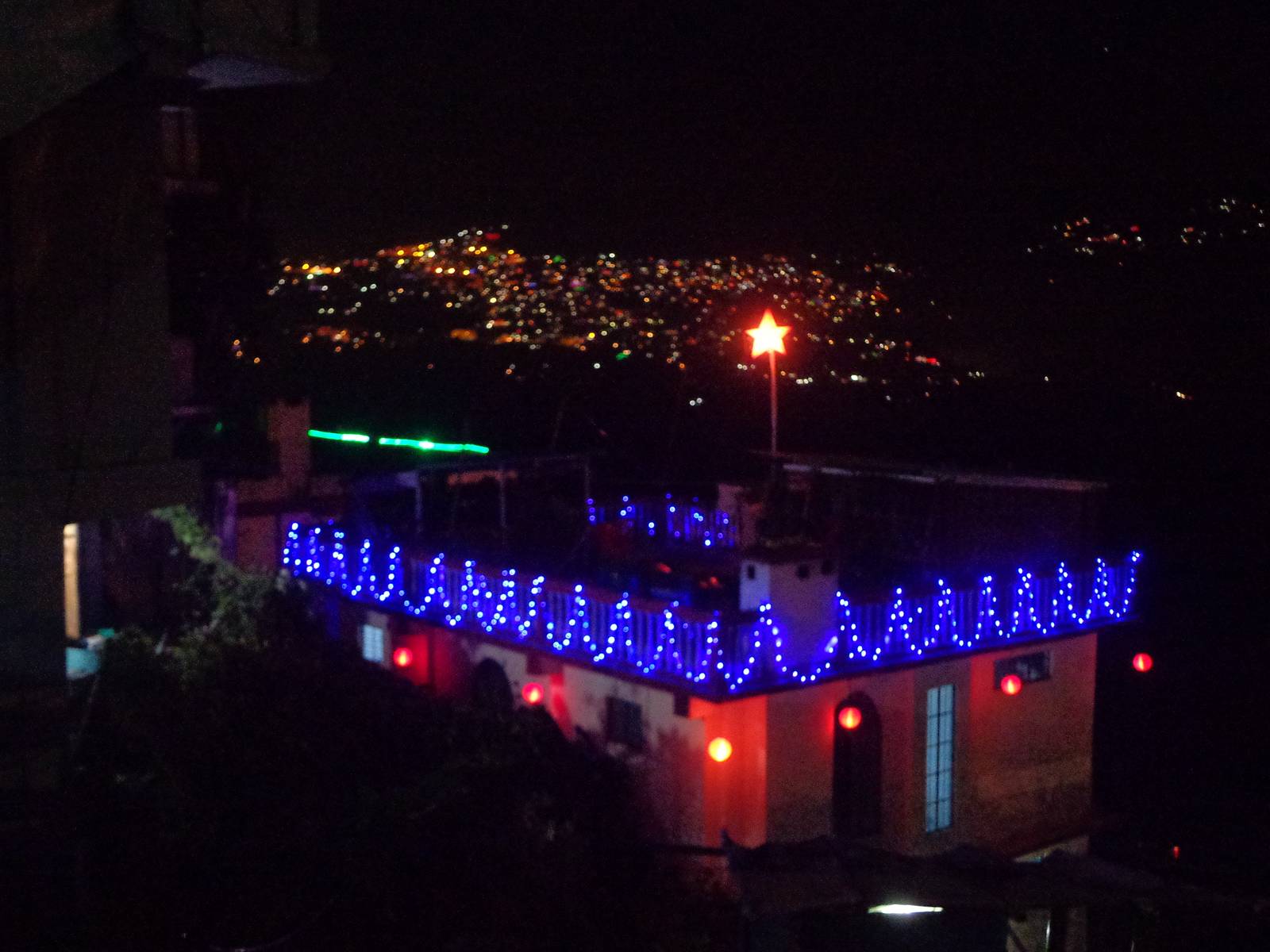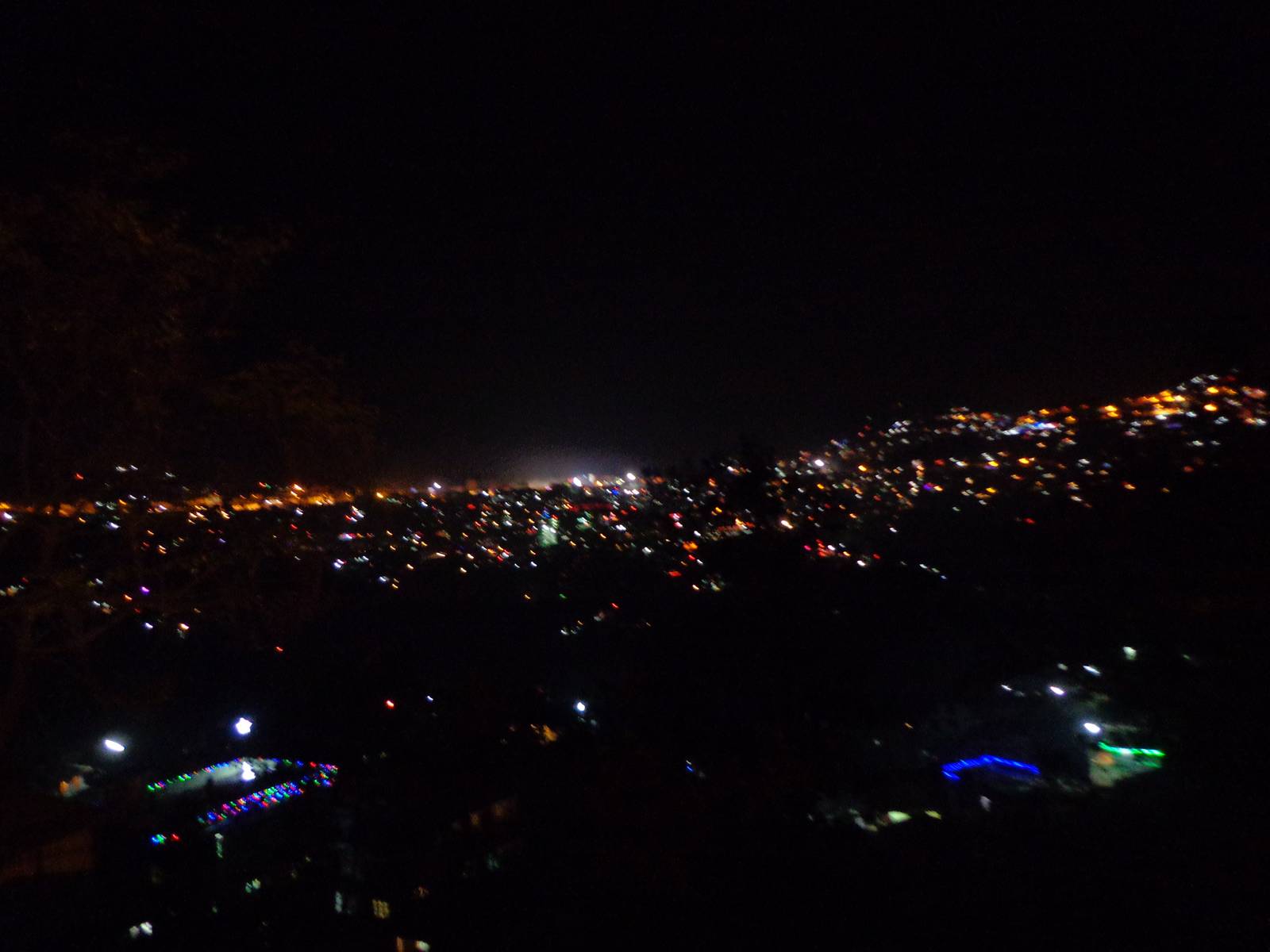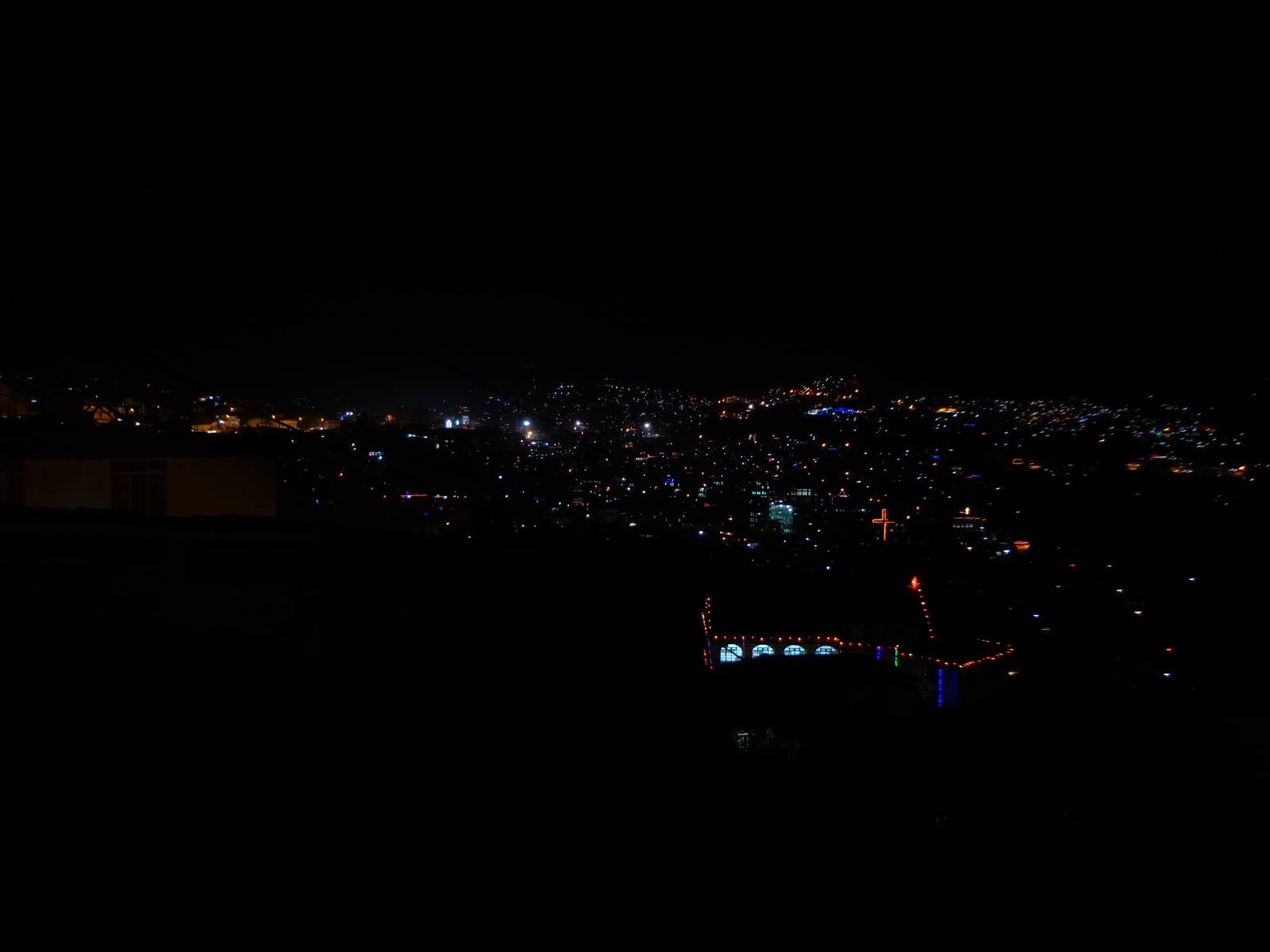 The guys at BRO have a post-retirement career as copywriters
Boarder Roads Organisation writes really witty quotes on their signs. Here are a few mouth fresheners.
Tomorrow: Your reward for driving safely today

You only live once. If you do it right, once is good enough.

Faith can move mountains. But don't be alarmed if God hands you a shovel.