Non Non Biyori is one of the best slice-of-life anime I have ever come across. This little gem that aired last fall did not get as much attention as it deserves. Well, maybe in its home country but not outside.
The summary on the Crunchyroll page is very very deceptive. It is hard to write an appealing summary for a show like this. If I say that the show is about four girls spending some quality leisurely time and goofing around in a remote Japanese village, I doubt it will encourage anyone to pick this show up for watching.
Meet the characters
The show revolves around trivial day-to-day events of four girls – Renge (Ren-chon), the first grader, Hotaru, the fifth grader who has just moved from Tokyo, Natsumi, the seventh grader and Komari (Koma-chan), the eighth grader and Natsumi's elder sister.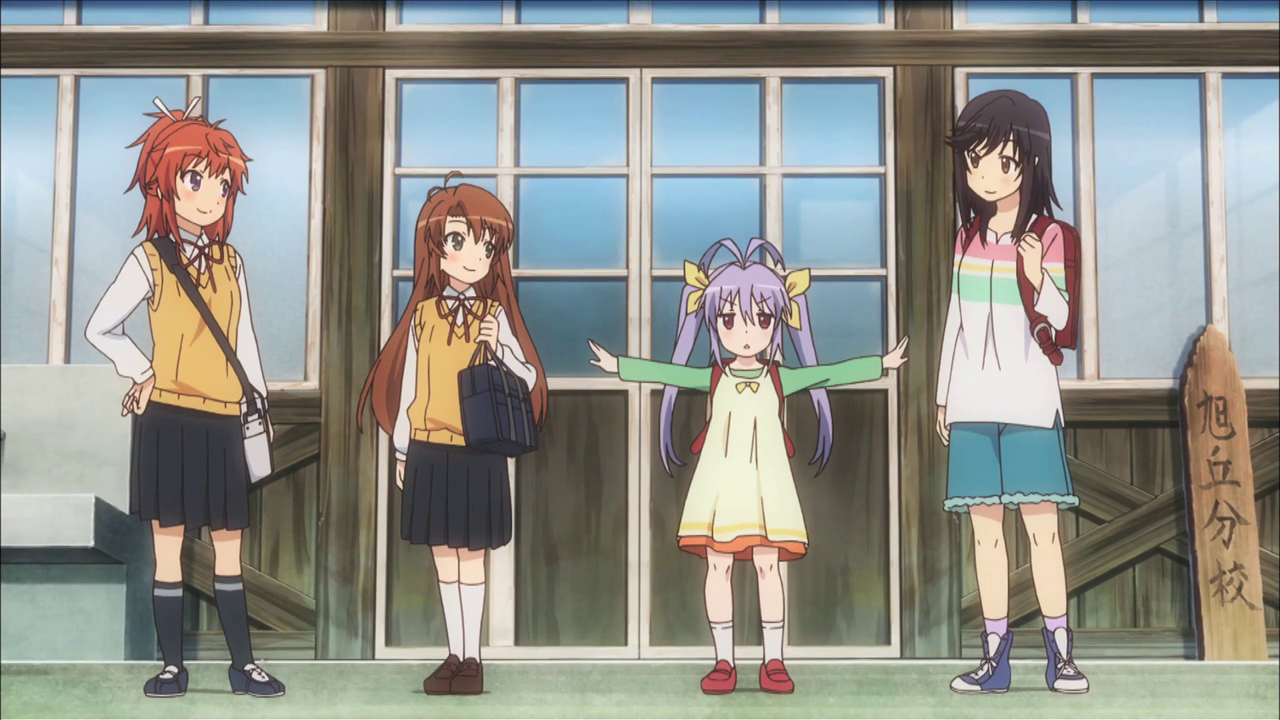 From L-to-R: Natsumi, Koma-chan, Ren-chon and Hotaru.
There are a few supporting characters as well. Kazuho (Nee-Nee, senpai), is Ren-chon's elder sister and also presides over the only classroom of Asahigaoka Branch School. The class contains only five students – the four girls and Suguru, the ninth grader, is Natsumi and Koma-chan's elder brother. As the show progresses, we meet a few more characters. Kaede (Dagashiya – Miss Candy store), the owner of a candy-store, Hikage, Ren-chon's elder and nee-nee's  younger sister who lives in Tokyo and Konomi, a graduate of same school.
From L-to-R (supporting characters): Dagashiya, Hikage, Konomi and Nee-nee.
The only prominent male character, Suguru, has no dialogues and is often the butt of many visual gags – being a scarecrow, playing a dog, making a NSFW kitten-girl and sucking on grass like some ancient human. His only talking scene is drowned by the loud guitar he plays. I loved how the writer gave such individual personalities to the main characters.
Hotaru, who looks and acts so grown up and behaves like an elder sister to all, is the most clueless of them all. She has a soft spot for Koma-chan often does weird things to impress her – like eating a really bad bento prepared by Komari or ordering bitter ice candy. She also loses her poised nature and behaves like a kid in distress. During the time when a rabbit locked her and Ren-chon in a rabbit pen, it was Ren-chon who ended up comforting Hotaru.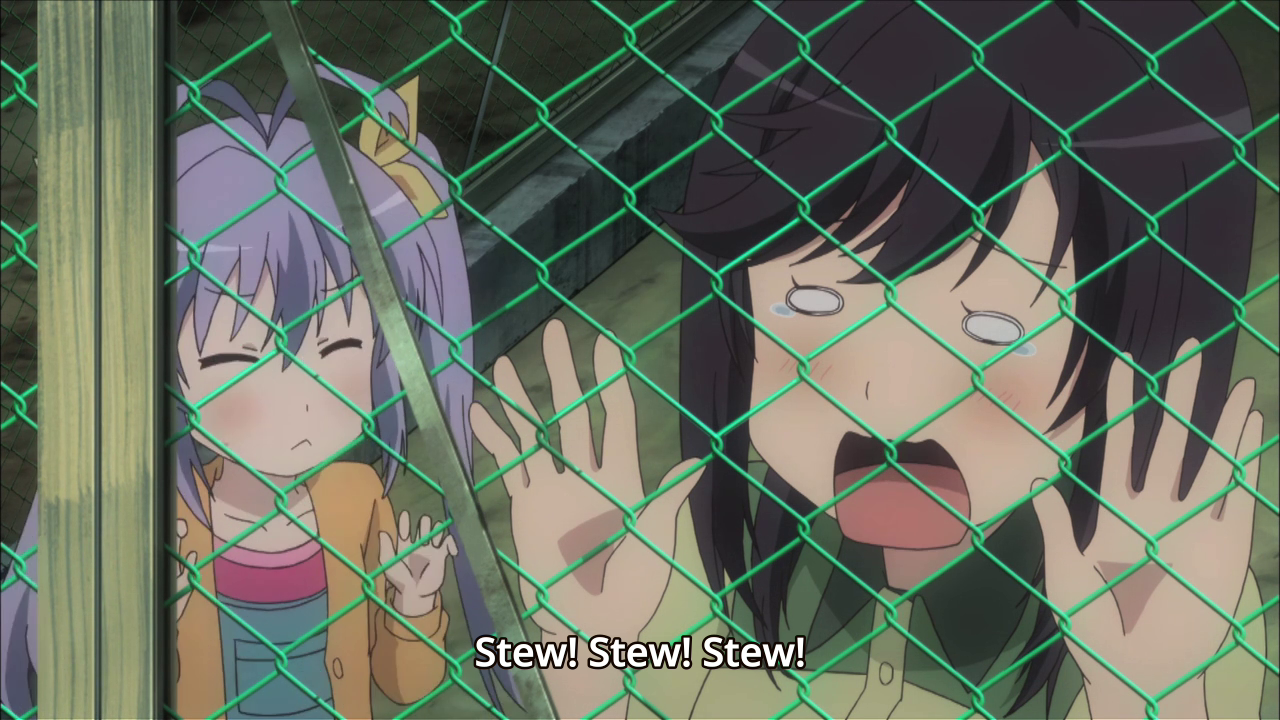 Natsumi, the the younger of the Koshigaya sisters is taller than her elder sister. She is a bit tomboyish and loves teasing and scaring her elder sister. She often spoils Ren-chon by toying with her thought process. She doesn't like studying and always receives poor grades at school. As a result she is constantly scolded by her mother (she refers to this as Armageddon).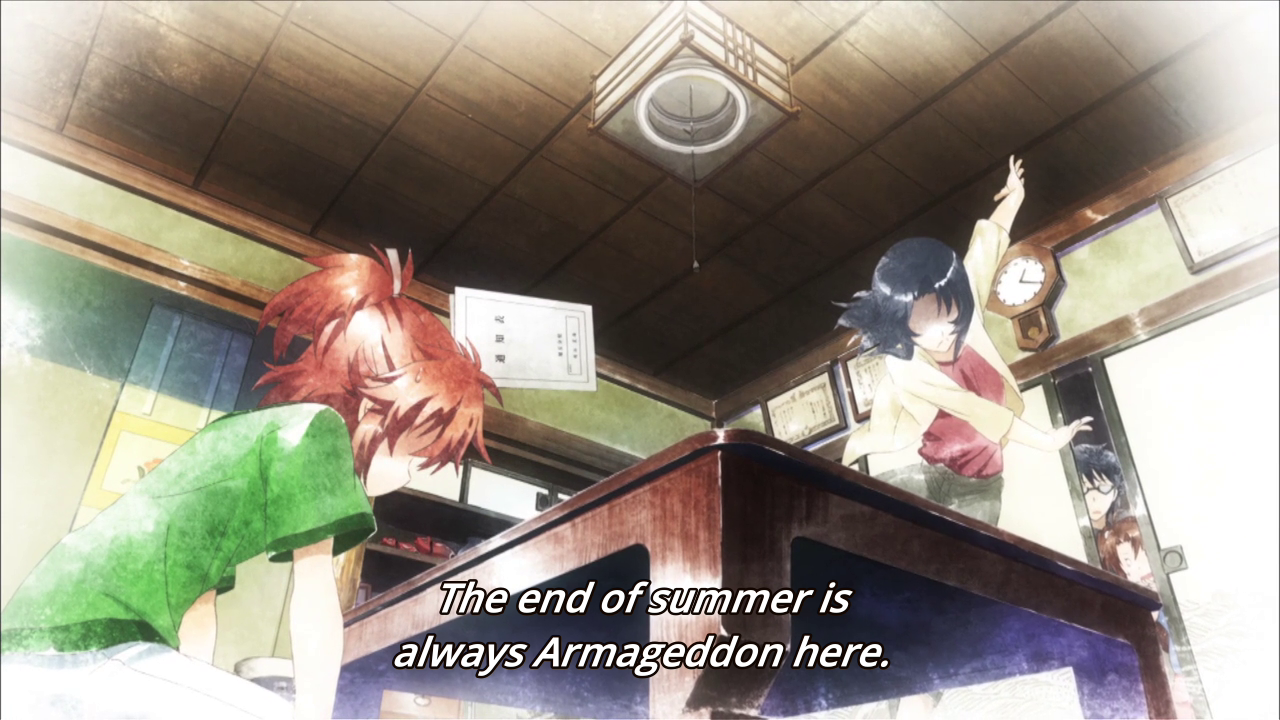 Koma-chan, nicknamed so because of her short stature, suffers from inferiority complex. She tries hard to act like a grown up but often fails miserably. She is also easily scared. In one incident, she was unable to fall asleep after watching a horror movie (Natsumi did not waste the chance to scare her further). In another case, she was scared because she couldn't see through a ghost costume she was wearing.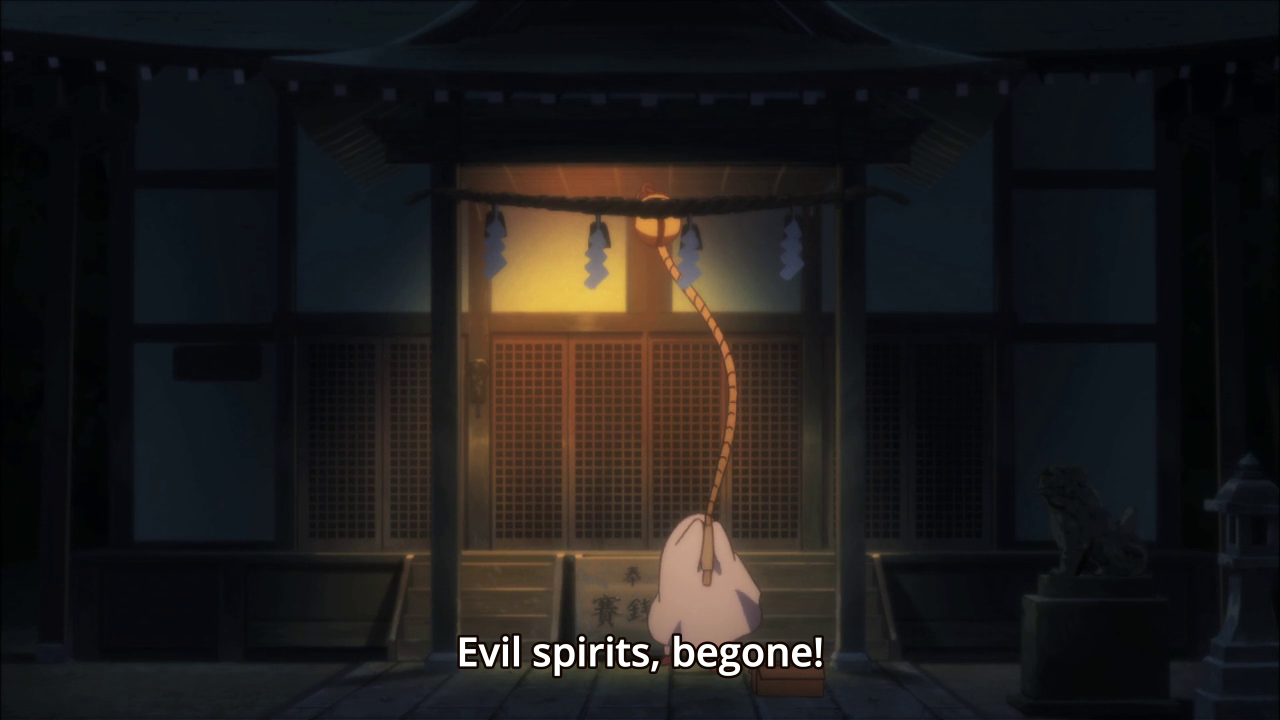 The breakout character of the series has to be the youngest, Ren-chon. Her antiques are very much childlike and often filled with non-sequitur that others can't understand. She often stumbles upon thoughts that are profound and to an adult might be source of spiritual enlightenment. To her, they are just like other random thoughts. But no matter what, she always has the same expression.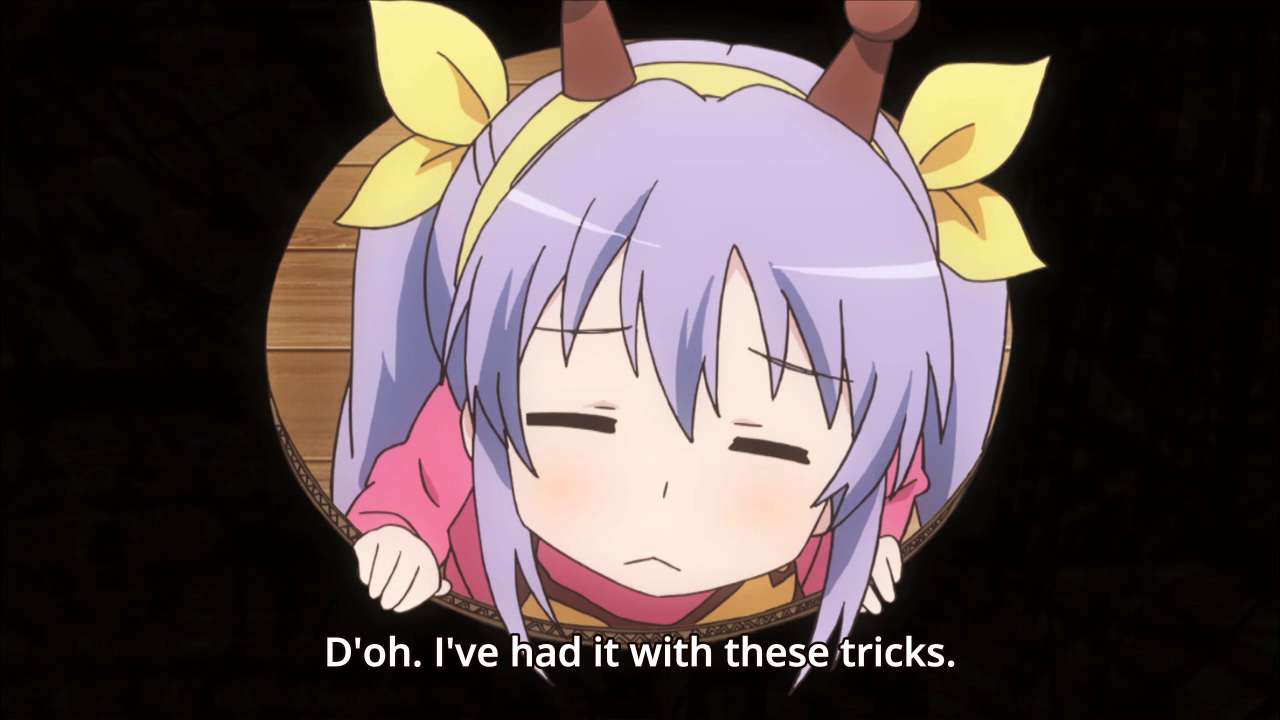 Why I grew so fond of it
If you think you have seen the best moe anime and haven't been exposed to Non Non Biyori, well, prepare to replace the top spot of your list with this one.
During its original run, Monday was such a refreshing day for me. Those 25 minutes of peace and calmness was all that it took to replace my exhaustion with a sense of serenity. The jokes aren't loud or anything. In most cases, it is just silly reaction from small kids that would amuse a grown up. At other times, these girls (especially Ren-chon) stumble across some profound insight into human nature but are too childlike to understand their depth. This actually raises a serious question in my head. Was this show targeted at an older audience? Judging by the pace and the content, I strongly feel that it would be best enjoyed by people who are well past their teens and have left most of their immaturity behind. Seinen? Maybe.
It is always fun to see Ren-chon. She has so many awesome scenes that I can literally make a top 10 list of just those. The other kids have their own funny and quirky moments, too. Here are a few.
Still images don't do much justice. You can visit 120makoto's channel on Youtube and sample some of the scenes.
There are a few poignant moments, especially in episode 4 and 10. Both involve Ren-chon's warm relationship with others. The latter one involving Dagashiya is one of my favourite episodes in the series.
A recommendation
I would recommend this to anybody who wants to take a break from action packed animes. If you are older than 25, I would double that recommendation. The animation style is very fluid. The backgrounds are breathtaking (You can make amazing wallpapers from the backgrounds alone). The sound design is minimalistic. Indeed, there is nothing that could have been done better. Kudos to the director, Shinya Kawatsura, and the studio, Silver Link, for presenting such a refreshing anime to us fans. I really hope they will get back to us with a second season.
As of today, Non Non Biyori holds the no. 1 spot on my slice-of-life anime list.